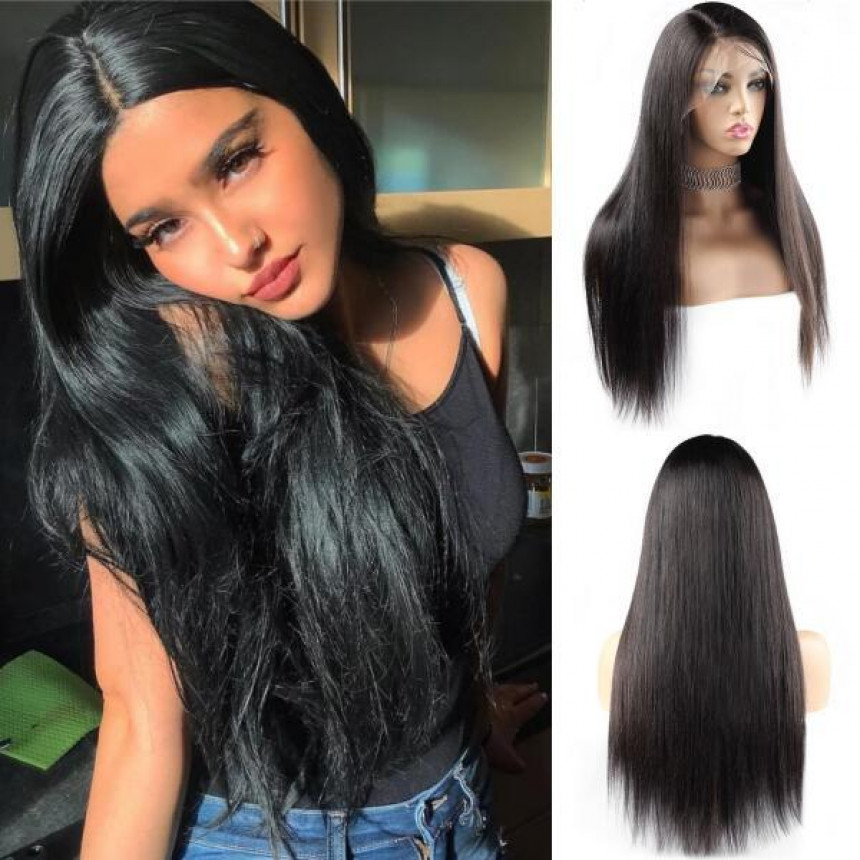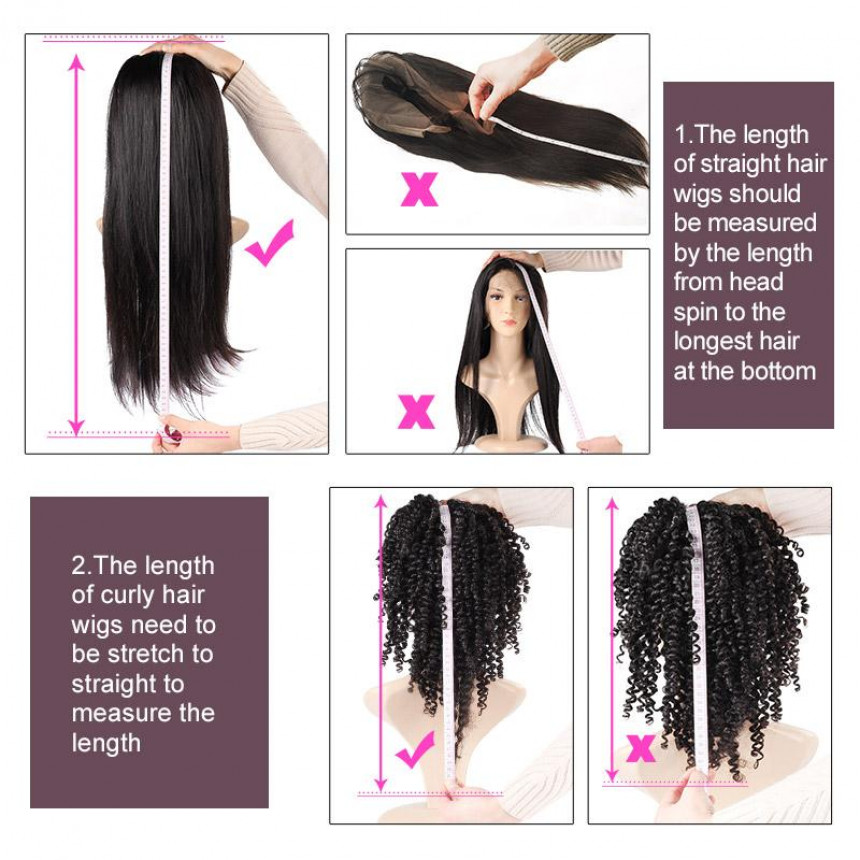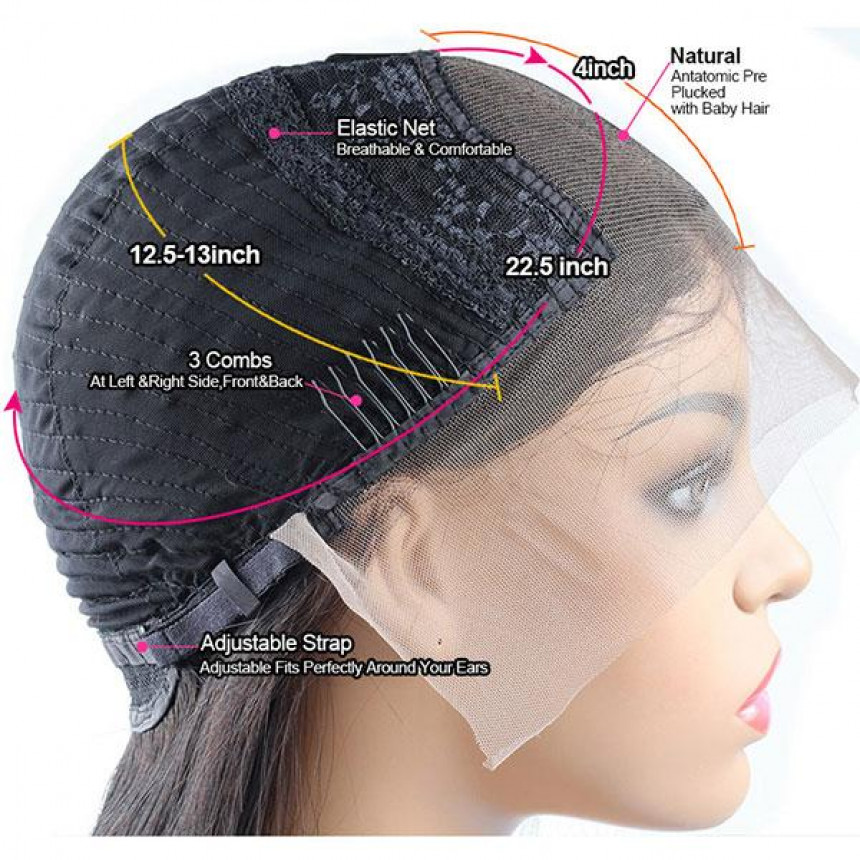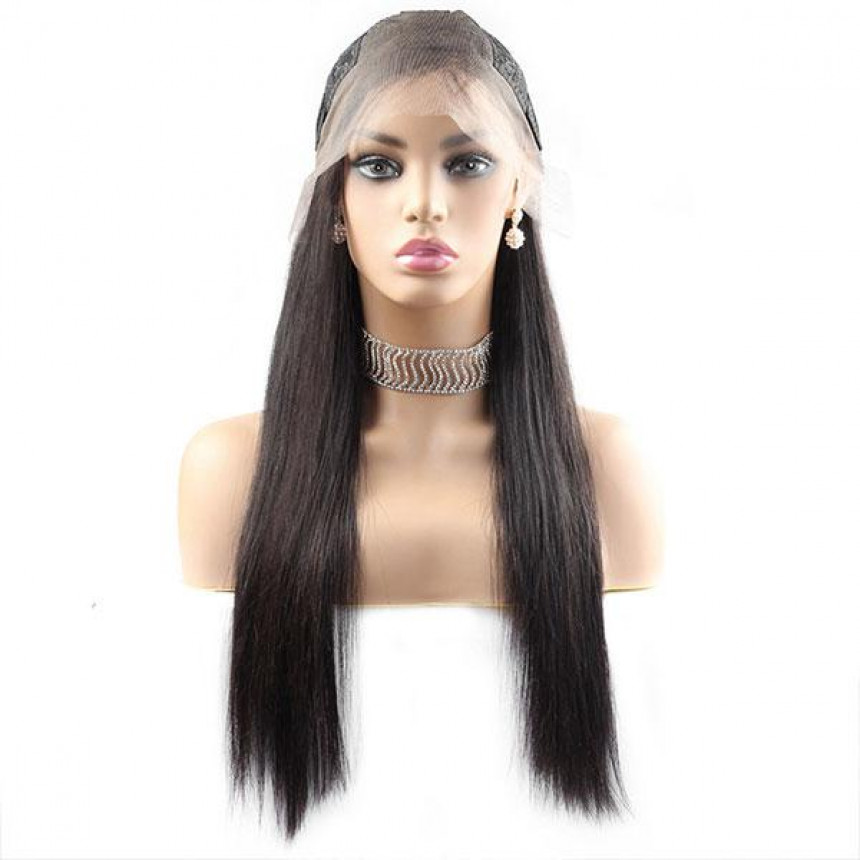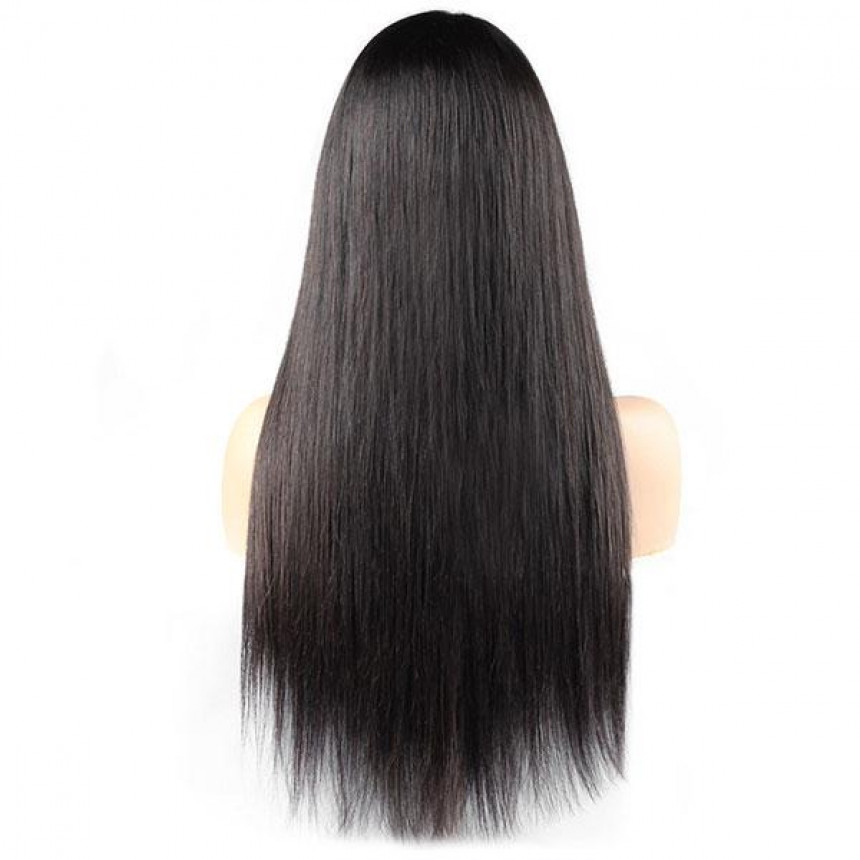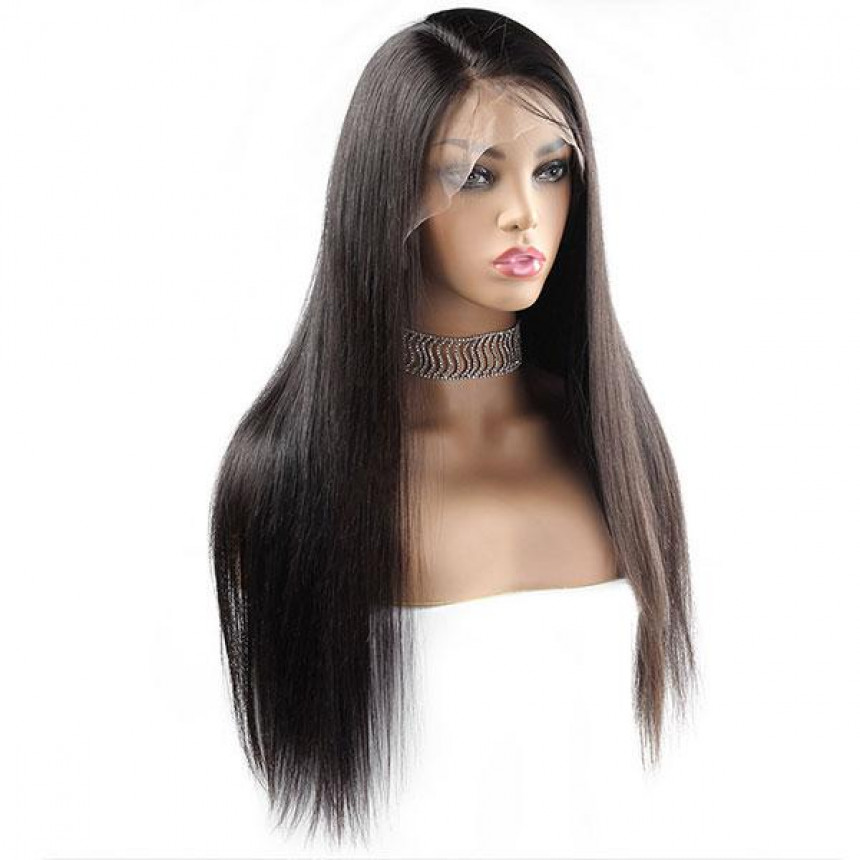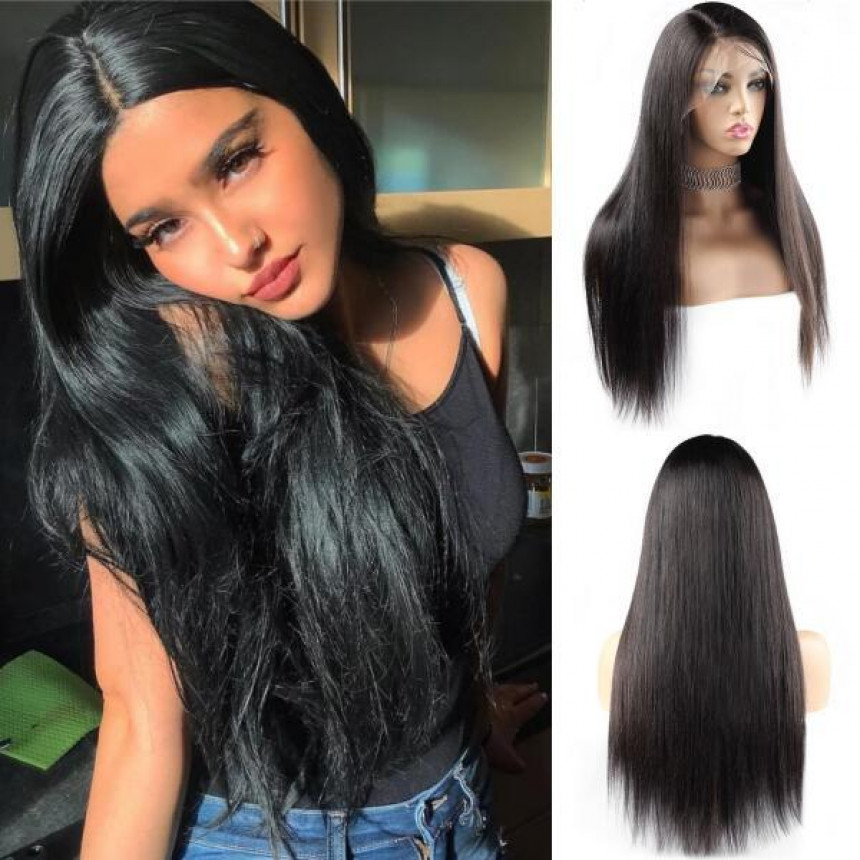 New -20 %








Secured Shopping
Best security features, we support Visa, Master.Amex, Paypal and etc.
Free Shipping
Free delivery over $50, ship with DHL, EMS,Fedex express and etc
Free Returns
Hassle free returns, multi warehouses in the US, Hong Kong, Canada, New Zealand
brazilian straight virgin remy hair 4x4 lace closure wig
PRODUCT FEATURES

Item: 4x4 Lace Closure Wig 100% Unprocessed Straight Virgin Remy Human Hair Wigs
Hair Material: Virgin Human Hair Weave, 10A Grade, No Shedding, Tangle Free
Hair Color: Natural Black Color
Hair Grade: 10A Grade, Straight Human Hair Wigs, Can be bleached and restyle, dyed
Hair Length: 10 inch - 26 inch are available, Very Soft, Healthy and thick
Texture: Straight Hair, Natural Hairline, Soft, Comb Easily, Minimal Shedding, No Tangle
Density: 150% high density nice quality human hair wigs
Pack: 1 Piece Straight Hair Lace Front Wig
...................................................................................................................................................................................................................................................................................................
FAQ
Q1: What Difference Between Lace Front Wigs and Full Lace Wigs
A: Lace front wigs are half made by hand tied and half made by machine,Full lace wigs are 100% made by hand tied.Lace front wigs are more competitive in price,full lace wigs are more realistic and easier to make a ponytail.
Q2: Can I Restyle or Color the Hair
A: Yes. But we'd like to recommend you that too often restyle or dye the hair will dry it out. So please make sure which kind of style or color do you like before you actually take action on it.
What is the tightest curl pattern?
Kinky-Curly This hair type has the tightest Curls which range from fine to coarse in s-shaped and z-shaped designs. These strands will be the most delicate of the hair kinds. 4A is called a tight and rough curl pattern. 4B is called a zig zag shaped skillet chiefly known as a kinky curl.
Is deep wave and deep curly the same?
Curly Hair Deep wave hair in Comparison to Deep wave hair, curly hair has tighter curl. Virgin curly hair has a natural-looking and it's actually soft and resilient. Deep wave hair follicles have a much better curl compared to body wave, loose wave or natural tide hair, however they have the exact same texture with high quality.
What are the 3 basic weaves?
How the warp and filling threads Interlace with each other is known as the weave. The vast majority of woven goods are made with just one of three fundamental types: plain weave, satin weave, or twill weave. Woven cloth can be plain (in 1 color or a simple pattern), or may be woven in decorative or artistic layout.
Which is the strongest weave?
Plain/linen The simple weave, or linen weave Because it's also called, is the easiest of all sorts of weave. The threads are stitched together after another. This weave is just one of the most powerful collapses, as the threads are continuously crossing over each other.
Why is my wig so frizzy?
Over time, More Frequently than not, the Synthetic wig will create static cling and frizz round the outside of the wig. This can occur sooner the lengthier the wig is, in the body heat, or just regular wear.
What does a capless wig mean?
This Sort of limit allows for maximum aeration for the wearer. The crown has been built by vertical lace strips together with open spaces between wefts. These openings permit the wig to be lighter and more breathable than conventional cap wigs.
Does weave break your hair off?
If your scalp and hair are not in good Illness then a weave can in reality do more harm than good. By way of instance, it might weigh down and pull your hair -- and when it is not robust and fit in the roots which may lead to breakage and in extreme situations, even permanent baldness. Sometimes weaves are tough in your scalp.
Do you sew through the weft or around it?
Never sew throughout the weft, sew it around. Sewing throughout the weft can lead to damage and losing. Machine wefts are stitched with lots of threads and strengthened several times for durability. Machine wefts are more typical and may be cut anywhere.
What's the best braiding hair for box braids?
What hair is most effective for box braids? If you are On a budget, do not worry out believing you want to use hair for box braids. The experts agree you could use either artificial or human hair, such as great ol' Kanekalon braiding hair, and this is stronger and lasts longer.
Is synthetic braiding hair bad?
In Terms of the Kind of hair used in braiding (and I'm presuming you mean artificial extension hair becoming braided to the pure hair) artificial hair is generally no more damaging or beneficial for a person than standard human hair.
Can you wet kanekalon hair?
Dampen the artificial hair with lukewarm or cold water. Avoid using hot water, which may harm the skin. Scrub the Kanekalon hair with cold water a few times to get rid of any soapy residue. Don't comb or brush the artificial hair when it's wet.
How many packs of kanekalon hair do I need for box braids?
Based upon Your hair length, you are able to use Roughly 4 to 7 packs of Kanekalon braiding hair to perform box braids. But if your natural hair isn't long enough to acquire braided, you will want to use hair extensions. The time it takes to acquire full-head box braids will be dependent on the size and duration of your box braids.
Is kanekalon hair good for box braids?
Kanekalon Fibers. All artificial hair is Great for box braiding, but kanekalon is normally the selection of the majority of haircare professionals. Kanekalon hair appears more natural, has exactly the exact same type of kink as obviously curly African hair, and will be the least damaging for your actual hair.
Do box braids look good on everyone?
Jennifer Vanel: Box braids are Fantastic to get a Person who would like a low-maintenance simple hairstyle. Anyone with any feel could have box braids provided that their hair is long enough to make a braid. Begin at the base, and unbraid your own hair using a comb to help detangle your actual hair out of any hair bits added.
Should you wash synthetic hair before braiding?
In accordance with Conwell, the best way to prep Your scalp and hair prior to braids would be to exfoliate with a detoxifying shampoo, such as this one from Davines. After the braids are in -- Conwell proposes keeping them no more than eight months -- it is also important to maintain your scalp and hair moisturized.
Can synthetic hair cause cancer?
Virtually All artificial hair has been dyed by A kind of synthetic dye. Artificial dye does include elements which are carcinogenic and may permeate skin very easily. "Caution -- Includes a component which may penetrate skin and has been proven to cause cancer in lab animals. "
How do you keep natural braids from curling?
Attempt flat ironing your hair before bending Or before putting a ring on the ends to hold the braid level iron finishes then put band to maintain the braid.
Can you dip Goddess Braids in hot water?
Goddess box braids are a Really popular hairstyle. If you follow this suggestion, your goddess box braids may endure for a month or longer. With this protective fashion, we do not advise dipping the hair in warm water since the hair will loose its wavy pattern along with curled texture. You are likely to get horizontal and messy hair.
What is a synthetic lace front wig?
Lace front synthetic wigs Have straps To correct the dimensions of this clips and wig in constructed to clip to your own hair. The lace in the front also should be trimmed into your preferred length. When should I purchase a lace front wig? - You are not following real hair. - You do however, need a genuine looking but very affordable wig.
Can synthetic wigs be curled?
Yes, It's likely to flake out a synthetic wig. However, you shouldn't try to utilize hot tools, such as a curling ironon a synthetic wig -- unless the label specifically states that the wig may withstand heat. Otherwise, you may use foam rollers to curl the wig employing the procedure below.
Can you use regular hair dye on a synthetic wig?
Synthetic wigs are made from processed Fibers like polyester, acrylic, and polyvinyl that makes them hard to dye. These synthetic materials do not possess the organic pigments that actual human hair does, meaning that routine hair dyes won't operate on synthetic wigs.
How can I make my hairline wig look natural?
Many people decide to utilize a wig adhesive or wig Tape to paste the lace front hairline of the wig for their brow, this isn't mandatory but can help if the wig isn't sitting level in the hairline. We propose having a base and a makeup brush to combine front of your own lace into the color of the skin.
How do you keep synthetic wigs looking new?
Look at using a handheld steamer plus a Brush, and carrying the wig in segments put the hair between the brush and steamer and brush it . If you do not have a steamer it is also possible to use a blowdryer on a hot atmosphere. This may have your wig appearing as good as new!
How long do curly synthetic wigs last?
With daily use, human hair wigs may last a Year or longer, while synthetic wigs normally last 4-6 weeks (Heating friendly synthetic wigs generally only last about 3 weeks ). Wearing your wig frequently will help extend its lifespan.
Can you use conditioner on synthetic wigs?
Do not use routine hair shampoo, Conditioner, hair spray or dyes in your wig since they can cause build on the wig, shortening its life span and dulling the hair fibers. This may stretch and permanently harm the skin. Use just brushes and combs that were designed specifically for synthetic wigs.
How do you moisturize a synthetic wig?
A cloth purifier can be a replacement For the artificial hair conditioner. Allow to boil for 5 to 10 minutes, then take the wig out and set between a skillet and pat dry. Set the wig on a wig stand and allow it to air dry.
How do you make synthetic hair soft?
To create synthetic hair tender, untangle any Tangled places. Fill the tub with lukewarm water and blend in a particular shampoo. Submerge the artificial mane to the solution which makes sure it's stretched completely. After ten minutes of this a"tub", swish it lightly to boil much exfoliate and more.
What shampoo is good for synthetic wigs?
Beautiful Artificial Wig Shampoo. This gentle, Sulfate-free shampoo is intended for washing synthetic and human hair follicles also contains a refreshing and light citrus scent. Jon Renau Shampoo for Synthetic Fiber Wigs. RemySoft Moisturelab Hydrating Cleanser Shampoo.
Can you put heat on synthetic hair?
Obviously, artificial hair isn't without Its flaws; specifically, heat styling is a no-no. Since artificial hair is created from a kind of plastic, employing heat using a curling iron, hair straightener, or blow dryer can burn, singe, or perhaps melt the hair (unless you've got a warm friendly synthetic wig).
Are synthetic wigs good?
If you buy a Fantastic quality, Heat-friendly synthetic wig, it could be cheaper than human hair wigs. Low care -- because the hairs are artificial they need less maintenance than hair. Natural appearing -- a premium quality synthetic hair wig can look as natural as a human hair wig.
What is high quality synthetic hair?
Kanekalon is the Maximum quality of Artificial fibers available. All artificial wigs and hairpieces in The Wig Company manufacturers are created with Kanekalon synthetic fibers. Artificial hair fiber price significantly less than human hair, so this is a fantastic solution for the more budget conscious hair shopper.
Why do synthetic wigs get frizzy?
Synthetic wigs make frizzy Once You have Been using these on a daily basis. These wigs are inclined to reduce their trendy appearance and shape once you set them close to the heating unit. Heat creates the wigs dryer, and the synthetic fibers start generating static electricity.
Why is my synthetic wig frizzy?
Synthetic wigs make frizzy Once You have Been employing these on a daily basis. These wigs are inclined to reduce their trendy appearance and shape once you set them close to the heating unit. Heat creates the wigs drier, and the artificial fibers start generating static electricity.
How do I maintain my pixie curls?
European Pixie Curls isn't hard to keep. Wet very nicely with water and then run your palms use a brush. It comes out more lovely with brush and water. Sometimes treat Leave-in Conditioner and water after applying for awhile and can be filthy.
How can you tell if a wig is heat resistant?
Step 3: Require a segment from the back of this Wig to check. Use a hair dryer on medium or higher heat. When the fibers are heat resistant, they'll unwind with warmth and texture smooth. If they're not heat resistant, then they will begin to frizz.
Can you straighten a synthetic wig on low heat?
This makes it Hard to restyle or straighten a synthetic wig. Since artificial hair is created from a kind of plastic, employing heat using a curling iron, hair straightener, or blow dryer can burn, singe, or perhaps melt the hair (unless you've got a warm friendly synthetic wig).
Can you curl synthetic hair extensions?
Just like with your normal hair, artificial Hair extensions may be curled. Curling your own hair extensions may add volume to a own hairstyle and also assist fuse the extensions along with your normal hair, which makes it very difficult for other people to observe that you are using extensions.
Can you use low heat on synthetic hair?
This is because artificial hair is Basically vinyl and may melt when subjected to heat. If you want to change your design and then curl up your synthetic wig, weave or extensions, keep the heat , dip the hair in warm water, or use snare clips to maintain curls set up.
How do you style a synthetic wig?
Design your wig if it is completely dry. Try out a chin strap for safe, hands free styling. Make the Most of styling Heads to get a view from many angles. Brush your synthetic wig using a stainless steel brush. Simply use especially formatted wig styling goods to Keep wig fibers.
Maintenance Manual:
1. Wash and deep condition hair regularly,one/two weeks a time is OK.
2. Detangle the hair gently by hands before washing to prevent shedding.
...................................................................................................................................................................................................................................................................................................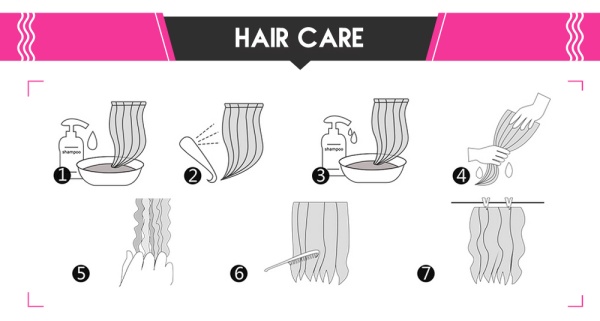 1.Be ready for everything and wet the hair with warm water
2.soak the hair with mild shampoo for a few minutes.
3.Rinse the hair in clear water once.
4.Do it again to make sure the hair is clean.
5.Cover the hair with the towel to soak up the water on it.
6.Move down gently to comb the hair straight to the ends.
7.Hang the hair with the weft open and air-dry it and curls hold well.
Stock:

8 only

Model:

4x4-lace-closure-wig-100-unprocessed-brazilian-straight-virgin-r

SKU:

4x4-lace-closure-wig-100-unprocessed-brazilian-straight-virgin-r

ISBN:

4x4-lace-closure-
Hurry, this offer ends in: