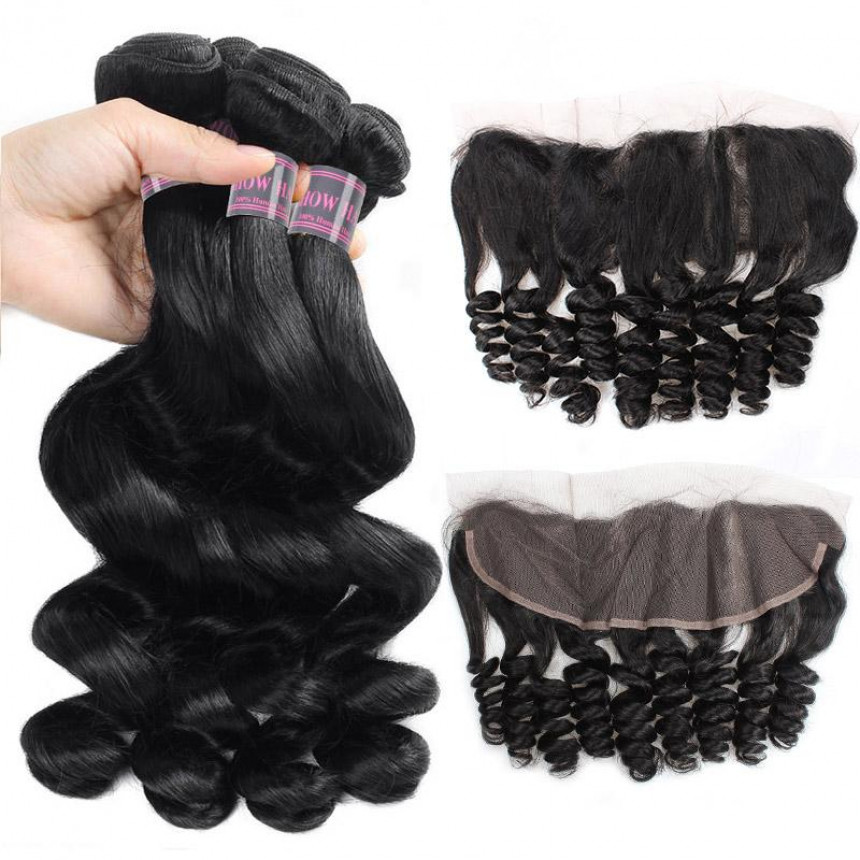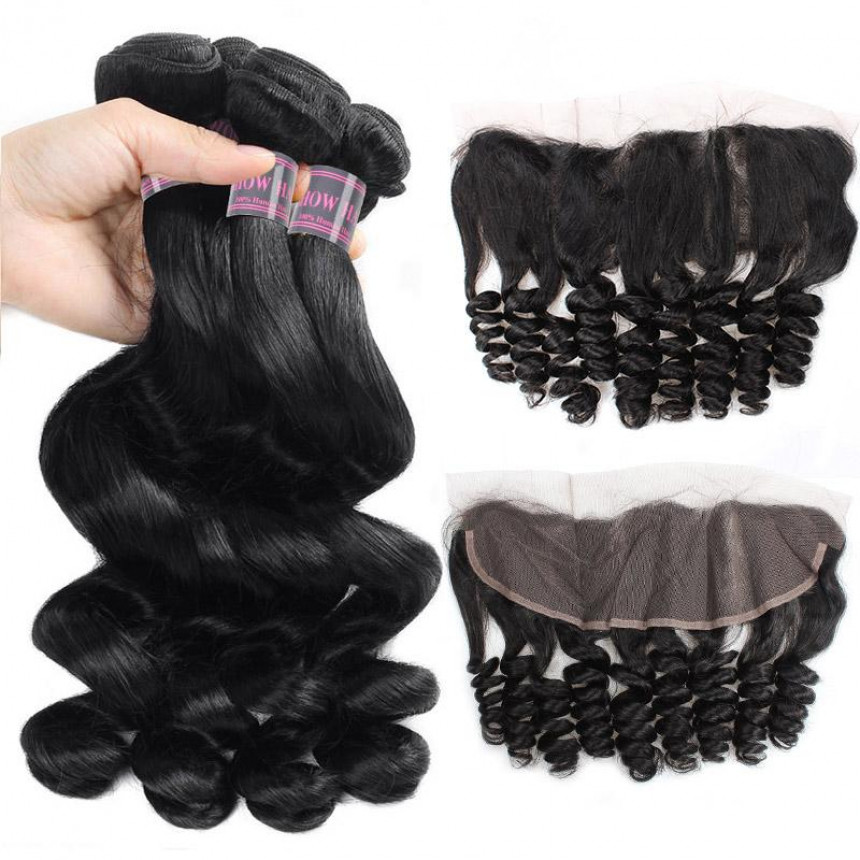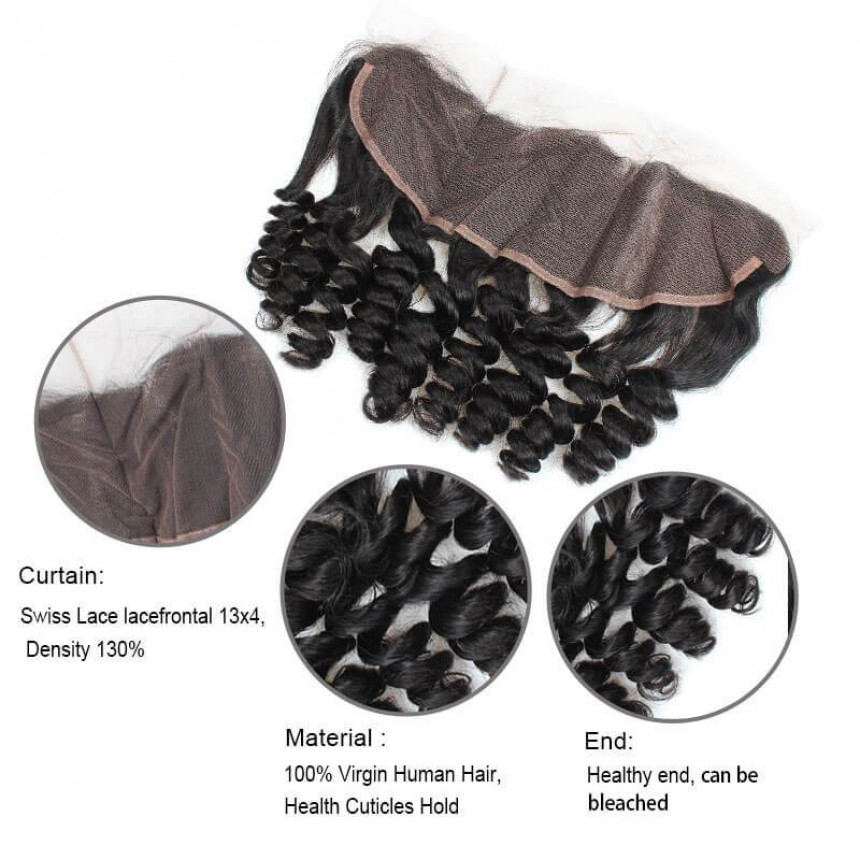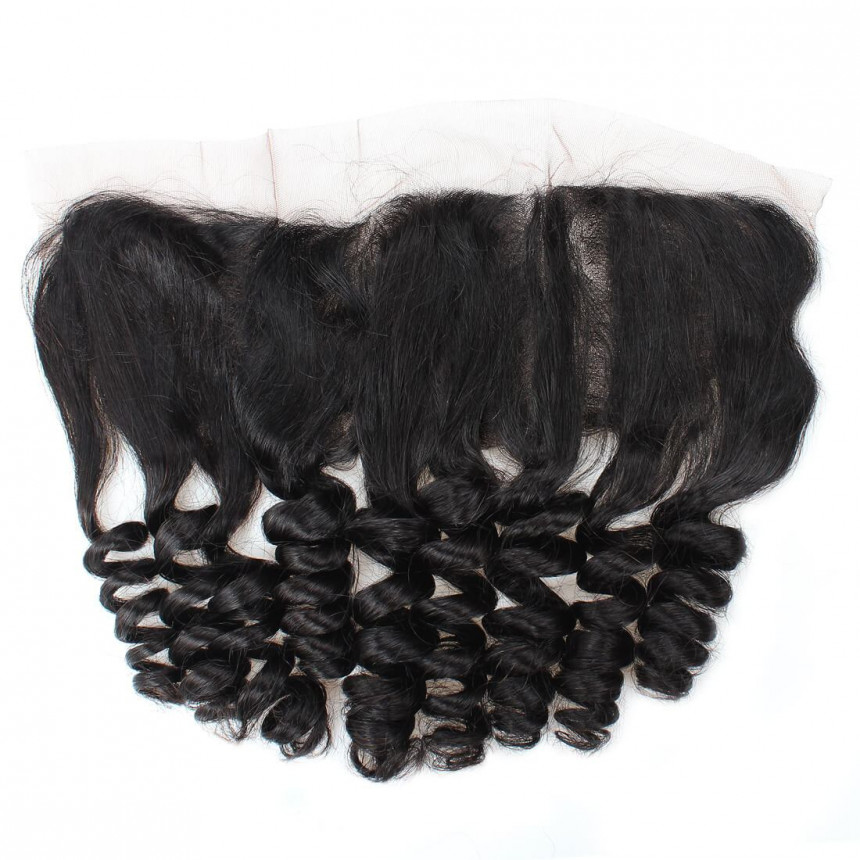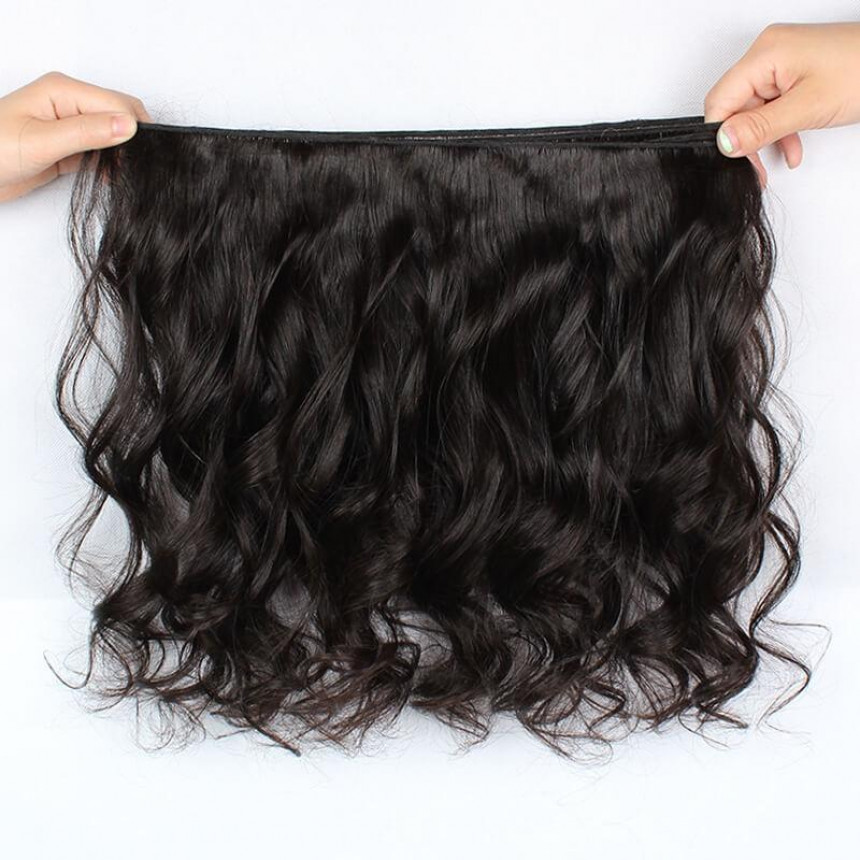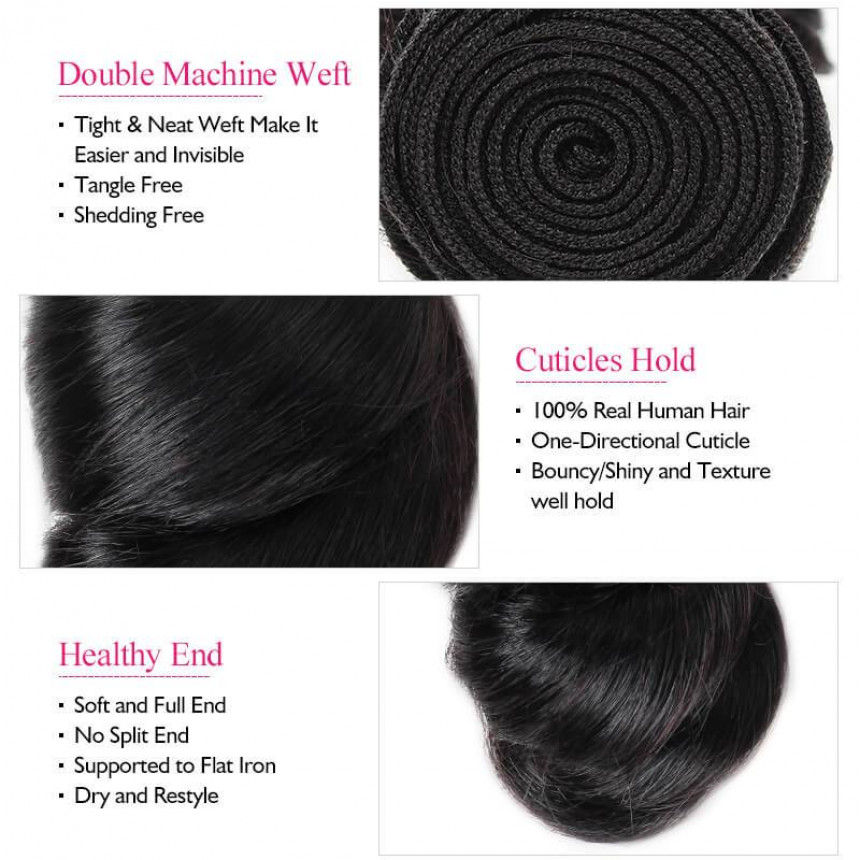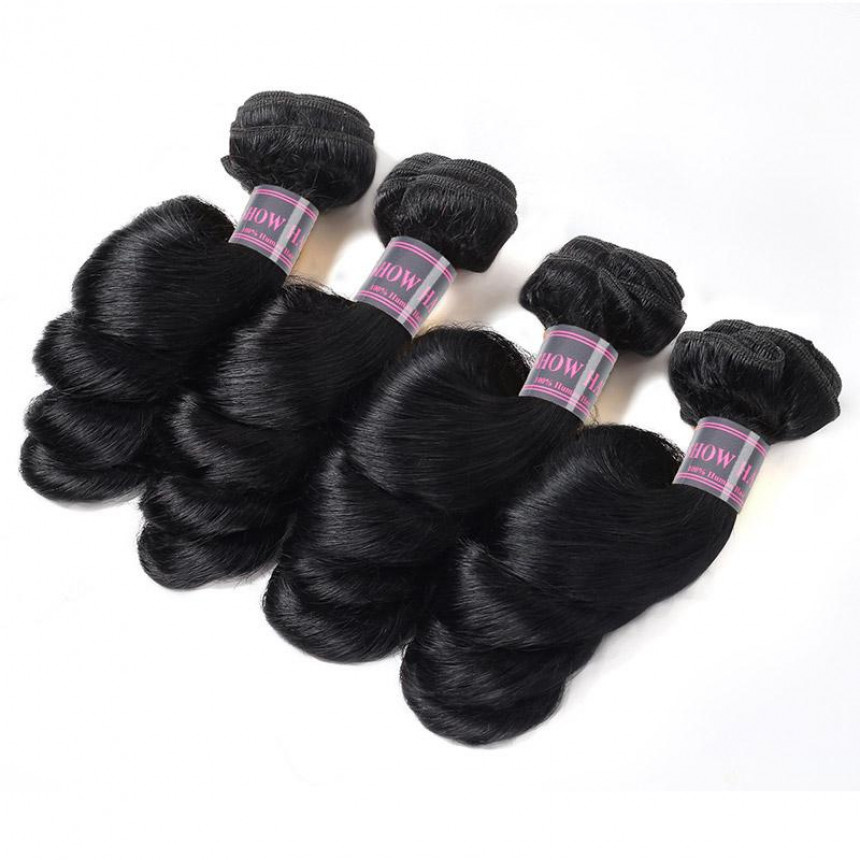 -20 %






Secured Shopping
Best security features, we support Visa, Master.Amex, Paypal and etc.
Free Shipping
Free delivery over $50, ship with DHL, EMS,Fedex express and etc
Free Returns
Hassle free returns, multi warehouses in the US, Hong Kong, Canada, New Zealand
malaysian hair loose wave 4 bundles with 4x13 lace frontal
Malaysian Loose Wave 4 Bundles Human Hair Weave With Ear to Ear Lace Frontal 100% Virgin Remy Human Hair Extensions High Quality Cut From Young Girl Donator 100% Virgin Human Hair Long Lifetime Durable Natural Hair No Shedding No Matting No Tangle Bouncy Soft Hair
Hair Grade: 100% Unprocessed Virgin Human Hair Weave

Hair Texture: Loose Wave

Items/Package: 4 Pcs Hair Weave & 1 Pc 13*4 Lace Frontal




Hair Length: Hair Weave: 8-28 Inches In Stock;13*4 Lace Frontal: 8-20 Inches

Hair Weight: Hair Weave:95g-100g/Piece; 13*4 Lace Frontal:60g-90g/Piece




Hair Color: Natural Black

Quality: Machine Double Weft, Soft, No Shedding, No Tangle

Features: Can Be Dyed & Permed & Bleached
Description:
The Elegance of Malaysian Loose Wave 4 Bundles Human Hair Weave With Ear-to-Ear Lace Frontal
Hair extensions are more than just beauty accessories; they express personal style, confidence, and identity. Among the top choices that blend tradition with modern style are the Malaysian loose wave bundles, especially when combined with the ear-to-ear lace frontal.
A Peek into Malaysian Hair Origins
Malaysian hair, as the name suggests, originates from Southeast Asia. Known for its luxurious texture and natural shine, this hair type is revered for its resilience and versatility, making it a top pick for extensions.
The Distinct Charm of the Loose Wave
The beauty world is ever-evolving, but some hairstyles, like the loose wave, continue to capture hearts generation after generation.
Characteristics of Loose Wave Hair
Natural Flow

: Unlike the deep wave or tight curls, the loose wave flows gently, offering a soft, effortless allure.

Versatility

: Adapts well to various styles, from straight to curly, without losing its essence.

Texture

: Malaysian loose wave, in particular, boasts a thicker texture, perfect for those seeking volume.
Why the Loose Wave is a Trending Choice
Ease of Management

: Generally requires less maintenance, making it a go-to for busy lifestyles.

Natural Appearance

: Gives a closer resemblance to natural wavy hair, ensuring seamless blending.
Why Opt for 4 Bundles?
The number of bundles you choose can drastically influence your hairstyle's fullness and volume. Four bundles guarantee a lush, voluminous look, especially for those with longer hair.
Unraveling the Beauty of the Ear-to-Ear Lace Frontal
The ear-to-ear lace frontal is a game-changer in the world of hair extensions:
Natural Look

: It spans from one ear to another, ensuring a comprehensive front coverage that looks natural.

Styling Flexibility

: Allows diverse parting options, either middle, side or even back.

Protection

: Ensures your natural hairline remains protected from potential damage and breakage.
Caring for Your 100% Virgin Remy Hair Extensions
Keep It Clean

: Use sulfate-free shampoos and conditioners.

Limit Heat

: While these extensions can handle heat, it's advisable to limit their use or employ heat protectants.

Stay Gentle

: Use a wide-tooth comb for detangling to minimize breakage.
In Summary
The Malaysian loose wave four bundles combined with an ear-to-ear lace frontal offer a unique blend of tradition, elegance, and modernity. It's more than just hair; it's a style statement that speaks volumes.
FAQs
How do I determine if my hair extensions are genuinely "Remy"?
Actual Remy hair has its cuticles intact and aligned in one direction, ensuring minimal tangling.
Can I color these extensions?
Yes, but always conduct a strand test first or consult a professional.
What's the lifespan of these extensions?
With proper care, they can gracefully serve you for 12-24 months.
Is daily styling safe for these extensions?
Occasional styling is okay, but everyday heat applications can reduce their lifespan.
Why is Malaysian hair so popular?
Its natural luster, durability, and versatility make it a favorite choice for many.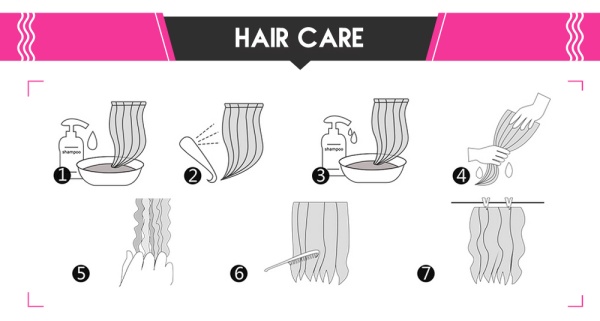 1.Be ready for everything and wet the hair with warm water
2.soak the hair with mild shampoo for a few minutes.
3.Rinse the hair in clear water once.
4.Do it again to make sure the hair is clean.
5.Cover the hair with the towel to soak up the water on it.
6.Move down gently to comb the hair straight to the ends.
7.Hang the hair with the weft open and air-dry it and curls hold well.
Stock:

8 only

Model:

malaysian-hair-loose-wave-4-bundles-with-4x13-lace-frontal

SKU:

malaysian-hair-loose-wave-4-bundles-with-4x13-lace-frontal

ISBN:

malaysian-hair-lo
Hurry, this offer ends in: