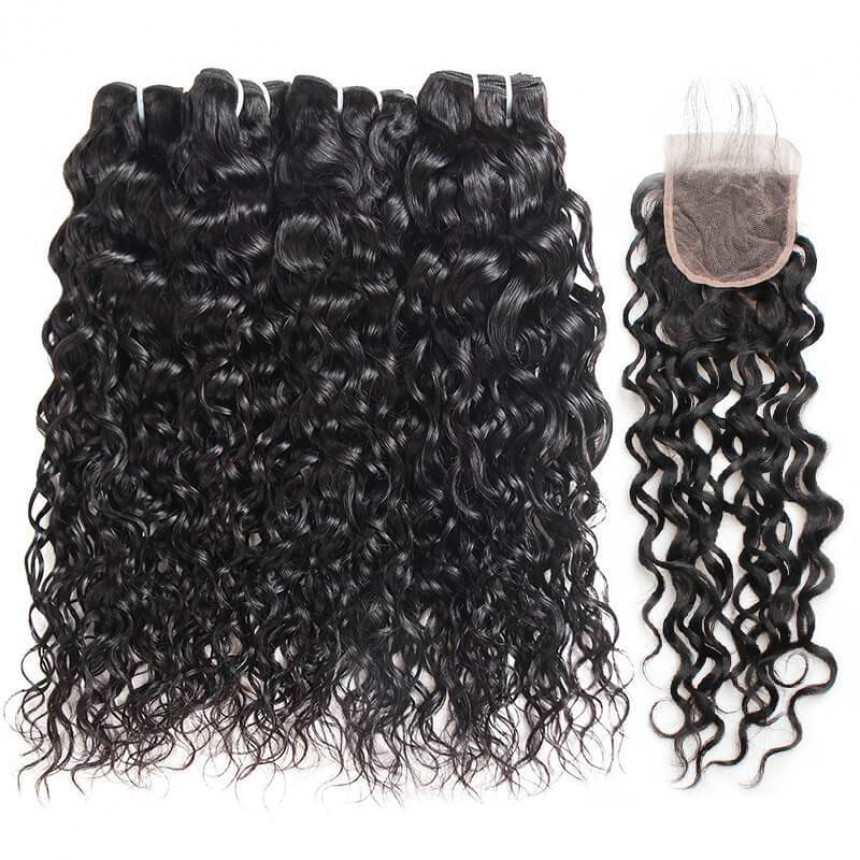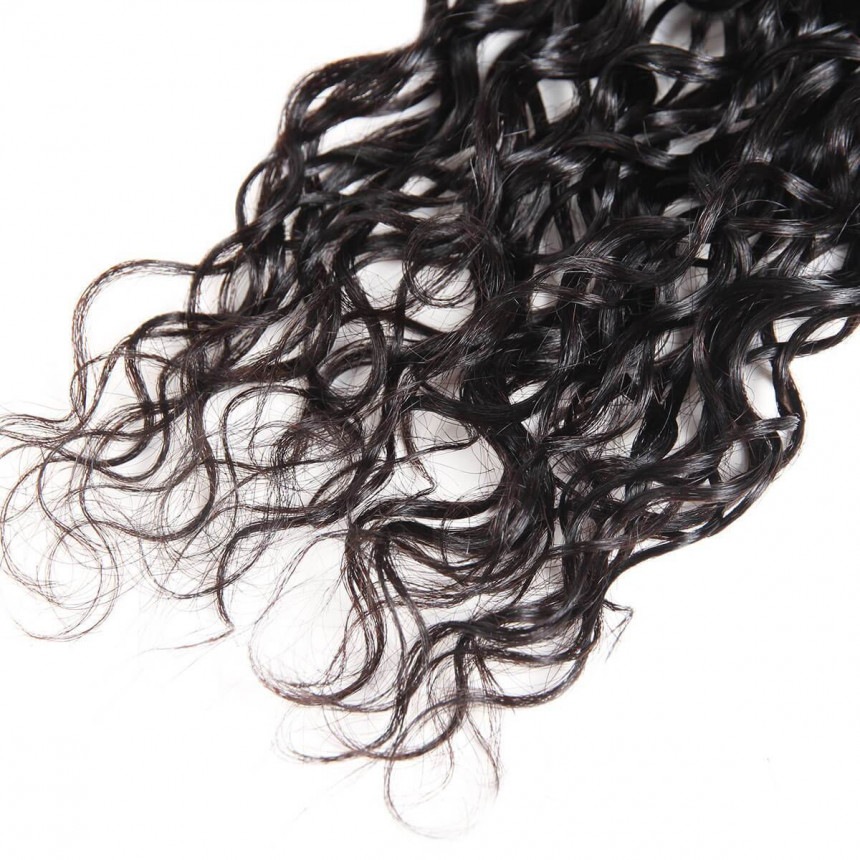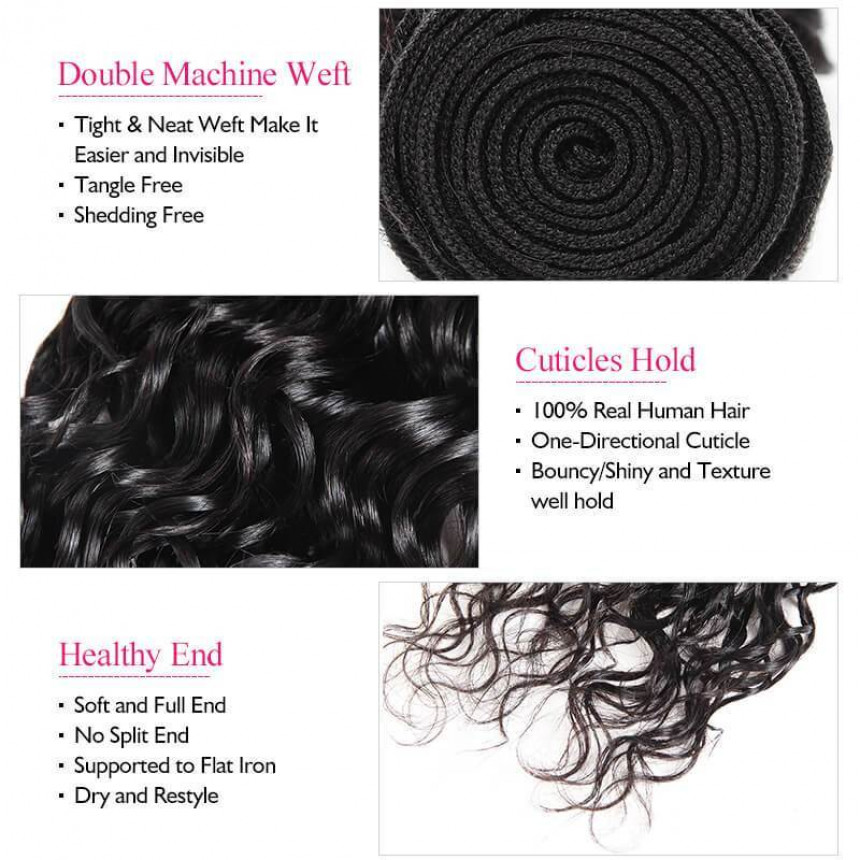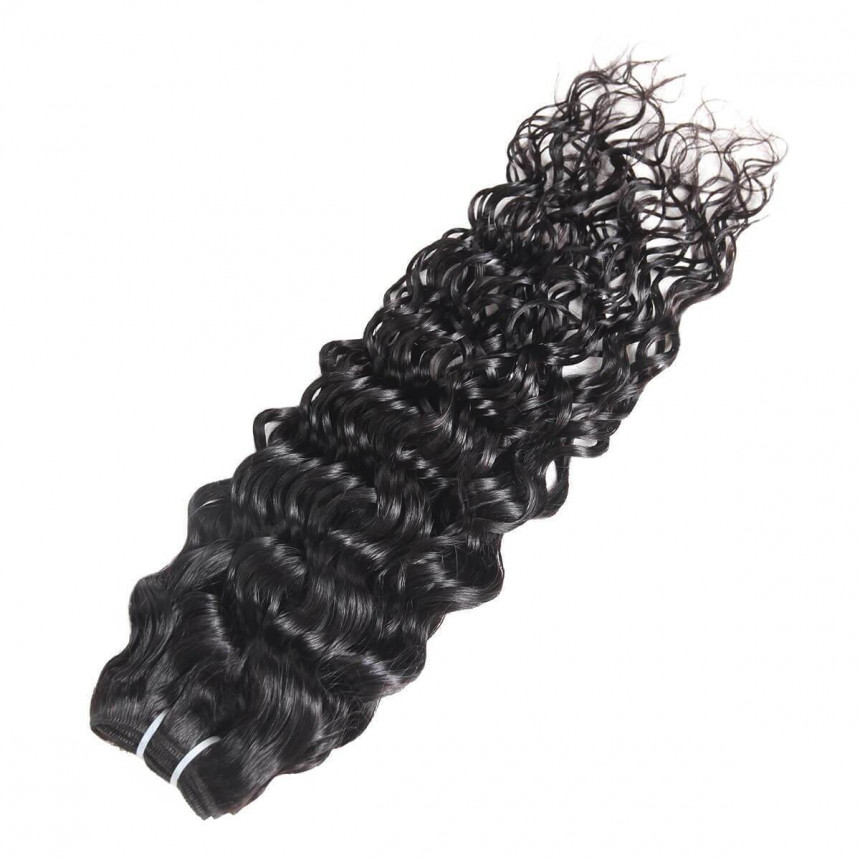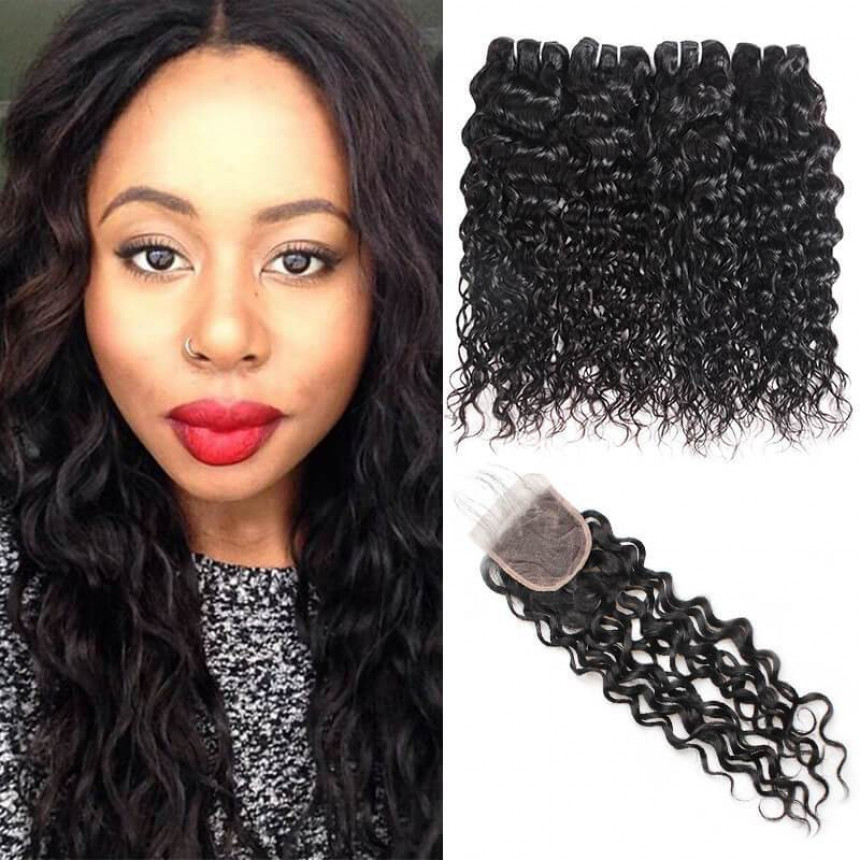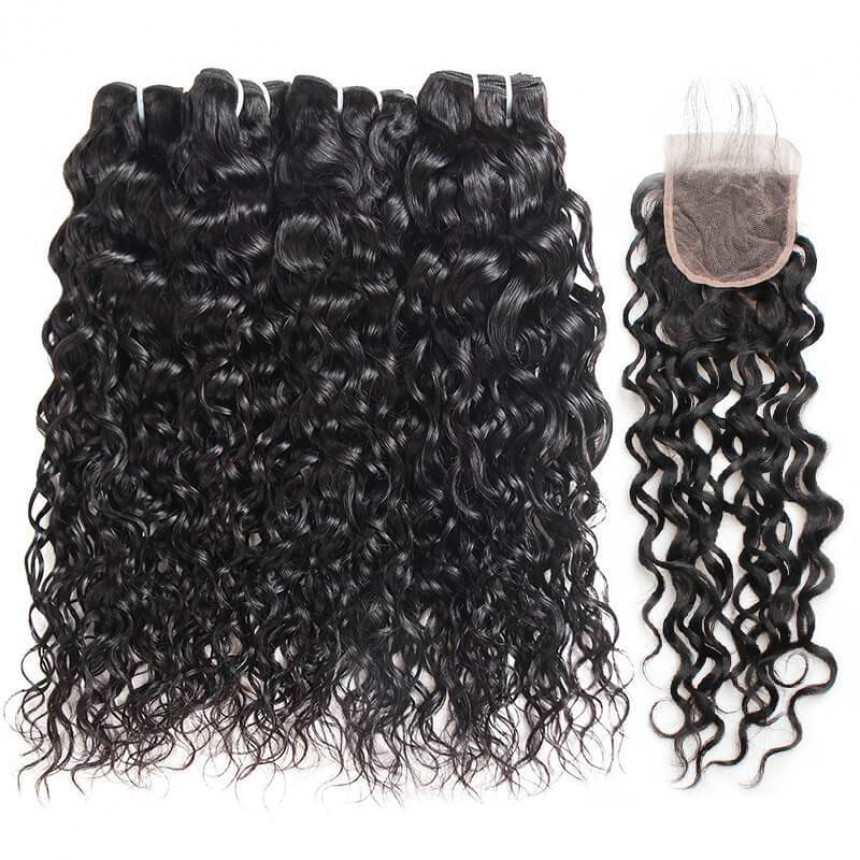 -21 %






Secured Shopping
Best security features, we support Visa, Master.Amex, Paypal and etc.
Free Shipping
Free delivery over $50, ship with DHL, EMS,Fedex express and etc
Free Returns
Hassle free returns, multi warehouses in the US, Hong Kong, Canada, New Zealand
brazilian hair water wave 4 bundles with lace closure
Brazilian Water Wave Hair Extensions Free Part 4 Bundles Hair Weave With Lace Closure 100% Remy Virgin Human Hair Can Be Permed Straightened Ironed No Grey Hair Tight And Neat Bouncy Soft Hair High Quality Long Lifetime
Hair Grade: 100% Unprocessed Virgin Human Hair Weave

Hair Texture: Water Wave

Items/Package: 4 Pcs Hair Weave & 1 Pc 4*4 Lace Closure




Hair Length: Hair Weave: 8-28 Inches In Stock;4*4 Lace Closure: 8-20 Inches




Hair Weight: Hair Weave:95g-100g/Piece; 4*4 Lace Closure: 30g-50g/piece




Hair Color: Natural Black

Quality: Machine Double Weft, Soft, No Shedding, No Tangle

Features: Can Be Dyed & Permed & Bleached
FAQ
Do hair toppers work?
Hair toppers are a wonderful solution for girls with baldness or hair loss on the top and crown of the mind, but not just that, hair toppers are terrific for girls who have flat or fine hair, since it provides you considerably more hair quantity and coverage at the top.
Can you sleep in a hair topper?
The solution is that we do not recommend sleeping on your own hair , as it might harm your topper and also decrease its lifespan. Additionally, you need to wash and design your topper more often in the event that you sleep inside, which may lead to wear and tear on it.
Do hair toppers look real?
To perform hair toppers appear natural, just do it when it's essential. Whenever your extensions begin to appear dull, feel rough, or scents, it is likely time to exfoliate and condition. -- If you frequently utilize hair toppers, you ought to wash them after 1 week.
How does a hair topper work?
Generally, hair toppers are hairpieces that could combine with your own hair by several snaps of their built-in clips. Toppers are a perfect solution for anybody with hair loss or baldness by supplying more density and volume. These hairpieces colour different regions of baldness based on the policy you desire.
Can you wear a topper with short hair?
With hair toppers for short hair, you can easily change your hairstyle and create a new look. The most natural-looking hairpieces are those that are made from human hair. It is also the highest quality of toppers and the most versatile since you can trim and style the hair to blend in with your natural hair.
Can you swim with a hair system?
With hair toppers for short hair, it is possible to easily change your hairstyle and generate a new appearance. The natural-looking hairpieces are the ones which are created from human hair. It's also the maximum caliber of toppers and also the most versatile as you are able to trim and design your hair to blend in with your hair.
Can I glue hair to my scalp?
We could attach our"Growing Hair Replica" anyplace on the mind. You'd shower and design your own hair addition as though it were your own.
Can I wear wig everyday?
If you are wearing your wig daily, a synthetic wig will wear out at approximately 4 - 6 weeks plus also a human hair wig will wear out over a year. If you are still considering wearing wigs then period is finished, you are able to change your style when you purchase a new wig.
Is Bobbi Boss braiding hair good?
On the other hand, the feel is really crunchy, not smooth or slick.
How do you take care of a human hair blend wig?
Hold the front of cap , rinse under faucet wetting complete wig with cool to warm water. Don't allow hair float water or move close to the drain. Lather shampoo hand, then use to wig and gently work it through your hair.
Is Remy hair real human hair?
Remy hair is considered the finest quality of human hair since the cuticles are kept intact unlike most other non-remy hair extensions. In contrast, Remy human hair is collected through a method in which the hair strands are completely aligned in the natural direction as it grew.
Is Remy hair good quality?
The cells that allow hair to grow will probably continue to have the ability to operate under your skin whilst sporting a wig. If you are concerned about damaging hair that's growing back out under your wig, wearing a wig cover can help protect the hair that's growing in.
Does wearing a wig stop your hair from growing?
Select a wig cap made from stretchy bamboo as its organic moisture-wicking will keep sweat from your mind. Stay away from chlorine and saltwater whilst wearing your wig since they can harm the fibers. Take it off and use a swim cap rather to secure your scalp.
How do you keep from sweating while wearing a wig?
Select a wig cap made of stretchy bamboo because its natural moisture-wicking will keep perspiration off of your head. Avoid chlorine and saltwater while wearing your wig because they can damage the fibers. Take it off and wear a swim cap instead to protect your scalp.
Do sew ins grow your hair?
Provided that you wash your hair prior to stitching rather than massaging the pure hair too tight when stitching a spoonful or extension, then you won't need to be worried about sew-ins damaging your normal hair.
How much does it cost to get a wig sewn in?
This depends upon a range of factors, such as where you're in the nation and that your breeder is. Broadly , however, the installation service generally ranges from $100 to $600. And that is not including the price of these extensions, which may fall anywhere between $80 to $600.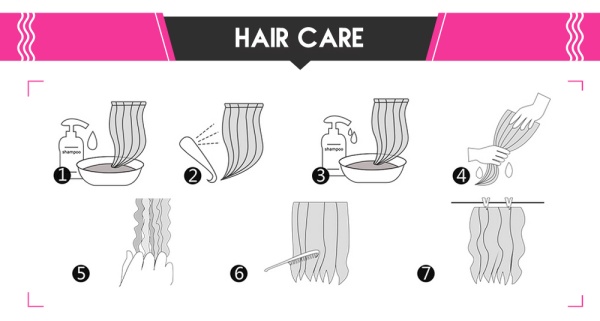 1.Be ready for everything and wet the hair with warm water
2.soak the hair with mild shampoo for a few minutes.
3.Rinse the hair in clear water once.
4.Do it again to make sure the hair is clean.
5.Cover the hair with the towel to soak up the water on it.
6.Move down gently to comb the hair straight to the ends.
7.Hang the hair with the weft open and air-dry it and curls hold well.
Stock:

8 only

Model:

brazilian-hair-water-wave-4-bundles-with-lace-closure

SKU:

brazilian-hair-water-wave-4-bundles-with-lace-closure

ISBN:

brazilian-hair-wa
Hurry, this offer ends in: