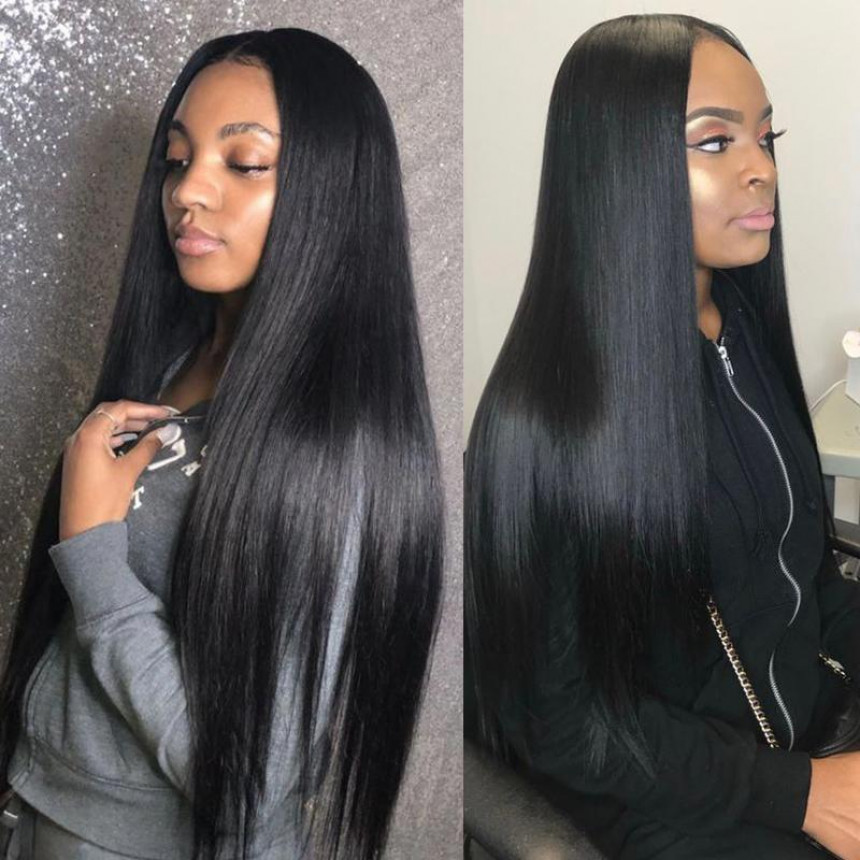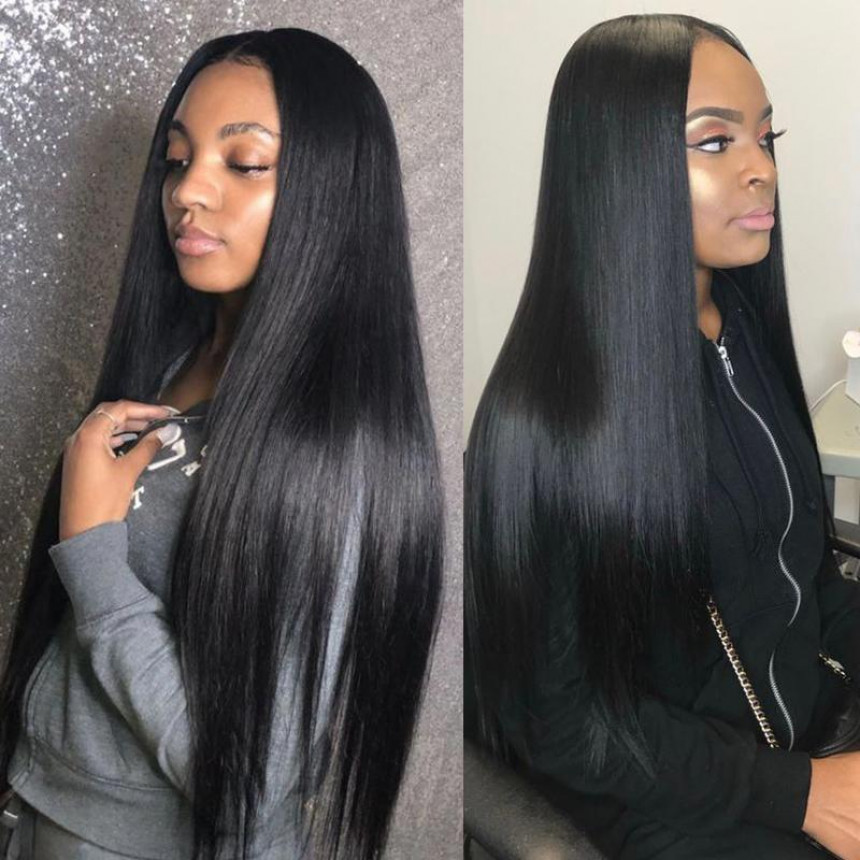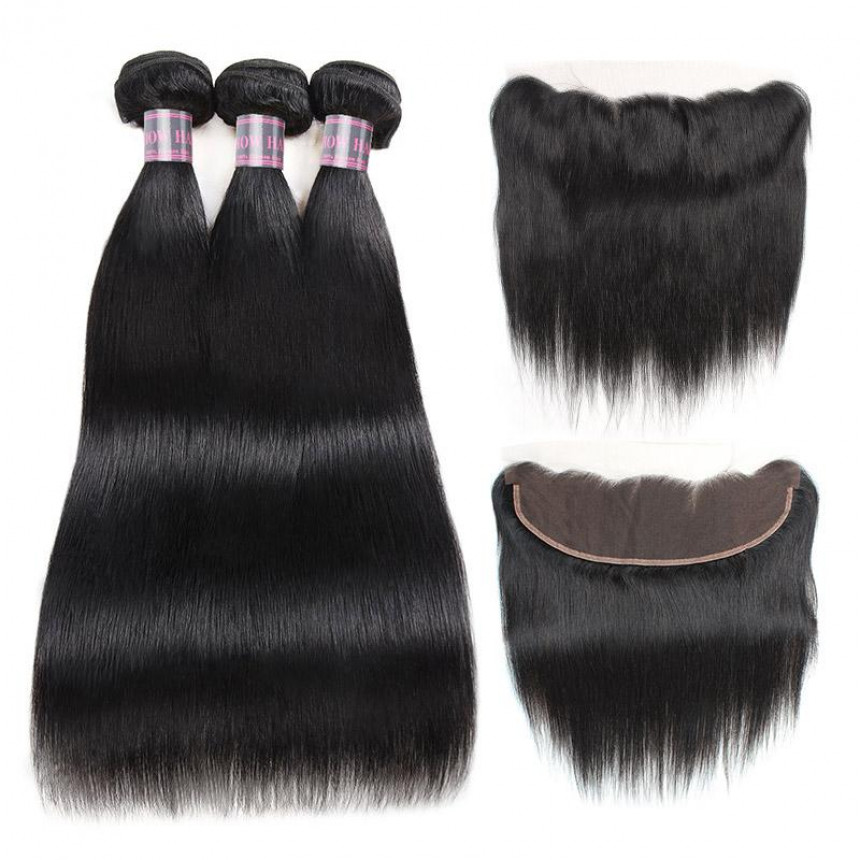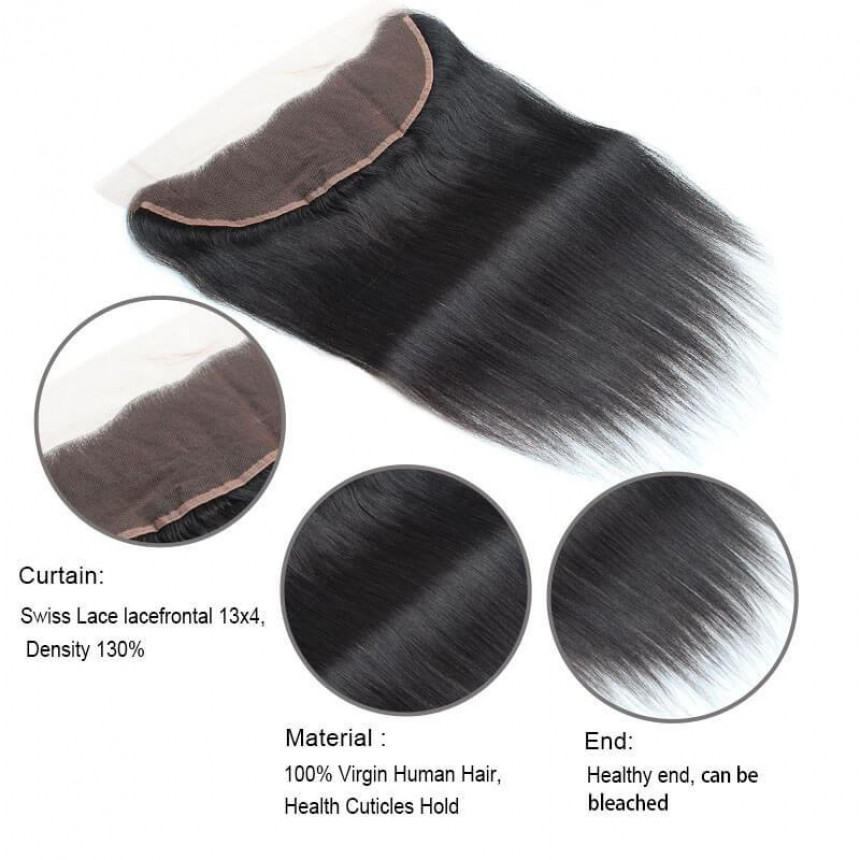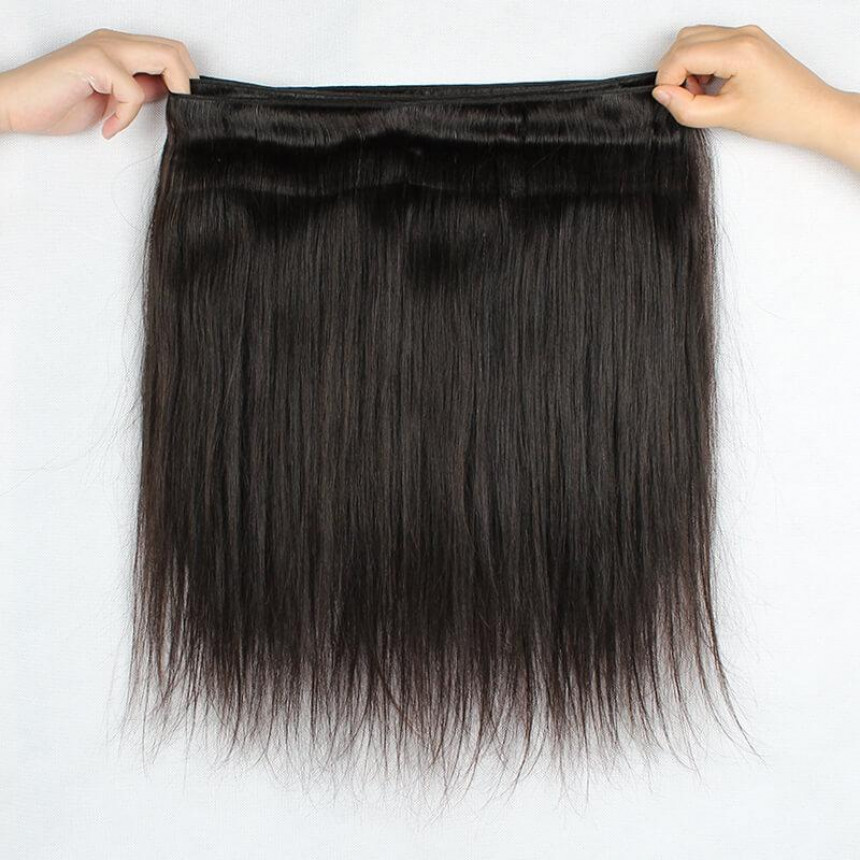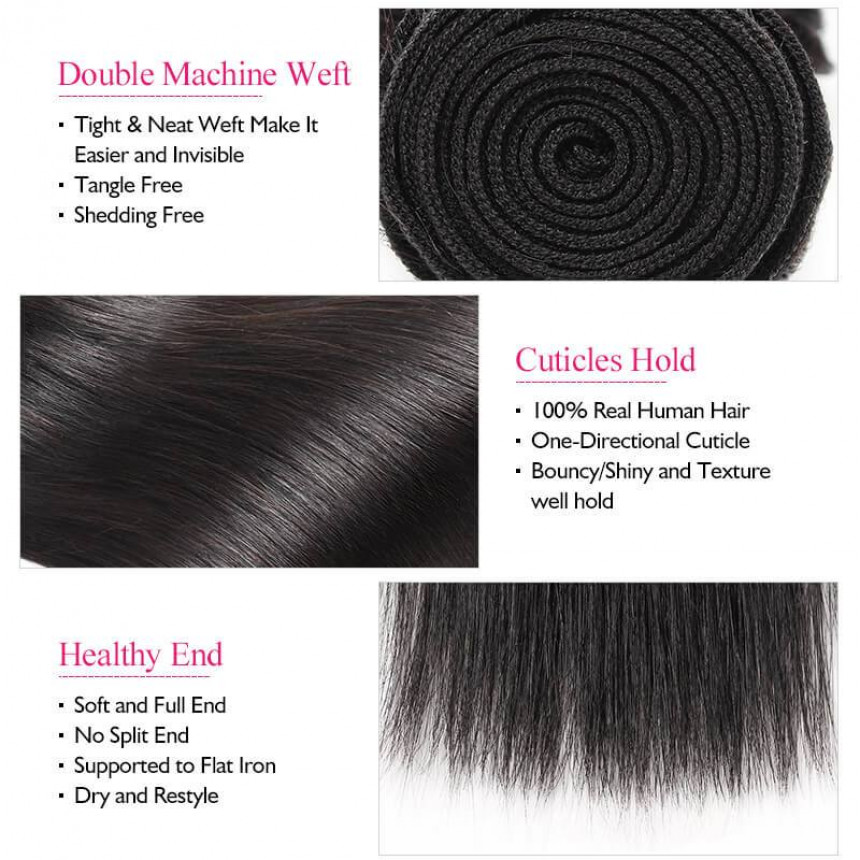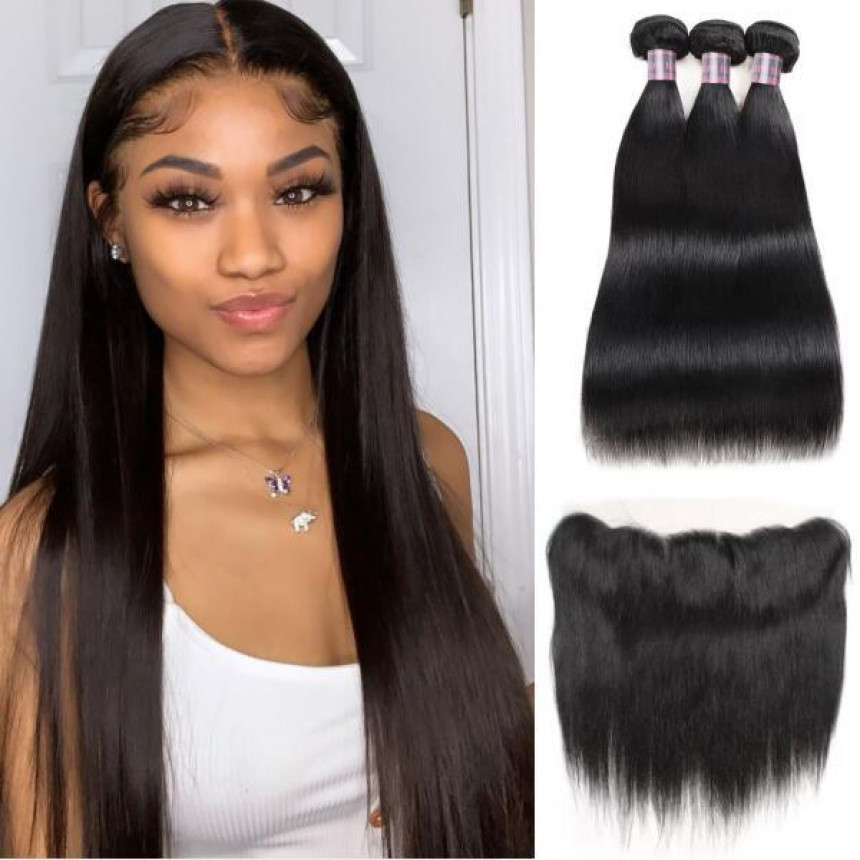 -15 %






Secured Shopping
Best security features, we support Visa, Master.Amex, Paypal and etc.
Free Shipping
Free delivery over $50, ship with DHL, EMS,Fedex express and etc
Free Returns
Hassle free returns, multi warehouses in the US, Hong Kong, Canada, New Zealand
brazilian straight virgin hair weave 3 bundles with 13 4 lace frontal
PRODUCT FEATURES

Item: 3 Bundles Brazilian Straight Virgin Human Hair with 13*4 Lace Frontal, Unprocessed Virgin Human Hair Extension
Hair Material: Virgin Human Hair Weave, 8A Grade, No Shedding, Tangle Free
Hair Color: Natural Black Color
Hair Grade: , 8A Grade, Straight Human Hair Bundles, Can be bleached and restyle, dyed
Hair Length: 8 inch - 28 inch are available, Very Soft, Healthy and thick
Texture: Straight Hair, Natural Hairline, Soft, Comb Easily, Minimal Shedding, No Tangle
Pack: 3 Bundles Straight Hair with 13*4 Lace Frontal
FAQ
What length should I purchase

Hair bundle should be measured when it is stretched. So please keep in mind that you will need to accommodate for its curl pattern when selecting your desired length.
How long do the hair bundles last
Our bundles typically last for 7-9 months, if cared for properly.
How much can a frontal wig price?
Even high quality synthetic wigs may wind up costing upwards of $1000 from particular high-end wig shops.
How can you conceal a wig trail?
-You are able to make use of black eye shadow, dark or black brown nontoxic mark or a dark brownish or black eyeliner to colour from the regions on the wig cap in which the paths are revealing. -it is also possible to use a dark wig cap if you're attempting to conceal tracks nevertheless your scalp might not seem as natural.
How do I create my weave appear thicker?
Tease the crown of the weave working with a teasing spoon or tight bristle brush. Your overall appearance will probably be thicker with all the teased, layered, and tousled fashion.
Will wearing a wig help my hair grow?
Nowadays wigs seem natural, may have a very long lifespan and, if utilized properly, wigs may be utilized to grow your own hair, shielding it from over exploitation, breakage and weather circumstances. Wearing a wig may be a part of a successful protective haircare routine, assisting you to develop thick, long and healthier hair.
How long can I leave a wig on?
Wigs which are well-secured may be worn for up to six months however, should be removed frequently to take care of your wig and organic hair. Finally, how long a human hair wig lasts comes down to how often you utilize it.
Can you glue a wig on a bald head?
A wig will provide you a fresh look and a brand new mindset, and that means you would like to be certain it fits nicely and remains in place. Apply liquid glue to a scalp with your little adhesive brush into the regions in which the wig will attach to a mind.
How do you secure a wig without glue?
Short hair may also readily be tucked beneath a wig cap. But, you could even use glue or tape around your borders to get a solid grip.
What is a free part hair closure?
A free part closed has the power to be parted everywhere through the closed, the three part closed can simply be parted in which the 3 components are unless you would like to control the closed by pulling out hair. It is only how the hair is set up on the lace.
Just how long do closure wigs continue?
They last between two to four weeks without having a retouch. The longer duration of time that your lace frontals need to remain installed will allow it to irritate skin and seriously harm your hairline or split your borders.
What length closure do I need?
You probably want to purchase a Closure shorter than the amount of the remaining part of the hair. By way of instance if you're purchasing all of 12" hair then you likely would not purchase a 16" closure. But in the event that you have more hair extensions that the Closure span is down to taste.
How do I keep my closure from lifting?
The spiking paste will keep the closed from lifting.
How can you receive lace adhesive off a wig without any alcohol?
Vaseline or emollient oil are gentle and safe choices to eliminate lace front adhesive from scarp. You have to repeat this step a few times to completely get rid of the paste.
What is the difference between 4x4 and 6x6?
The gaps between 6x6 closed and 4x4 closure As their title, the lace dimensions of a 6x6 closed is 6 inches long by 6 inches diameter.
What is a seamless lace closure?
Lace closures are known for its ability to look natural when developing a seamless appearance. They're made ouHow long can a final glow?
They last between two to four weeks without having a retouch. The longer duration of time that your lace frontals need to remain installed will allow it to irritate skin and seriously harm your hairline or split your borders.
How many packages do you want with a closed?
Frontal Or Closure:Closures are generally 4 x 4 inches, so you'll want to use no less than two packages with your closing. Since the frontal will pay for a huge part of your mind you may normally only need 2 -- 3 packages based upon the length and style.
How long can one glueless final last?
"Glueless Frontal And Closure" Disadvantages: Lasts about 4-5 days requiring a lot of upkeep; May break borders in case your brow is not large enough to put properly on skin and when not removed correctly.
What is the distinction between a lace and lace closed & A frontal closing?
Materials: Lace Closures are made from thin lace-like materials like Swiss lace, that is the only we market. Silk Closures are made from thicker material, making it hard to see your normal scalp beneath and in addition, it provides a more natural appearing part/scalp.
Whats the difference between a lace closure and a regular closure?
Compared to this lace closed, the lace closed is obviously thinner and more elastic; it will readily adapt to a head, leading to an apartment and easy installation. On the other hand, the knots on the lace closed are observable with clear grid lines, which can be very noticeable if they are not substituted first.
How much do quick weaves cost?
Rather than paying upwards of $250 to get a sew-in, the cost for fast weaves will vary from $60-$150, depending on if you visit a skilled or DIY in your home. Apart from being a time-saving appearance, rapid weaves may also place less strain in your normal hair compared to sew-ins.
Whats the difference between a 4x4 closure and a 5x5 closure?
The differences between 4x4 and 5x5 closing The dimensions of this 4x4 closed is 4 inches, and also the size of this 5x5 closed is 5 inches. Considering that the various dimensions, the policy region of the 4x4 and 5x5 closed can also be distinct. The 5x5 lace closure will pay for an additional one inch compared to the 4x4 lace closed.
How can you sew at a free part closed?
The hair is combed neatly and also the closed is put flat to make a natural appearance. Braiding your hair nicely and also make it flatted. Put the middle region of the closed directly in addition to the middle portion of your hair. Sewing in, or gluing on your free part closed.
Just how long can weave closures last?
They last between two to four weeks without having a retouch. The longer duration of time that your lace frontals need to remain installed will allow it to irritate skin and seriously harm your hairline or split your borders.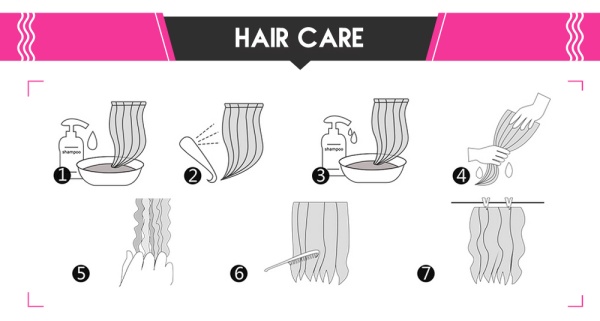 1.Be ready for everything and wet the hair with warm water
2.soak the hair with mild shampoo for a few minutes.
3.Rinse the hair in clear water once.
4.Do it again to make sure the hair is clean.
5.Cover the hair with the towel to soak up the water on it.
6.Move down gently to comb the hair straight to the ends.
7.Hang the hair with the weft open and air-dry it and curls hold well.
Stock:

5 only

Model:

brazilian-straight-virgin-hair-weave-3-bundles-with-13-4-lace-fr

SKU:

brazilian-straight-virgin-hair-weave-3-bundles-with-13-4-lace-fr

ISBN:

brazilian-straigh
Hurry, this offer ends in: