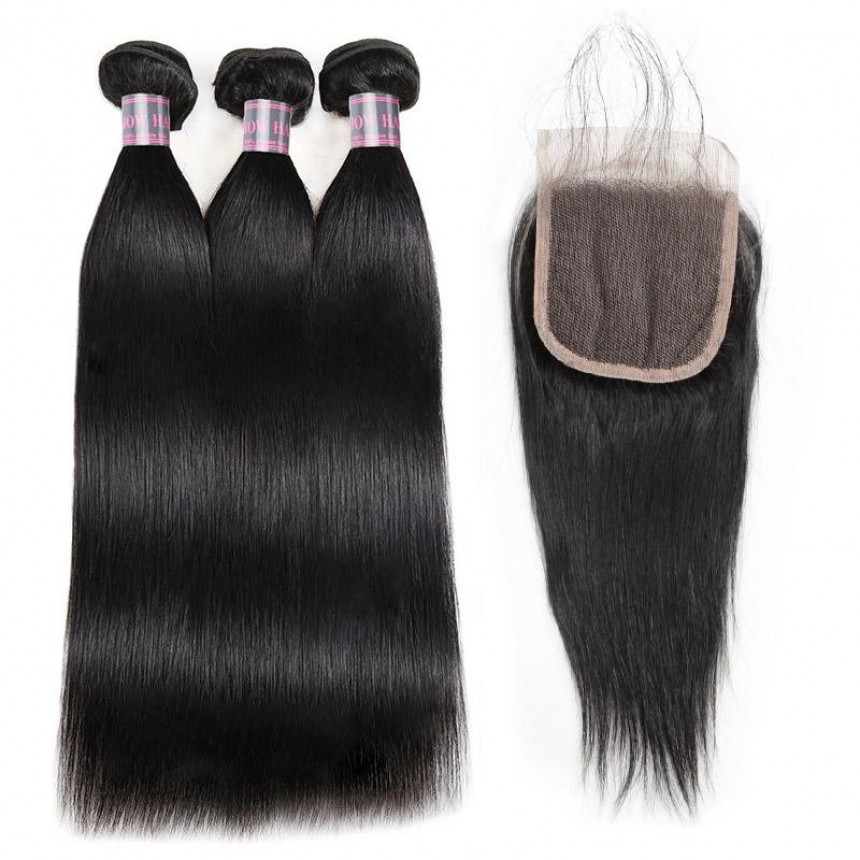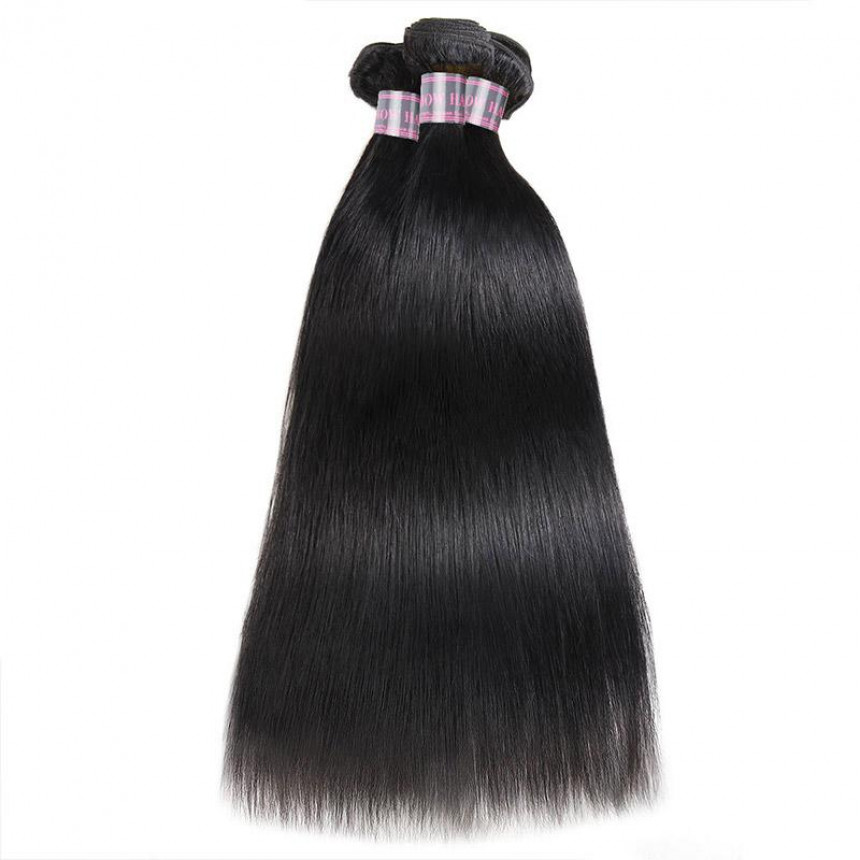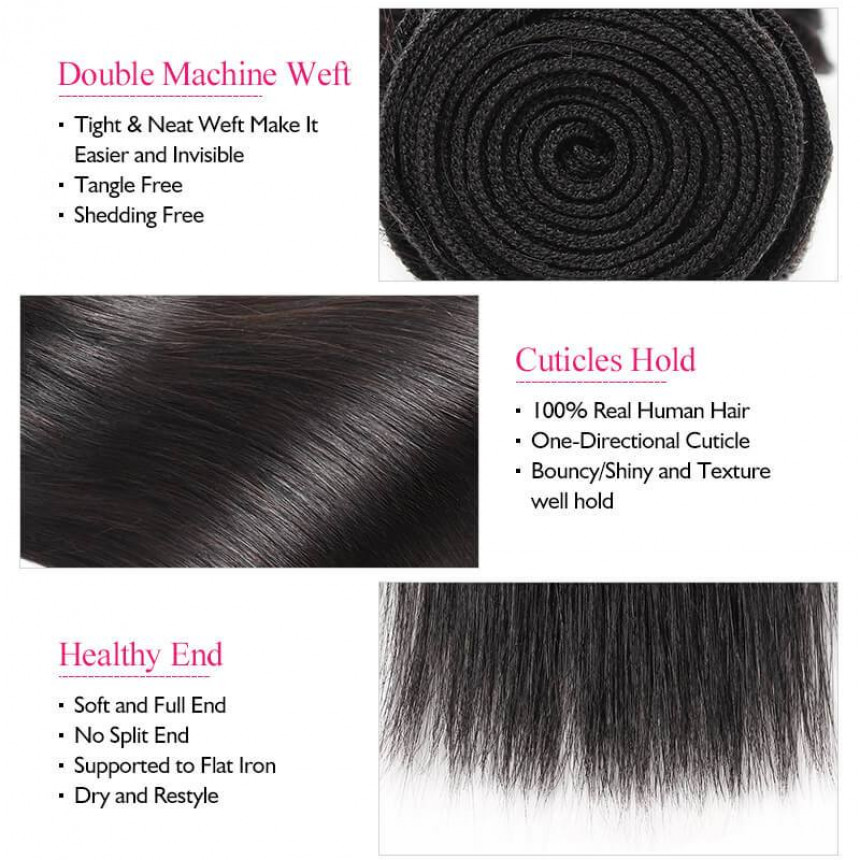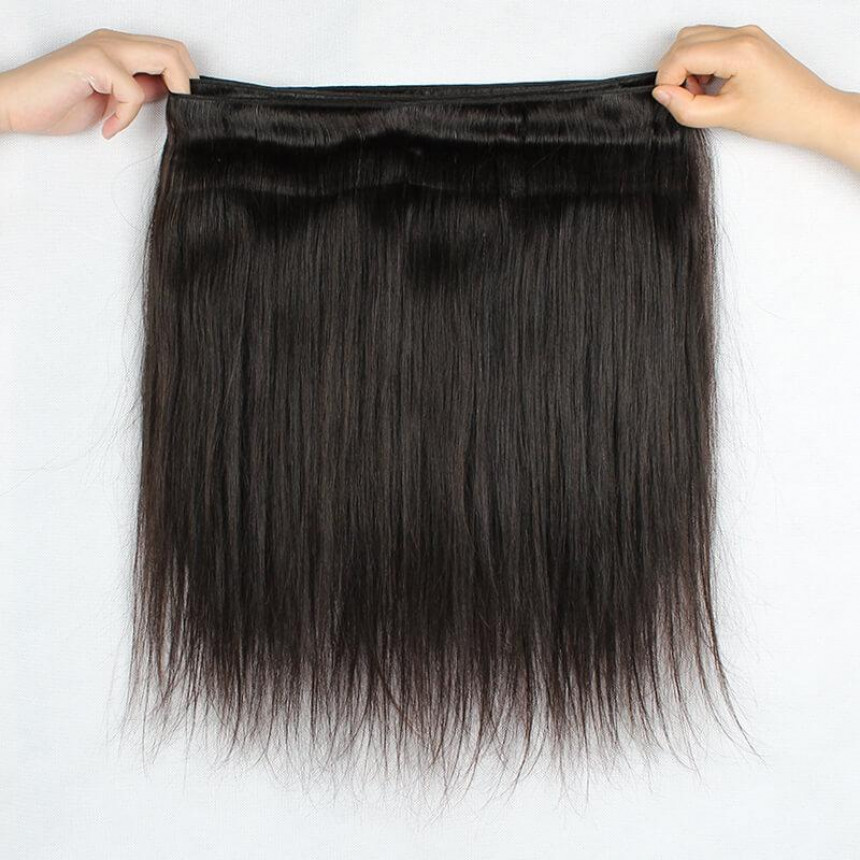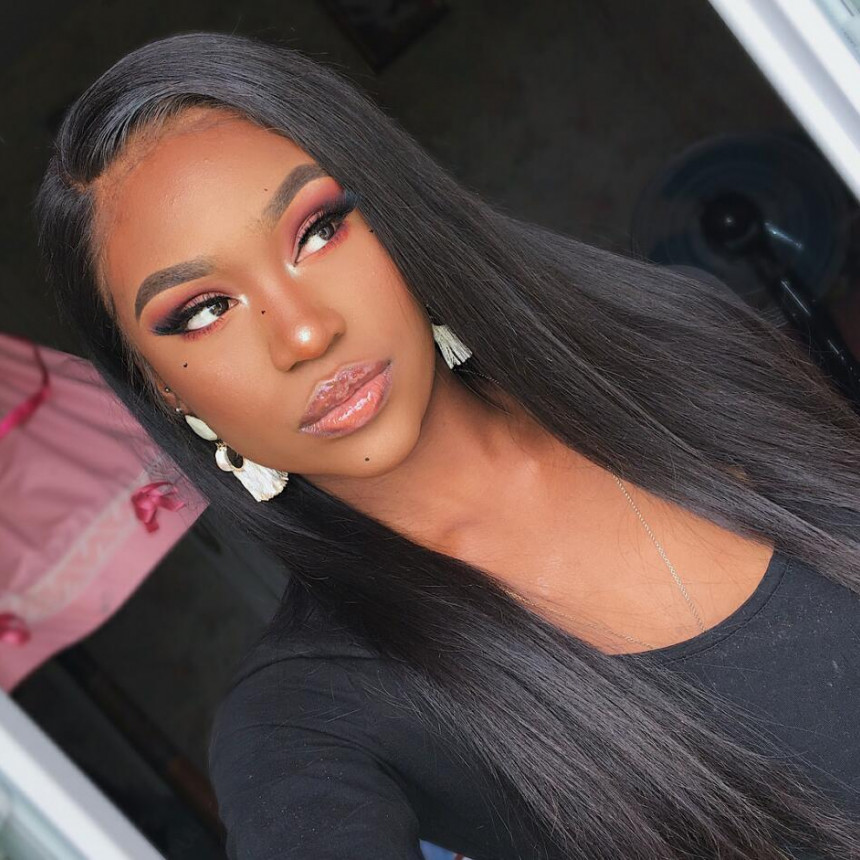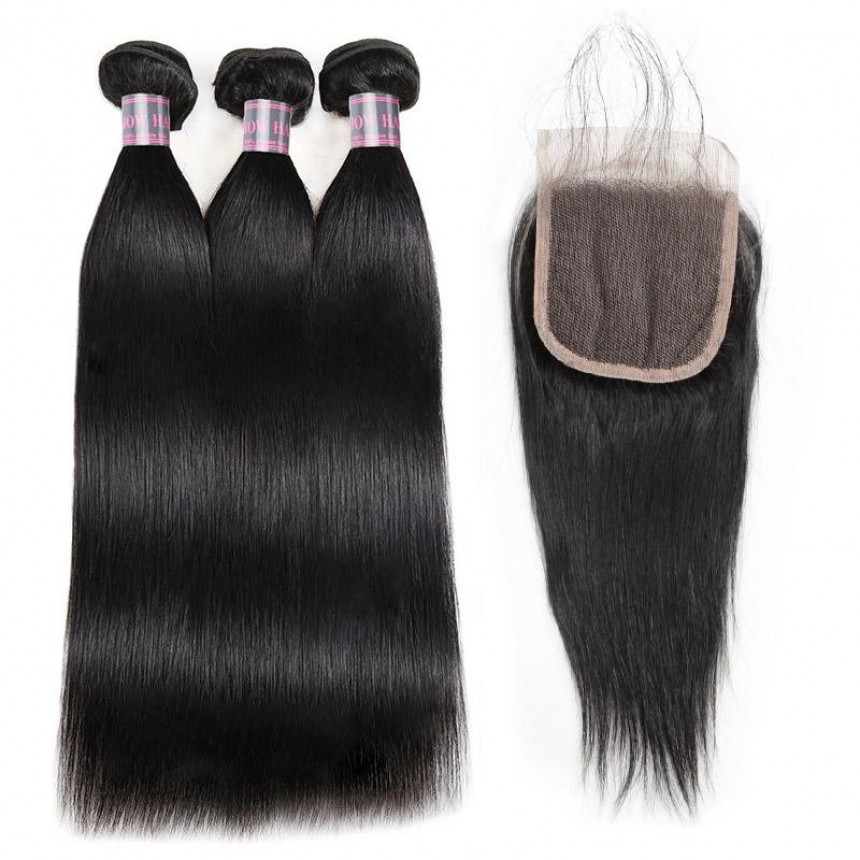 -20 %






Secured Shopping
Best security features, we support Visa, Master.Amex, Paypal and etc.
Free Shipping
Free delivery over $50, ship with DHL, EMS,Fedex express and etc
Free Returns
Hassle free returns, multi warehouses in the US, Hong Kong, Canada, New Zealand
indian hair straight 3 bundles with lace closure
PRODUCT FEATURES

Item: Virgin Indian Straight Virgin Human Hair 3 Bundles with 4*4 Lace Closure, Unprocessed Virgin Human Hair Extension
Hair Material: Virgin Human Hair Weave, 8A Grade, No Shedding, Tangle Free
Hair Color: Natural Black Color
Hair Grade: 8A Grade, Straight Human Hair Bundles, Can be bleached and restyle, dyed
Hair Length: 8 inch - 28 inch are available, Very Soft, Healthy and thick
Texture: Straight Hair, Natural Hairline, Soft, Comb Easily, Minimal Shedding, No Tangle
Pack: 3 Bundles Straight Hair with 4*4 Lace Closure
What length should I purchase

Hair bundle should be measured when it is stretched. So please keep in mind that you will need to accommodate for its curl pattern when selecting your desired length.
How long do the hair bundles last
Our bundles typically last for 7-9 months, if cared for properly.
How many packages do I want with a 5x5 closing?
If you're likely to find the very best 5x5 lace closed wig in 8-18 inches, then you need to get 3 packages for a complete sew-in. If you wish the 5x5 lace closed with packages sew in at the duration of 20-30 inches, then you need to purchase 4 packages for a complete sew in using a 5x5 brazilian lace closed.
How many packages will be 30 inches?
We recommend 3 packages to get a complete install if using spans shorter than 20 inches. We recommend 5 packages for spans 30 inches and more.
How can they create fake hair?
Artificial Hair: A synthetic polymer it's made up of plastic fibers, made to look like hairfollicles. In its fundamental form, artificial hair is created of non-toxic oil that's heated and heated into strands to earn individual hair follicles.
Can Remy human hair be dyed?
Since virgin Remy hair extensions have never been chemically processed at all, they are sometimes dyed with minimal harm to your own hairfollicles. While it's ideal to prevent overly harsh compounds, virgin Remy extensions may be lightened or darkened as organic hair.
What's the difference between baldness and closing?
1 approach to spot frontals is they are utilized to reestablish the hairline from ear to ear while closures are utilized to recreate the pure glow of their hairline. Both lace frontals and lace closed hair pieces assist to finish your appearance and are wonderful for styling your own wigs, weaves, and hair extensions that are natural.
How large is a 6x6 closing?
A 6x6 lace closed is a bit of human hair closed using the lace dimensions 6x6 inches. The 6x6 closure sew can also construct a natural and complete hairline.
How can you mend a lace closed without adhesive?
Use hair clips to pin down the lace closed in place. Cut off the excess lace, careful to not cut too near the hair . Tease a number of your baby hairs and push them only facing the lace closed. Sew close into the braids.
How can pluck hair?
If you tweeze a hair, your aim is to pull on the hair shaft from the epidermis, in its root.
Can a lace front wig be sewn on?
The lace provides you the advantage of a natural-looking hairline, but lace front choices are typically less expensive than the usual full-lace wig. In any event, the most protected approach to put in a lace-front wig would be to sew it into position.
Which is better sew in or wig?
Should you take some opportunity to invest in great quality packages, you might have hair extensions which last as many as 2 years which makes it more suitable and cost-effective to have a sew-in. Wigs have short life expectancy the very best of the highest quality ones may still seem messy over a particular timeframe.
Should I use 4x4 or 6x6 for pergola?
For an extremely modest pergola with just 4 to 6 feet between articles, 4×4 supports will probably do the job.
How many bundles do you need for a weave?
Three packages for an entire sew-in typically the magical number. Anything less, two packages will be ideal. In case your sew-in is beginning with spans over 22″ you may want to contemplate four packages to five packages.
How can you maintain weave cheap?
You ought to keep your own hair weave right when you are washing it to prevent matting. Dry the hair softly by massaging it with a micro fiber towel; don't rub your hair! You can wash your hair under a drier or in the atmosphere also, but be certain it's totally dry so that it does not get mold or smell like mildew.
Is 180 density thick?
180 percent (Heavy) Intended for customers who want a complete and voluminous hair appearance. This density is hefty and also for customers who enjoy a complete style. 200 percent (Additional Heavy/Glam) This density is quite heavy.
What is the most expensive weave?
1) Virgin hair thinning hair is the most expensive kind of hair weave. It lasts longer than other sorts of hair since it's 100% pure and has not gotten any chemical processing.
Should I wash my hair before getting a weave?
Your hair will probably be mainly inaccessible whilst wearing your own hair extensions so that you would like to be certain it is as clean as you can before braiding it into prep for your own weave.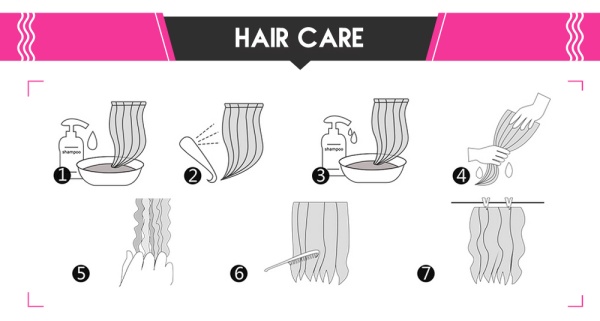 1.Be ready for everything and wet the hair with warm water
2.soak the hair with mild shampoo for a few minutes.
3.Rinse the hair in clear water once.
4.Do it again to make sure the hair is clean.
5.Cover the hair with the towel to soak up the water on it.
6.Move down gently to comb the hair straight to the ends.
7.Hang the hair with the weft open and air-dry it and curls hold well.
Stock:

10 only

Model:

indian-hair-straight-3-bundles-with-lace-closure

SKU:

indian-hair-straight-3-bundles-with-lace-closure

ISBN:

indian-hair-strai
Hurry, this offer ends in: