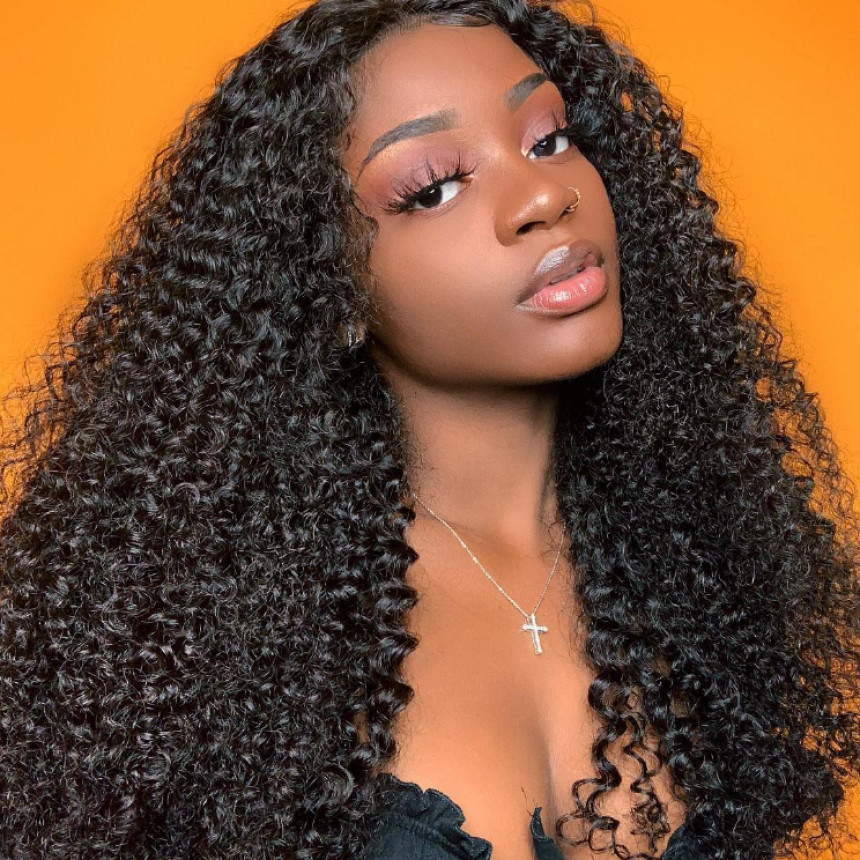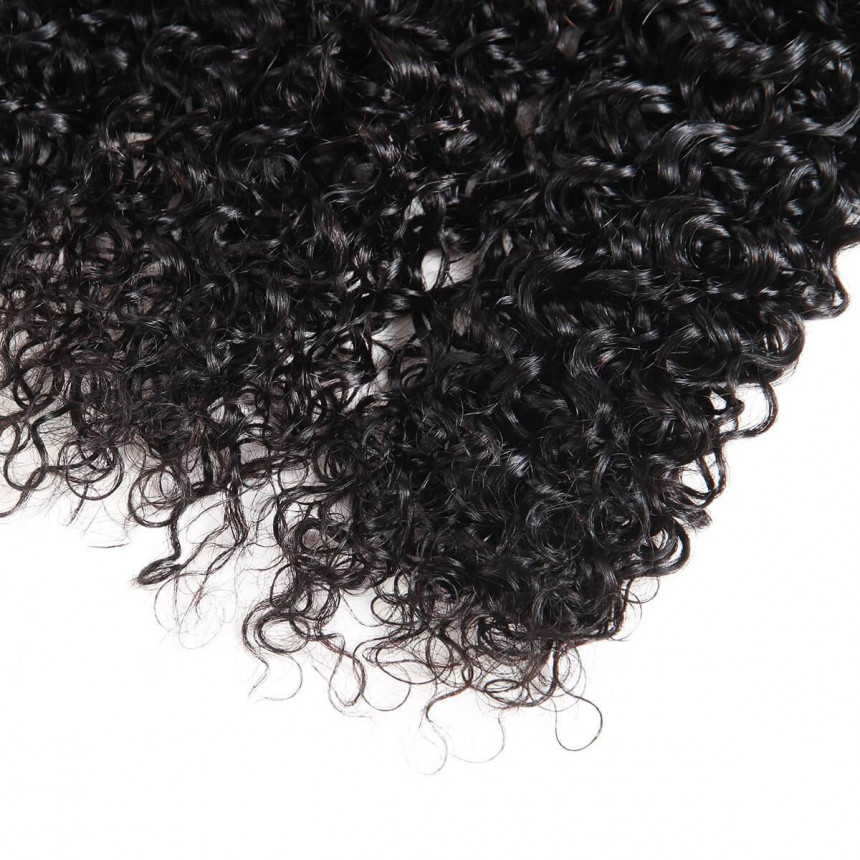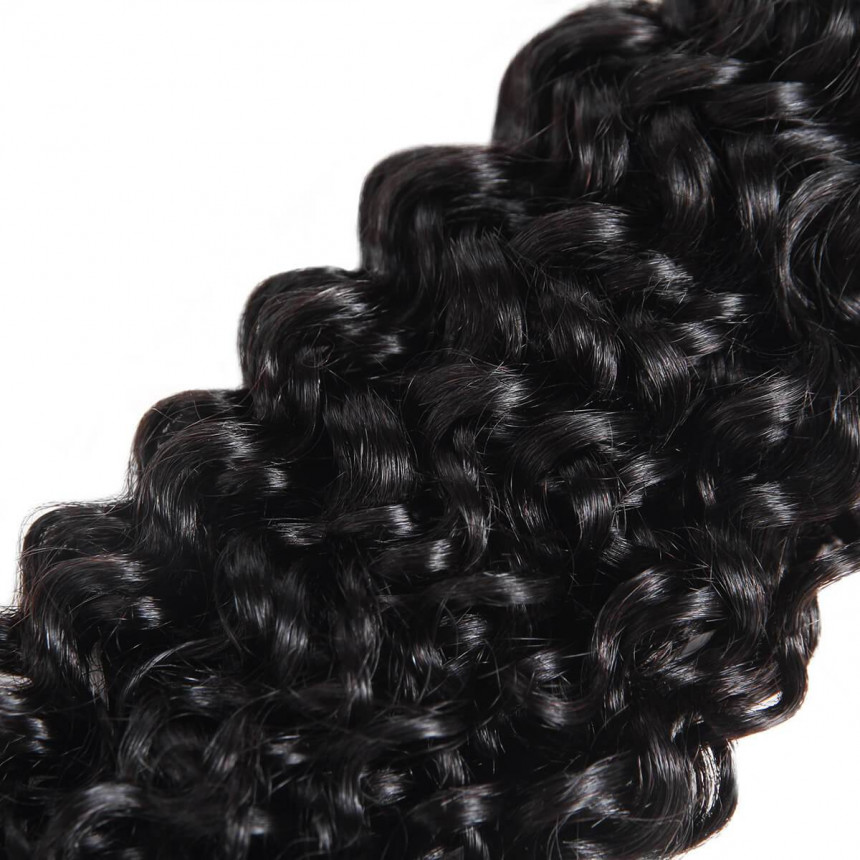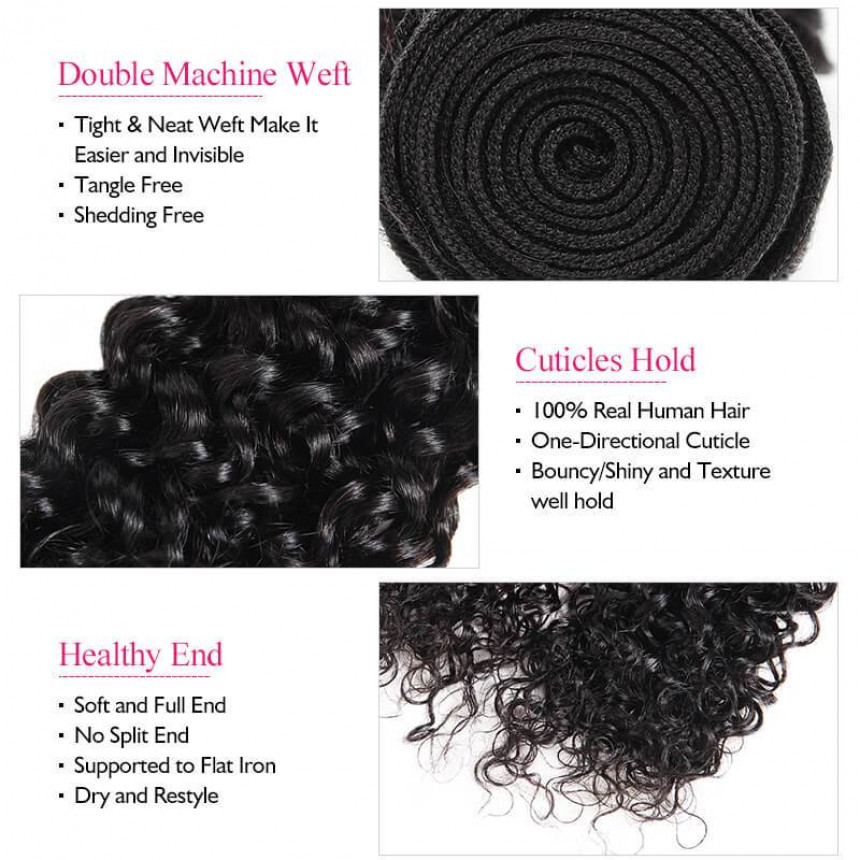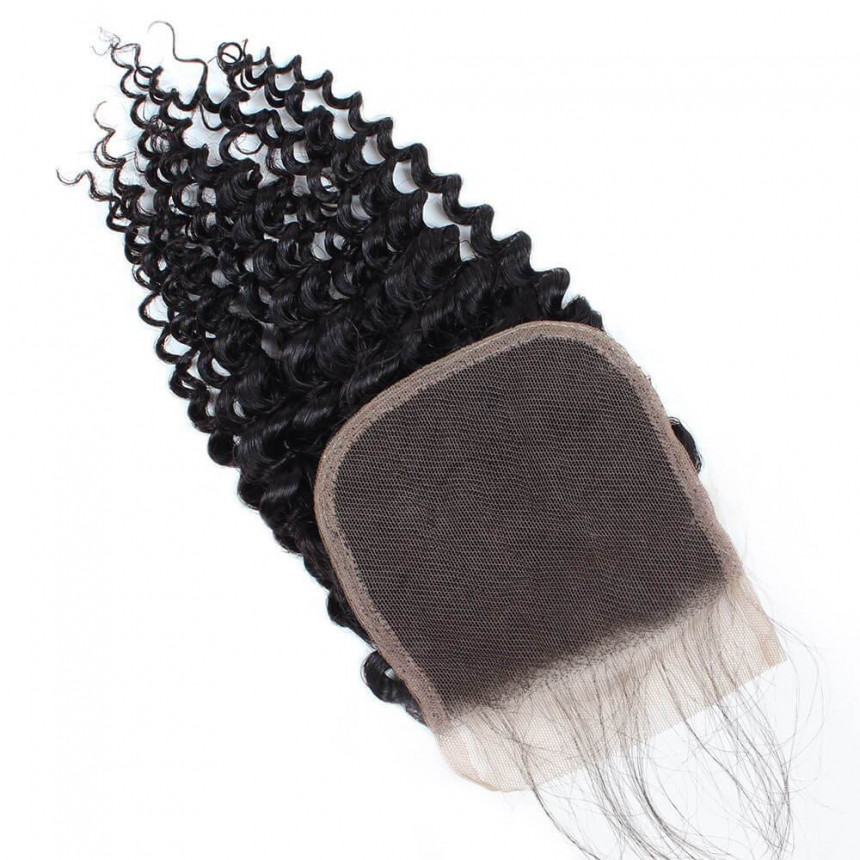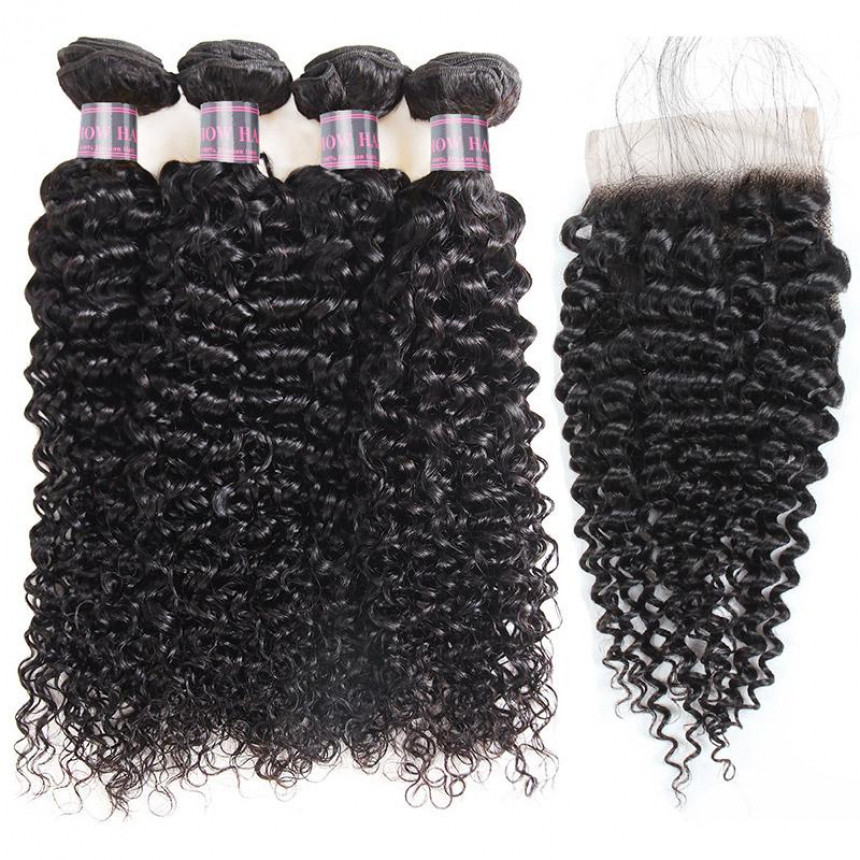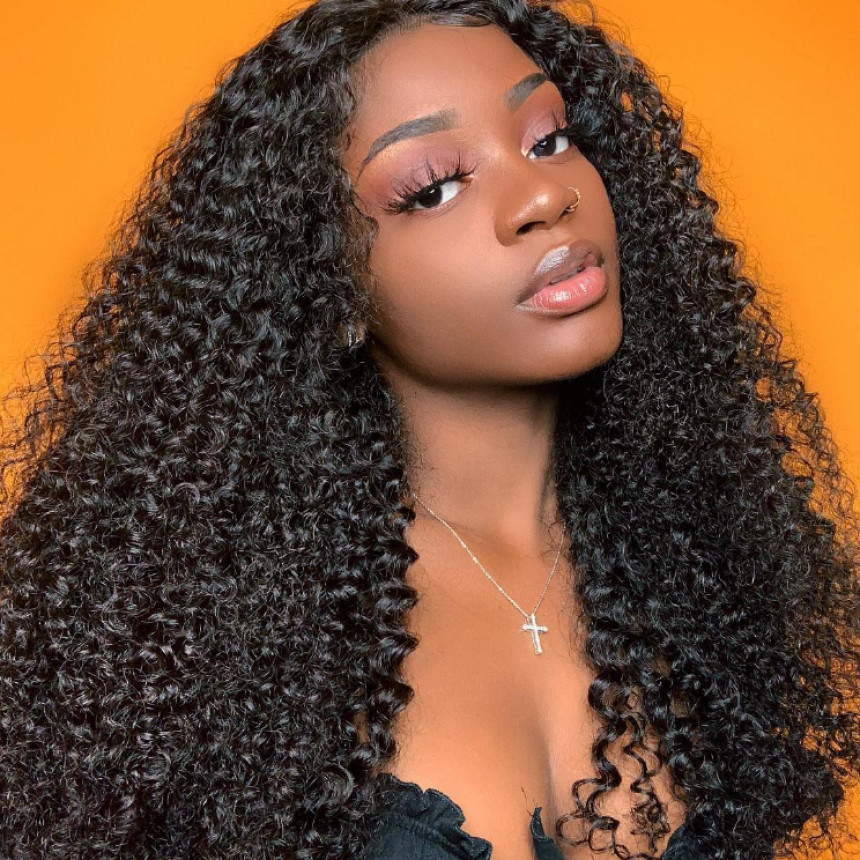 -20 %







Secured Shopping
Best security features, we support Visa, Master.Amex, Paypal and etc.
Free Shipping
Free delivery over $50, ship with DHL, EMS,Fedex express and etc
Free Returns
Hassle free returns, multi warehouses in the US, Hong Kong, Canada, New Zealand
brazilian hair curly wave weaves 4 bundles with lace closure
...................................................................................................................................................................................................................................................................................................
PRODUCT FEATURES
Item: Brazilian Curly Hair 4 Bundles with 4*4 Lace Closure, Unprocessed Virgin Human Hair Extension
Hair Material: Virgin Human Hair Weave, 8A Grade, No Shedding, Tangle Free
Hair Color: Natural Black Color
Hair Grade: 8A Grade, Curly Human Hair Bundles, can be bleached and restyle, dyed
Hair Length: 8 inch - 28 inch is available, Very Soft, Healthy and thick
Texture: Curly Hair, Natural Hairline, Soft, Comb Easily, Minimal Shedding, No Tangle
Pack: 4 Bundles Curly Hair with 4*4 Lace Closure
...................................................................................................................................................................................................................................................................................................
FAQ

How many bundles should I purchase
Generally speaking, 3 bundles will be okay. If the hair is over 18", 4 bundles would be better. If you do not have leave out, you could try 3 bundles with closure, or 3 bundles with lace frontal, it will save your more money.
What length should I purchase
Hair bundle should be measured when it is stretched. So please keep in mind that you will need to accommodate for its curl pattern when selecting your desired length.
How long do the hair bundles last
Our bundles typically last for 7-9 months, if cared for properly.
Why do weaves smell bad?
Odors can be Brought on by deficiency of shampooing, Moisture build-up due to improper drying techniques after shampooing, and also a habitual sweaty scalp. Because weaving hair retains its style more than our very own all-natural hair, girls have a tendency to fail massaging it.
Can you febreeze a wig?
Contemplating this, do you febreeze a wig? The simple truth is that Febreze on a wig isn't a fantastic alternative for bettering your wig as it's too harsh for your scalp and difficult on wig fibers. Contrary to Febreze, dry shampoo is formulated to be used on the human scalp and can also stretch your hairstyle between clogs.
Why does my hair still smell after I wash it?
Not Heard Enough Not shampooing enough Can create oils (sebum) in your scalp and result in a odor. In case you have an oily scalp or super thin hair, think about washing your hair with a gentle shampoo every 2 days to maintain the moisture levels in check. Notice: Too much of anything is bad.
How do you disinfect human hair?
Simply wash and shampoo it. How do I Sterilize hair? You are able to use a number of the sterilizing liquids which can be found in pharmacies for example"Dettol". But you need to understand that hair ought to be brief as the longer your hair is the more difficult to become sterilized.
How do I deep clean my weave?
Wet your hair with warm water at a downward Movement, starting near the peak of the weft in which the monitors are. I find this a lot easier to do in the shower, however you can do this above the sink or the tub using a bowl of water. Be careful as we do not need to saturate the paths under the weave.
Should I wash my weave before putting it in?
You should always wash your weave hair Extensions prior to installing. This needs to be performed as a way to be sure that the hair is clean and to change the hair to its normal condition. Co --washing is cleansing your own hair with a moisturizing conditioner without using shampoo.
What color is a 27?
-- #27 (Strawberry Blonde / Light Butterscotch Blonde) -- One of those Most common blonde hair colours offered and there's a reason behind this, it is light and sexy. -- #60 (Platinum Blond / Bleached Blond ) -- A popular blonde hair colour among most the girls and a good #613 option.
What color is number 30 weave?
Color #30 Medium Brown Brazilian Virgin Hair Straight Hair Weave ...
Can you dye your weave?
Dyeing your weave is an easy, secure way to Experimentation with hair colour without damaging your normal hair. Whether or not you would like to dye your extensions darker, then bleach them blond, or attempt a bright color like blue or red, be certain that you use clean, virgin hair to find the best outcomes. Your new hair colour will look great.
What is a weave hair color?
Weaving. In what's Possibly the Most well Known of colour techniques; this appearance lets you go lighter (or darker) around while still preserving dimension from the origin. Hair is taken in to segments of varying depth, foil wrapped and colour implemented.
What is #4 hair color?
Level 4 is your hair colour level which is Represented as"dark brown". It's among the most frequent all-natural hair colours and also quite commonly seen in hair dye. Level 4 can also be typical in red or burgundy colors and is normally known as"dark red","mahogany" or"burgundy".
What is the blackest hair color?
Garnier Nutrisse color 11,"Blackest Black"" is our darkest black color with traces of cool tones. It provides 100% gray coverage and can be ideal for anybody with organic hair between light brown and dark. For black shades using various tones, research 10, 12, 20 and 22. To get a milder cool color, 31 could be for you.
What color is black people's hair?
In English, various Kinds of black hair are Sometimes called soft-black, raven black, or jet-black. The array of skin colours related to black hair is enormous, which range from the palest of mild skin tones to dark skin. Black-haired people can have light or dark eyes.
What color is 950 in weave?
Premium Purple Pack Water Wave 10" - Color 950 - Human Weaving.
What does t1b 27 mean?
Showing 1-4 of 4 replies. Thank you Focus on Sunber,T1B/4/27 mean normal colour,medium brown colour,dark blond colour three colours Ombre,as seen from the picture.
What color is natural black hair?
Soft Black Hair Color In case you prefer a Natural appearance, delicate black, that the black color, is your black hair colour shade for you. The hair colour is right on the border of this brown-black spectrum. It works nicely for dark and warm skin tones.
What color is natural black?
1B=Organic Black, near 1 but more of a Natural colour. Not as harsh as the shade 1. 2Brownish Black, 1 shade lighter compared to 1b. Black with some brown overtones to it if looking at it at the light.
What hair color is honey blonde?
Say hello to a new hair colour. While we Diplomatically love all shades of blond hair, we are currently beating on a single special, sweet colour: honey blond. A color that combines gold yellow with amber-brown tones, honey blond seems strikingly like that gooey stuff most of us know and adore.
What color is t4 613?
I got exactly the 4/613 colour (brown blossoms with Bleach blonde ends) and I really like the appearance!
What are the 16 colors?
16 WIN Colors Table
What's the difference between 1 and 1b hair color?
This hair colour is located between #1, that can be Black (or jet black) and #2, that's the dark brownish color potential on individual hair (the colour generally appears to be black before you choose a closer look). That is because 1 isn't a pure color, but instead a dyed colour; whereas 1B is your organic black hair colour.
Does leaving hair dye in longer make it darker?
"Semipermanent formul as do not possess a Programmer, meaning that they get darker and darker the longer you leave them on your own hair," states Ionato. "It is safer to pick a color that is somewhat lighter in the get-go." 3. Purchase two boxes.
Can you tone synthetic hair?
If you are toning imitation hair, it does not Must be an ideal match. It merely needs mix because your hair is going to be integrated into the appearance. You can do colour around or simply put in a couple of streaks.
Why Henna is bad for hair?
REALITY: The sole henna That's bad for your Scalp and hair is Black Henna, rather called:'Kali Mehndi'. This henna has a rather poisonous chemical inside known as PPD (paraphenylenediamine), a compound that's also found in many dark hair dyes in the marketplace.
Is it OK to use henna on dyed hair?
Yes. absolutely. Provided That you are using All natural henna and henna-herbal goods, you won't have any issues. Problems can happen when nasty additives have been put into a bad excellent henna powder (Metallic Salts) and they might react with the compounds in the dyes (Ammonia).
Does henna cover GREY hair?
Does henna cover gray hair? Using henna on Gray hair ought to be approached in a similar method to colouring blonde hairfollicles. Grey hairs won't normally be completely insured by henna but will take to a naturally emphasized effect from the treatment. As always, do a strand test .
Which hair color is darker 5 or 6?
Recognizing Hair Colour Charts The amount System consists of 10 amounts which help ascertain the thickness level of your normal hair. 1 is shameful, 5 is pale brown, 6 is dark blond, 7 is blond and 10 is the lightest blond.
What volume developer should I use for gray hair?
20 Vol as well as 30 Vol assists, as it Unlocks the cuticle longer, allowing colour and programmer to penetrate better. We advise that you utilize 20 Vol programmer for many gray hair care instances. If the hair is extremely resistant and thick, or you're attempting to lift the foundation by two or three levels, then it is possible to utilize 30 Vol additionally.
What color is 4n?
4N Natural Medium Brown Permanent Hair Dye.
Should I get different length bundles?
If You'd like a very full appearance of similar Lengths you need to get the majority of the hair follicles the exact same length. It's essential to pick a length that you'll be pleased with. If you're not certain, it's almost always a fantastic idea to purchase that the hair a bit longer as it could be trimmed or stylized shorter.
What is the best hair dye for Brazilian weave?
The Garnier Nutrisse Nourishing Hair Color Creme is among the most well-known colours, also therefore, it is the very best. Between covering your greys, coloring your normal hair, along with your weaves, you've got the best hair dye using conditioner.
Can you pin curl synthetic hair?
Artificial hair has many benefits, however it's notoriously tricky to curl. If you want to change your design and then curl up your synthetic wig, weave or extensions, keep the heat , dip the hair in warm water, or use snare clips to maintain curls set up.
Can synthetic wigs be straightened?
Just about Any wig could be straightened, but Wigs made of synthetic fibers need more care. Since the fibers are made from plastic, they may be sensitive to elevated temperatures and cannot be straightened using a hair straightener. The 1 exception to that are wigs made from heat-resistant fibers.
Why do you dip synthetic hair in hot water?
This also keeps them looking a Bit Fresher and preserves some uniformity. Together with moisturizing, re-dipping my own hair with warm water retains my braids looking fresh and laid. If you have pasted the ends, it will not influence your braids whatsoever while unpacking, but will only ensure longevity.
Can you put hot water on synthetic hair?
BOILING WATER: Boil a kettle of water using a Small quantity of artificial hair conditioner and let it simmer. Gently dip the hair to the water for a couple of seconds, making sure to move it all around. Allow the wig style and dry as usual. As a safer choice, I propose using HOT water rather than boiling water.
Can you dip synthetic hair in hot water?
1 Big downer with artificial box braids Is they have a propensity to flake or flake out in the endings. It's possible to address this small style nuisance utilizing a tiny heated water, which protects the design set up. Pick up the end of a single box and dip the previous 1/2 inch of it to the hot water.
What causes synthetic wigs to frizz?
Synthetic wigs make frizzy Once You have Been using these on a daily basis. These wigs are inclined to reduce their trendy appearance and shape once you set them close to the heating unit. Heat creates the wigs drier, and the artificial fibers start generating static electricity.
Can you dip curly crochet hair in hot water?
With this particular protective style, we do not Recommend dipping the hair in warm water since the hair will loose its wavy pattern along with curled texture. You are likely to get horizontal and messy hair. So either go for it I say "jump in, the waters fine".
Can you dip kanekalon hair in hot water?
The curls you receive when you flake out with sexy Water pretty much will not drop out, like . However a little reality: you can uncurl Kanekalon hair by simply dipping it into hot water.
Can I put leave in conditioner on synthetic hair?
Conditioner: Utilize a very fatty osmosis, Such as a deep conditioning treatment. You can then employ some leave-in conditioner. When it Is Totally dry, then use an oil-free glow spray made Especially for artificial hair to stop it from looking dry and dull.
...................................................................................................................................................................................................................................................................................................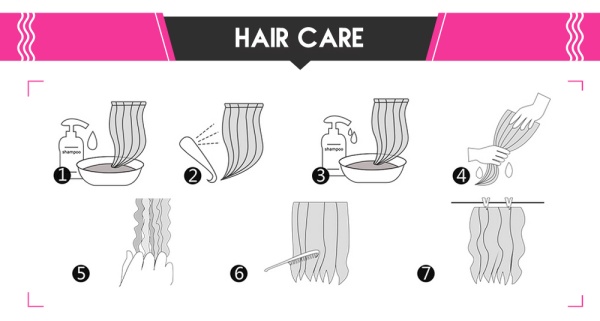 1.Be ready for everything and wet the hair with warm water
2.soak the hair with mild shampoo for a few minutes.
3.Rinse the hair in clear water once.
4.Do it again to make sure the hair is clean.
5.Cover the hair with the towel to soak up the water on it.
6.Move down gently to comb the hair straight to the ends.
7.Hang the hair with the weft open and air-dry it and curls hold well.
Stock:

12 only

Model:

brazilian-hair-curly-wave-4-bundles-with-lace-closure

SKU:

brazilian-hair-curly-wave-4-bundles-with-lace-closure

ISBN:

brazilian-hair-cu
Hurry, this offer ends in: