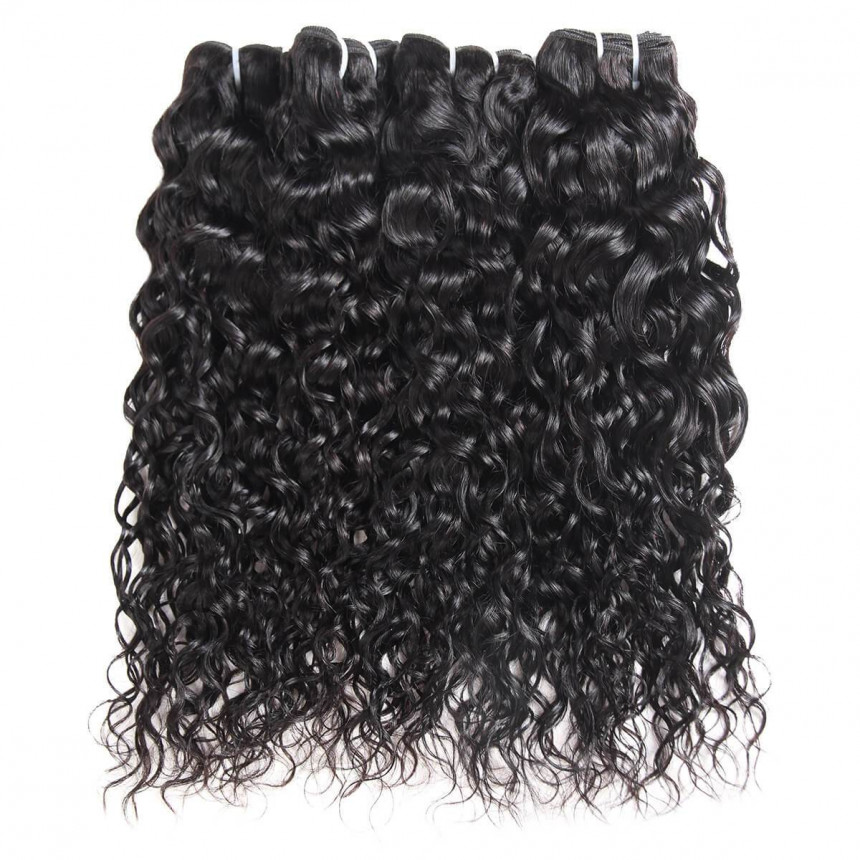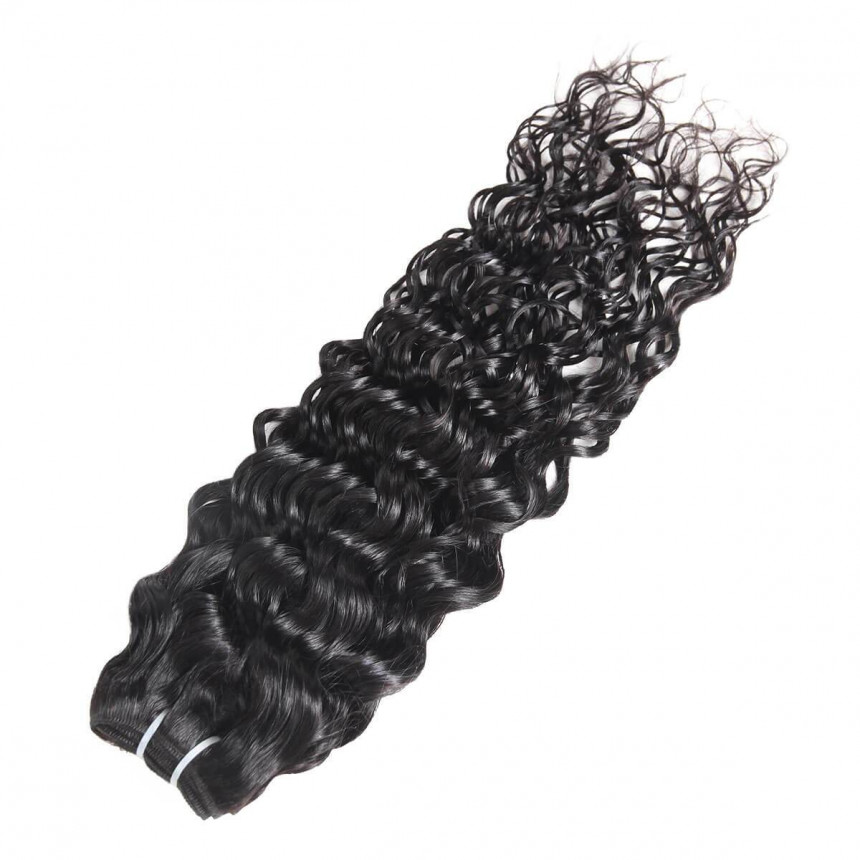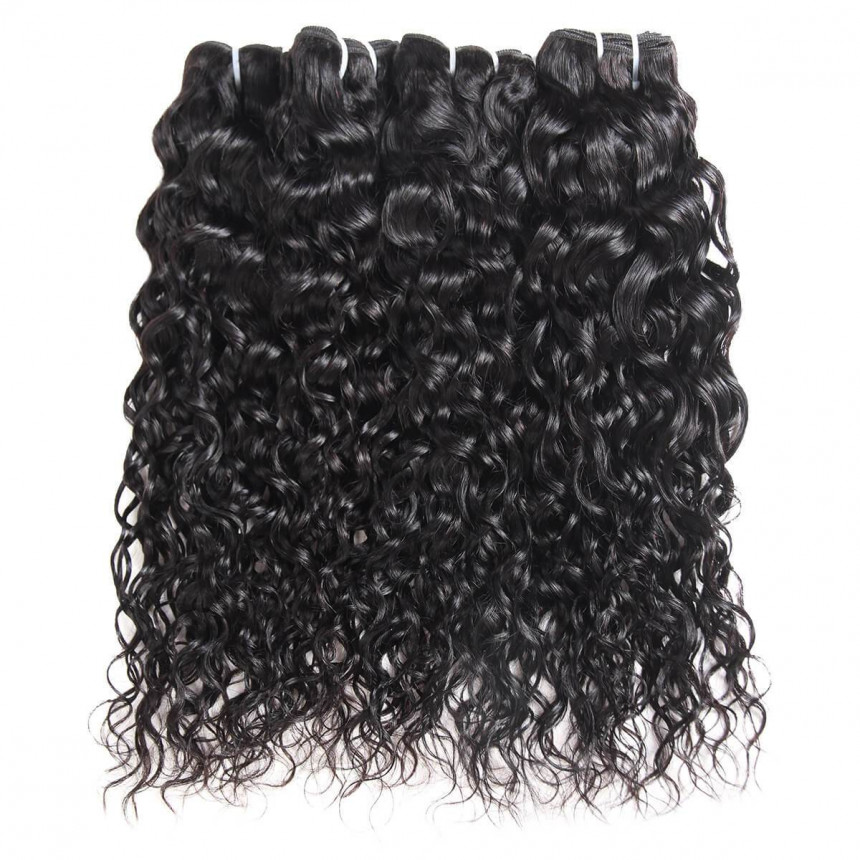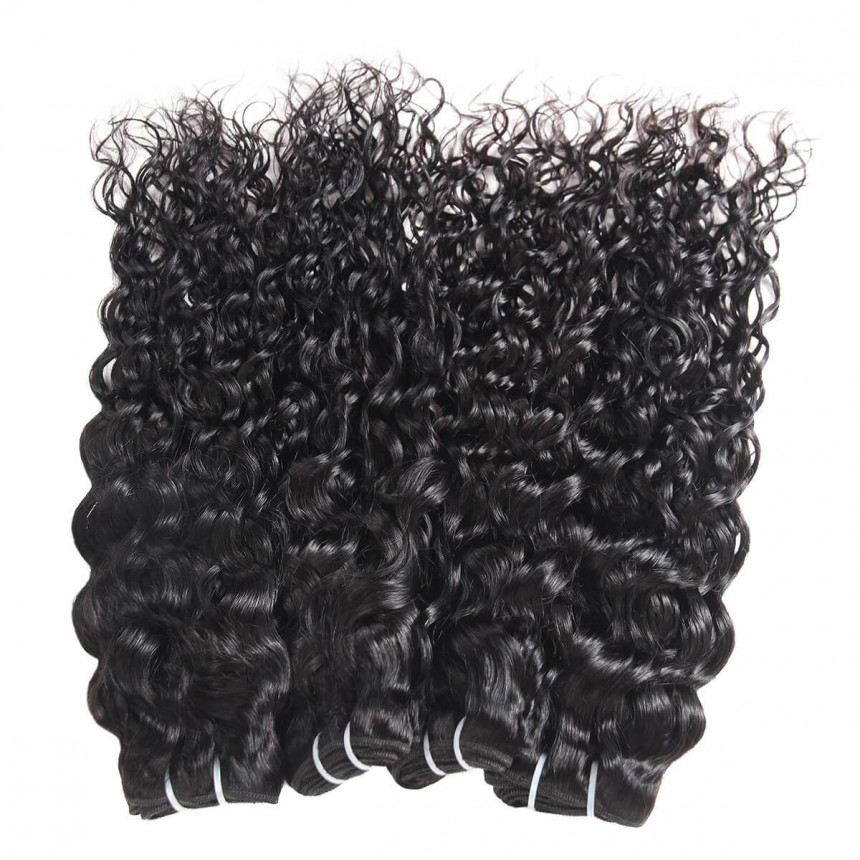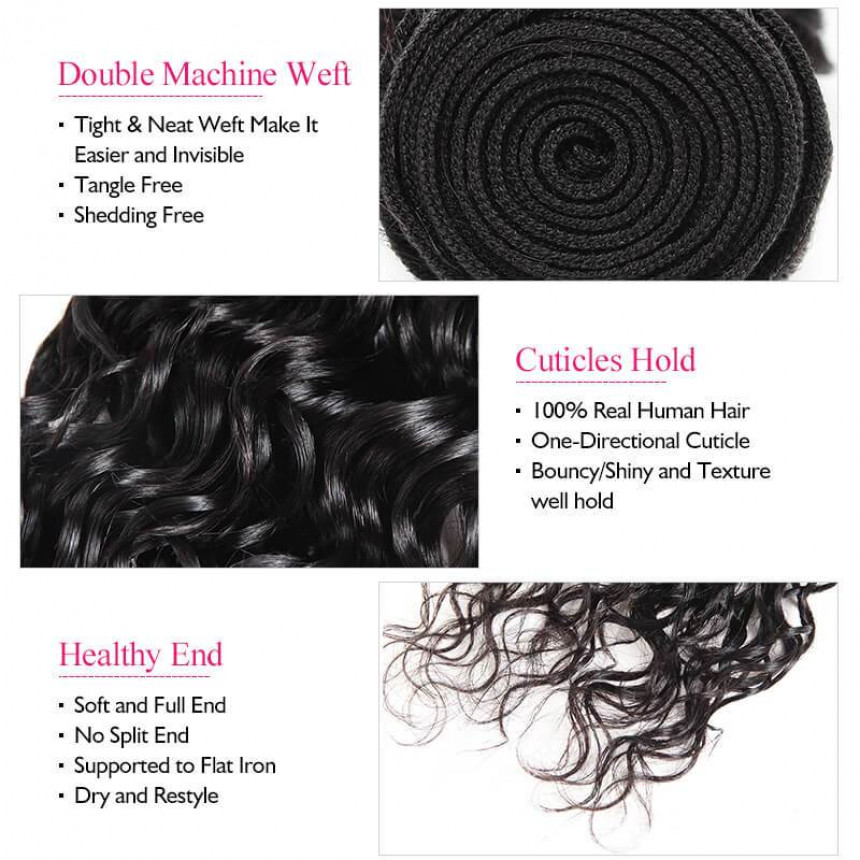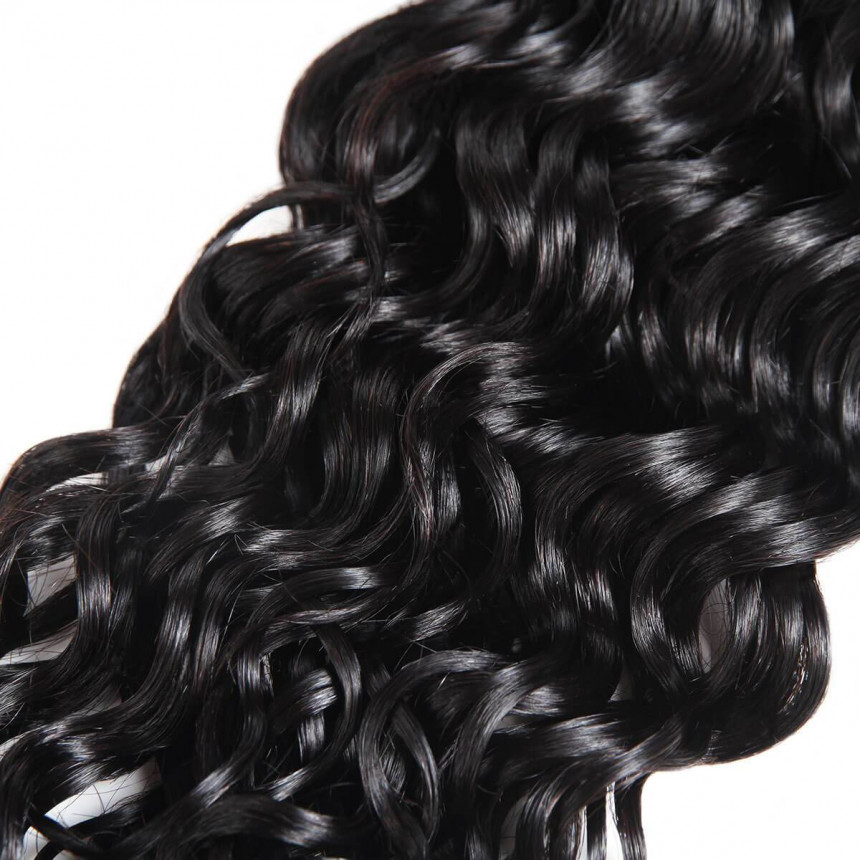 -20 %






Secured Shopping
Best security features, we support Visa, Master.Amex, Paypal and etc.
Free Shipping
Free delivery over $50, ship with DHL, EMS,Fedex express and etc
Free Returns
Hassle free returns, multi warehouses in the US, Hong Kong, Canada, New Zealand
Malaysian Water Wave Weave Hair 4 Bundles Natural Color 100% Remy Human Hair Extensions
Malaysian Water Wave Hair Weave 4 Bundles Natural Color 100% Remy Human Hair Extensions 8''-28'' Free Shipping No Shedding No Matting No Tangle High Quality Cut From Young Girl Donator Long Lifetime Durable Natural Bouncy Soft Hair
Hair Grade: 100% Unprocessed Virgin Human Hair Weave

Hair Texture: Water Wave

Items/Package: 4 Pcs Hair Weave




Hair Length: Hair Weave: 8-28 Inches In Stock




Hair Weight: Hair Weave:95g-100g/Piece




Hair Color: Natural Black

Quality: Machine Double Weft, Soft, No Shedding, No Tangle

Features: Can Be Dyed & Permed & Bleached
FAQ
Can redheads get hair extensions?
Hair extensions are a Fantastic way to pretend Thick reddish hair. Whether you are a bride-to-be or trying to add more quantity extensions are the best way to go. Obtaining extensions taped to your red hair in a salon can be quite pricey.
How long does real human hair extensions last?
Typical grade human hair tape-in Extensions normally last between 6 and 3 weeks normally, while artificial hair may persist slightly less 1 to 2 months. But, you can prolong the life span of your tape-ins up to 12 weeks with appropriate care.
What is the best brand of Halo extensions?
Ugeat 80Gram Halo Hair Human Hair Extensions. VeSunny Brazilian Hair Halo Fishline Extensions. Easyouth Halo Human Hair Extensions in Light Brown & Golden Blonde. BetrueU Black into Blonde Ombre Easy Wear Halo Extensions. Complete Shine Clip-In and Halo Human Hair Extensions in Jet Black.
How much do sew in hair extensions cost?
Hair extensions in a professional salon Generally cost $200 to $600 depending on the kind. Clip-in and tape-in hair extensions cost approximately $200, while sew-in, glued-in, mix, and micro-bead extensions vary from $300 to $600. Get free quotes from hair extension salons around you.
Do clip in extensions stop hair growth?
With all the constant tugging and potential Production of bald spots, clip-in extensions may stop hair growth altogether. In reality, they do just the opposite. Clip-in extensions gradually make your hair brittle and trigger intense breakage, which consequently can stop hair development completely.
How long does it take to get a full head of hair extensions?
A Complete head of hair extensions can require two Or 3 hours to match, and that means you are paying for the labor expenses.
Do the Kardashian's wear wigs or extensions?
It's well recorded that Kim Kardashian Wears hair extensions and extensions to change her up hairstyles. In fact, Kim's hair is just over shoulder length along with her natural hair color is quite dark brown.
Does Kim Kardashian wear eyelash extensions?
Kim Kardashian Her suggestion to luscious lashes Is, undoubtedly, eyelash extensions! This understated attractiveness is generally a go-to if you're searching for makeup inspo, the queen of shape so to speak. Kim uses the Ardell lashes that can be found on Amazon.
Can you dye Brazilian Remy Hair?
You can dye or color your Remy Brazilian Hair extensions for the ownhair. On the flip side, it may be painted and styled the identical manner you want your natural hair. In addition you have the liberty to utilize a number of styling tools and processes like curling irons and flat irons.
How long does Brazilian Remy hair last?
Remy hair using the first cuticle sew in Human hair Remy wigs will minimal shedding, no tangle, healthy and soft for your sporting. On the component of durable, the Remy hair available will continue up to approximately one year provided that you're able to take decent care of it.
What is the difference between Remy and Brazilian hair?
Brazilian virgin hair Denotes the hair Bundle entirely cut from hair donors. All of hair cuticles are aligned in exactly the exact same direction. Remy hair may be the hair partially cut out of the donor and the cuticles may be adjusted in precisely the exact same direction.
Can you dye a sew in while it's in your hair?
If you're going for a semi automatic (12 Washes) or demi-permanent(12-28 washes) hair coloring, so moist is the thing to do. Entirely wet hair, nevertheless is practically not possible to dye. Wrap a towel in your hair once you wash it and keep it for a few good 20 minutes.
Can Brazilian hair be dyed?
Add Color to Your Own Pocket Hair! You can Either buy synthetic hair extensions or individual hair. Brazilian hair extensions, on the other hand may be painted and styled the exact same manner you want your natural hair.
How good is Remy hair?
Remy hair is Regarded as the high Quality of individual hair which signifies that the hair's cuticles are retained intact and constantly going in 1 direction. With authentic high quality Remy hair, the hair accumulated is healthful, the cuticles undamaged and cuticles flow in precisely the identical way from origin to the point.
Does Remy hair tangle?
Remy is hair accumulated and sorted from Numerous sources together with the origin and tip traveling in precisely the exact same way to guarantee the cuticle doesn't appear or matte. The cuticles aren't stripped and stay aligned in 1 direction.
Is LUXY hair real hair?
Luxy Hair extensions are made of 100% Remy Human hair also will come right. To be able to accomplish a perfect mix, we recommend getting your hair relaxed or straightened in order to coincide with the feel of their extensions.
What does virgin hair look like?
Virgin hair is unprocessed human Hair, also referred to as Pure virgin hair, it must be 100% pure. It may not have gone through any sort of chemical processing, so once you obtain this hair, it hasn't yet been permed, colored treated, dyed, bleached, blow-dried, gone via any other compound processing.
Is Yaki human hair?
Remy hair is a standard of baldness, the greatest Quality of hair, whilst yaki hair denotes the feel of a hair expansion. Yaki hair really is for naturals that are for keeping a natural style for their own hair extensions and extensions. Yaki hair may be in artificial, non-remy or remy types.
How is Remy hair made?
"Remy" or"Remi" -- distinct spelling, same matter. From the extensions Biz, this implies hair that has never been processed (never straightened, dyed, highlighted, permed) which is cut out of a individual's mind in a single sitting.
What is the most attractive hairstyle on a girl?
Pigtail braids are courageous girls! We are Fairly certain this is among the very attractive hairstyles on a woman and the man will surely sense that oomph. Sporting that this hairdo will melt the sass such as confetti just once you measure out. A style with this alluring hairstyle will surely be the choice for the boy.
How can you tell if hair is synthetic or human?
Most human hair span extentions stop Involving 18". These could be styled with almost any heating appliances and be ventilated and cleaned. You also could differentiate them by text. Human hair burns fast, smells stink up and balls into ash, while artificial hair has chemical odor and melts into challenging ball.
Can you flat iron human hair?
We're frequently asked by our clients whether Our curled or wavy stripes could be flat ironed. The solution is yes! Most curly and wavy individual hair textures could be level ironed straight. Just like human hair, it's necessary to be aware that the texture will change briefly since you're applying warmth and styling solutions.
What is the difference between Remy and Non Remy human hair?
The Significant distinction between Remy Hair and Non-Remy Hair would be the cuticles. Remy Hair is individual hair that's accumulated from 1 donor or source. The cuticles are complete and aligned in 1 direction. Non-Remy Hair is 100% Human Hair, however in this circumstance, the hair is accumulated in piles.
How much is Remy human hair?
Luxy Hair Provides a Wide Array of Affordable, higher quality, remy individual clip-in hair extensions ranging from $169 to upwards of $300, based on the design, color, and thickness.
Can you dye Remy human hair?
Since virgin Remy hair extensions have Not been processed at all, they are sometimes dyed with minimal harm to the hairfollicles. While it's ideal to avoid excessively harsh compounds, virgin Remy extensions may be lightened or darkened as organic hair. Experts advise that you don't try to dye non-Remy hair weaves.
What is the best kind of wig to buy?
If You're Looking for something natural, Durable, and stylistically versatile, think about a human hair wig. But if you're on a budget and also prefer something which is low maintenance, invest in a faux hair wig.
Can you curl Remy human hair extensions?
If You're using Remy or hair Extensions, you do not actually need to be worried since there is not much harm in using curling irons onto them. Just ensure you employ protectant spray rather than do the hot springs often. Thus, do you must see a hair salon make your hair extension straightened or curled?
How long do Remy human hair wigs last?
Just how Long Does Human Hair Wigs Last? Person Hair wigs offer you the most natural appearance and texture. And while they are the costlier choice, with the appropriate care, they're also stronger. Human hair follicles can last between 1 and 3 decades.
How do you take care of a Remy human hair wig?
Directions of caring hairPlace the lace wig at a bowl full of cool water. Saturate the lace wig with hair conditioner. Employ an excellent leave in conditioner to moisturize the lace wig and block the hair from getting overly dry. Shield the hair when utilizing heat styling tools such as flat irons or curling irons.
Is there a permanent wig?
There's not any such thing as a permanent wig! So, so much as a permanent sock is worried, it's fiction. In the event that you should think of your own personal hygiene and the health of your scalp, subsequently, a permanent hair piece may appear to be a really awful idea! What we do have now, however, is semi-permanent wigs or hair pieces.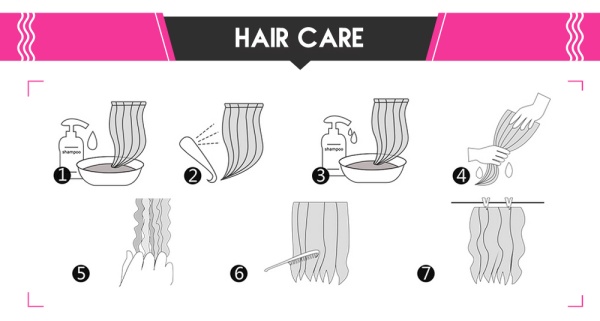 1.Be ready for everything and wet the hair with warm water
2.soak the hair with mild shampoo for a few minutes.
3.Rinse the hair in clear water once.
4.Do it again to make sure the hair is clean.
5.Cover the hair with the towel to soak up the water on it.
6.Move down gently to comb the hair straight to the ends.
7.Hang the hair with the weft open and air-dry it and curls hold well.
Stock:

11 only

Model:

malaysian-hair-water-wave-4-bundles

SKU:

malaysian-hair-water-wave-4-bundles

ISBN:

malaysian-hair-wa
Hurry, this offer ends in: