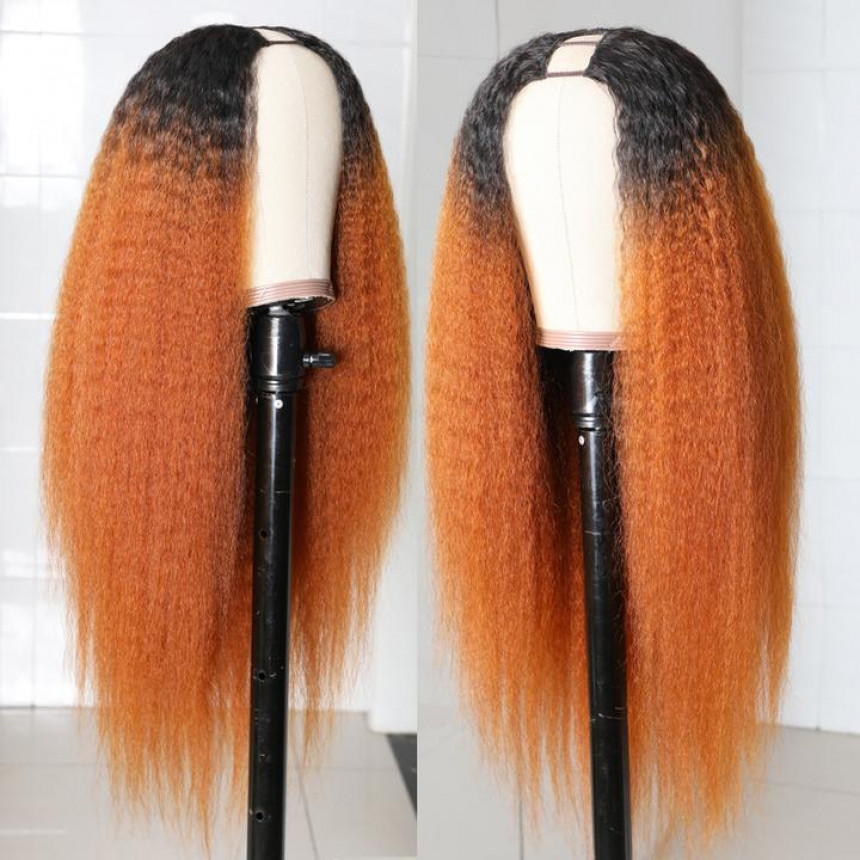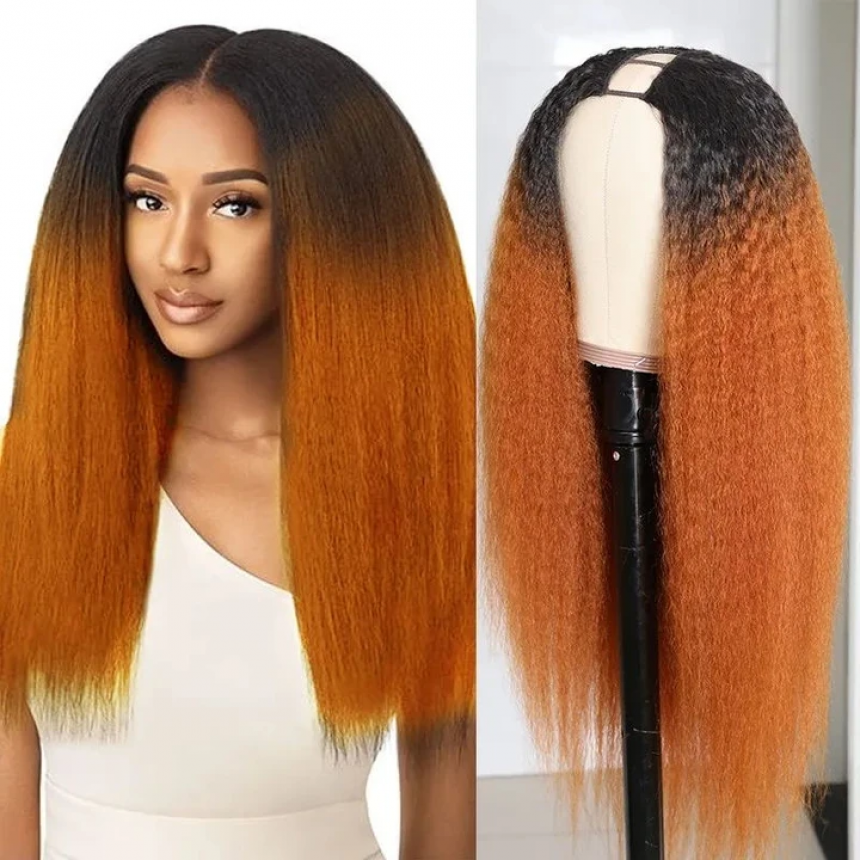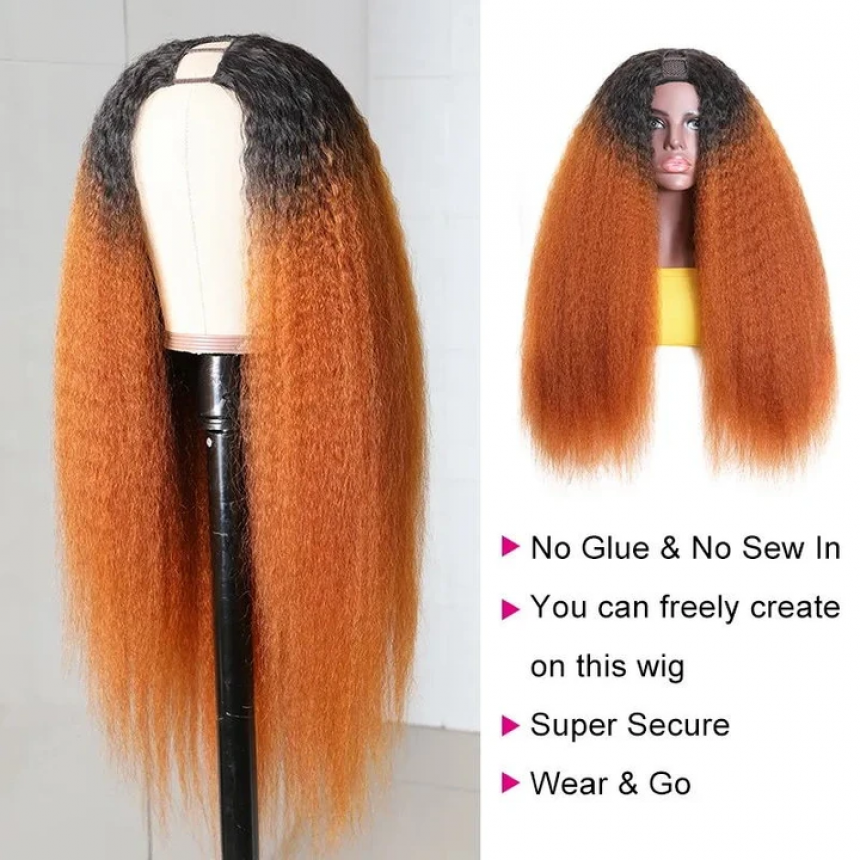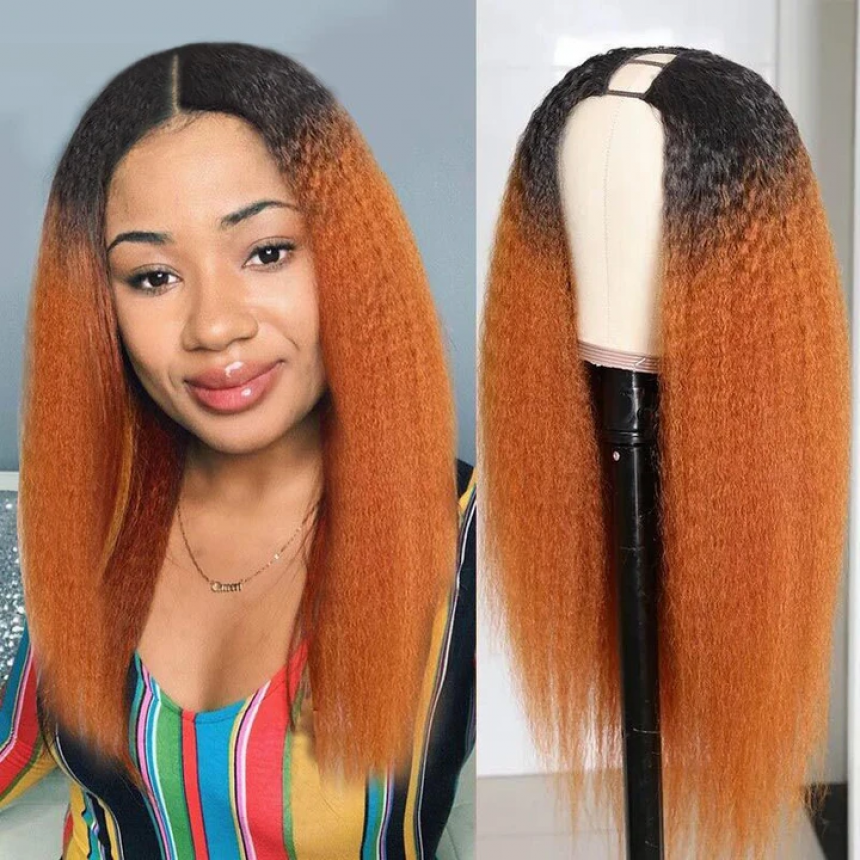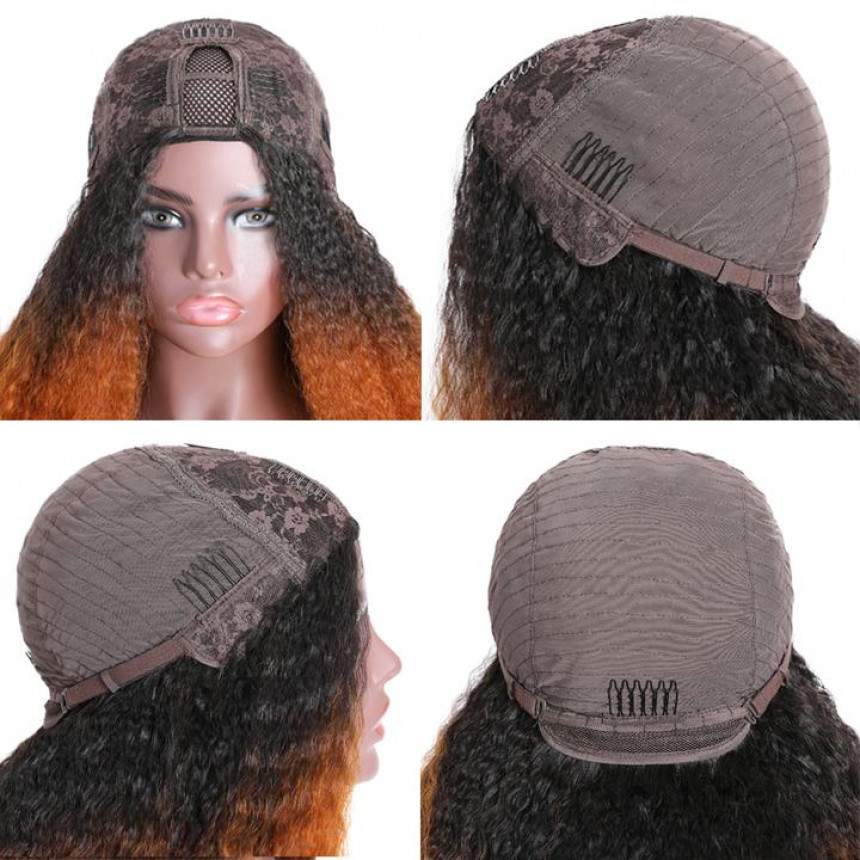 New -20 %






Secured Shopping
Best security features, we support Visa, Master.Amex, Paypal and etc.
Free Shipping
Free delivery over $50, ship with DHL, EMS,Fedex express and etc
Free Returns
Hassle free returns, multi warehouses in the US, Hong Kong, Canada, New Zealand
U Part Wig 100% Brazilian Remy Human Hair T1b/30 Ombre Kinky Straight Wigs 200% Density T1b/30 Ombre
PRODUCT FEATURES
※Item: U Part Wig 100% Brazilian Remy Human Hair T1b/30 Ombre Kinky Straight Wigs 200% Density T1b/30 Ombre
※Hair Material: 100% Virgin Human Hair Wig, Virgin Kinky Straight Hair, Can be Dyed and Ironed by your favor Invisible U Part Half Wig With Clips.
※Hair Color: T1B/30
※Hair Grade: Virgin Human Hair, Bleach/Dye Friendly
※Hair Length: 10 inch-24 inch is available, Very Soft, Healthy and thick
※Cap Size: Average Size
※Pack: 1 Piece Only
FAQ
Q1:What are the difference between Upart wig and lace front wigs?
U part wig for natural hair has a U shape leave out on the forehead. This hole allows you to mix and manipulate your hair in the u-bend of your wig to make it look like it's growing out of your scalp. Using a U-wig, you can create an invisible, natural hairline through your hair.
U wigs are easy to use and will save you a lot of time. The U-wig has clips and adjustable straps behind it so you can stabilize it without glue or resize it to fit your own head.
Q2:Can I Make Restyle or Dye the Hair?
A: Yes. But we'd like to recommend you that too often restyle or dye the hair will dry it out. So please make sure which kind of style or color do you like before you actually take action on it.
Can U Get wigs wet?
Freedom Hair swim wigs - yes, you are able to swim! A wig in water has always been a struggle with Alopecia. When wearing conventional wigs you need to be worried about the way the wig will remain on and how it will look when moist. If your plan is to submerge your mind in any way, a conventional wig will extend out rather than have a natural appearance.
What's the difference between a closure and a frontal?
Size is the most obvious gap between A frontal and closing. A closure is generally temple , the normal size is 4x4" inches. Frontal is ear to ear, the normal dimensions is 13x4" inches. Frontal provides you more flexibility so far as parting and fashions making it appear natural compared to closures.
How do you clean a sew in lace closure?
Gently brush your glow using a moist brush or Stir brush and then rinse. If your hair is quite thick after your shampoo you might not have rinsed all of the conditioner out. Employ Leave In Conditioner: Now you've conditioned and rinsed clean, squeeze as much water from your sew as possible using a towel.
Is a closure a wig?
A closure isn't a wig however an attachment Used to shut a glow with no usage of their natural hair. This is normally sewn in along with weaving or creating a customized wig by hand. Lace closures and lace frontal closures are the key styles that appeal to closures.
What is a 13x4 closure wig?
A 13x4 lace rectal closed is a piece of Human hair lace closed which put in the front part of the head. The dimensions of the inexpensive 13x4 lace rectal closed is 13-Inch around and 4-Inch back.
Do closures look natural?
Closure comes down to private Preference. The two hairpieces offer you realistic, natural-looking styles that enable you to part your hair in many of ways.
Is 150 density wig full?
150% hair density. Normally, the 130 percent Density wig is the conventional level for many wigs, even though a wig with 150 percent is a bit fuller. But the two of these give a natural appearance; not overly thick or thin.
What's the difference between closure and frontal wigs?
Versatility: Frontals are all Utilized to recreate The hairline from ear to ear although closures are utilised to recreate the pure parting of their hairline and quantify approximately 4inches by 4 inches and are usually stitched into position.
How many bundles are in a 150 density wig?
Utilize our lace wig density [graph ] as a Visual guide to signify how complete your lace wig will look. When span under 18inch, select approximately 2~3 packs using a closed will be... approximately 4bundles using a closed to produce complete head fuller just like 150 percent or 180 density. ...
How long do you leave bleach on closure?
Leave the bleach onto a minimum of 10 minutes And a max of 20 minutes. Periodically check to find out whether the knots are bleached. Subsequently Use neutralizing shampoo (rather Isoplus) to fully eliminate the bleach mix in the lace. Utilize Shimmer Lights shampoo to wash off the whole closure.
Will a wig blown off in the wind?
Wig blowing off in the end is usual. An easy Way which may avert wig blowing off would be to utilize a hat. A stretchy headband is also an perfect option. These things can shield wigs from any powerful winds and naturally, they decrease your anxiety.
What does transparent lace look like?
Transparent lace Is Quite thin lace and ventilated. Additionally, it's extremely thin, which will place more imperceptible in your skin to look just like your actual scalp. The best part is that this lace leaves for less noticeable knots. It's also great to understand that this kind of lace is great for each skin tone.
What's a lace closure?
Lace closures are hairpieces where hair strands Are tied to a beige or dark brown lace. Remy lace closures are a number of inches wide and they're implemented in which the hair could have been made to provide a natural appearance on heads which have wigs on.
What is Swiss lace closure?
Perfect Locks lace lace closures are created With pure Remy Indian hair hand-knotted to a breathable and durable swiss lace foundation. Closures create policy on the crown for individuals experiencing hair loss, or people seeking to make a complete hairstyle using a sew-in weave.
Can you make hair extensions from your own hair?
It is likely to Purchase loose hair (preferably Than hair that's pre-attached into some weft) for substantially more affordable than packs of hair wefts. Even though it's possible to create your own hair extensions with loose hair, the procedure is quite tough and time consuming, therefore it's not suggested.
Can you swim with sewn in hair extensions?
The hair which extensions are made of may be Treated like your normal hair. It is OK to go swimmingof course, but do not let extensions to soak in water for too long, and dry them once you escape the pool or sea.
Can you swim in salt water with hair extensions?
A: Chlorine and salt water as well as Excessive sun exposure may influence your own hair extensions and make them dry, tangle or slide off. Ensure that you brush your hair using a soft bristle brush on a daily basis so as to stop your hair extensions from tangling. ...
Can you wash your hair daily with extensions?
Some specialists recommend washing your Extensions once weekly. If you don't wear them every day, you can most likely use your very best judgement in how frequently to wash them. You do not have to use any styling products on hair extensions generally but should you, be mild as to conserve the life span of their extensions.
Is it normal for your head to itch with extensions?
Over the years, as the scalp gets accustomed to the New extensions along with the extra fat, the itchiness will gradually subside. Normally, in case you've got a sensitive scalp, then your itchiness will happen even if it's your first time having hair extensions. Ordinarily, the itchiness is simply gentle and will subside after a couple of days.
How do you blend thick hair extensions?
Clip the wefts greater in your mind. By Cutting the wefts in greater in your mind or dispersing them aside more it might help produce a smooth blend. Clean your extensions. Braid the bottom part of your hair. Design your hair!
Does wearing wigs thin your hair?
Wigs don't induce or increase baldness! As Long as you've got a good-fitting wig, you adhere to the right care directions and you look after your hair, your hair thinning should by no means increase from sporting a wig.
What is the difference between transparent lace and regular lace?
The largest difference between both Lace is your lace colour. As the title called, the lace colour of the lace wig is transparent, undetectable, and undetectable. The lace colour of this medium brown lace front wig is moderate brown, which can be darker compared to the lace frontal necklace.
How long does HD lace wig last?
Generally speaking, should you utilize imperceptible Lace front wigs at a suitable manner, the hd lace wig will continue at least eight weeks to a year under great care. Take care of your body wave lace front wig because your hair, the greater you cared your lace wigs, it'll last longer.
Is got2b glued bad for your hair?
The adhesive on the lace wig generates many Issues and harm to the entire scalp, even though it can produce the wig protected. Glue harms your own scalp. The scalp is extremely delicate, and continuously tearing the wig with adhesive will make the scalp more sensitive and also result in baldness and allergies.
Can hair bonding glue kill you?
Can hair extensions really kill you? Indirectly, yes, as demonstrated by a doctor who supposes that Atasha Graham, 34, died from a potential allergic reaction to the adhesive used to employ her weave. The Daily Mail reports that Graham dropped at a bar in which her boyfriend was the DJ. However, this is no freak accident.
What is a top wig?
A monofilament shirt or mono-top wig is going to Possess a transparent lace such as cloth on the cover of the wig, in which every Individual fiber was hand knotted on the lace. Monofilament top wigs can Be made out of artificial or human hair fibers. Some wigs will comprise a Monofilament side button in the crown.
Maintenance Manual:
1. Wash and deep condition hair regularly, one/two weeks a time is OK.
2. Detangle the hair gently by hand before washing to prevent shedding.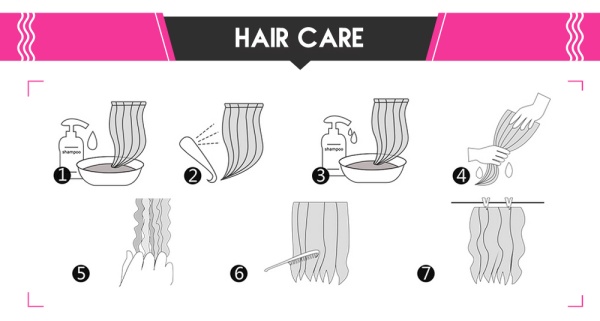 1.Be ready for everything and wet the hair with warm water
2.soak the hair with mild shampoo for a few minutes.
3.Rinse the hair in clear water once.
4.Do it again to make sure the hair is clean.
5.Cover the hair with the towel to soak up the water on it.
6.Move down gently to comb the hair straight to the ends.
7.Hang the hair with the weft open and air-dry it and curls hold well.
Stock:

10 only

Model:

u-part-wig-100-brazilian-remy-human-hair-t1b30-ombre
Hurry, this offer ends in: