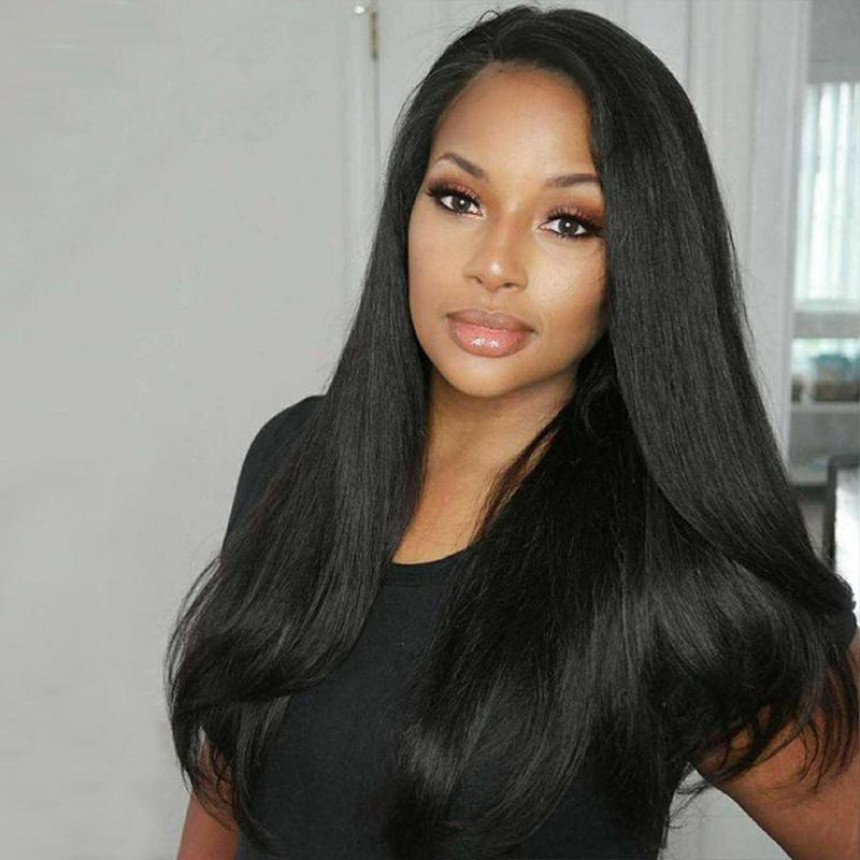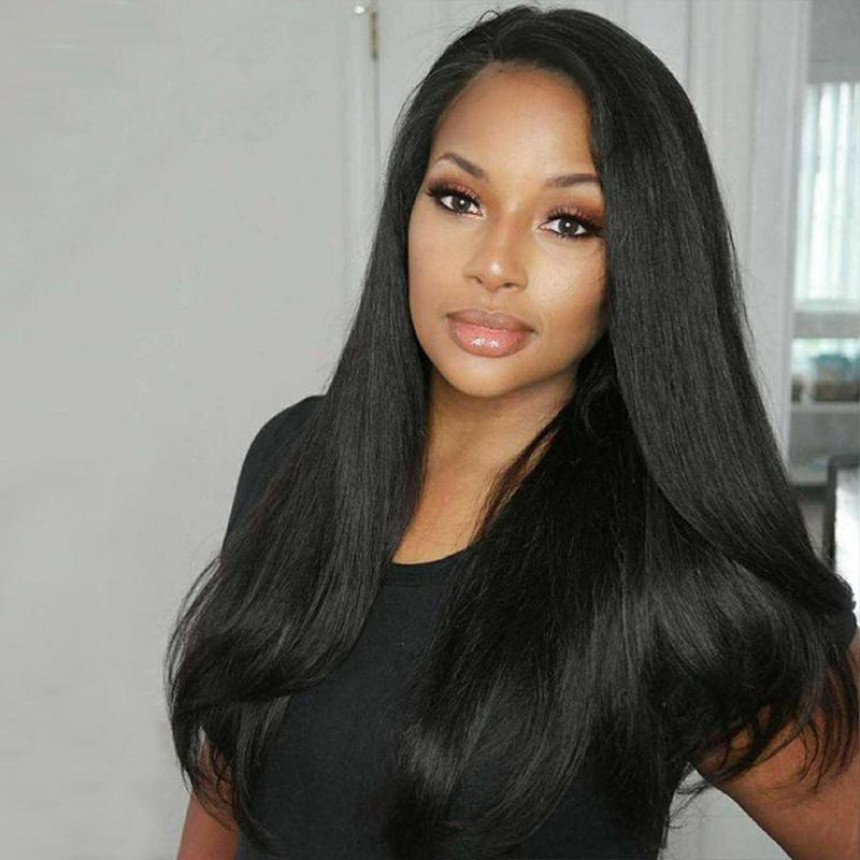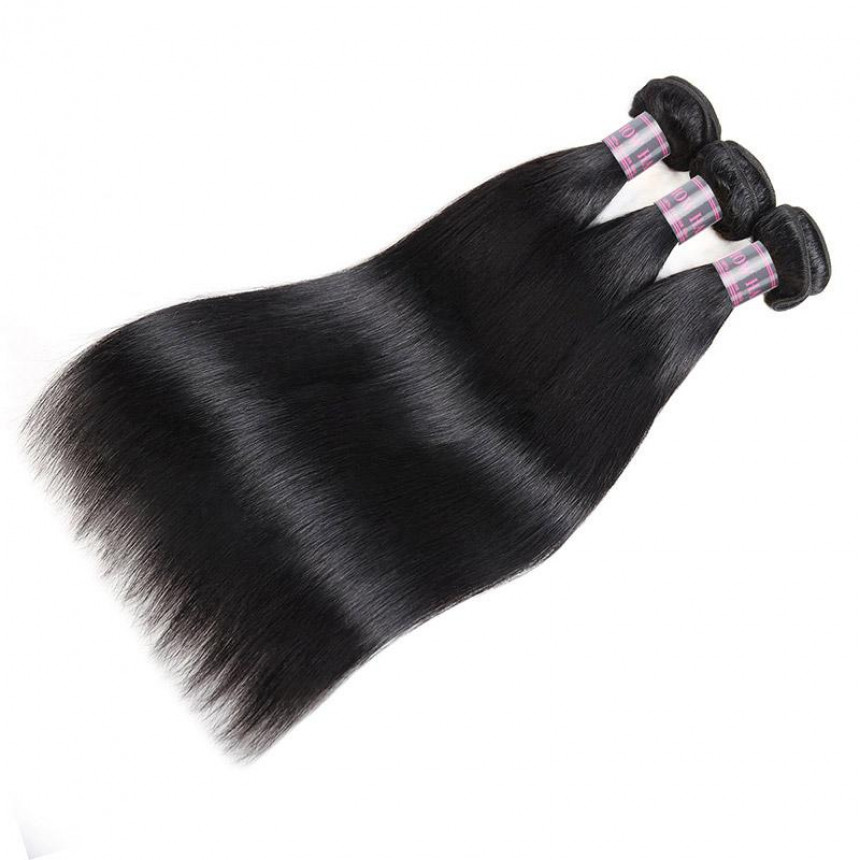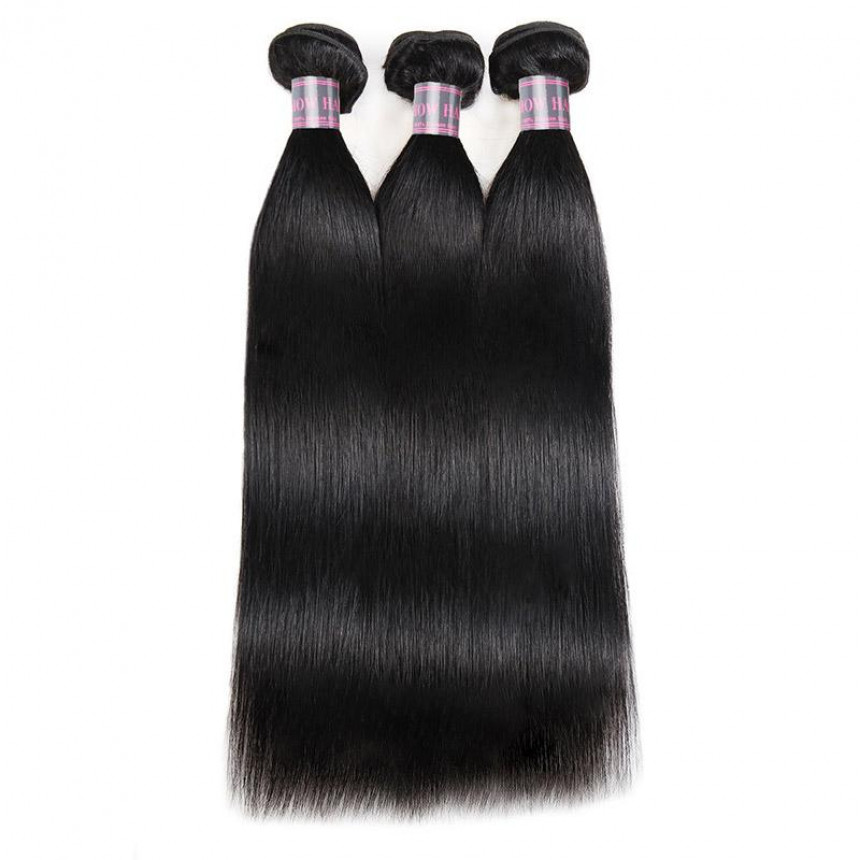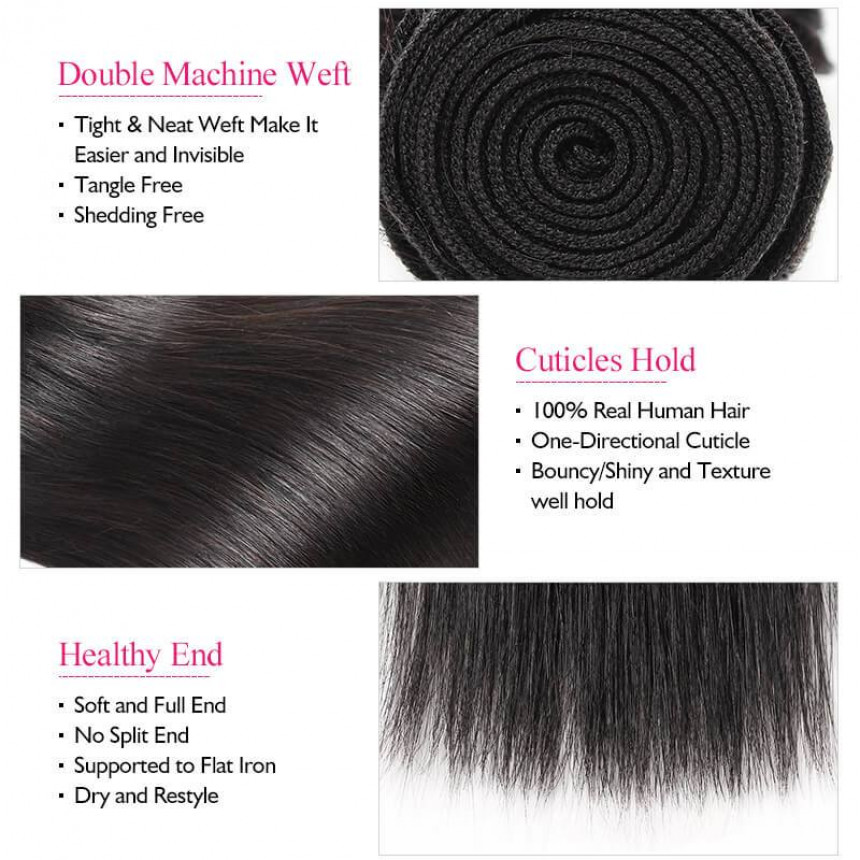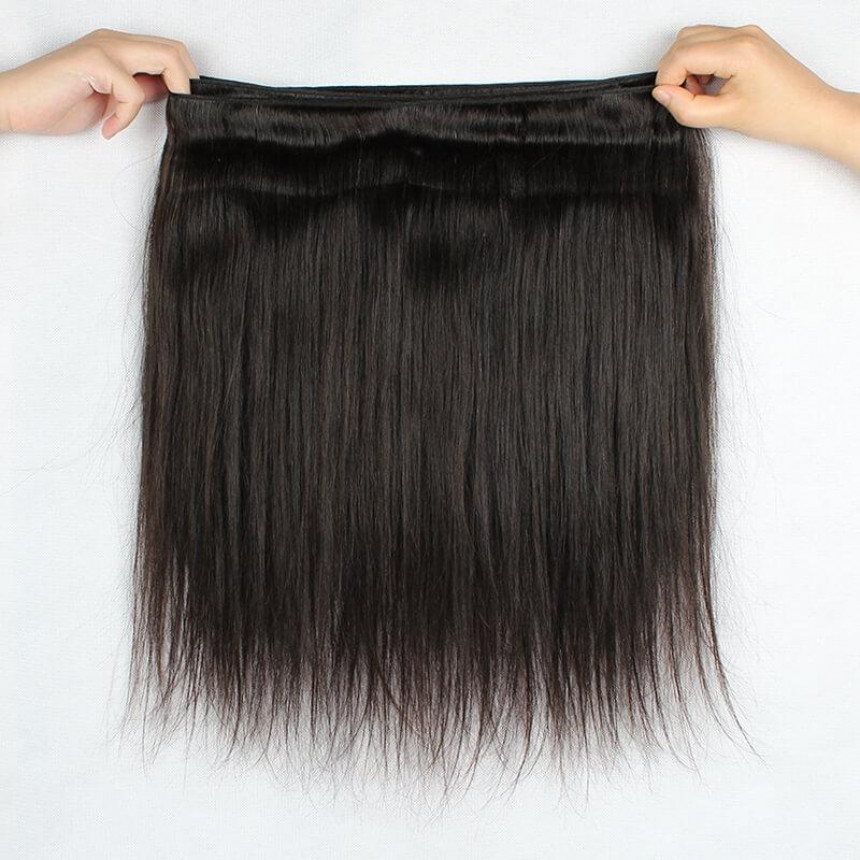 -20 %






Secured Shopping
Best security features, we support Visa, Master.Amex, Paypal and etc.
Free Shipping
Free delivery over $50, ship with DHL, EMS,Fedex express and etc
Free Returns
Hassle free returns, multi warehouses in the US, Hong Kong, Canada, New Zealand
Virgin Indian Straight Human Hair 3 Bundles Human Hair Extensions
PRODUCT FEATURES

Item: 3 Bundles Indian Straight Virgin Human Hair, Unprocessed Virgin Human Hair Extension
Hair Material: Virgin Human Hair Weave, 8A Grade, No Shedding, Tangle Free
Hair Color: Natural Black Color
Hair Grade:8A Grade, Straight Human Hair Bundles, Can be bleached and restyle, dyed
Hair Length: 8 inch - 28 inch are available, Very Soft, Healthy and thick
Texture: Straight Hair, Natural Hairline, Soft, Comb Easily, Minimal Shedding, No Tangle
Pack: 3 Bundles Straight Hair
What length should I purchase

Hair bundle should be measured when it is stretched. So please keep in mind that you will need to accommodate for its curl pattern when selecting your desired length.
How long do the hair bundles last
Our bundles typically last for 7-9 months, if cared for properly.
How long do extensions last for?
Extensions do not survive as long as you believe that they would. Normally, and if you are taking very good care of these, tape-ins last up to six to eight weeks, then glue-ins endure four to eight months, and also protein-bonded extensions last six to eight months.
How long is an 18 inch weave?
18 inch weave is equal to 45 cm whereas 14 inch weave is roughly 35 cm. While 14 inch weave provides users' own hair a stunning and thick appearance and it may be implemented on all types of hair, 18 inch weave is the very best for a natural appearance.
How often do you wash hair extensions?
You should clean your hair extensions each 30 wears, or if there's important product buildup to the point at which it becomes uncontrollable to style.
Can hair grow back following expansion harm?
Encourages Hair Loss brought on by Hair Extensions Frequently the lady in question might require a rather dramatic shift in fashion like Jennifer Aniston, to eliminate damaged hair, however over the long haul her hair will grow back normally and without needing to resort to clinical intervention.
Are weft extensions bad for your hair?
Beaded weft hair extensions cause minimal harm to your hair. Beaded weft extensions are secure for your normal hair and are employed without warmth. A stylist may also understand how to safely and safely manage your hair so you can attain the outcome which you would like but without any dryness or breakage.
How long can microbead hair extensions remain in for?
Generally, you are able to utilize micro bead extensions for quite a very long time with routine upkeep. It's suggested to prevent oil-based goods on the hair and using it near the beads.
How long should bonded hair extensions last?
Normally, and if you are taking very good care of these, tape-ins last up to six to eight months, glue-ins endure four to eight months, and protein-bonded extensions continue six to eight months. The only sort of extensions which continue up to a year are clip-ins, as you're not wearing them each moment.
How old should you be to get hair extensions?
The right age to genuinely contemplate capping or extensions is dependent upon the child's maturity level and hair loss health. But, we advise you to wait until your kid turns twelve or ten years old before introducing her into protective hairstyles.
How long can I wear hair extensions?
Based upon the hair caliber you pick, the durability of your own hair extensions. Just how long your hair extensions continue will also be based on the form of attachment and procedure you employed.
How much is a full sew in?
This depends upon a range of factors, such as where you're in the nation and that your breeder is. And that is not including the price of these extensions, which may fall anywhere between $80 to $600.
What age can you get eyelash extensions?
A: You want to be 18 and above, nevertheless, 16 to 18 years may have eyelash extensions together with parental approval, a parent or guardian will also have to be present in the treatment.
How often do you have to get hair extensions redone?
In terms of how frequently you'll have to get your hair extensions re-applied, she recommends,"tape and Glue extensions continue about four to eight months, sew-in extensions must be replaced every six to eight weeks and micro-link extensions last up to four weeks, but will require repositioning every a few weeks as your...
Can you swim with hair extensions?
The hair which extensions are made of may be treated exactly like your normal hair. It is OK to go swimmingof course, but do not let extensions to soak in water for too long, and dry them once you escape the pool or sea.
Can I wash my hair everyday with hair extensions?
Most wearers prevent washing their hair extensions every day only as a result of time that it takes enclosing the styling that the additional piece of hair and correctly styling it to combine together - but it's surely safe to clean your hair extensions daily.
How long does it take to grow 18 inches of hair?
Following 5 years in case your hair is 18" long afterward you may state your normal life span is 3 decades.
Can hair grow back after Balding?
This can be known as hereditary baldness, pattern baldness, or androgenetic alopecia. This kind of hair loss is usually permanent, meaning that the hair won't grow back.
Can hair grow back after thinning?
If the cause of thinning hair is genetics, then it won't grow back by itself. To develop back a wholesome, full head of hair, you will want to take actions, which entails reviewing different baldness choices.
How many bundles do you need for 18 inches?
Normally, you may get three packages for your main sew in, that is typically the magical number for your typical sew in. In case your sew-in is beginning with spans over 20 inchPrime; then you may wish to consider four packages.
How do I have amazing hair?
Avoid rubbing your own hair with a towel. Wash your hair frequently. Massage your scalp once you shampoo. Proceed on hairstyling products. Prevent using heat-styling tools also frequently. Use the ideal sort of merchandise to your hair type. Brush your hair the perfect way.
Does masturbation cause Hairfall?
This myth can come in the thought that semen includes elevated levels of protein, therefore with every ejaculation, the human body is shedding protein which it might use for hair development.
Can sew ins help your hair grow?
Hair straighteners may do a lot more than create your hair look thicker and longer. Wearing a glow is also a wise way to secure your hair if you are attempting to acquire length. Sew-ins would be the most tender means to add extension hair to get long-term usage.
How long is a 14 inch weave?
You may expect all of the robes which pose as the 14-inch weave to be approximately 35cm after straightened. And mark my words, you quantify the curled or wavy hair after washing it.
Can a weave cause hair loss?
Particular hairstyles like braids and weaves might raise the danger of a irreversible kind of hair loss named Central Centrifugal Cicatricial Alopecia (CCCA) that begins at the middle portion of the scalp and spreads out beneath the edge of the hairline.
What's the healthiest hair extensions?
The safest way of hair extensions accessible as the burden of these panels will be spread over a bigger area causing no harm to the customer's hair. The quickest method of program. The hair may be worn for up to 6-8 weeks each program, fitting in to your salon trip cycle.
Are micro bead extensions good for thin hair?
The microlink extensions are essentially plastic beads which contain some kind of coating on the interior (silicone?) That helps to grip on your hair. I believe that you can get links with no coat, but the coat is suggested for fine/thin hair since it assists the bead to not slide.
Will my hair grow back after hair extensions?
Encourages Hair Loss brought on by Hair Extensions Frequently the lady in question might require a rather dramatic shift in fashion like Jennifer Aniston, to eliminate damaged hair, however over the long haul her hair will grow back normally and without needing to resort to medical intervention.
Can extensions cause hair loss?
The trichologist told the BBC the extension-related baldness is baldness, and this is a condition caused when too much strain is frequently set on the hair follicles, pulling the hairs out, and damaging the follicles indefinitely. Yikes!
Can you get extensions if you have short hair?
A fantastic way to transform your hair is to put in hair extensions and it is likely to utilize hair extensions even in the event that you've got short hair. If you presently have short hair (particularly because of a poor hair cut) you could be looking for hair extensions to change your appearance and also have a very long hair .
What should you not use in extensions?
Sulphate shampoos. First of all, do not use sulphate shampoos onto your own clip in hair extensions, or some other extensions for that issue. Bleach. Bleach can also be a product to not utilize on clip in hair extensions. Standard bristle brushes. Have you ever been using your regular brush onto your own hair extensions? Products including alcohol.
How can I keep my hair healthy while wearing extensions?
Prepare your hair and scalp. Clean your own hair with a fantastic excellent shampoo. Moisturize and condition your own hair. Employ products with vitamins onto your own hair to nourish it. Always make sure your extensions aren't that tight. Do not forget about your own extensions. Follow your hairstylist maintenance guidance.
...................................................................................................................................................................................................................................................................................................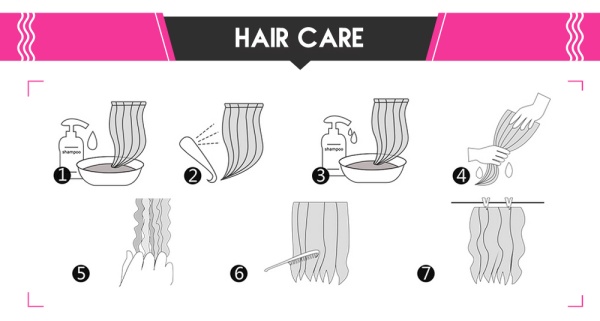 1.Be ready for everything and wet the hair with warm water
2.soak the hair with mild shampoo for a few minutes.
3.Rinse the hair in clear water once.
4.Do it again to make sure the hair is clean.
5.Cover the hair with the towel to soak up the water on it.
6.Move down gently to comb the hair straight to the ends.
7.Hang the hair with the weft open and air-dry it and curls hold well.
Stock:

5 only

Model:

straight-hair-3-bundles-indian-human-hair-weave

SKU:

straight-hair-3-bundles-indian-human-hair-weave

ISBN:

straight-hair-3-b
Hurry, this offer ends in: