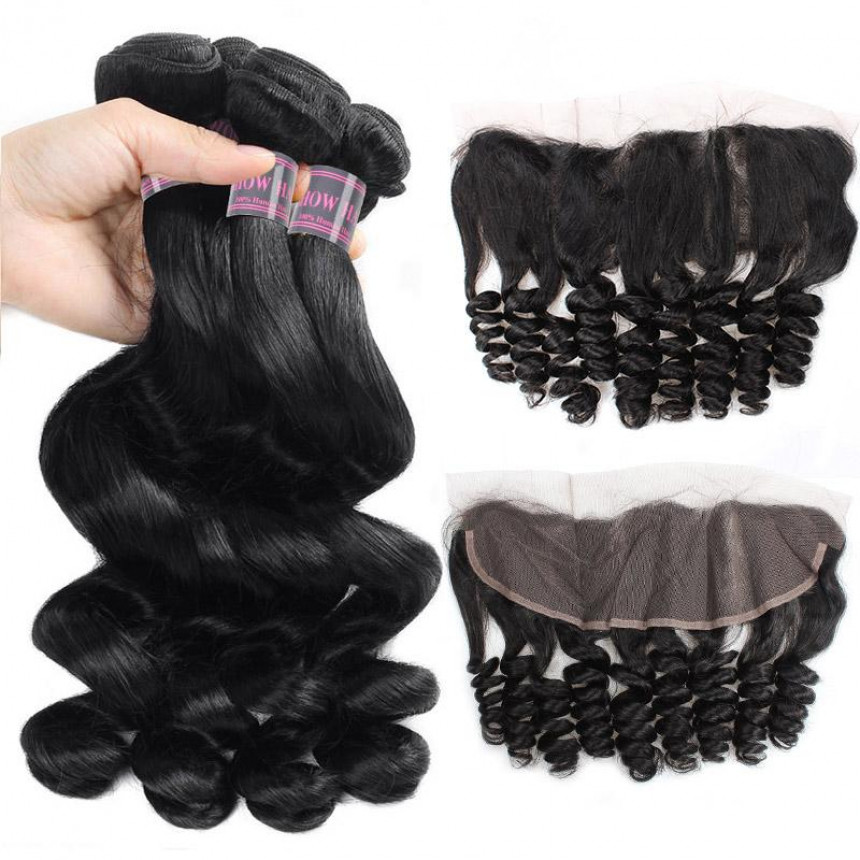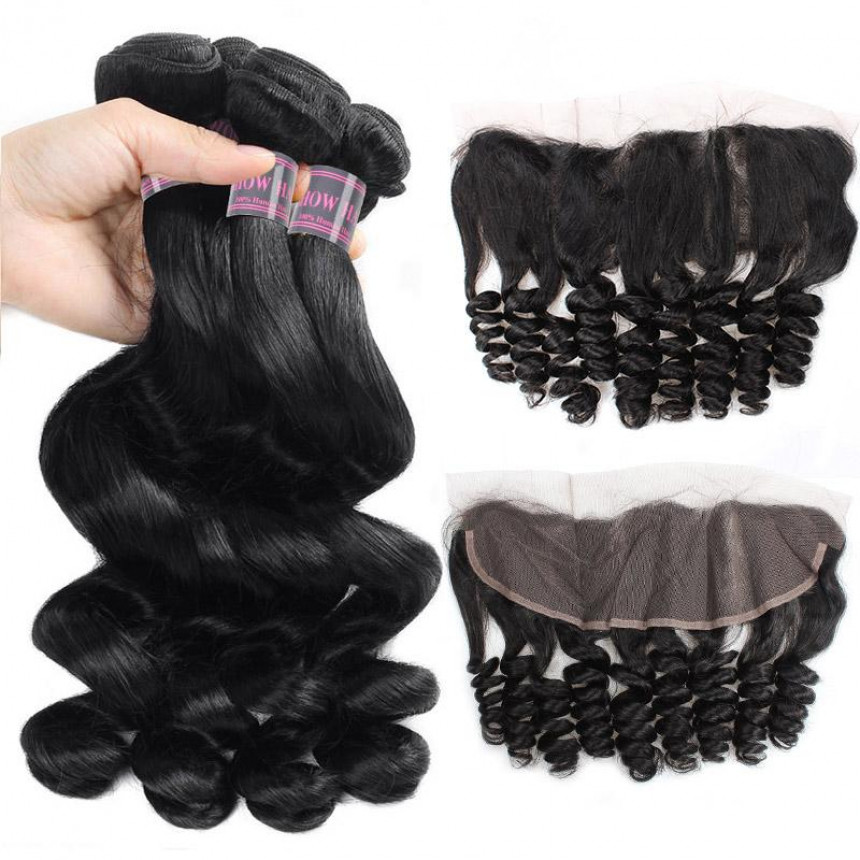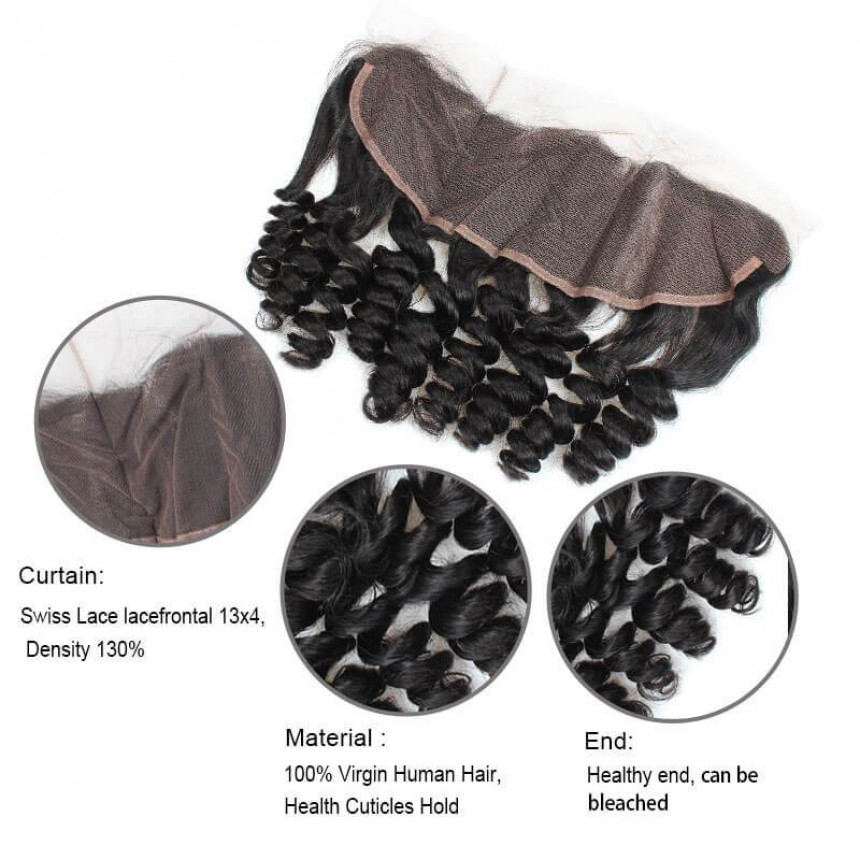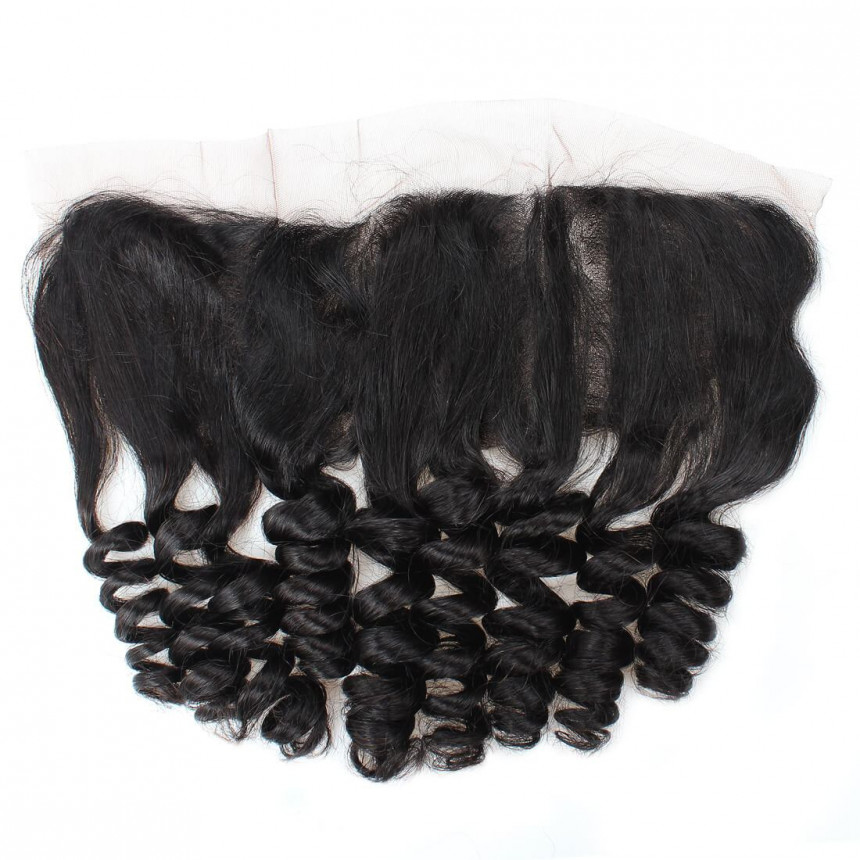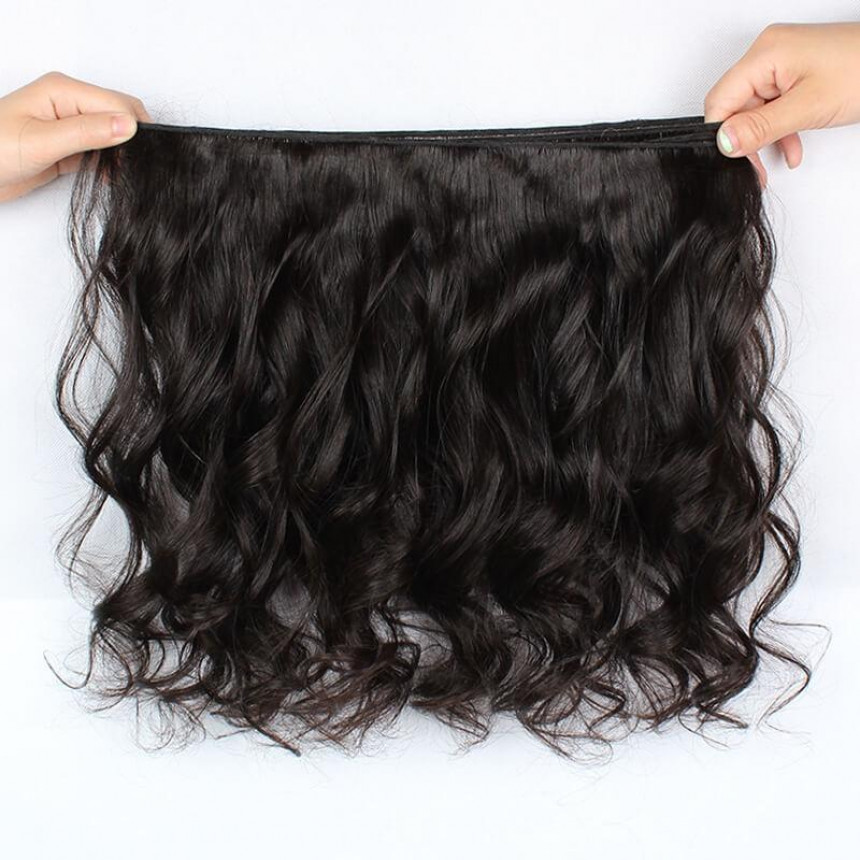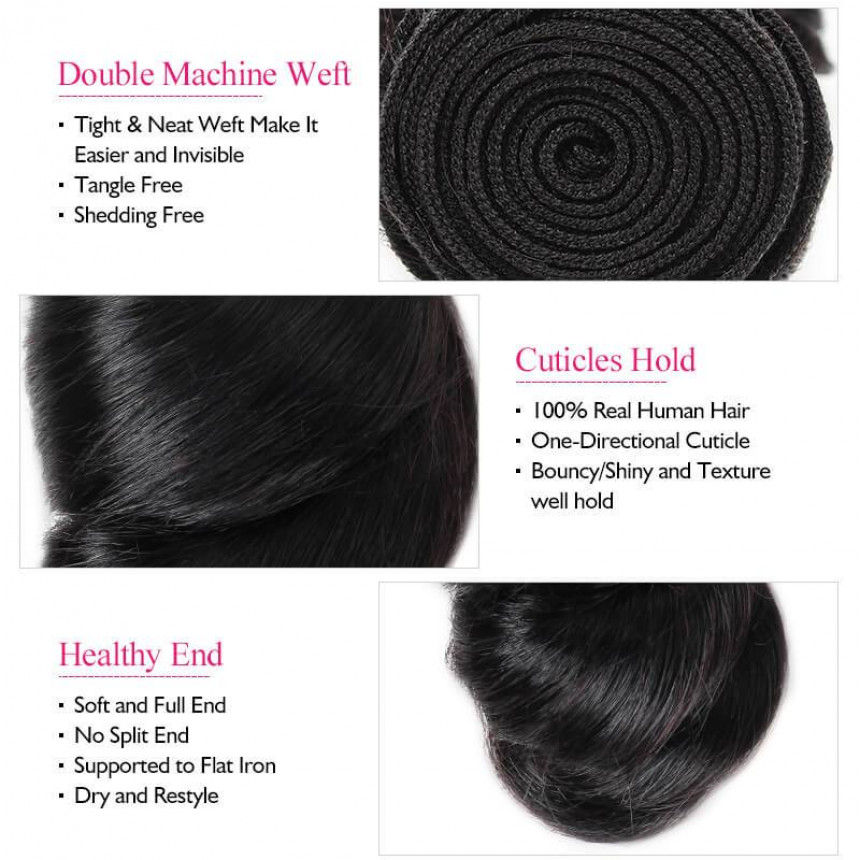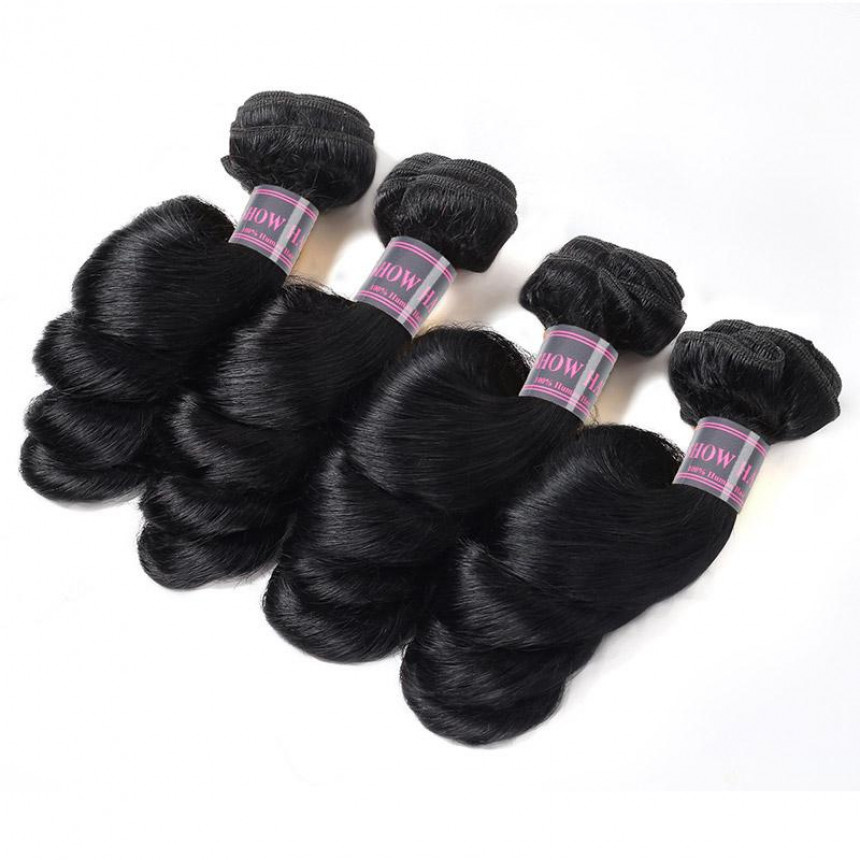 -20 %






Secured Shopping
Best security features, we support Visa, Master.Amex, Paypal and etc.
Free Shipping
Free delivery over $50, ship with DHL, EMS,Fedex express and etc
Free Returns
Hassle free returns, multi warehouses in the US, Hong Kong, Canada, New Zealand
malaysian hair loose wave 4 bundles with 4x13 lace frontal
Malaysian Loose Wave 4 Bundles Human Hair Weave With Ear to Ear Lace Frontal 100% Virgin Remy Human Hair Extensions High Quality Cut From Young Girl Donator 100% Virgin Human Hair Long Lifetime Durable Natural Hair No Shedding No Matting No Tangle Bouncy Soft Hair
Hair Grade: 100% Unprocessed Virgin Human Hair Weave

Hair Texture: Loose Wave

Items/Package: 4 Pcs Hair Weave & 1 Pc 13*4 Lace Frontal




Hair Length:Hair Weave: 8-28 Inches In Stock;13*4 Lace Frontal: 8-20 Inches

Hair Weight: Hair Weave:95g-100g/Piece; 13*4 Lace Frontal:60g-90g/Piece




Hair Color: Natural Black

Quality: Machine Double Weft, Soft, No Shedding, No Tangle

Features: Can Be Dyed & Permed & Bleached
FAQ
What is the best lace wig tape?
1st location. Walker Ultra Hold Tape 3/4 x 3" Straight Strips 36 Pc Lace Wig. 2nd location. Qfitt Lace Tape for Wigs & Hairpieces 1/2 x 5 Yards Double Sided. 3rd location. Lace Front Wig Tape - 36 Pieces, Water-Proof Powerful Adhesive Double Sided Lace. 4th location. 5th location.
Can I wear a lace front wig without tape or glue?
Wig clips and combs are considered among The things you enable you to place on a lace wig with no adhesive. The combs may attach to a bio hair only about exactly the same as a barrette will.
Is wig tape safe?
Wig tape is a double-sided, medical-grade Sticky tape that's safe to use in your skin also comes in various strengths.
Is got2b glued bad for your hair?
The adhesive on the lace wig generates many Issues and harm to the entire scalp, even though it can produce the wig protected. Glue harms your own scalp. The scalp is quite delicate, and continuously tearing the wig with adhesive will make the scalp more sensitive and also result in baldness and allergies.
Which Got2B glued is better for wigs?
Got2B Ultra Glued Invincible Extreme Hold Hair Spray Gel The Got2B spray is an superb alternative for a wig adhesive.
Can you use double sided tape for wigs?
Use to secure your wig in case you are feeling it Is going around and you don't have any hair. Set the tape everywhere within the wig which you opt for, or cut out a bit in half if you don't require a complete piece.
Why are lace front wigs better?
These bracelets are better because they have an Invisible hairline, see video for specifics. Lace front wigs are often more mild weight and a great deal more comfy than a typical wig. You generally have more flexibility to design it distinct manners that also increases the imperceptible nature and organic appearance!
What's the difference between full lace and whole lace wigs?
Complete lace wigs are built with a net Cap with separately hand-tied hair strands. They feature lace at front and back of this wig. Total Lace wigs are often constructed with a conventional weft fashion cap. They also contain lace at front and back of this wig.
How long does a full lace wig last?
Usually, full lace hair wigs with Infant hair would be the very best human hair wigs, higher stretch lace cap is the ideal substance of genuine human hair wigs, so it's strong elasticity, powerful tear resistance, lasting for sporting. This type of wig may continue about two years with great care of.
Can you swim with a lace front wig?
The Most Often asked question in Summertime is"Can I float into a lace wig?" The solution is: Yes, naturally, you can! If swimming at a lace wig, the very first issue is, we have to pick a watertight adhesive to guarantee the cut of the lace won't turn out from the water.
What is the best density for lace wigs?
Wig Density is defined as thick or thin The hair in your own lace wig is. The typical and most popular alternative is 120 percent that's Natural/Medium Density. The average human mind is believed to be between 100%-120%.
What is full lace?
A Complete lace wig is assembled out of a lace Cap that covers the entire head along with the 100% human hair is knotted to this by hand. On conventional remy lace wigs, there's a strip of lace over the surface of the crown to permit for motion like hair growth beneath and for variants in head dimensions.
Can a lace wig fall off?
So Long as you have been correctly sized, your Wig shouldn't ever fall off. Most wigs have adjustable straps which can help you size up your wig and down an inch or 2.
How long can you keep a glued wig on?
Some adhesives are short term, while some Can maintain a necklace that is glued for many months (4-6 weeks ). You need to pick the best adhesive, or it'll damage your borders. Ordinarily:A lace front wig may be left for up to six months using long term glue.
What is a glueless full lace wig?
In short, they're wigs which were Hand-knotted around and may be fastened to your mind without using tape or adhesive. The simple fact is that a lot of women prefer the ease of glueless complete lace wigs.
Do you have to glue a lace front wig?
You can wear a lace front wig without even using Glue, tape or other components. They're generally sewn in across the liner of the lace front wig. You might also pick a wig which employs a mixture of pliers and clips, though clips can secure your own wig. For many, wig clips are a handy choice.
What is the difference between a frontal and a lace front?
Anyway, another difference between the two Is that lace closures are put into position whilst lace frontals are usually supposed to be secured in place. While the two may be put either in front or behind the hairline, lace frontals are generally put before the hairline generally as they're bonded.
How long can you keep a full lace wig on?
If you can maintain the lace wig nicely, Perhaps you may put on a complete lace wig for over 1 year, but in the event that you can not keep the lace wig human hair nicely, perhaps you just have to wear it for 2 months.
Is Swiss lace better than HD lace?
What's Swiss lace? Ray lace has always Been the very best form of lace on the current market and is often utilized in wig making as it's soft, translucent and more resilient than HD lace although thicker compared to it. Ray lace will melt nicely on your skin when you wear it it is going to provide you a exact imperceptible looking.
Which is better Swiss or French lace?
Ray lace is nicer, and more delicate, than French lace, and combines better with skin to get a less visible look. Ray lace is less observable than French lace. French lace is a bit thicker and stronger, but will nevertheless provide you the hairline.
What is the difference between transparent lace and medium brown lace?
The largest difference between both Lace is your lace colour. As the title called, the lace colour of the lace wig is transparent, undetectable, and undetectable. The lace colour of this medium brown lace front wig is moderate brown, which will be darker compared to the lace frontal necklace.
What is the difference between HD lace and transparent lace?
HD lace is a new kind of lace cloth, and Transparent lace is your standard lace with translucent colour. Both lace wig as well as the HD lace wig can make an undetectable and hairline. However, HD lace wig will be a lot closer to the skin compared to typical transparent lace wig.
Is Premier lace wigs legit?
Premier Lace Wigs is scam business. Buyers beware. Stay away from Premier Lace Wigs that you will be quite disappointed. The testimonials on YouTube or compensated to state the standard of the hair is excellent, they are not to be reliable.
How much lace do you leave on a lace front wig?
1. Lace Front Has to Be cut, but to not Near the hairline since the hair will begin to come off: Lace Front has to be trimmed 1 1/2- 2" inches in the hairline. 2. Following the Lace Front was cut incorrectly the hair will dry and then turn fragile.
What is the lace front on a wig for?
The lace front wig allows the wearer to Opt for a hairline. The lace is solely at the front of this wig, to permit the wearer to part the hair any way they want. Contemporary day lace wigs may be worn while performing activities like exercising and swimming, making it a favorite choice among options.
What is a capless wig?
A Fundamental wig cap (also known as capless, Wefted, or open-cap) is a machine-made wig cap that's created by stitching"wefts," or drapes of hair, on a strip of thin, elastic cloth. The wefts are disguised using a method referred to as"permatease" to conceal them from view in the part place.
Do you cut all the lace off a lace front wig?
Cut the lace away around the front and Sides of this lace wig working with a very long liquid scissors strokes to prevent the jagged borders. It's better t cut off tiny portions of the lace rather than it all once because cutting off too much lace can ruin the wig.
Can you shower with a lace front wig?
However, It will Be inevitable to create the Pre-plucked complete lace wigs moist when shooting the shower. When you choose the shower you need to safeguard your entire lace front wigs human hair. It is possible to tie your individual full lace wigs up into some loose tail, and then cover your finest complete lace wigs human hair using a water tub cap.
Can you use got2b glued on natural hair?
Attempt Prime Cart. göt2b® Glued® Ultra Glued Invincible Styling Gel This 1 work perfectly well to acquire a glossy hair grip down to your own wig and natural hair too.
How do I protect my hairline when wearing a wig?
Massage your Scalp. Possessing a wig sit Closely in your mind can get the blood circulation to your scalp to be decreased. Require your Wig off Before Bed. Shampoo your Hair. Continue Top of Trimming. Wig Cap. Prevent Damp Hair. Take Care when Braiding. Moisturise your Hair.
What's the difference between a 13x4 and 13x6 frontal?
The largest gap between the 13x4 and 13x6 lace is your dimensions. Even though the 13x4 and 13x6 lace rectal equally would be the ear to ear lace rectal closing. However, the size of this 13x6 frontal is larger compared to 13x4 frontal. Hence that the breathability of this 13x6 lace frontal is far better compared to 13x4 lace .
What is a 13x6 lace frontal?
Similiar using a 13x4 human hair lace Frontal closure, lace 13x6 is a sheet of lace which the lace dimensions is 13x6 Inch. A 13x6 lace rectal closed is usually placed in the front part of the mind, the coverage area is from ear to ear.
How many bundles do I need with a frontal?
Frontal Or Closure: Closures are generally 4 x 4 inches, so You'll Need to Utilize no less than two packages with your closing. Since the frontal will pay for a huge part of your mind you may normally only need 2 -- 3 packages based upon the length and style.
What's the difference between closure and frontal wigs?
Versatility: Frontals are Utilized to reestablish the hairline from ear to ear Whilst closures are utilized to recreate the pure parting of their hairline and quantify about 4inches by 4 inches and are usually sewn into position.
Is a lace front a frontal?
What's a Lace Front Wig or Frontal? Lace Front Wigs -- is a little sheer Lace panel across the front hairline connected to the frontal of this wig. The hair strands are sewn in the holes of lace.
How long should your frontal be?
The length of hair from the frontal depends Entirely in your taste of style. Normally, lace frontals are 16 inches long. Lace frontals are roughly 13 inches in length and 4 inches in diameter, whereas 360 lace frontals possess a circumference of 22 inches and width of 4 inches.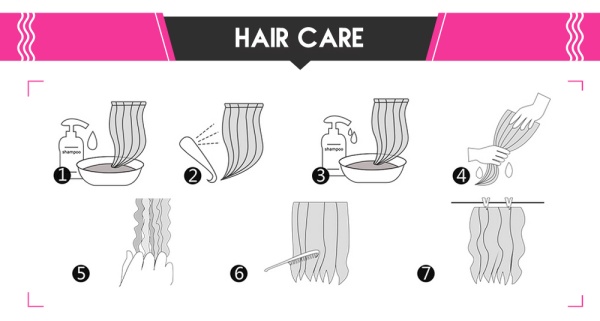 1.Be ready for everything and wet the hair with warm water
2.soak the hair with mild shampoo for a few minutes.
3.Rinse the hair in clear water once.
4.Do it again to make sure the hair is clean.
5.Cover the hair with the towel to soak up the water on it.
6.Move down gently to comb the hair straight to the ends.
7.Hang the hair with the weft open and air-dry it and curls hold well.
Stock:

8 only

Model:

malaysian-hair-loose-wave-4-bundles-with-4x13-lace-frontal

SKU:

malaysian-hair-loose-wave-4-bundles-with-4x13-lace-frontal

ISBN:

malaysian-hair-lo
Hurry, this offer ends in: