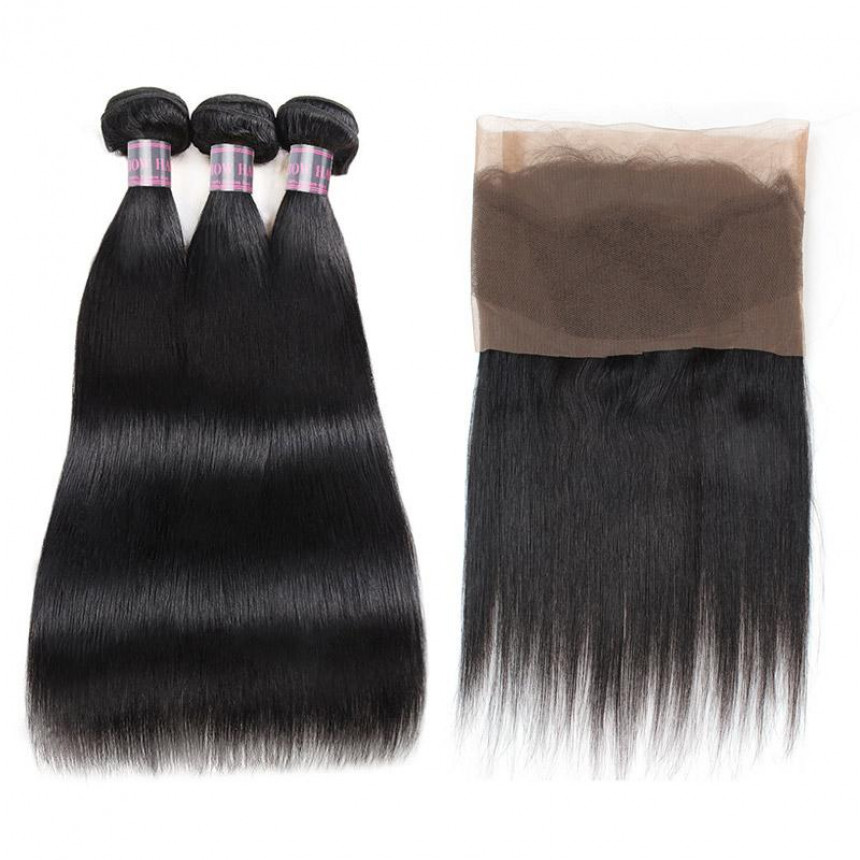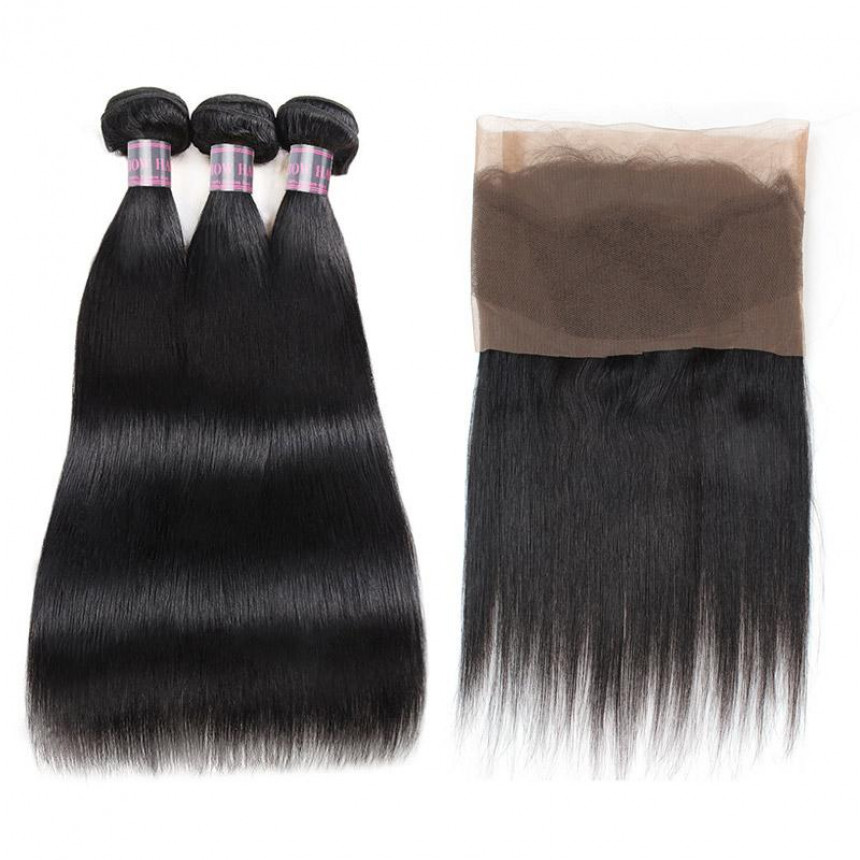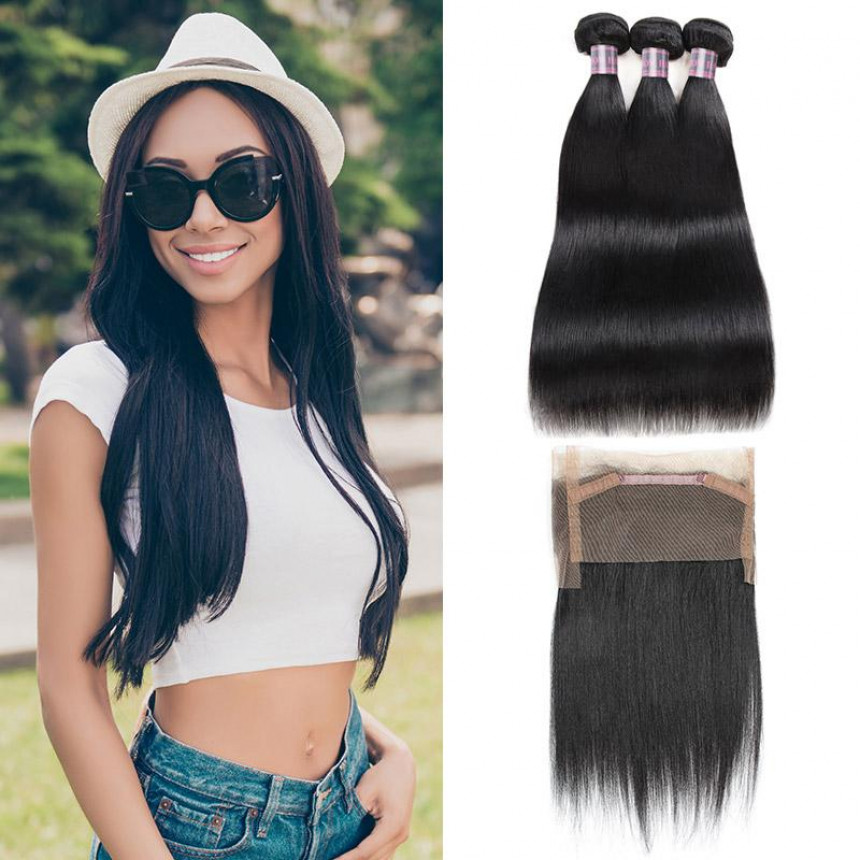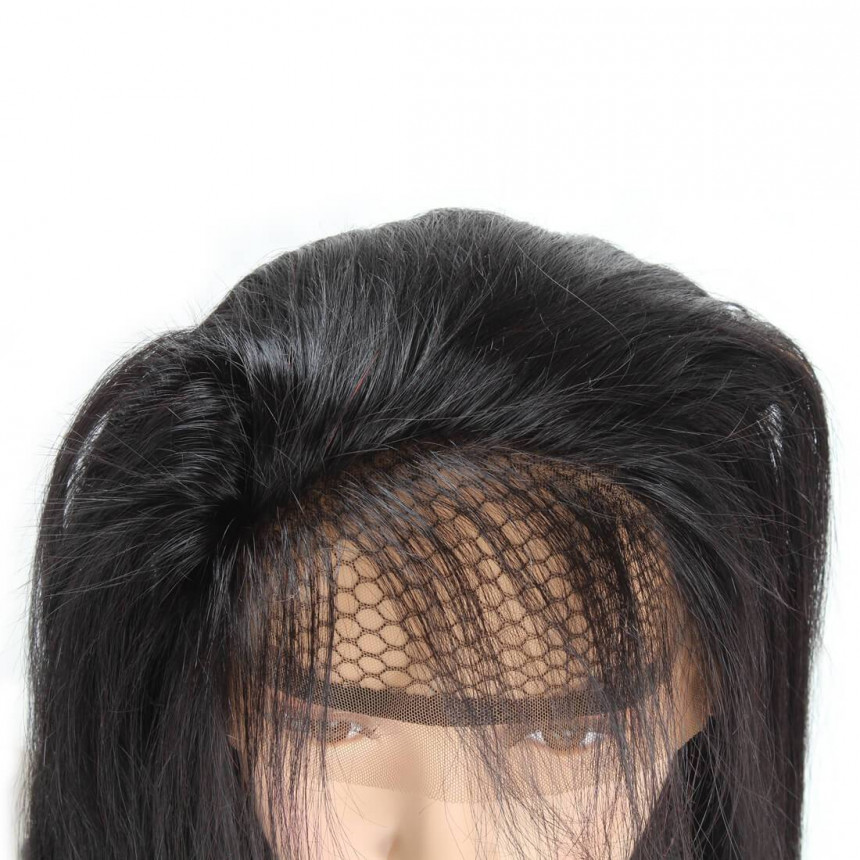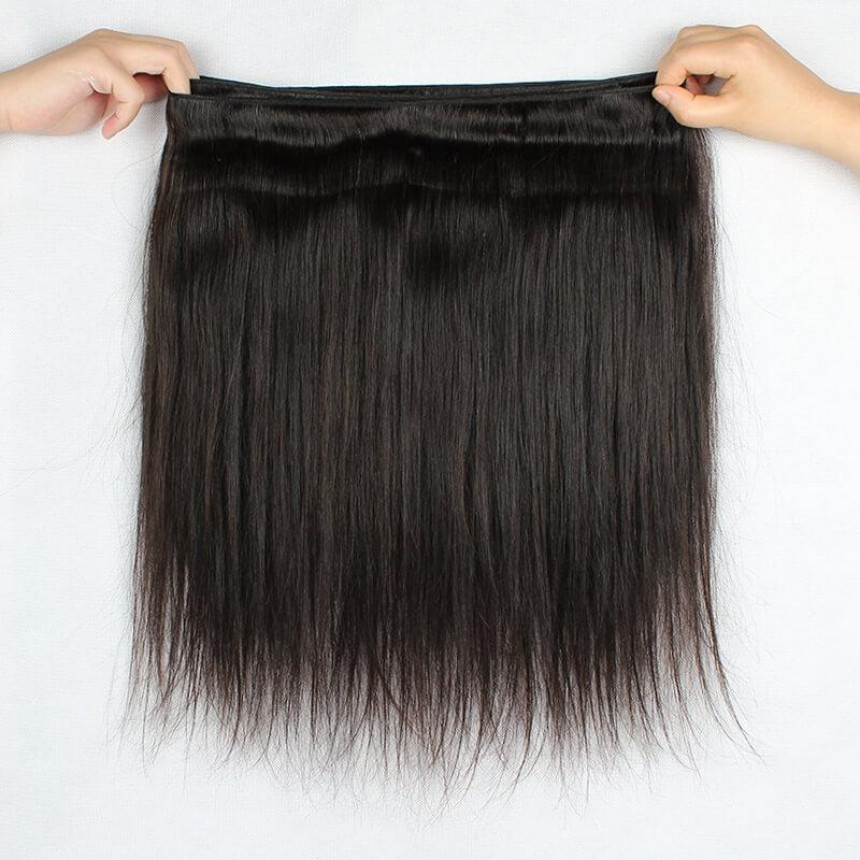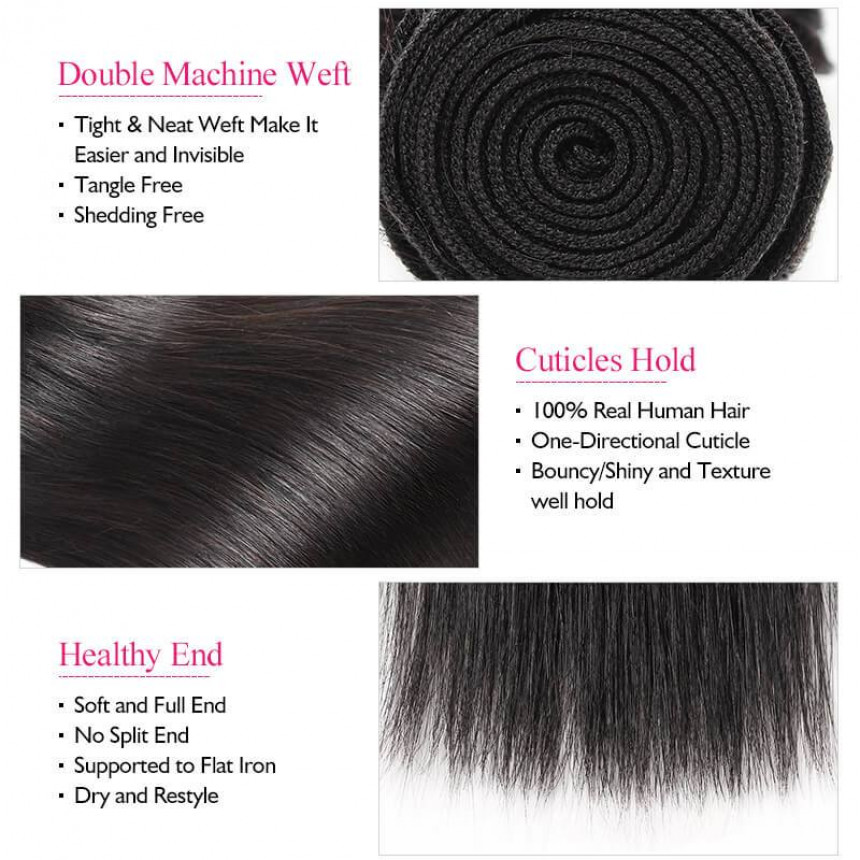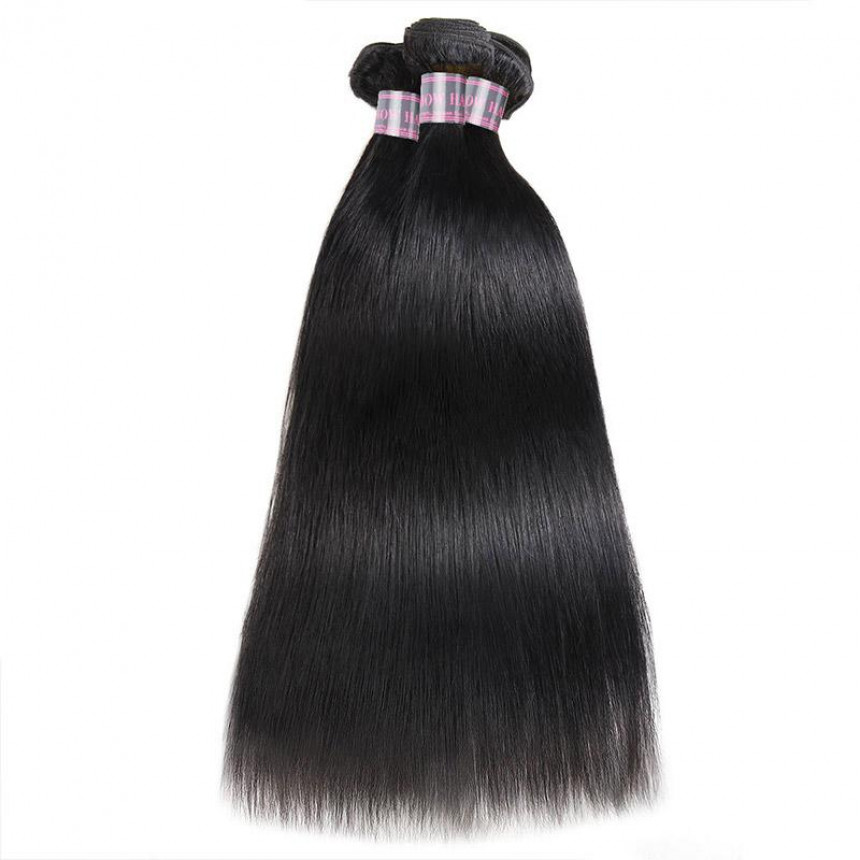 -15 %







Secured Shopping
Best security features, we support Visa, Master.Amex, Paypal and etc.
Free Shipping
Free delivery over $50, ship with DHL, EMS,Fedex express and etc
Free Returns
Hassle free returns, multi warehouses in the US, Hong Kong, Canada, New Zealand
Indian Virgin Remy Hair Indian Straight Natural Color 3 Bundles With 360 Lace Frontal Closure
360 Lace Frontal Closure With 3 Bundles Indian Straight Human Hair With Baby Hair Natural Hairline 100% Virgin Remy Human Hair Hair Free Shipping Natural Black Color Pre Plucked No Chemical Double Machine Weft Fine Silky Soft High Quality
Hair Grade: Hair 100% Unprocessed Virgin Human Hair Weave

Hair Texture: Straight

Items/Package: 3 Pcs Hair Weave & 1 Pc 360 Lace Frontal

Hair Length: Hair Weave: 8-28 Inches In Stock;360 Lace Frontal: 8-20 Inches




Hair Weight: Hair Weave:95g-100g/Piece; 360 Lace Frontal:70g-110g/Piece




Hair Color: Natural Black

Quality: Machine Double Weft, Soft, No Shedding, No Tangle

Features: Can Be Dyed & Permed & Bleached

-----------------------------------------------------------------------------------------------------------------------------------------------------------------------------------------------
FAQ:
Q1: Can Remy hair moan?
Remy hair is your well understand popular individual hair weave due to the highest quality and the many ordinary outcomes. But that isn't to mention, Remy hair won't ever tangle, Remy hair is liberated tangle once you purchased it in the hair seller, in the event that you properly utilize the virgin remy hair, then it will also free tangle.
Q2: What's the most effective human hair to purchase?
Brazilian hair is just one of the greatest textures for African American girls.
Q3: What's the highest quality hair?
Virgin feel hair is your best grade of hair because it's unprocessed and thus may be styled and colored like your own all-natural hair. The most well-known varieties of hair are Brazilian, Malaysian, Indian, and Peruvian Hair.
Can you have bangs with a middle part?
When picking the kind of bang you need, consider your own hair texture/type, in addition to your own hair part. Nice hair beauties, but should look out softer, side-swept bangs or be ready to pull a lot of hair ahead for a heavier appearance.
Can you use heat on human hair blend wigs?
If you are sporting a human hair wig, then it is usually safe to employ heat. Nevertheless, you do not need to brush the hair or harm it on time. To guard the strands, then employ a heat protectant spray and then disperse it evenly through each section of the hair before applying warmth.
How do you keep a wig from riding up your back?
If you don't need to use a wig clasp then you might want to attempt using sock clips which may be sewn onto the cloth component of these wigs.
How far back on your head should bangs start?
Tie the remainder of your hair backagain. Use a cloth covered elastic ring, scrunchyhair clip.
Are bangs in Style 2020?
Short Pants are likely to be more popular in 2020, '' she affirmed to The List. Before you dip (fore)head into infant bangs, however, you're going to want to actually consider the choice. With bangs so brief, there is no pulling them off or back to the sides in a bid to conceal them.
What face shape looks good with bangs?
Bangs are about illusion. This can be key for oblong or square face contours, which are inclined to be wider in the cheeks and much more womanly, particularly around the jawline.
Are bangs unprofessional?
Any hairstyles that seems like it may be too much upkeep is deemed unprofessional. Shaggy, oversize bangs can get on your way and in case you are always trying to push them apart, ensured your boss is discovering. A specialist environment is one where there are limited distractions and interruptions.
What do wig color codes mean?
Color codes are utilized industry wide to signify that the color or colors where a wig or hairpiece is created. Some factors for variants are different manufacturer, distinct mill, distinct kind of fiber, different dye lot along with another wig pattern.
What wigs look the most natural?
For your most natural-looking wig, then elect for one made from human hair. As you may suspect, human hair provides the most natural appearance, states Fae Norris, a hairstylist in Rock Paper Salon. As it is real, it drops and drops exactly the identical manner natural baldness does.
What color wig should I get?
It's ideal to stick with impartial, beige and ash foundations when picking a wig colour. You are also lucky enough to have the ability to wear many fascinating"unnatural" hair colours such as lipstick reds, burgundies, and orchids, purples. Individuals with in trendy household, should prevent golden, yellow, red and crimson tones in sock colour.
What color is 27 in hair?
-- #27 (Strawberry Blonde / Light Butterscotch Blonde) -- Some of the most common blonde hair colours offered and there's a reason behind this, it is hot and mild. -- #60 (Platinum Blond / Bleached Blond ) -- A popular blonde hair colour among most the girls and a good #613 option.
What hair color looks good on dark skin?
The Hue: Vibrant red brown. Purple Perfection. Platinum Pixie. The Hue: Ultra blonde. Pastel Plum. The Hue: moderate lilac. The Ideal Lights. The Hue: Dimensional blonde. End Caps. Warm Blond. Tip of Blue.
How do I choose the right wig?
Your best options with this form of face comprise wigs which are short to medium in length. You ought to look particularly beautiful in people with waves or roundness round the face. Make sure you think about wigs with wispy bangs, off-center components, and the ones that offer height in the crown of the head.
Can you color a wig?
Better yet, human hair follicles may be dyed like your normal hair. This means not only can your style change to fit your mood, but your own hair colour can, too. When you put money into a high quality human hair wig, then you would like to lengthen the hair using suitable dyeing methods.
What do wig color codes mean?
Color codes are utilized industry wide to signify that the color or colors where a wig or hairpiece is created. These colours may differ from style to style. Some factors for variants are different manufacturer, distinct mill, distinct kind of fiber, different dye lot along with another wig pattern.
What wigs look the most natural?
For your most natural-looking wig, then elect for one made from human hair. As you may suspect, human hair provides the most natural appearance, states Fae Norris, a hairstylist in Rock Paper Salon. As it is real, it drops and drops exactly the exact same manner natural baldness does.
What is a headband wig?
A headband wig is a kind of wig that's made out of a slice of cloth resembling a headband. The wig could be slid round the mind and place into position with the headband instead of clips or other attachments.
How do I keep my head cool when wearing a wig?
Including a headband or hair clip into your own wig not just personalizes your appearance but also can help to keep the hair from your face. Consider utilizing barrettes or perhaps sunglasses to keep your brow fine and trendy. If you are wearing a more style wig, it is also possible to attempt a non ponytail to keep your hair from your neck.
How are wigs attached?
Wig clips have been stitched to the cap of this wig and clip in to your own hair. They're a wonderful long-term alternative because once they are dressed in, you are good to go for the life span of your wig. If you don't obviously have really dark hair, it is unlikely your hair is only 1 colour. The majority of us have shades of colour and gradients during their own hair. Your stylist requires for those gradients"dimension" We call them"why wigs dyed with a single horizontal color look very fake."
What is a half wig?
The expression"half wig" is a blanket saying that covers many different partial wigs. Half wigs might be some of these: They occasionally have a headband in front to disguise the transition involving the wig and organic hair.
How can you tell if someone is wearing a wig?
With higher quality lace wigs, it's difficutl to tell if a person is wearing a wig, you understand, swsiss lace cap is soft and thin and colour matching the skintone if you don't shut until the wearer and realize the part hairline or area and you'll be able to observe swisss lace glued onto the brow.
Do you need to wear a wig cap under a wig?
Though wig caps are normally a one-piece suits all, a few wig-wearers discover that a wig cap feels overly tight beneath the wig. For women experiencing this, we propose they are better off wearing a wig with no wig cap to get a more comfy wig-wearing experience.
How does a wig stay on a bald head?
It is the ideal product for women that have hair loss or possess a sensitive mind. Additionally, it is ideal for around the home or to sleep ; the Wig Grip will keep it from slipping around as you sleep.
How do you make a wig not look fake?
Shop in a hair shop rather than costume shop. Dye it another colour. Tweeze the middle part. Add powder to eliminate plastic-y glow. Do not use any brush. Design it with warmth. . .or steam. Add oomph with merchandise.
Will wearing a wig make my hair grow?
Nowadays wigs seem natural, may have a very long lifespan and, if utilized properly, wigs may be utilized to grow your own hair, shielding it from more abuse, breakage and weather conditions. Wearing a wig may be a part of a successful protective haircare routine, assisting you to develop thick, long and healthier hair.
Can you put weave in a ponytail?
Too many times, women with weaves will wear their hair in a style that it wasn't meant to be worn in. For example, wearing your weave up in a ponytail when it was installed with the intention of you wearing it down means tracks may tend to show in abundance (not a good look).
How do you keep a ponytail sleek?
As soon as you pull your hair into a ponytail, fill your hands with roughly a half-dollar dimensions quantity of gel and then apply to your hair line and glossy those frizzy pieces! To truly seal the deal it's possible to employ some hairspray and be certain that it doesn't go anyplace, Redken's Forceful 23 is my beloved powerful hold hair spray.
How do you get a super sleek ponytail?
"secure the ponytail tight into the head by means of a bungee cord for additional grip" "Employ some mild gel around the back to wash any flyaways." "To get a flirty finish in your pony, utilize a three-inch curling iron to the ends to make a bend in the facial skin "
Do hair extensions help your hair grow?
Clip-in hair extensions won't hinder hair development so that it's the ideal choice to rocking more locks while awaiting your actual hair to grow out.
How long does a full sew in last?
If you are demonstrating your sew-in enjoy and taking appropriate care of this --more on that in a little --it will last up to six to eight months, says Nash. If you attempt to keep it in more than that, you are risking harm to your scalp and hair (aka irritation, extra oil buildup( and breakage).
Can you wear halo extensions with short hair?
Otherwise, you may still use halo extensions in brief hair; you simply have to design your locks . While Halos may definitely be worn directly, they do combine more evenly in brief hair when curled or waved. Adding more feel will even help create a smooth and natural mix between your hair and the Halo.
How long do ponytail extensions last?
The life span of Luxies can vary anywhere between 3-6 months to a year or two more, based on the overall care they get and how frequently they're worn.
Can you wear a ponytail with tape in hair extensions?
Our best tip on attaining a smooth ponytail with tape in extensions all boils down to positioning! To guarantee the tapes are imperceptible, you are likely to need to decide on a moderate to low ponytail. This is so the tape lay flat against your mind and are totally undetectable.
Do tape in extensions damage your hair?
Perhaps you have noticed some hair loss or harm from the extensions? Nope. Tape-in extensions would be the most powerful extensions it is possible to get and will not result in any harm to your hair so long as you care for these brush lightly at your origin. Finest Sew-In Hair Extensions: Authentic Indian Hair. Greatest Wavy Hair Extensions: Only Extensions.
Can you put hair extensions on short hair?
A fantastic way to transform your hair is to put in hair extensions and it is likely to utilize hair extensions even in the event that you've got short hair. If you presently have short hair (particularly because of a poor hair cut) you could be looking for hair extensions to change your appearance and have a very long hair .
Do keratin extensions damage your hair?
It's correct that hair thinning hair extensions may harm actual hair. But if the application procedure is performed properly, the odds of breakage and damage are few.
Is it bad to wear your hair in a bun everyday?
The specific Same Ponytail Each Day Elastic hair follicles can hold hair too tightly and cut in the hair shaft, inducing fraying when they're repeatedly utilized at precisely the exact same spot. But in the event that you absolutely cannot go a day without your loved ones or bun, do not worry--your hair isn't completely doomed.
Do tape extensions stop hair growth?
Tape-in hair extensions are simple to use and they are usually hassle-free to set in your own hair, but sadly they only continue so long as your normal hair development.
Do tape in extensions fall out easily?
They do not just slip out using appropriate application. The sole reason this could occur to someone is when their own hair stylist isn't properly trained. Improper positioning or software will get the hair to slide, including too much or too little hair can get the tape to slide.
Virgin hair means hair that's totally unprocessed and undamaged. It's never been treated or have some compound procedure carried out in the time of selection like perm, dye, and colour. Remy Hair - Human Hair gathered straight from a hair donor using the cuticle still complete.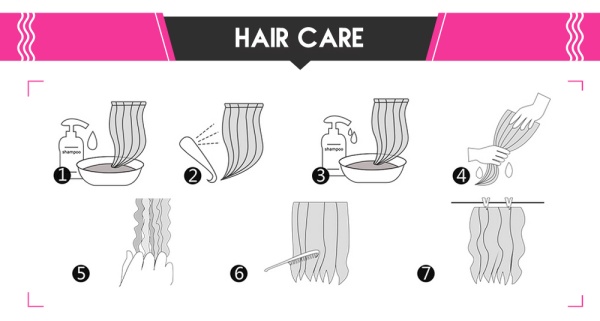 1.Be ready for everything and wet the hair with warm water
2.soak the hair with mild shampoo for a few minutes.
3.Rinse the hair in clear water once.
4.Do it again to make sure the hair is clean.
5.Cover the hair with the towel to soak up the water on it.
6.Move down gently to comb the hair straight to the ends.
7.Hang the hair with the weft open and air-dry it and curls hold well.
Stock:

5 only

Model:

hair-indian-straight-hair-3-bundles-with-360-lace-frontal

SKU:

hair-indian-straight-hair-3-bundles-with-360-lace-frontal

ISBN:

hair-indian-strai
Hurry, this offer ends in: