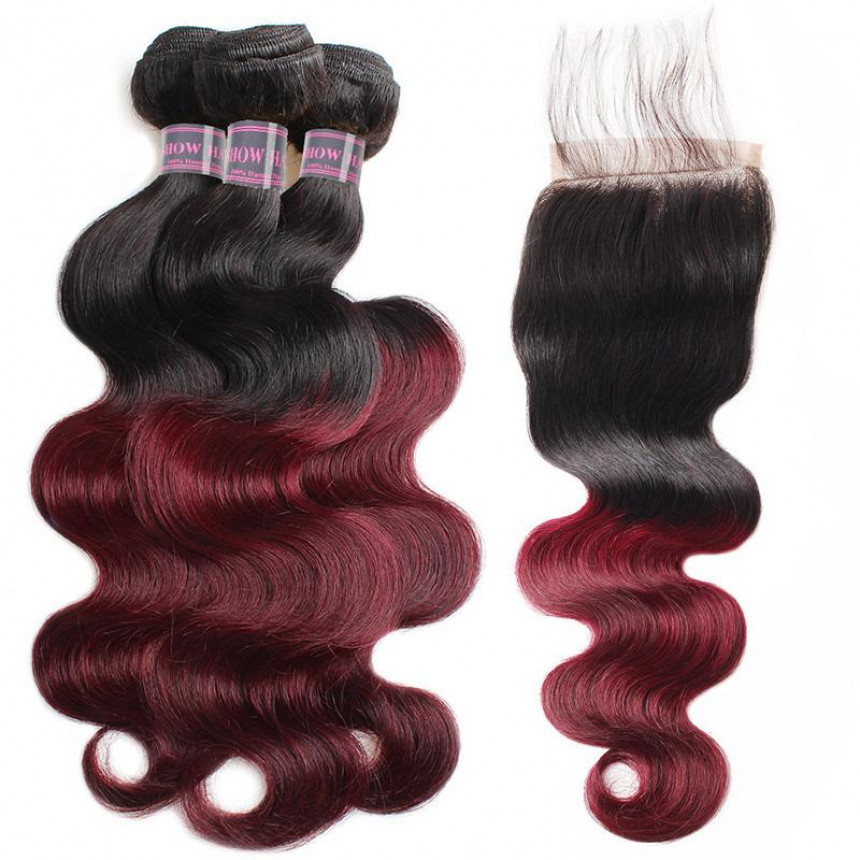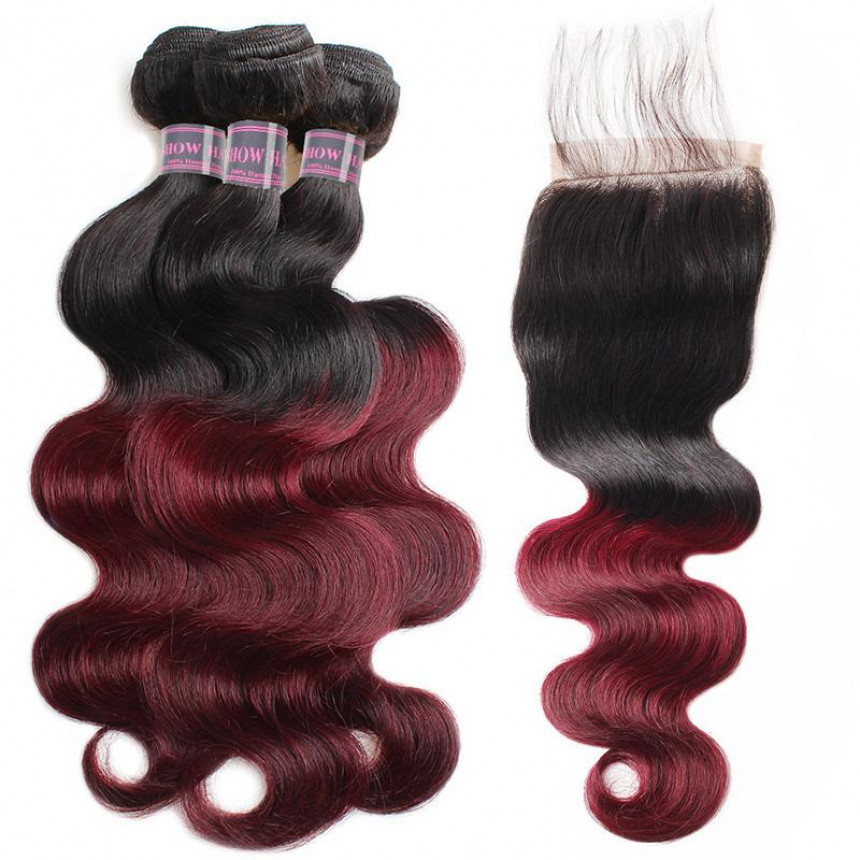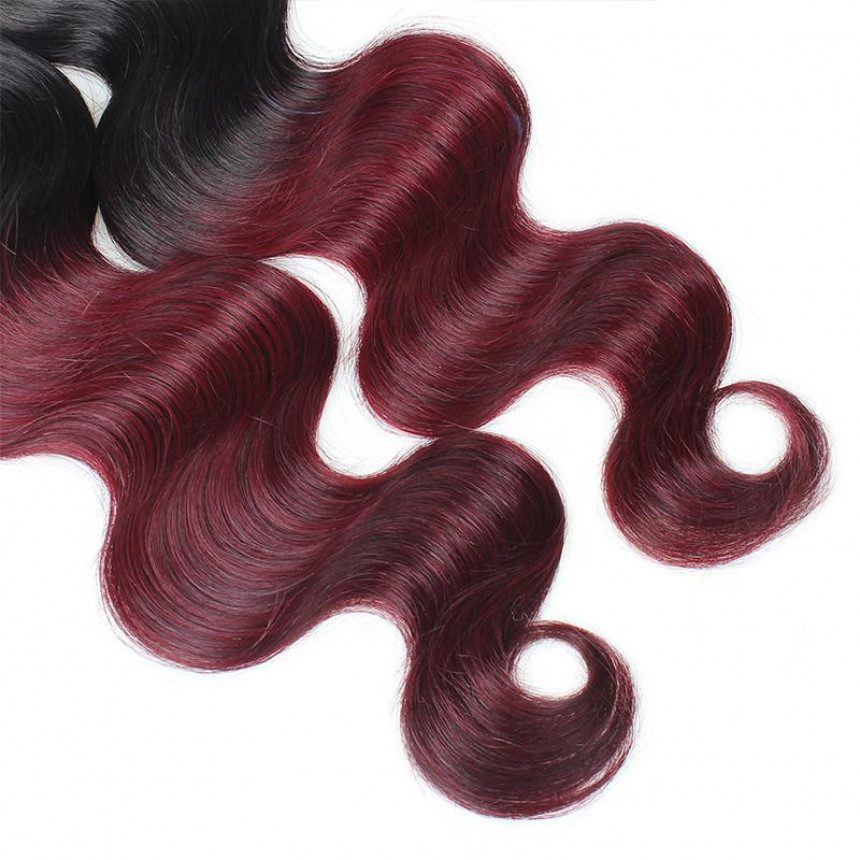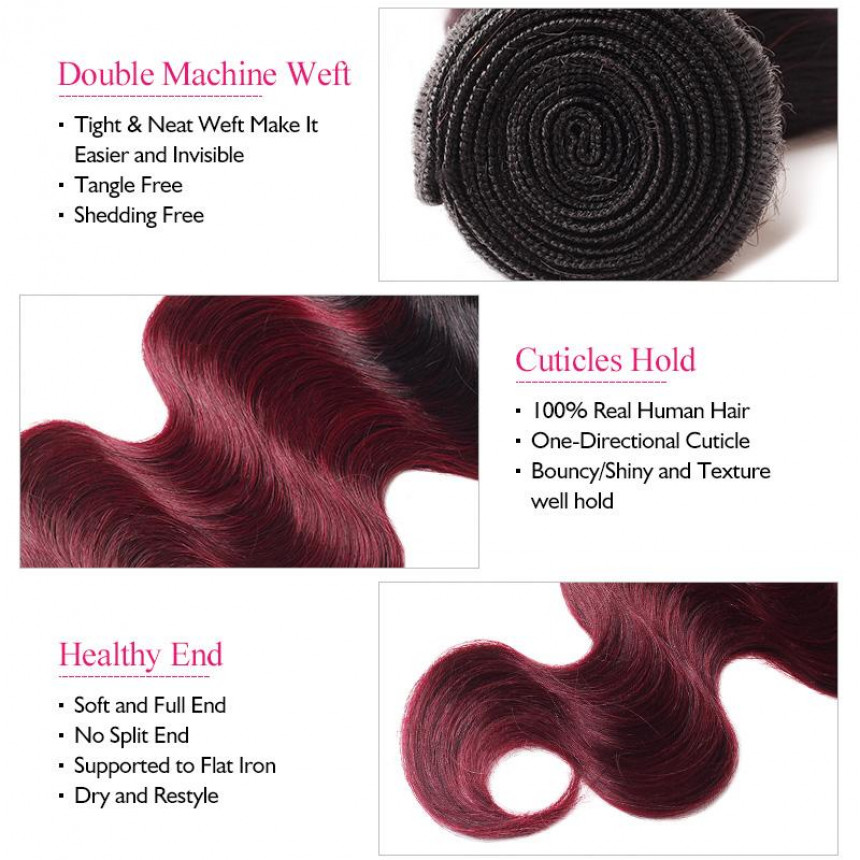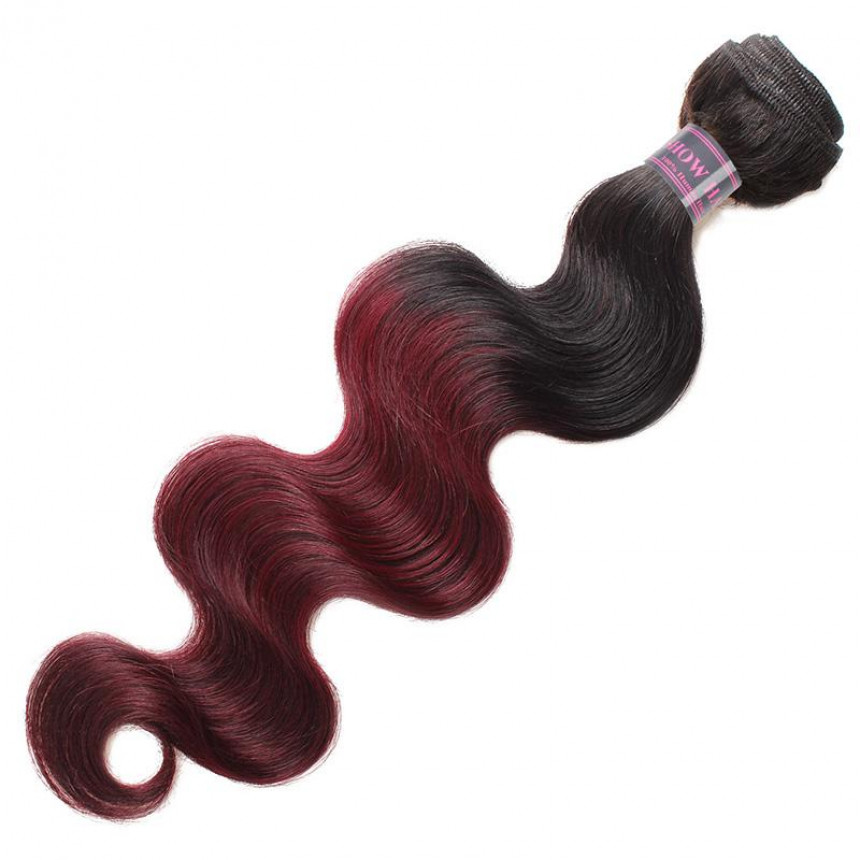 -20 %






Secured Shopping
Best security features, we support Visa, Master.Amex, Paypal and etc.
Free Shipping
Free delivery over $50, ship with DHL, EMS,Fedex express and etc
Free Returns
Hassle free returns, multi warehouses in the US, Hong Kong, Canada, New Zealand
virgin remy hair 99j ombre burgundy color body wave 3 bundles with 4 4 lace closure
Virgin Remy Hair Weave 3 Bundles With 4x4 Lace Closure Ombre Body Wave High Quality No Shedding No Matting No Tangle Cuticle Holding No Lice No Grey Hair Natural And Comfortable Tight And Neat Bouncy Soft Hair Can Be Curled Permed Straightened Ironed and Blow Dried Anything You Do With Your Natural Hair Long Lifetime Durable Natural Color Hair
Net Weight:330-350 Grams per Lot

Suitable Dying Colors:All Colors

Texture:Body Wave

Hair Weft:Machine Double Weft

Can Be Premed:Yes

Color Type:T1B/99J

Advantage:No Shedding,Tangle Free
----------------------------------------------------------------------------------------------------------------------------------------------------------------------------------------
FAQ
Can you put a middle part closure on the side?
Two on each side and one at the center, permits you to put on a centre part and also a side part on both left or right. Click here to find a three part lace closed.
What's the difference between 4x4 and 5x5 closure?
The differences between 4x4 and 5x5 closing The dimensions of this 4x4 closed is 4 inches, and also the size of this 5x5 closed is 5 inches. The 5x5 lace closure will pay for an additional one inch compared to the 4x4 lace closed.
How long can you wear a lace closure?
Typically, you should eliminate your lace front wig once about six months, six months is merely a time period, you are able to six weeks longer or six weeks but you can not wear the exact same 100 human hair lace front wig all of the time.
How do I know what length closure I need?
You probably want to purchase a Closure shorter than the amount of the remaining part of the hair. By way of instance if you're purchasing all of 12" hair then you likely would not purchase a 16" closure. But in the event that you have more hair extensions that the Closure span is down to taste.
Do closures help your hair grow?
Organic Install When installing flawlessly, hair closures have the capacity to produce your virgin hair seem to be growing from the own scalp.
Can I reuse my lace closure?
Lace front wigs have a lifetime of a year or even longer if properly cared for, and that's the central element in whether your lace front wig could be reused.
What is the best closure for weave?
Lace frontal closure may be used to shut hair weaveshair extensions. Together with 3-4 virgin hair packs, an individual can put in a complete head of hair weave. Our closures are fantastic for balding and thinning hair in the summit, or simply worn as a protective fashion to avoid leaving out any hair.
What is a 4x4 lace closure?
A closure is generally a 4x4" slice, which round the temple to temple dimensions and set in the center, its 4 inches long and 4 inches broad, such as a square. It might change if a few people today desire 4x3", but for the large aspect of this closed, it is 4x4" piece.
What is a 4 * 4 wig?
4x4 Wig. A 4×4 means 4 inches across and 4 inches down and up,the very first number signifies across(left to right) whereas the second number signifies from back and forehead.
Should I get all my bundles the same length?
If you'd like a very complete look of comparable lengths you need to get the majority of the hair follicles exactly the exact same length. To get a layered look all of the lengths could differ but should stay in ascending sequence, e.g 16", 18" and 20". If you're buying 22" or more, we normally imply a fourth package of hair could be required.
Can I dye my human hair extensions?
It's true, it is possible to dye your hair extensions that are human! Including dyeing, cutting, heat styling and processing your own hair. Many weave wearers dye extensions to acquire an specific match to their normal hair colour. Things to bear in mind when dyeing your hair extensions: Do a strand test .
What is the most expensive human hair extensions?
It lasts longer than other sorts of hair since it's 100% pure and has not gotten any chemical processing. It's sourced from a single donor.
What hair extensions would be best for thin hairthinning?
Tape in hair extensions are a comparatively newer procedure and the most appropriate for girls with fine or thin hair. The tape extensions are secured for your natural hair with tape (secured like sandwiches between your hair) and therefore are 1.5" wide wefts implemented row . The tape wefts and lightweight and thin, leaving no harm.
How can I naturally lighten my black hair?
Lemon is one of the earliest house remedy to whiten black hair quickly in the home. Additionally, this is straightforward and simplest way to whiten black hair obviously. Apply this solution for your hair.
Can you use box dye on hair extensions?
In fact, a lot of men and women utilize Scrub hair dyes to dye their own hair extensions. It is a frequent practice. For the ones that want a specific colour, I would advise the expert hair coloring path (Read this article: baldness methods ).
Can I bleach hair extensions?
It's true, you can bleach or dye hair extensions with no difficulties. Nevertheless, be certain that your extensions are made from real human hair. Additionally, bear in mind that the extensions are made from real hair, not a few anti-human material. Thus, don't over-bleach them that will damage them.
Should I wash bundles before dying?
If your packages have need of a cleaning up, we recommend that you wash the hair daily before you would like to dye it, and permit the hair to completely dry overnight so it's properly prepared that you start dying it.
What's the ideal Ombre for black hair?
Among the most gorgeous ways to get a woman with black hair to stone the trend would be to go to get a glowing burgundy ombre (or red if that is more your thing). In case you've got cool toned skin, then you will probably look best with reddish purples, but in case you've got a warm skin tone, then you ought to try something that's true red or using traces of orange.
Can you lighten black hair extensions?
It could take numerous applications to whiten your hair extensions.To dye black extensions into blond or light brown colour, you have to first strip the hair of its natural colour. Then you need to bleach the hair into the desired colour. This will take more than 1 attempt to get to the ideal colour.
What color ombre should I get for brown hair?
If you'd like a more extreme brown ombré hair colour, try the season's styles like ashy mushroom brown or improved brownish. If you're searching for a little heat, attempt caramel, honey, or copper ombré. Whether you've got dark brown hair or pale brown hair, then there are loads of alternatives for you.
Can you do ombre on black hair?
If you would like to, it's likely to attract ombré hair at home--even once you have hair. First, you ought to lighten the ends of your hair . Try out the L'Oréal Paris Colorista Ombré Bleach, that is especially intended for developing a gorgeous ombré look.
How frequently should you buy ombre redone?
In case the ombre is puts lower on the mid length-ends, then it will likely have to be touched up every 6-8 weeks.
Does ombre look good on straight hair?
Ombre on direct hair looks amazing for any event, but it has really fun if you operate some genuinely vibrant colours from the top to bottom. Following the identical method of"dark to light," this directly hair begins out fuschia and works its way into an orange-yellow.
Is Ombre and Balayage the same thing?
Ombre is much more of a flat positioning and Balayage is much more vertical. Simply speaking, Ombre is a little more of a fashion; Balayage is a strategy. Both cause a fairly low maintenance pattern, because the haircolor positioning isn't rigorous but done in slow (such as Ombre) or sweeping (such as Balayage) positioning.
How much does an ombre cost?
Price of ombre hairstyle The total cost of this ombre hair two-toned appearance can vary. You can certainly do it your self, but you may need it done flawlessly by a specialist, and it'll be a bit expensive - anywhere from $80 to $200 in the regional salon. In case you want it coloured to your own satisfaction, which might not be such a terrible thing.
How long does it take to bleach knots on lace wig?
I abandon my bleach in my closed for approximately 15 to 20 minutes. Ensure that you maintain the bleach until the knots onto the closed AREN'T noticeable . Additionally, this is essential, you do not need to wash out your final once you understand your knots have become orange.
Can you put a full lace wig in a high ponytail?
As we've mentioned in the introduction, the complete lace human hair wigs and 360 lace frontal wigs are considered the ideal decision to comb the large ponytail hairstyle. That means that you may place your best complete lace wigs at a high ponytail. The designs of this high ponytail include a tasteful long ponytail and a top bun.
Do you have to bleach knots on transparent lace?
Bleaching the knots onto the lace means you're eliminating pigment in the black stripes. It'll make your lace a seamless and organic appearance by bleaching the knots, such as a true scalp. That means you must bleach your knots on your lace wigs. If you would like to catch your beauty and reveal that, then attempt a wig.
Does bleaching knots cause shedding?
If you bleach the knots onto a lace piece you're utilizing a harsh chemical to alter the colour of the hair that is knotted into the lace (applying to the other hand when the lace) into some lighter brown to blend in with all the lace shade.
Is transparent lace better than brown lace?
Just because translucent lace is quite thin so that the lace seems more challenging to discover just like your actual scalp. The very best part is lace leaves less noticeable knots.
What is the most natural looking wigs?
For your most natural-looking wig, then elect for one made from human hair. As you may suspect, human hair provides the most natural appearance, states Fae Norris, a hairstylist in Rock Paper Salon. As it is real, it drops and drops exactly the exact same manner natural baldness does.
Can I place my wig at a ponytail?
Placing your wig at a ponytail will make your wig to slip back slightly, which means you want a stabilizing merchandise to store everything in place. #4 You must have at least a small bit of pure hair to pull from the sides and rear of the wig cap.
How do you blend out with body waves?
4. Catch a part of your exit hair and employ the waving iron a few inches in the origin for a couple seconds before the tide has set. Transfer the waving iron down the length of your hair to make more waves in precisely the exact same way till you reach the endings.
Can you put straight extensions in curly hair?
To find hair extensions curled, you can elect for a permanent perm or even a water perm. Here is another hair extensions barrier which is simple to overthink -- that the colour must match or it is a very obvious inform that you are wearing fake hairloss.
How do you manage curly weave?
Be careful to wash hair in a downward movement to prevent tangling. Next, follow up using a moisture-rich conditioner, working it in using exactly the exact same downward movement.
How long does a glue in weave last?
Glued-in hair extensions, even if implemented correctly, last about 10 to 14 days. While the adhesive might continue to stick the extensions into the pure hair more than that, many stylist advocate eliminating the extensions following a few weeks to maintain extensions looking good.
What is a weave with leave out?
A weave with exit functions best with hair straight back in the center and down to the sides to permit the weave to put much better.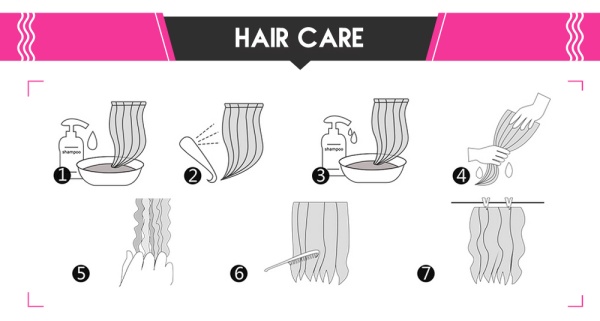 1.Be ready for everything and wet the hair with warm water
2.soak the hair with mild shampoo for a few minutes.
3.Rinse the hair in clear water once.
4.Do it again to make sure the hair is clean.
5.Cover the hair with the towel to soak up the water on it.
6.Move down gently to comb the hair straight to the ends.
7.Hang the hair with the weft open and air-dry it and curls hold well.
Stock:

10 only

Model:

virgin-remy-hair-99j-ombre-burgundy-color-body-wave-3-bundles-wi

SKU:

virgin-remy-hair-99j-ombre-burgundy-color-body-wave-3-bundles-wi

ISBN:

virgin-remy-hair-
Hurry, this offer ends in: