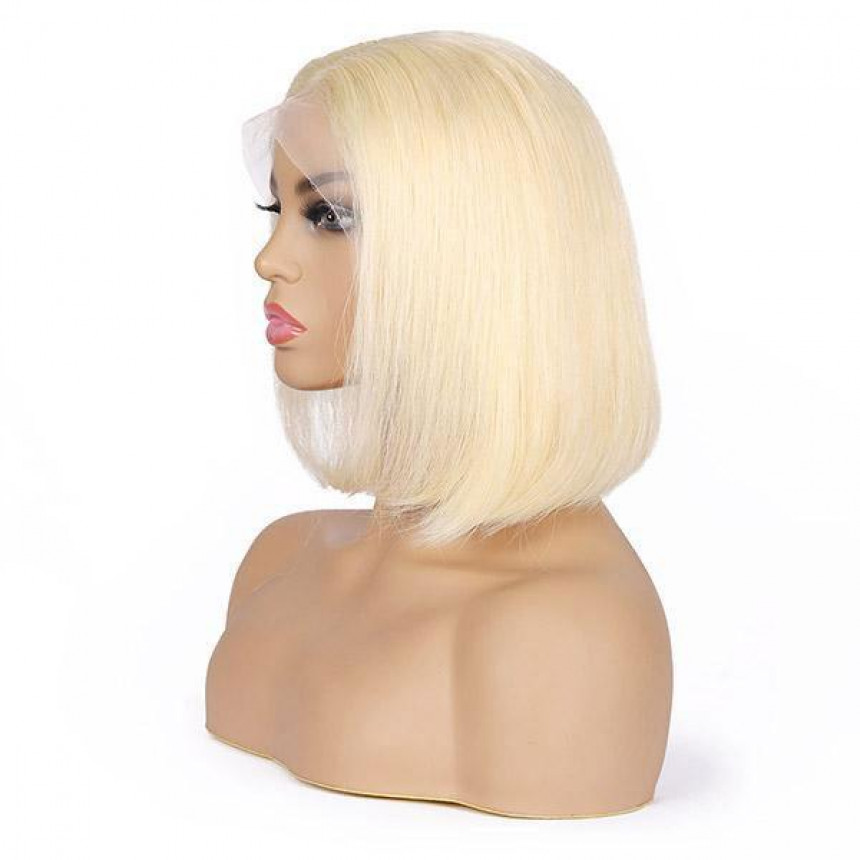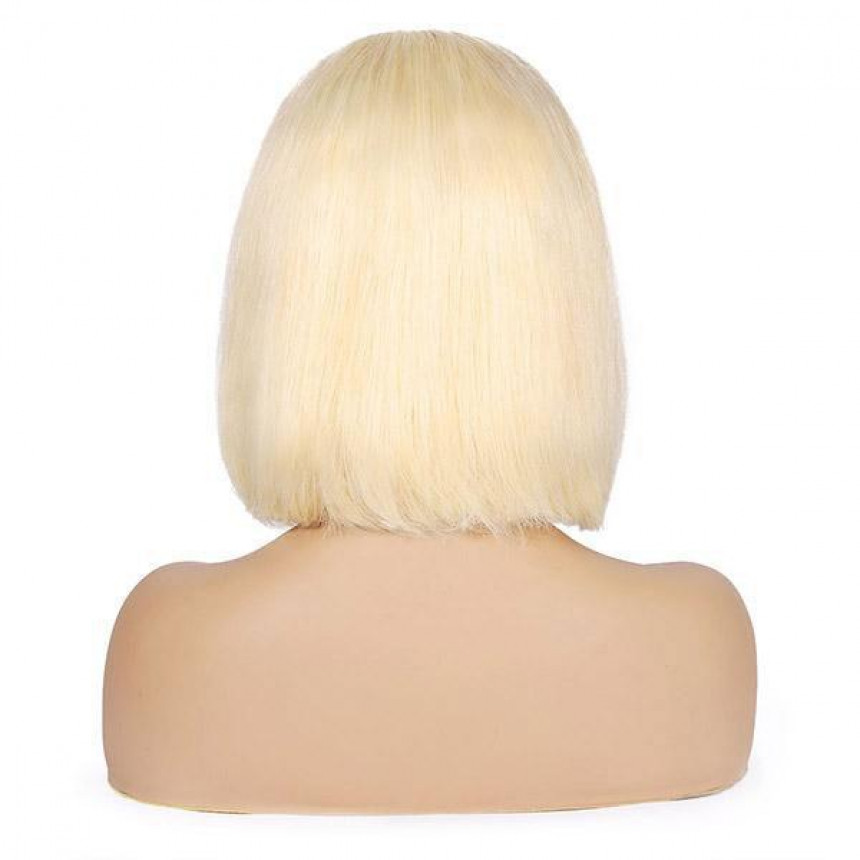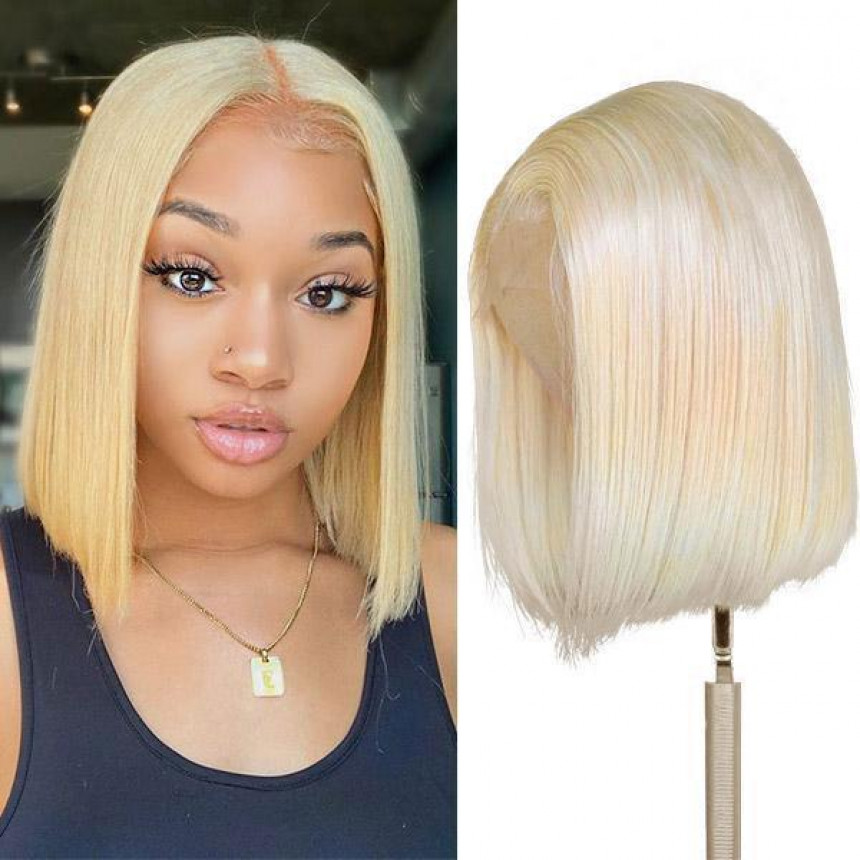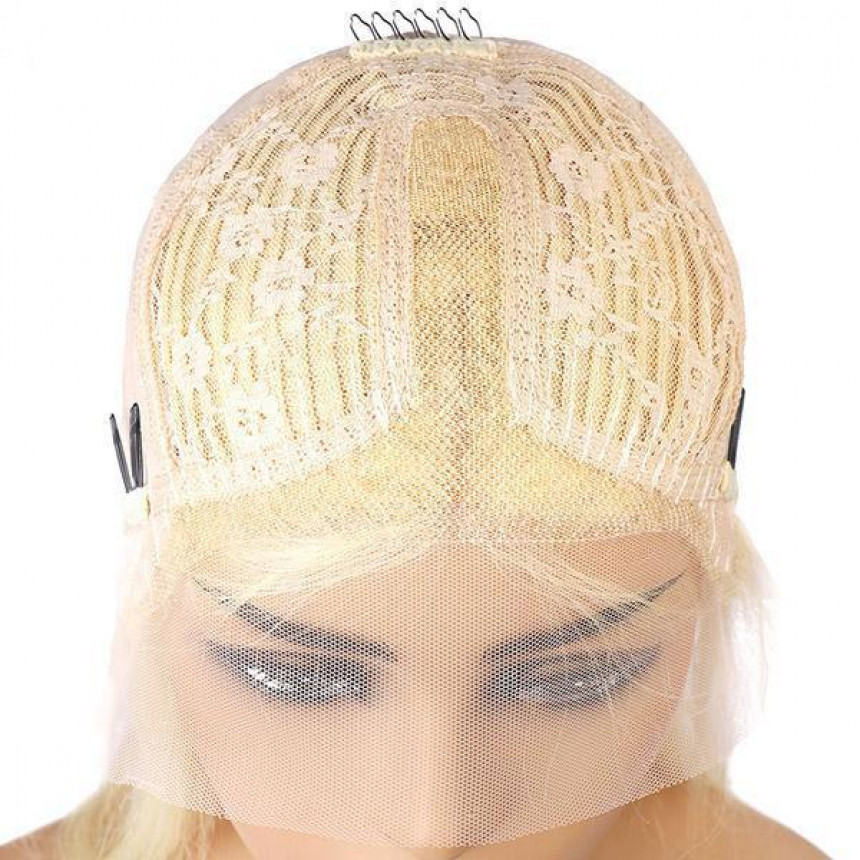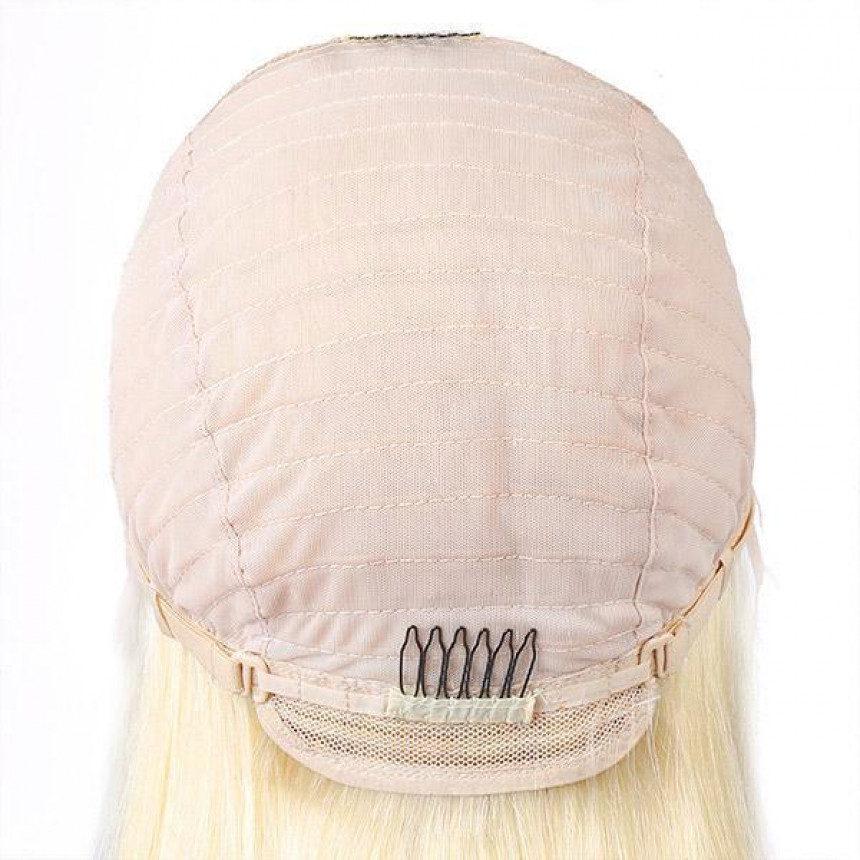 New -20 %




Secured Shopping
Best security features, we support Visa, Master.Amex, Paypal and etc.
Free Shipping
Free delivery over $50, ship with DHL, EMS,Fedex express and etc
Free Returns
Hassle free returns, multi warehouses in the US, Hong Kong, Canada, New Zealand
613 Blonde T-Part Lace Front Straight Short Bob Human Hair Wig
PRODUCT FEATURES
Item: 613 Blonde T-Part Lace Front Straight Short Bob Human Hair Wig
Hair Material: 100% Virgin Human Hair, 10A Grade, No Really Shedding, No Tangle, No Bad Smell.
Hair Color: 613 Blonde Color
Wig Density: 150% Density
Hair Length: 8-14 inch are available
Wig Cap Size/ Circumference: 22.5 inches(54-58 cm)
Texture: Straight Hair, Natural Hairline, Soft, Comb Easily, Can Re-style and Color well.
Lace Net: T-Part Lace frontal type Swiss lace, Medium Brown Color, Pre-plucked with Baby Hair, Natural Hairline, Middle Part
Pack: 1 Piece Straight Hair Short Bob Wig/1 Wig Cap in the box
FAQ
How to measure a wig
The length of the wig is not measured by the length of a strand of hair, but to measure the length from the head spin to the longest hair at the bottom.

Wavy and curly hair, needs to stretch it to straight then measure the length.
How to maintain my wig
Take off your wig when you sleep, putting it on a wig stand will be a better way.

Wash and deep condition hair regularly, one/two weeks a time is OK. To see How To Wash a Wig.

Detangle the hair gently by hands before washing to prevent shedding. Straight hair wig, body wave wig, hand and wide-tooth comb, both are ok, deep wave wig, curly hair wig or loose wave wig, you'd better use hand, detangle the wig before wet it.
How do I know my wig size?
To Ascertain the Ideal size wig for you, Assess the circumference of your mind in front hairline, behind your ear, to the nape of the neck, to another ear and then straight back into front hairline. Jot down your dimension then consult the table below.
What does wig mean?
"Wig" Based on Urban Dictionary, "Wig is a phrase used to refer to when somebody does something (In their view ) that's so great that they go bald." And"If something happens so suddenly, your wig flies off your mind " This is a frequent term on social networking, especially by enthusiasts talking about idols.
What is the average wig size?
Aerage. Between 54cm into 57cm (21.25 to 22.5 inches) We would say about 90 percent of our clients are an ordinary wig size, which means you'll realize there is more of an option if you're measuring in this size.
Why do quick weaves itch so much?
Another motive, which is attributed to Weaves and braids, is that the tight contraction of skin and too little moisture and refreshing air. If hair is trapped beneath a web or bulk of hair without moisture, then the entire scalp becomes ridiculously dry, developing a spread of the fiery itching sensation.
What kind of hair is good for a bob?
The bob is one of the best choices if you have fine, straight hair. Wavy hair of moderate to fine density, and moderate to fine depth will also work nicely with a coat, provided that you are ready to blow dry your hair or use a straightener to iron out excess kinks or bad hair .
What is a Pronto Bob?
Pronto (quickweave) A fast weave which does NOT comprise GEL, which is the reason the reason why it's known as a PRONTO, that can be done in 2hour or not, and continues 3 -- 4 months. The hair is braided like you are getting a sew , a wig cap can be stitched on the braids, and then the weave is that the secured onto the cap. NO GLUE TOUCHES YOUR HAIR in Any Way.
Does a Bob have layers?
A layered bob Is a Great option for Anybody With thick, straight hair. A couple subtle layers provide the cut form and curve and keep it from appearing too bottom-heavy. Think about a layered bob if your face is narrow or long, as the layers must include a few flattering width, but prevent if it you get a face.
How do I protect my hair from weave glue?
You can employ a liquid cover that creates an Invisible, protective coating across your own hair. The bonding paste is going to be put on the coating rather than your hair. The three most Well-known brands include: Morning Glory's Gro-Protect Option, Salon Pro 30 Sec's Weave Wonder Wrap, and Robert's Diamond Bond Protective Shield.
What is the best type of weave to use for a sew in?
Produced from 100% pure hair, virgin textured Hair is your best grade of individual hair weave. Since it's unprocessed and stems from one donor, it may be applied as its own all-natural hair design and colour.
What is a vixen sew in?
A vixen sew is a Way of installing Sew-in extensions which lets you get more styling options. What distinguishes this method from regular weave installs is your braid pattern utilized.
Do sew ins grow your hair?
Employing Sew-In Weaves to Grow Longer Hair. Hair straighteners may do a lot more than create your hair look thicker and longer. Wearing a glow is also a wise way to secure your hair if you are attempting to acquire length. Sew-ins would be the most tender means to add extension hair to get long-term usage.
Why does my sew in itch so bad?
If your hair is pulled too tight throughout the Braiding or weaving procedure, inflammation of hair follicles may grow. Sweating or having the hair moist without correctly drying the scalp may lead to mold or mould to develop and make an itching sensation too.
Can you wash a sew in while it's in your head?
A fresh scalp is crucial When wearing a Sew in, you wish to make certain that you're still cleansing your scalp frequently. The lineup is sulfate, alcohol, and paraben free, and each the goods have nozzles that make it rather simple to apply straight to my scalp.
How long does a 4x4 closure sew in last?
They last between two to four months without Having a retouch. The longer duration of time that your lace frontals need to remain installed can create it irritate your skin and seriously harm your hairline or split your borders.
How long does it take for got2b glued to dry?
Tie your borders and hairline down to at least 30-45 minutes. This is enough time to allow the gel to dry. On the other hand, the longer you can tie down your hair the longer your wig will probably maintain.
Can got2b glued cause hair loss?
The adhesive on the lace wig generates many Issues and harm to the entire scalp, even though it can produce the wig protected. The scalp is quite delicate, and continuously tearing the wig with adhesive will make the scalp more sensitive and also result in baldness and allergies. Hairline will likewise be changed and proceeded back.
What are closures in a relationship?
What's Closure? Closure is becoming an Understanding as to precisely why a connection finished and no more sense emotional attachment or pain related to the relationship. It permits you to proceed and set new and wholesome relationships.
How do you get closure after a break up?
Delete them on each of social media platforms. Giphy. Publish Their Number. Giphy. Accept that you are not right for each opther. Giphy. Say All You Have to Say. Giphy. Start Dating Other Folks after You Feel Ready. Giphy.
What does bring closure mean?
Uncountable the feeling an unpleasant Expertise has finished or been settled. Bring/achieve closing: The analysis should bring a closure to the relatives of people who have died.
Can lace closures be sewn in?
The most widespread Way of installing a Lace frontal closing is sewing down the rear of the rectal and with a bonding agent to paste the front hairline . The remaining portion of the weave is subsequently installed round the frontal. Instead the lace rectal closed can be completely clipped in or completely stitched in.
What are the different types of closures?
Screw top. Crown cap. Snap on. Friction fit. Tamper-evident. Dispensing. Spray Bottle. Child-resistant.
Can you put gel on a human hair wig?
You can use a hair and gel clip to sift the Short hair into a cone or put it on your head. For long hairfirst, tie the hair into the very low ponytail. Then wrap the ponytail into a horizontal bread and then fix it using a hair clip. Normally, the wig includes a wig cap.
What is the best type of human hair wig to buy?
Actual remy hair wigs will probably be better Than synthetic wigs. Remy human hair wigs using first cuticle will seem more natural, realistic and smooth. Even if the total cost of these human hair wigs will be higher than artificial wigs, but 100 human hair wigs continue to be highly recommended due to the quality.
How can you tell if a wig is human hair?
Burn test. Only cut a strand of hair and Place it onto a burning fire. If it melts into a ball rather than burning, scents such as rubber and generates black smoke, then it isn't hair. Human hair will instantly catch fire, burn almost immediately curling into a tiny ball, and odor like burning hair.
Can you style human hair wigs?
Human hair wigs Will Need to be blow dried for. The best outcomes since they do not keep their styling after being washed such as artificial wigs do. You may use your hand along with a wig stand to prop your wig up as you're blow drying . Blow dry your wig till it is about 50% sterile -- then it is time to begin styling.
What is the difference between lace front wigs and regular wigs?
A lace frontal vest provides a more natural Look as a normal wig appears more like a complete head of hair that is faux. Having a normal wig, you own a cap filled with artificial hair. The lace wig includes a lace in the front making it seem as the wig hair is growing from the scalp.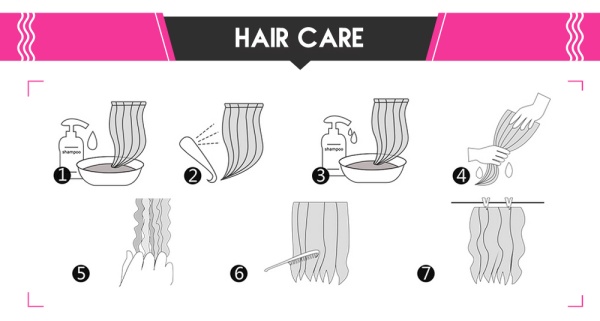 1.Be ready for everything and wet the hair with warm water
2.soak the hair with mild shampoo for a few minutes.
3.Rinse the hair in clear water once.
4.Do it again to make sure the hair is clean.
5.Cover the hair with the towel to soak up the water on it.
6.Move down gently to comb the hair straight to the ends.
7.Hang the hair with the weft open and air-dry it and curls hold well.
Stock:

9 only

Model:

613-blonde-t-part-lace-front-straight-short-bob-human-hair-wig

SKU:

613-blonde-t-part-lace-front-straight-short-bob-human-hair-wig

UPC:

613-blonde-t
Hurry, this offer ends in: