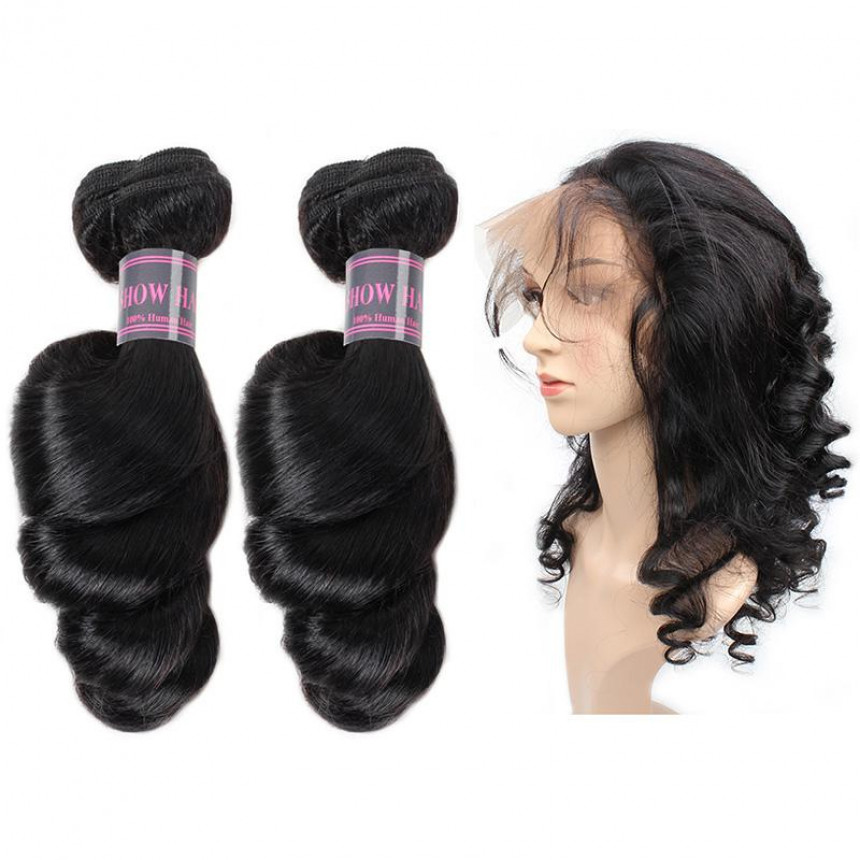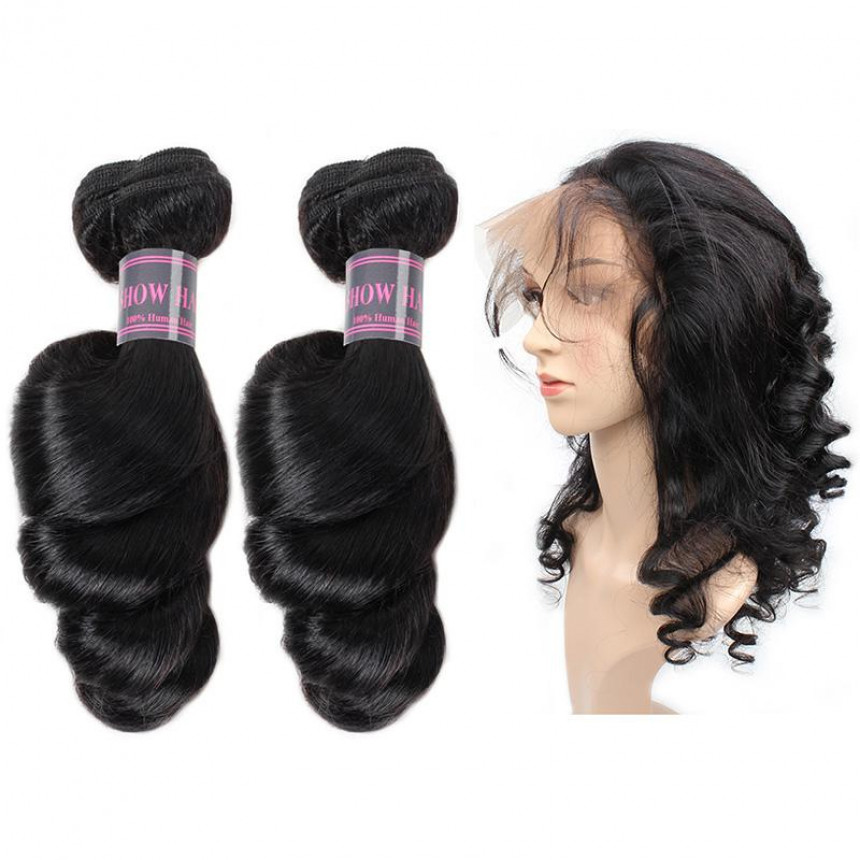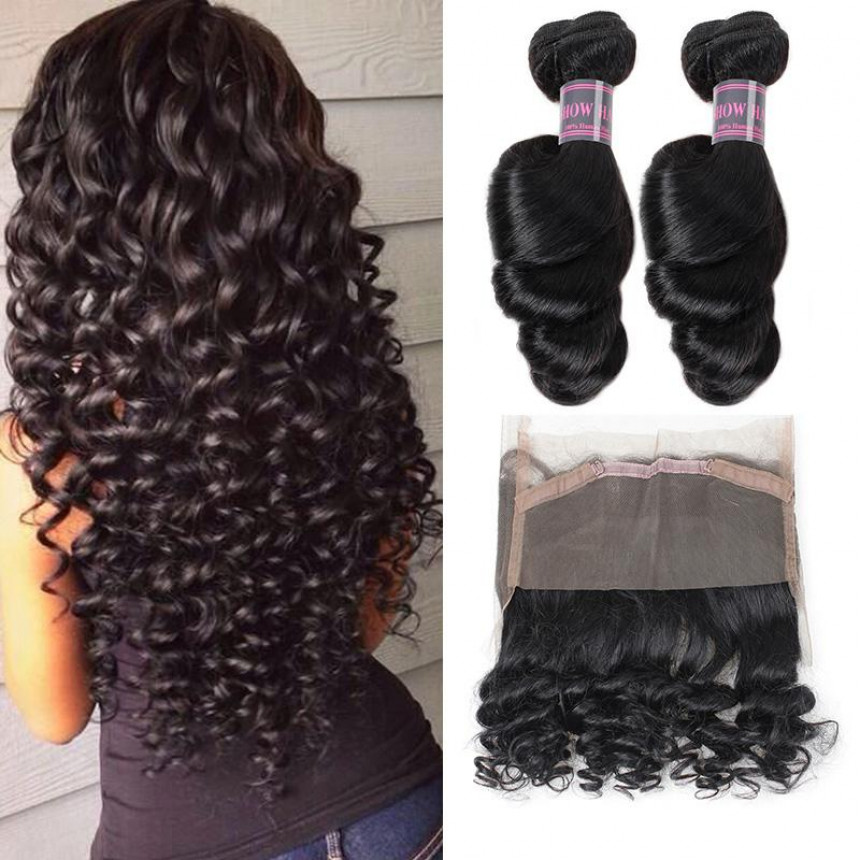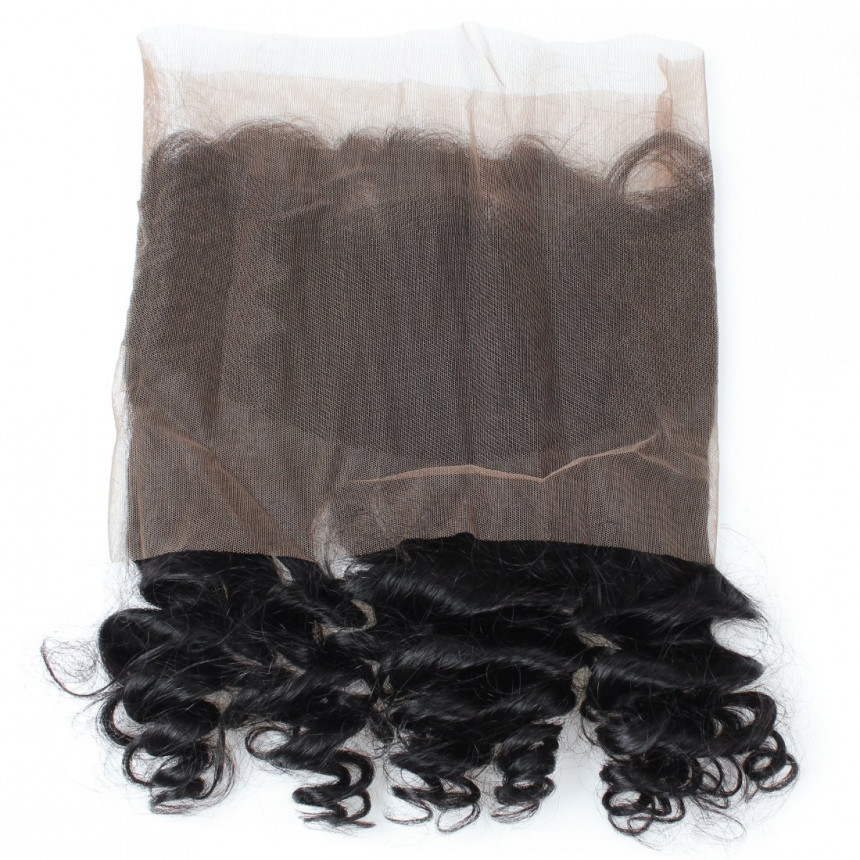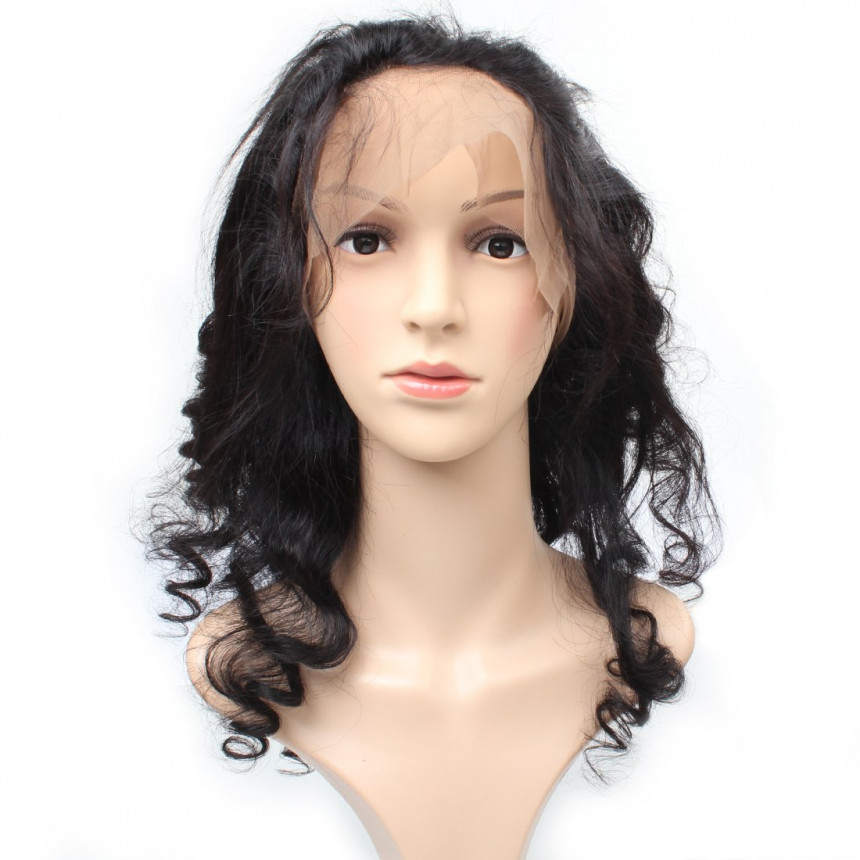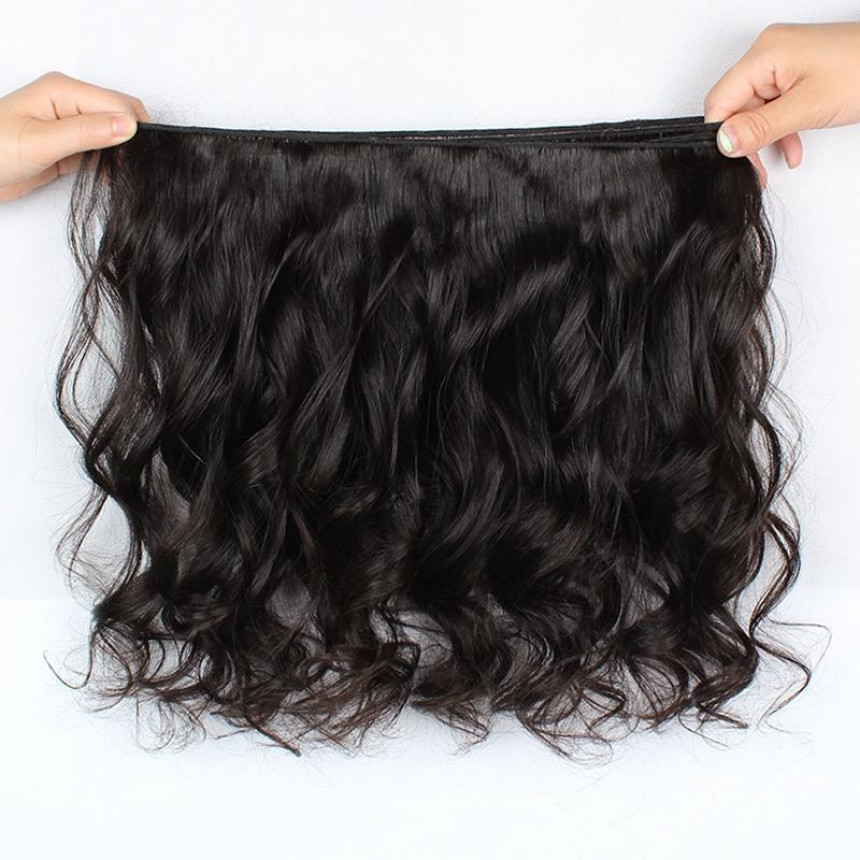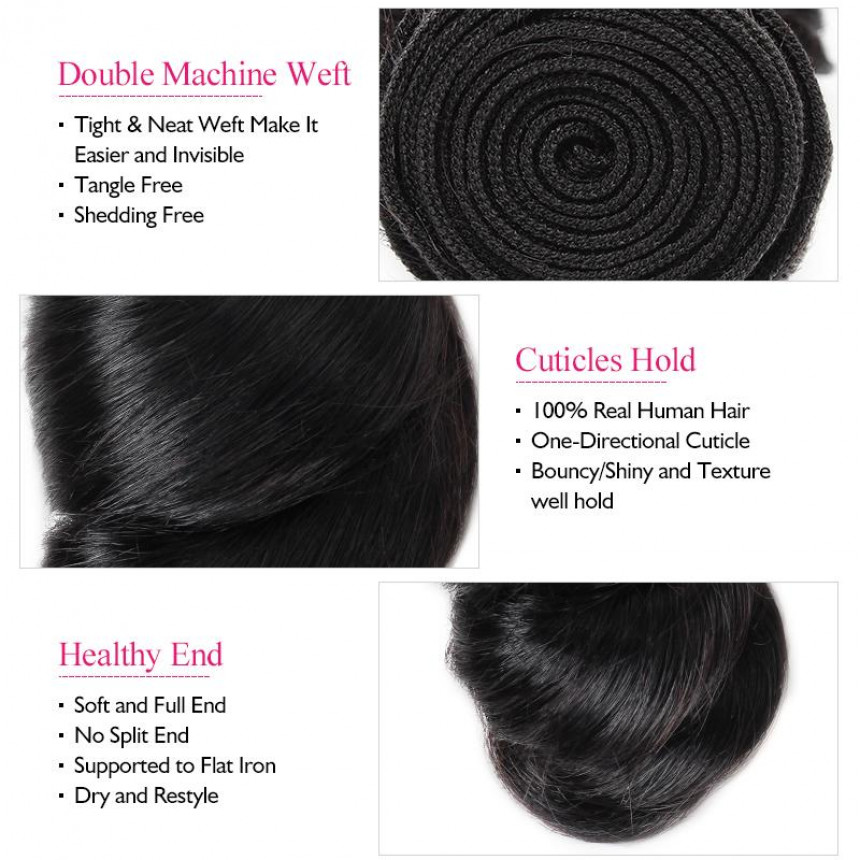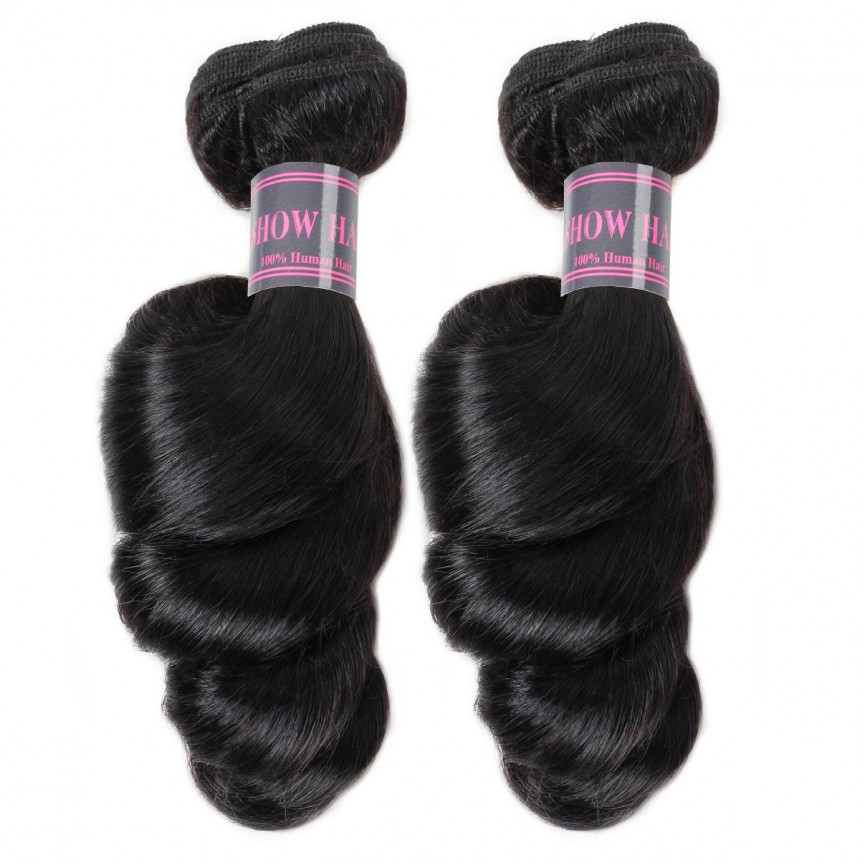 -20 % Out Of Stock






Secured Shopping
Best security features, we support Visa, Master.Amex, Paypal and etc.
Free Shipping
Free delivery over $50, ship with DHL, EMS,Fedex express and etc
Free Returns
Hassle free returns, multi warehouses in the US, Hong Kong, Canada, New Zealand
Loose Wave 100% Virgin Remy Human Hair Extensions 2 Bundles With 360 Lace Frontal Bundles Weave
Loose Wave 100% Virgin Remy Human Hair Extensions 2 Bundles With 360 Lace Frontal Bundles Weave Can Be Curled Permed Straightened High Quality Natural And Comfortable Tight And Neat Bouncy Soft Hair
Hair Grade: 100% Unprocessed Virgin Human Hair Weave

Hair Texture: Loose Wave

Items/Package: 2 Pcs Hair Weave & 1 Pc 360 Lace Frontal

Hair Length: Hair Weave: 8-28 Inches In Stock ;360 Lace Frontal: 8-20 Inches

Hair Weight: Hair Weave:95g-100g/Piece; 360 Lace Frontal:70g-110g/Piece

Hair Color: Natural Black

Quality: Machine Double Weft, Soft, No Shedding, No Tangle

Features: Can Be Dyed & Permed & Bleached
FAQ
Does Kylie have hair extensions?
She is always wearing hair and wigs Extensions She's discovered a love of extensions and wigs, and she is worn hair that is almost every color possible. From her purple and green wigs into her freezing blonde wig for her long, shadowy extensions, Jenner's hair has turned into one of the most famous things concerning her.
Can hair extensions cover GREY hair?
Extensions: You are able to cover up dense gray Tresses by adhering on a few hair extensions directly over the gray hair segment. They don't just irritate those gray strands, but also make your hair seem sexier.
How long does it take to dye extensions?
Procedure the Color Permit the color to Procedure at regular room temperature for the total amount of time given on the manufacturer's instructions --normally anywhere from 20 to 40 minutes.
Can you lighten brown hair without bleach?
Could You Lighten Hair Without Bleach in Home? The solution is no and yes. It actually depends upon your natural hair colour and feel. Stenson claims that the timeless DIY solution of employing lemon juice into your hair before going outdoors can work, particularly if you currently have mild, nice hair.
How can I lighten my hair without dying it?
Lemons. First, lemon juice, diluted half And half with warm water, will lighten dark blonde or light brown hair and will not leave red tones unless the hair has them. Vinegar. Peroxide. Chamomile. Henna. Honey and Olive Oil. Cinnamon. Honey and Vinegar.
Can you dye your roots with extensions in?
You can easily get highlights and colour Touch-ups in your root hair development. That is no problem whatsoever and will not influence your extensions. If you would like to do an all around colour process, for example your extensions that is possible as long as you remain in precisely the exact same color range or move darker.
Why won't my GREY hair take color?
It is by no means rare, but It does not Make it simpler. Hours need to be spent dying hair and touch it up once, sometimes twice per week to maintain roots appearing natural and fitting the remainder of your head. The reason why this occurs is that the grey hair's inability to take colour due to its feel.
How do you hide GREY roots on dark hair?
Spray aerosol hair dye to get a fast fix. Let the dye to dry thoroughly then brush your hair from the roots to combine the shade. Spray-on hair dyes may consist of dry shampoo which may absorb oil and make texture, which will also help protect your gray roots.
Do Frontals or closures last longer?
Whether you are going to get a sew-in or lace Closure wig, they generally last more than the usual frontal, with appropriate care. Lace closures are more appropriate to warmer weather.
Can you swim with a frontal sew in?
Individual hairLace frontal closures tha can Swim in are usually utilized. While lace closrues generated from artificial hair grip hairstyles feel lighter in the mind, artificial hair frizzes when subjected to warm water and allowed to wash . The wearer must take immediate actions to keep the style.
Can a frontal be parted anywhere?
Be brief of versatility: A lace front wig Can't be parted anywhere, therefore, it is not convenient if you'd love a twist outside. Damage to Hairline & Scalp:The most important point to learn about complete lace wigs when using glue or adhesive is that it causes harm to the scalp and also hairlilne if not kept correctly.
Do closures help your hair grow?
And hair finishing is worthy of the purchase price. Here are the advantages of wearing hair closed. Hair closures are great at providing a smooth install. When installing flawlessly, hair closures have the capacity to produce your virgin human hair seem to be growing from the own scalp.
What's the difference between silk and lace closures?
Compared to this lace closed, the lace Closure is obviously thinner and more elastic; it will readily adapt to a head, leading to an apartment and easy installation. On the other hand, the knots on the lace closed are observable with clear grid lines, which can be very noticeable if they are not substituted first.
Can you wear your hair in a ponytail with tape in extensions?
And you can not put on your hair in a high Ponytail or bun for your first couple of weeks. 4. In case you have naturally curly hair as well as your own extensions are directly, they could look very obvious as it gets humid along with your normal hair frizzes #curlyhairproblems. 6.
Are tape in extensions bad for your hair?
Perhaps you have discovered any hair loss or harm From the extensions? Nope. Tape-in extensions would be the most powerful extensions it is possible to get and will not result in any harm to your hair so long as you care for these brush lightly at your origin.
How do you keep your ponytail straight all day?
Hairspray Is Essential to maintain your glossy Ponytail set up all day . Spray liberally throughout your mind, not on the ponytail. Another little trick is to apply a tiny holding gel simply to the little bits of the sleek ponytail then add a generous does of hairspray.
Does a ponytail make you look younger?
By pulling your hair up into a ponytail Large enough it may be found in the front, it opens the facial skin, highlighting facial attributes, and highlights your own eyes, eyebrows, and cheekbones. And as an additional bonus, it also visually moisturizes your face and total shape which makes you look a bit taller.
Are ponytails attractive?
I locate ponytails appealing for a number of Reasons - they reveal all the face such as a formal fashion, but they also reveal (nearly ) all the span, as well as the feel of their hair. Unlike loose hair, which may become untidy at the end, a ponytail almost always looks neat and clean.
Is a low or high ponytail better?
I understand high ponytails are adorable, but they Could be severely damaging your own hair. So what is the ideal ponytail positioning? The lower the better. "A very low ponytail will be the least stressful since you don't have the gravity of their hair pulling ," says hairstylist Mark Garrison.
What happens if you cut your hair in a ponytail?
Conclusions. Cutting hair in a ponytail is Not a fantastic idea as you risk ending up with a badly manicured, jagged, and untidy cut. In any case, if you do not use the particular tools, then you can harm the hair . The only real safe cuts to create at home would be to cut the endings or to reduce your bangs using a centre part.
How long does hair need to be to ponytail?
6 inches may be put in a tight ponytail, I Urge you've got atleast eight inches of inches around the surface of your mind if you would like to place your hair in a ponytail. If you'd like a low ponytail with all your hair inside, the period of your hair needs to be atleast 11 inches from where the fringes are.
Will hair extensions help my hair grow?
The Great thing about hair extensions is It can easily resolve this issue. Clip-in hair extensions won't hinder hair development so that it's the ideal choice to rocking more locks while awaiting your actual hair to grow out.
Can you wear your hair up with hand tied extensions?
Yes! Yes ! I put in my own hair into a leading Knot/messy bun and ponytail a good deal. This is only one of the chief reasons I needed to try out the hand rests extensions, you're able to also wear braids.
Is virgin hair better than human hair?
Virgin Human Hair Was defined as hair That hasn't been processed at all, which makes the hair a lot more superior to Remy hairfollicles. In terms of virgin hair, even though it's more costly than remy hair, it may remain longer, and appears more natural.
Is Mayvenn hair black owned?
Within the dollar Black Hair-care business, Mayvenn is a Black-owned hair extension company changing how girls obtain their extensions installed. With over 25,000 licensed stylists within their community in over 250 cities across the USA, Mayvenn is on course to take within the hair extension market.
What is better Brazilian or Malaysian hair?
Virgin Brazilian and Malaysian hair are Both excellent choices in regards to purchasing virgin finest virgin hair weave. Should you require hair which is shinier and thicker, then Brazilian hair really is most effective for you.
How long does virgin hair last?
The best thing about virgin hair weave is that It can endure no less than a year with appropriate care and upkeep. 2.
What's the difference between virgin hair and raw hair?
Virgin hair Was steamed processed to Give it feel. Raw hair hasn't yet been steamed processed or altered at all. Basically they capture the hair out of the donor and clean it and attach the wefts and ship it to you. How that you receive the hair is the exact same way the individual had it in their mind.
How many bundles of Mayvenn hair do I need?
We recommend 2-3 to get a obviously complete appearance. Though Mayvenn straight hair remains compact from root to tip, you may need more packages to make a super complete appearance. We recommend 3-4 based on the duration.
What hair products are black owned?
Briogeo. Adwoa Beauty. Eden Bodyworks. Camille Rose. Mielle Organics. Alikay Naturals. Miss Jessie's. Uncle Funky's Daughter.
How much does it cost to get your hair weaved?
Costs for hair extensions to be weaved in Can range from $100 to $600 depending on the kind of glow you receive, the period of the hair along with also the standard of your hair extensions. You need about 6 to 10 monitors for a full-head weave, which might last a couple weeks or up to 2 months.
Can I donate hair with split ends?
Split ends are all fine. Hair Can't Be gray, Permed, color treated, highlighted or chemically processed;"temporary dye or highlights which wash out are okay, but should be entirely washed out prior to cutting. Contain their own hair donation form.
How can you promote hair growth?
Prevent restrictive dieting. Assess your protein consumption. Attempt caffeine-infused products. Explore oils. Boost your profile. Indulge in a scalp massage. Look into platelet-rich plasma Therapy (PRP) Hold heat.
Why does weave itch?
If your hair has been pulled too tight throughout the Braiding or weaving procedure, inflammation of hair follicles may grow. If hair is trapped beneath a web or bulk of hair without moisture, then the entire scalp becomes ridiculously dry, developing a spread of the fiery itching sensation.
Are weaves good for hair growth?
Hair straighteners may do more than create your Hair look thicker and longer. Wearing a weave is also a Wise way to protect Your hair if you are attempting to acquire length. Protective designs take a number of forms, If your hair is more natural, relaxed or texturized.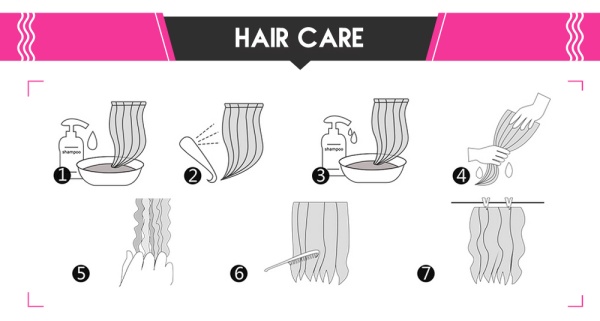 1.Be ready for everything and wet the hair with warm water
2.soak the hair with mild shampoo for a few minutes.
3.Rinse the hair in clear water once.
4.Do it again to make sure the hair is clean.
5.Cover the hair with the towel to soak up the water on it.
6.Move down gently to comb the hair straight to the ends.
7.Hang the hair with the weft open and air-dry it and curls hold well.
Stock:

0 only

Model:

hair-loose-wave-2-bundles-with-360-lace-frontal

SKU:

hair-loose-wave-2-bundles-with-360-lace-frontal

ISBN:

hair-loose-wave-2
Hurry, this offer ends in: