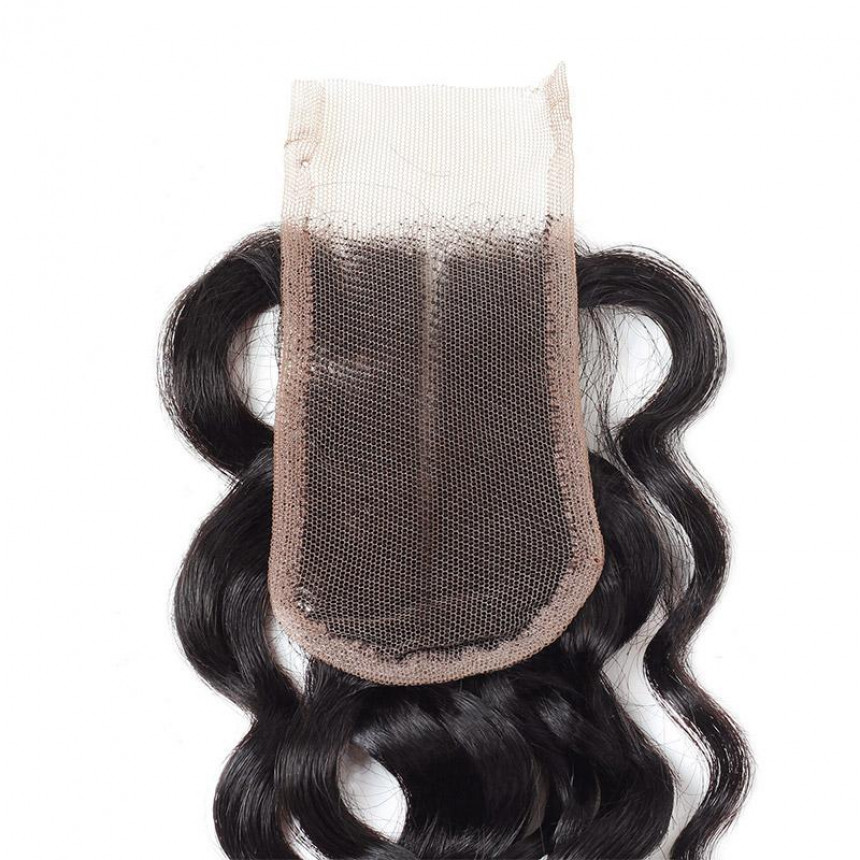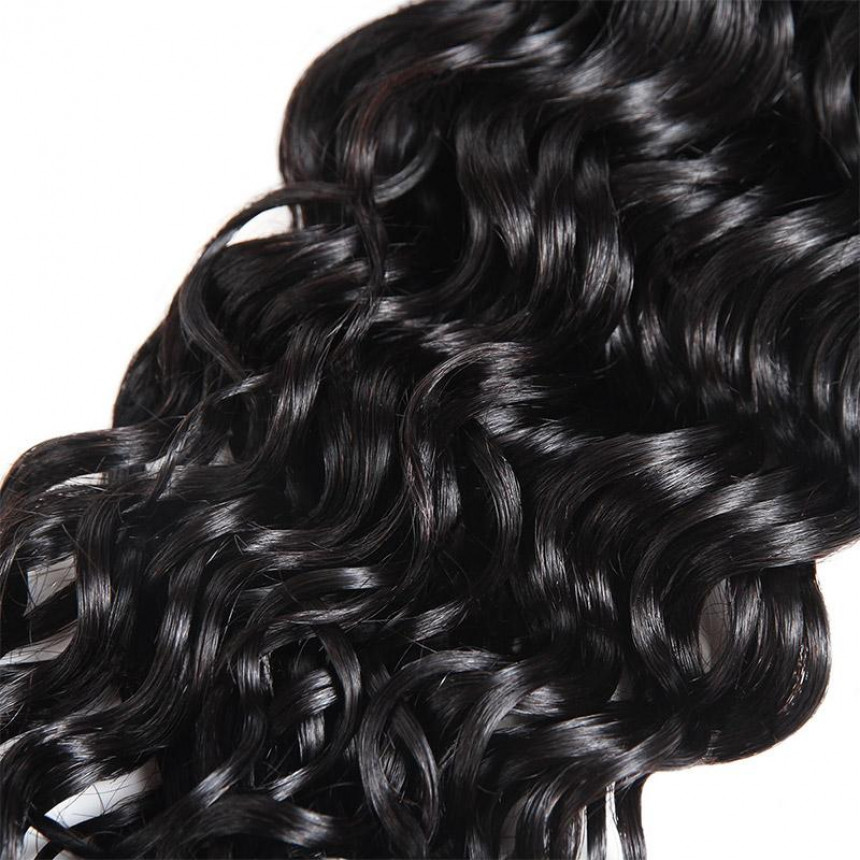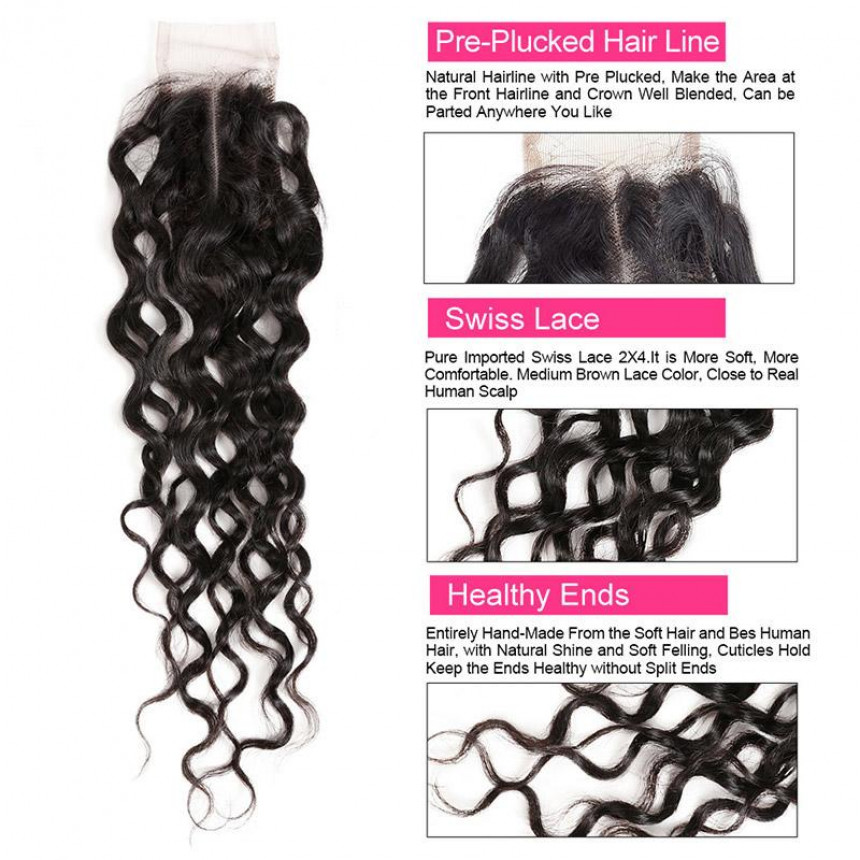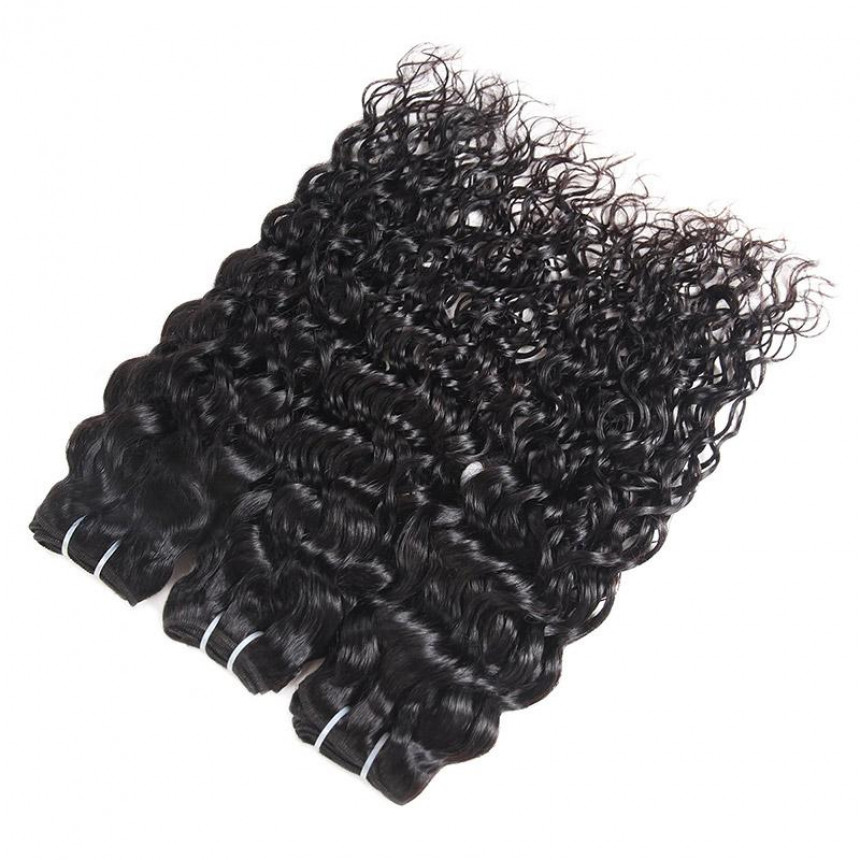 -20 %






Secured Shopping
Best security features, we support Visa, Master.Amex, Paypal and etc.
Free Shipping
Free delivery over $50, ship with DHL, EMS,Fedex express and etc
Free Returns
Hassle free returns, multi warehouses in the US, Hong Kong, Canada, New Zealand
Water Wave 3 Bundles Hair Weave With 2x4 Lace Closure
Bundles Water Wave Hair Weave 3 Bundles With 2x4 Lace Closure High Quality Natural And Comfortable Tight And Neat Bouncy Soft Hair Can Be Curled Permed Straightened Ironed and Blow Dried Anything You Do With Your Natural Hair 100% Virgin Human Hair Long Lifetime Durable Natural Color Hair
Hair Grade: 100% Unprocessed Virgin Human Hair Weave

Hair Texture: Water Wave

Items/Package: 3 Pcs Hair Weave & 1 Pc 2*4 Lace Closure

Hair Length: Hair Weave: 8-28 Inches In Stock;2*4 Lace Closure: 8-20 Inches

Hair Color: Natural Black

Quality: Machine Double Weft, Soft, No Shedding, No Tangle

Features: Can Be Dyed & Permed & Bleache
FAQ
Do you start at the roots when bleaching hair?
The Procedure It Is important not to Begin at The entire scalp, because it means faster from body warmth. When the remainder of the hair is completed, go back and apply bleach into the roots. Let bleach procedure between 20-45 minutes, depending upon your hair colour, desirable results, and package instructions.
Why do blondes have black roots?
Because organic blondes have hardly any Melanin in the hair shaft, however they don't have some*. Melanin is a colour pigment found in skin and hair. Other substances accelerate this lightening procedure, but even blond kids who are 100% organic bleach fast in summer and have some darkness in the roots.
Can you tone your hair after bleaching it?
Yes, toning is advocated right after bleaching. The hydrogen peroxide in bleach opens your cuticle. This permits the dye to go in the shaft. According to my study, bleach leaves your hair more porous, therefore employing a toner right after waxing will enable the dye to enter the receptive cuticle and continue longer.
How long do I leave 30 vol bleach in for?
In case your client's hair is dark blonde/light Brown (flat 5-6), target at about 30 minutes utilizing 30 Vol programmer. If your customer's own hair is brown/dark brownish (level 4-5), target at about around 30-40 minutes utilizing 30 Vol programmer with new mixture additional in during processing period.
How do you cover up dark roots at home?
Utilize Dry Shampoo to Combine Your Roots. Add Texture. Switch Your Parting. Try out a Braid. Utilize a Root Concealer. Put on a Headband. Attempt Slicked Back Hairstyles.
How many times should I bleach my hair to get it blonde?
Bear in Mind, it's probably going to consider at Least two or even three sessions inside a month to change dark hair into light white or blonde. Let your hair break for two to three weeks between sessions. Bleaching is tough in your own hair. Resist the desire to bleach again instantly in the event that you don't enjoy what you see!
Does bleaching your hair damage it forever?
Bleach your hair as small as possible (duh). When it is time to get up the roots, then just bleach the roots. Bleach harm is as cumulative since it's permanent, and also your endings will be equipped to endure it each moment.
Why do blondes get more attention?
An academic analysis has found that girls with Reasonable hair tend to be more competitive and certain than brunettes or redheads. That is because blondes draw more attention compared to other girls since they're usually seen by men as more appealing and therefore are utilized for their own way, the researchers assert.
How can you tell if a girl is naturally blonde?
The Only Way To Tell For Sure Girls who are Naturally blonde 1) generally have thicker hair than girls that are bottle blond, and 2) a normal blond has hair of virtually all colours from dark brown (the under-layers, esp in rear ) to almost white-blonde (at front, and also on top).
How do I make my weave look new again?
Apple cider vinegar has a lower pH level Than your glow, thus soaking the glow in vinegar helps restore pH balance and reseal your hair's cuticles. Do not be concerned about the smell!
How do you fix frizzy weave?
Employ a smoothing serum into the weave after washing. Subsequently run sprays through it to fight any frizz. Lower the quantity of frizz on your weave by constantly using styling tools like sprays or sprays on low heat. In case you've got the heat too large it will hurt, burn and divide your glow.
Can dead hair come back to life?
Hair is not technically living. But, When handled properly, hair may appear shiny, bright, and lively. Matters like overuse of merchandise and hair dye may render hair damaged. To mend damaged hair and revive a living appearance, you may use products such as conditioning and conditioners masks.
What does damaged hair look like?
Damaged hair has a delicate, straw-like Look. The hair shaft is brittle and vulnerable to breakage, leading to split ends and ramble, unruly hairs. It'll feel stiff and"pinch" upon touch with very little motion. The ideal thing to do is to give your hair the rest it requires if it's beginning to look ruined.
How can I repair my damaged hair fast at home?
Put the life back in your limp or ruined Hair with this amazing house remedy: blend 1 tsp apple cider vinegar with two tbsp olive oil plus 3 egg whites, then rub on the mixture in your own hair. Maintain your hair covered for around a half hour with plastic wrap or a shower cap, then wash and shampoo.
How do you wash reuse weave?
You need to place the extensions to the Lukewarm water and make them soak for approximately ten minutes. Steer clear of any sort of friction which could damage the glow. After washing the ribbon, then eliminate it in the water and wash it under a faucet. You should allow the water run through the weave to wash the shampoo away.
Does a Brazilian Keratin Treatment damage hair?
The most important thing. A Brazilian blowout could be Harmful to your hair and health. Among its most important components is a known sterile compound, formaldehyde. Brazilian blowouts and other anti inflammatory remedies also contain other compounds which can lead to side effects and allergies.
Is a keratin treatment worth it?
"Keratin Is Excellent for People Who have Frizzy hair and need permanent smooth and straight hair," she states. "The compounds with keratin are somewhat less dangerous than those found along with other surgical treatments, like a relaxing therapy, which is extremely harsh."
Can I do Brazilian blowout at home?
The Brazilian Blowout is a hair Therapy Usually done in a salon, but with the ideal tools, it is possible to successfully do it in the home too. Buy an on site Brazilian Blowout kit online or in person from a beauty supply shop or hair salon. Wrap hair in a towel and then remove after a couple of minutes.
What is the best hair oil for extensions?
Fantastic Hair Oils. You will find a Number of Hair oils offered on the sector and every one of these provides you distinct benefits. Coconut Oil. The majority of us might already know a thing or 2 regarding the wondrous advantages we get out of coconut oil. Castor Oil. A cold-pressed castor oil can bring you exceptional outcomes. Argan Oil.
Can I box dye my extensions?
Yes, it is possible to dye your hair extensions! Including dyeing, cutting, heat styling and processing your hair. Many weave wearers dye extensions to acquire an specific match to their normal hair colour.
Can you leave dye on weave overnight?
Leave the dye for an Elongated period of time. Since semi-permanent dyes include pigments and deficiency bleaching agents such as peroxide and ammonia, they're safe to depart in for lengthy durations. You may wrap your hair in a plastic cap and then sleep using the dye on your hair immediately, if you prefer.
Can you color wet hair?
CAN YOU DYE YOUR HAIR IF IT'S WET? The short answer: yes! Many people decide to apply hair thinning hair dye to wet hair, instead of dry because some ammonia-free formulations such as hair thinning hair colour can better absorb wet strands. However this can damage your strands!
What is the best hair dye for bundles?
John Frieda® Precision Foam Colour. This Drugstore hair merchandise sells for approximately $12. SheaMoisture's Hair Color System. This hair product utilizes shea butter within their dyes. L'Oréal Paris Féria. Clairol Nice'n Simple. Garnier Nutriesse Color Creme. Dark and Beautiful.
Can you dye a weave?
You might wonder whether It's safe to dye Human hair extensions. By all means ; you can alter the color of your hair weave. Provided that your hair is 100 percent human hair, then there's absolutely no issue colouring the glow. In fact, you're able to do anything with hair weaves you can perform with your normal hair.
How long do you leave hair dye on extensions?
Permit the color to procedure at regular room Temperature for the total amount of time given on the manufacturer's instructions --normally anywhere from 20 to 40 minutes.
Can you dye synthetic hair extensions with normal hair dye?
Artificial hair is not designed to be dyed . Standard hair dyes and that is why you've got it accessible in so many distinct colors. So you need to stay with the colour you've purchased or just buy a new pair. That may be disappointing to a lot of you, but that is only the fact of artificial extensions.
How long do you leave adore hair dye on weave?
Shampoo, and towel dry. Use protective Lotion around hair . Employ hair colour 1/8" out of scalp, and then comb thoroughly. Cover with plastic cap, and procedure with warmth for up to 15 minutes. Rinse and shampoo fully.
Do you shampoo after Dye?
1. Shampooing the day once you dye your hair. "After having your hair coloured, wait a whole 72 hours prior to repainting," says Eva Scrivo, a hairstylist at nyc. "It takes around 3 times to the cuticle layer to fully shut, which seals the colour molecule, allowing for more lasting hair colour."
How do I make my weave look new?
Apple cider vinegar has a lower pH level Than your glow, so massaging the glow in vinegar helps restore pH balance and reseal your hair's cuticles. Do not be concerned about the smell!
What are the side effects of hair extensions?
Extensions can Lead to hair tangling, matting And lack of glow, itchiness, and pain, such as my individual experienced. They can also lead to contact dermatitis and, in rare circumstances, life-threatening allergic reactions from sensitization to glues, rubbers, or other compounds used for extension removal and application.
What questions should I ask my hair vendors?
1. Is your hair cuticle aligned? Where's the hair from? 3. Can you really do sample orders? 4. Can you alter your price list regularly? Would you discuss you wholesale price list? Who would you use for transport? 6. Can you market frontal and closures? Bundles and closures will need to match. How can you build your wefts?
What kind of wig looks most natural?
For your most natural-looking wig, then Elect for One made from human hair. There are two different types of wigs: human hair and synthetic. As you may suspect, human hair provides the most natural appearance, states Fae Norris, a hairstylist in Rock Paper Salon. As it is real, it drops and drops exactly the exact same manner natural baldness does.
How do I keep my weave from getting stiff?
Utilize a sulfate-free shampoo in your rigid Weave to eliminate that buildup. Shampoo your hair no longer than every seven to ten days. As opposed to vigorously rubbing the pulp in your weave, lightly smooth it on your tresses to avoid agitating the glow. When the shampoo is rinsed from your weave, allow it to air dry.
Can you put oil on weave?
Ensure you oil every 3 times with Appropriate scalp goods, but you should be careful to not get the oil onto your weave. Place any oil or grease in your weave. Jojoba oil, coconut oil and some additional oils can make your hair appear cheap, heavy and artificial.
How do u grow ur hair faster?
Get regular trims -- yes, actually. Fight the desire to go blond. Distribute your hair's natural oils. Eat the right foods. Stay away from heat styling tools. Skip the shampoo. Insert a vitamin into a A.M. routine. Finish your bathtub with a cool twist.
Can you get permanent hair extensions?
Permanent extensions are for individuals who enjoy To wake up everyday with long, voluminous locks. These extensions continue anywhere between 3-6 weeks. Permanent extensions help to protect the hair and let it grow, as most (if not, all) of your normal hair is protected beneath the extensions.
Where do wig companies get hair?
Nearly All human hair used in wigs and Extensions comes from India and China. Spiritual men and women make pilgrimages to temples like the Venkateswara Temple at Tirumala, India, in which they shave/tonsure their minds at a ritual of loyalty.
Does boiling weave bring it back to life?
Boiling your weave is a Simple way to soften And apply it. Begin with bringing a large pot of water to a boil then add a teaspoon of coconut or olive oil to help moisturize your glow.
How do I make my weave hair silky again?
Give the body glow a conditioning Treatment by employing a pure oil like olive oil, extra virgin olive oil or grape-seed oil across the whole length. Alternately, use the aloe vera to the hair. Leave the conditioner or oil in the hair for half an hour under a shower cap.
How can I treat my weave at home?
Mix 3 parts water 1 part Apple Cider Vinegar in a bigger bowl and completely immerse your extensions. Leave the rinse in for 45 minutes to 1 hour and then wash it out with water. Proceed to deep condition the hair.
Does rice water grow hair?
A Lot of People find rice to be a Beneficial hair therapy. Historical cases and anecdotal evidence suggest water may enhance the strength, texture, and growth of hairloss. While its advantages for hair stay unproven, employing a rice water rinse is secure to test at home and might also be used on skin.
How long does it take to grow hair 12 inches?
According to the CDC, scalp hair develops an Typical of one-half inch each month. If your hair is just two inches long and you are aiming for shoulder span (approximately 12 inches) expansion, which adds up to a bit less than two decades to attain your objective.
Which hair extensions stay in the longest?
Generally , bonded hair extensions Will continue the longest in position, as they are secured into a strands of hair follicles. You may expect to get these extensions set up for 3-6 months, depending on how quickly your hair grows.
What are the least damaging hair extensions?
While clip ins are Undoubtedly the least Damaging sort of hair extensions since they aren't installed indefinitely and They also provide your own hair some rest from an excessive amount of shaving tape in extensions Provide a more natural appearance and a much more seamless mix, as do micro ring extensions.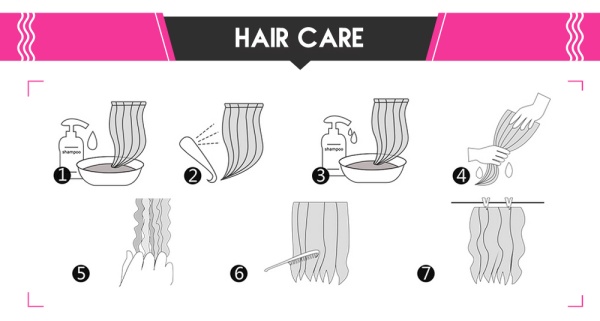 1.Be ready for everything and wet the hair with warm water
2.soak the hair with mild shampoo for a few minutes.
3.Rinse the hair in clear water once.
4.Do it again to make sure the hair is clean.
5.Cover the hair with the towel to soak up the water on it.
6.Move down gently to comb the hair straight to the ends.
7.Hang the hair with the weft open and air-dry it and curls hold well.
Stock:

5 only

Model:

hair-bundles-water-wave-3-bundles-hair-weave-with-2x4-lace-closu

SKU:

hair-bundles-water-wave-3-bundles-hair-weave-with-2x4-lace-closu

ISBN:

hair-bundles-wate
Hurry, this offer ends in: