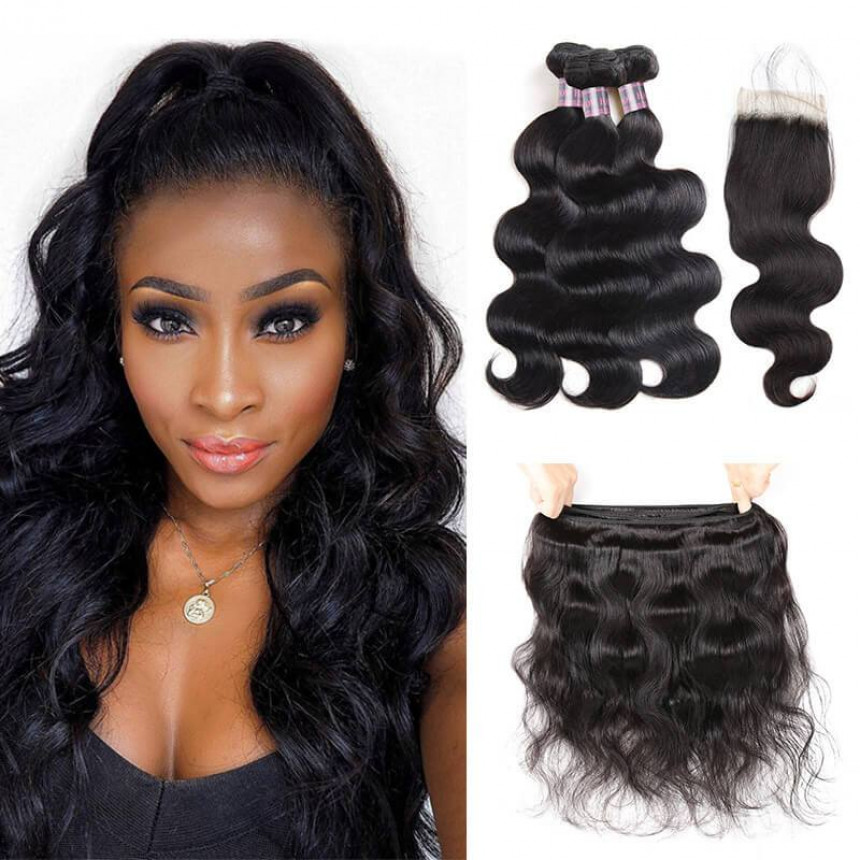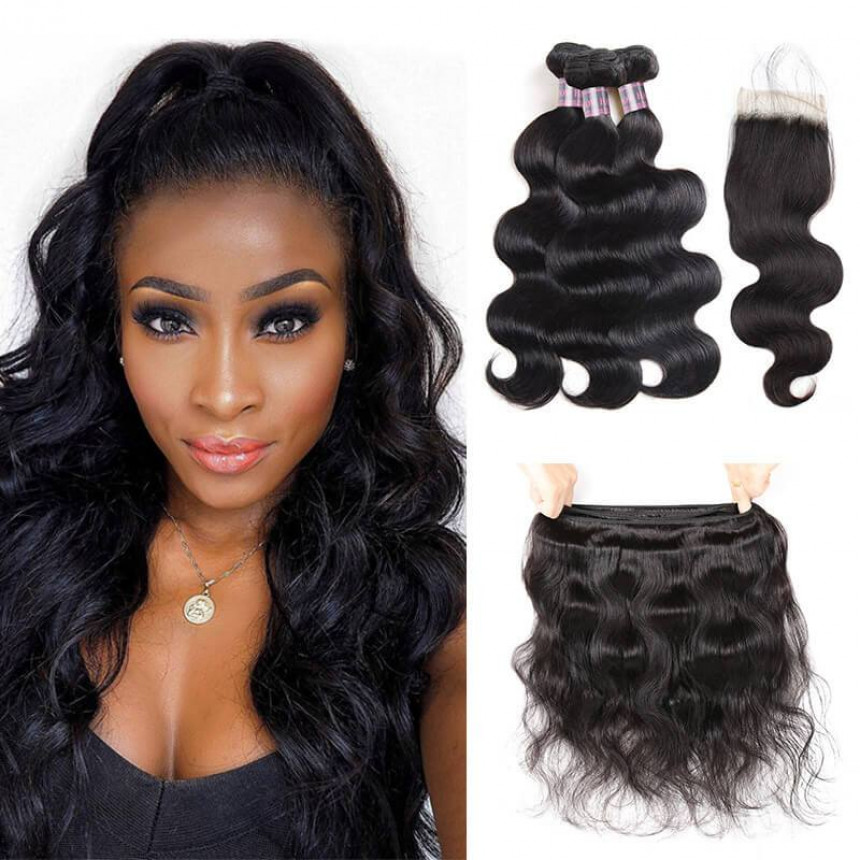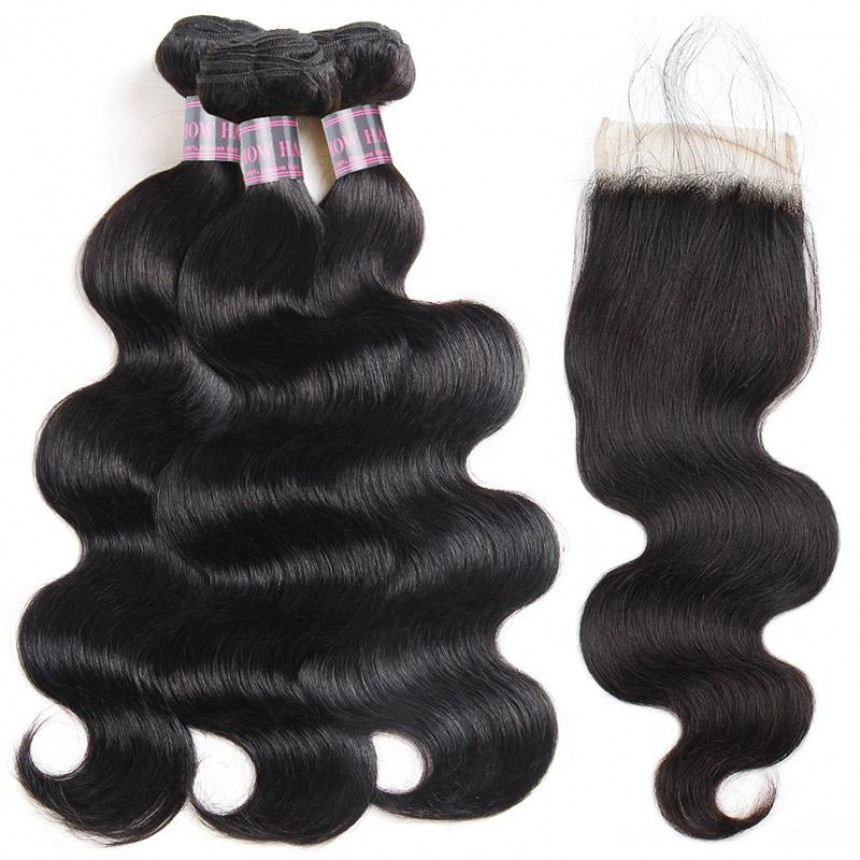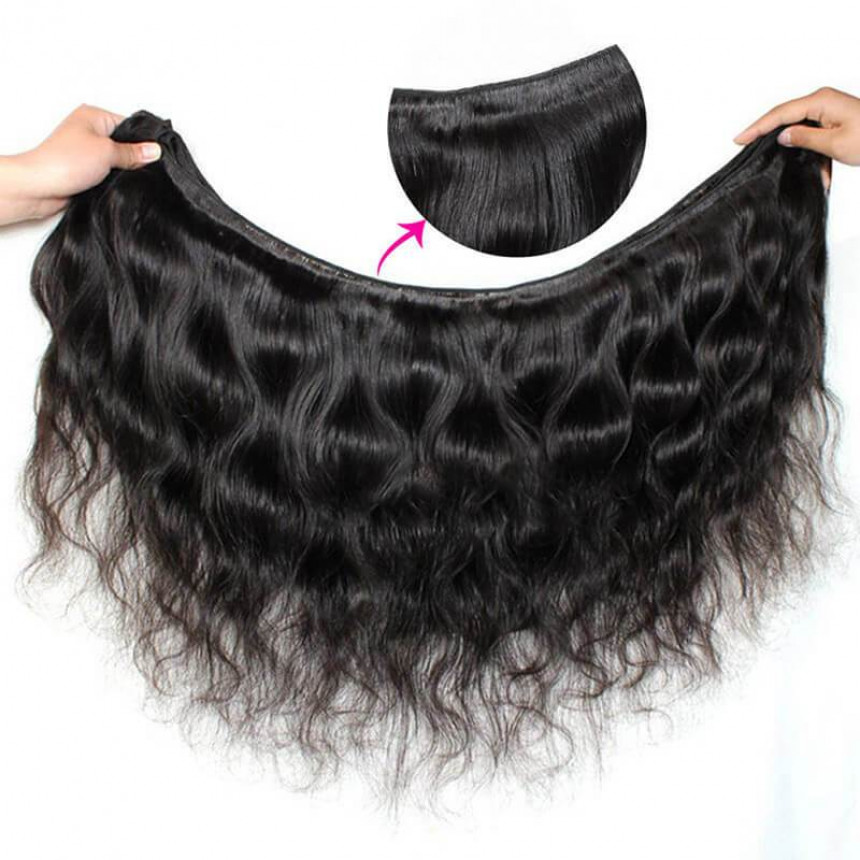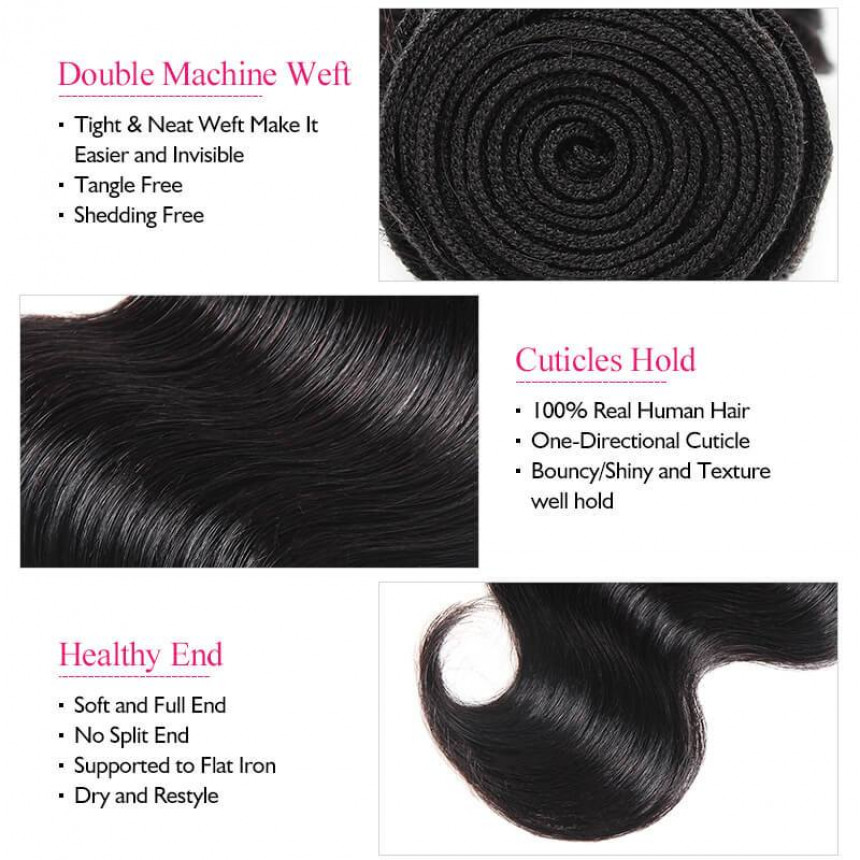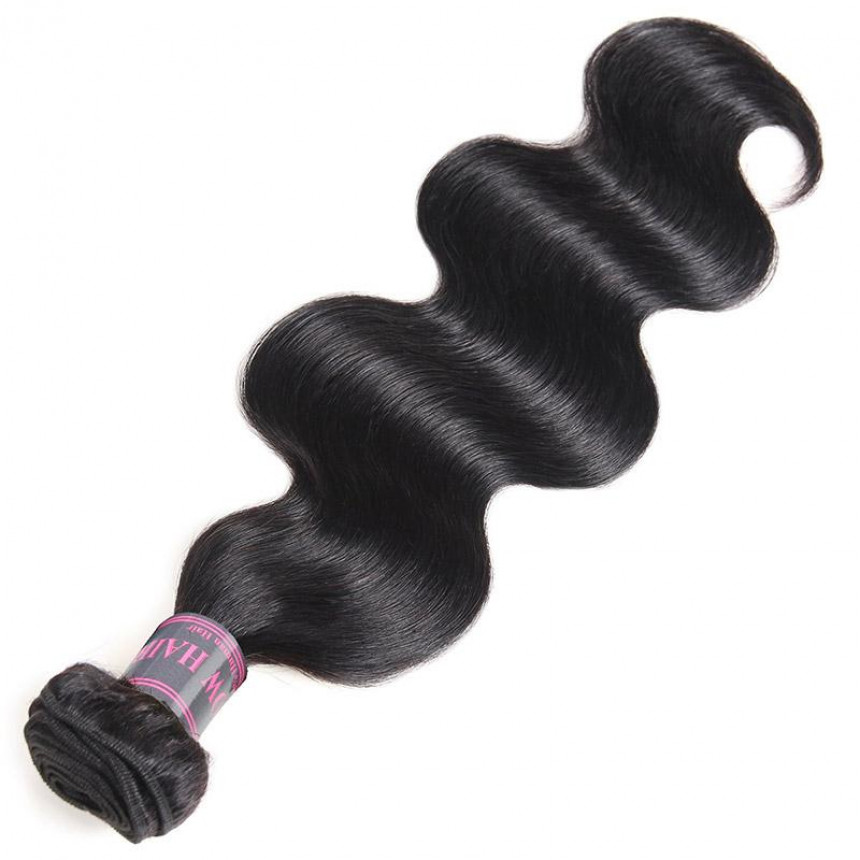 -20 %






Secured Shopping
Best security features, we support Visa, Master.Amex, Paypal and etc.
Free Shipping
Free delivery over $50, ship with DHL, EMS,Fedex express and etc
Free Returns
Hassle free returns, multi warehouses in the US, Hong Kong, Canada, New Zealand
indian hair body wave 3 bundles with lace closure
PRODUCT FEATURES

Item: 3 Bundles Indian Body Wave Virgin Human Hair with Lace Closure, Unprocessed Virgin Human Hair Extension
Hair Material: Virgin Human Hair Weave, 8A Grade, No Shedding, Tangle Free
Hair Color: Natural Black Color
Hair Grade: 8A Grade, Body Wave Human Hair Bundles, Can be bleached and restyle, dyed
Hair Length: 8 inch - 28 inch are available, Very Soft, Healthy and thick
Texture: Body Wave Hair, Natural Hairline, Soft, Comb Easily, Minimal Shedding, No Tangle
Pack: 3 Bundles Body Wave Hair with 4*4 Lace Closure
...................................................................................................................................................................................................................................................................................................
FAQ

What length should I purchase

Hair bundle should be measured when it is stretched. So please keep in mind that you will need to accommodate for its curl pattern when selecting your desired length.
How long do the hair bundles last
Our bundles typically last for 7-9 months, if cared for properly.
What hair color looks best for my skin tone?
Decide on a tone that is contrary from the skin's undertones. For example, people that have warm undertones may decide on a milder colour, and vice versa. In case you've got neutral skin, you are lucky--what looks great on you.
Do blondes suit Indian skin?
Another popular blonde hair colour with Indian skin tones due to its dark tone and hot colour. Honey blonde highlightsa subtle honey blond balayage would deliver a warm glow to cool skin tones. Additionally, it is a trending hair color design for winter.
Does pale skin look better with dark or light hair?
It is possible to select a mild, light, or dark ashy brown shade to stone, but reasonable skin often appears best paired with a light ash brown color. A different means to choose just how dark to go would be to think about your natural hair colour.
What hair color makes brown eyes pop?
Hair Colours To Contemplate light colors such as platinum and ash blond go extremely nicely with cool skin tones. This is really going to make your brown eyes pop up. If you would like to try vibrant colours then proceed for pale colors in blue, red, purple, pink, and green.
What kind of hair do you use for a Bob?
Quite straight, moderate to thick hair will probably do the job very nicely with a bob, since the hair is thick and directly enough that it simply drops right into place when you have cleaned it and blowoff or air dried it.
How long does a Bob sew in last?
If you are demonstrating your sew-in enjoy and taking appropriate care of this --more on that in a little --it will last up to six to eight months, says Nash. If you attempt to keep it in more than that, you are risking harm to your scalp and hair (aka irritation, extra oil buildup( and breakage).
Do sew ins grow your hair?
Hair straighteners may do a lot more than create your hair look thicker and longer. Wearing a glow is also a wise way to secure your hair if you are attempting to acquire length. Sew-ins would be the most tender means to add extension hair to get long-term usage.
Which is better sew in or glue in weave?
You will want to watch over your hair under the glow at the same time you use it. Sew-ins provide more styling flexibility than glue-in weaves also.
What length hair do you need for a Bob?
2-3 packs of 12 or 14″ hair to get a complete look that you will have cut at the duration and style you want. Some use only 1,5 packs of 10″ own hair, but more packs and hair means that you will not possess thin ends.
What does a blunt bob look like?
A dull cut bob is a necklace that is shorter that is cut to a direct line in the ends. This slick hairstyle is very good for girls with oblong, squarefoot, or heart-shaped faces. It is a super customizable and flexible cut that may fit any kind and texture of hairloss.
What is a asymmetrical bob?
It is wonderful for girls seeking to bring some taste to a traditional bob. It goes over the conventional appearance and can be more enjoyable, as it requires the bore from a very simple haircut!
Which hair is the best quality?
Virgin feel hair is your best grade of hair because it's unprocessed and thus may be styled and coloured like your own all-natural hair. The most well-known varieties of hair are Brazilian, Malaysian, Indian and Peruvian Hair. You will find a great deal of alternatives available for hair weave.
Where is aliexpress hair from?
Know that 99.4percent of the hair isn't virgin, nor can it be Indian, Malaysian or Brazilian. It's frequently processed hair. When it's curly, it's most likely steam processed to attain the curl. Not all the sellers are crooks.
Is Indian hair better than Brazilian?
Should you require hair that's shinier and thicker, then Brazilian hair really is most effective for you. If you are in the demand for tender and wavy hair, Indian hair would be the right for you. DSoar Hair online supply best quality Brazilian Indian and hair hair at reasonable cost, highly urge 3 packages with closed bargains for complete head appearance.
What hair is better Brazilian or Peruvian?
Peruvian hair is a bit thicker and coarser than Brazilian hair in feel and blends nicely in ordinary relaxed hair textures around African American ladies.
Which nationality has the best hair?
Caucasian, Indian and Asian hair samples were placed to the test for its World's Best Hair analysis. Their outcomes set an end to some splitting of hairs across the problem: in relation to wellness, the Indian hair would be your very best, topping other cultural groups on all four counts.
Is a sew in weave bad for the hair?
Your actual hair is set to braids, and the weave is then stitched to them. But if you are not cautious, weaves may also damage your normal hair under up to protect it. By way of instance if your hair extensions have been glued in or your own braids are produced too tight, then this can lead to breakage.
How long should you keep a sew in weave in your hair?
"The recommended period of time to maintain a weave in just two weeks," says Charlotte. "Complete head weaves and paths must be touched up every two to four weeks. It's also wise to leave a two to four week gap between weaves and it is vital to have conditioning treatments done prior to, during and following your weave," she adds.
Can I wash my hair with a sew in weave?
You may always wash your personal weave, but it is usually best to observe that a hairstylist to be certain that your normal hair beneath gets dry and does not mildew (which necessitates hitting your roots and completely drying them using a blow-dryer; visit no.
How much does a sew in cost?
Just how much is that a sew-in? This depends upon a range of factors, such as where you're in the nation and that your breeder is.
How long does a closure sew in last?
Ordinarily, a 6x6 closed install will require you approximately 2-3 hours to sew , however the service period may last about 6 weeks, and we advise that you visit salon to present your 6x6 final wig a profound caring and upkeep every 2-4 weeks once you set up the 6x6 closed and packages.
Why does my quick weave itch?
Another motive, which is attributed to weaves and braids, is that the tight contraction of skin and too little moisture and refreshing air. If hair is trapped beneath a web or bulk of hair without moisture, then the entire scalp becomes ridiculously dry, developing a spread of the fiery itching sensation.
What hair extension method lasts the longest?
Broadly , bonded hair extensions can last the longest in position, as they are bonded into a strands of hairfollicles. You may expect to get these extensions set up for 3-6 months, depending on how quickly your hair grows.
Do Micro bonds ruin your hair?
Micro ring hair extensions are totally damage-free when fitted correctly by a respectable hair extension tech. The reason why micro ring hair extensions cause no harm to your hair is since they don't use adhesive or some other harsh chemicals so as to make bonds between the expansion and the natural hair.
How many packs of weave do you need for a sew in?
Normally, you may get three packages for your main sew in, that is generally the magic number to the typical sew in. In case your sew-in is beginning with spans over 20 inchPrime; then you may wish to consider four packages.
Does a sew in weave ruin your hair?
Your actual hair is set to braids, and the glow is then stitched into them. But if you are not cautious, weaves may also damage your normal hair under up to protect it. By way of instance if your hair extensions have been glued in or your own braids are produced too tight, then this can lead to breakage.
Which is better sew in or glue in weave?
The largest gap between glue-in and sew-in weaves is normally the price. You will want to watch over your hair underneath the glow at the same time you use it. Sew-ins provide more styling flexibility than glue-in weaves too.
How often should I wash my sew in weave?
It can readily pick up awful scents, soil, and debris, and similar to your hair. So whenever your hair, the extensions, or start looking stringy, it is time to give them a fantastic scrub-down.
Can 2 bundles do a full head?
We urge 2-3 bundles to get a natural complete appearance. Though Peruvian straight hair remains full from origin to high, you may need more packages to create a complete appearance. We urge 3-4 bundles based on precisely the exact same length.
Do you need a closure for a sew in?
It is a question that is always asked in the area of weave. What's a closed, why do I need you? The solution is you don't really require a closure, its one of many distinct approaches to design and care for the hair.
...................................................................................................................................................................................................................................................................................................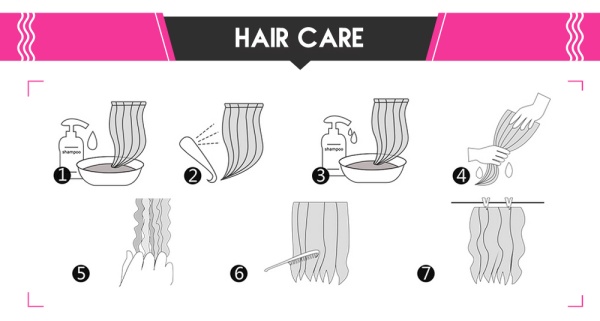 1.Be ready for everything and wet the hair with warm water
2.soak the hair with mild shampoo for a few minutes.
3.Rinse the hair in clear water once.
4.Do it again to make sure the hair is clean.
5.Cover the hair with the towel to soak up the water on it.
6.Move down gently to comb the hair straight to the ends.
7.Hang the hair with the weft open and air-dry it and curls hold well.
Stock:

9 only

Model:

indian-hair-body-wave-3-bundles-with-lace-closure

SKU:

indian-hair-body-wave-3-bundles-with-lace-closure

ISBN:

indian-hair-body-
Hurry, this offer ends in: