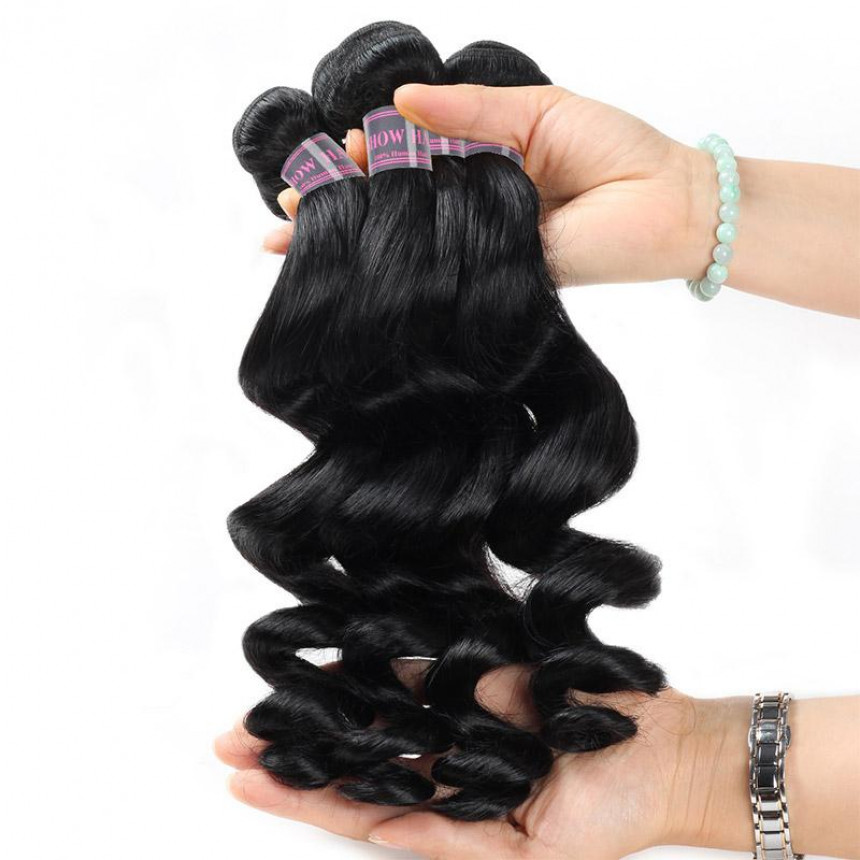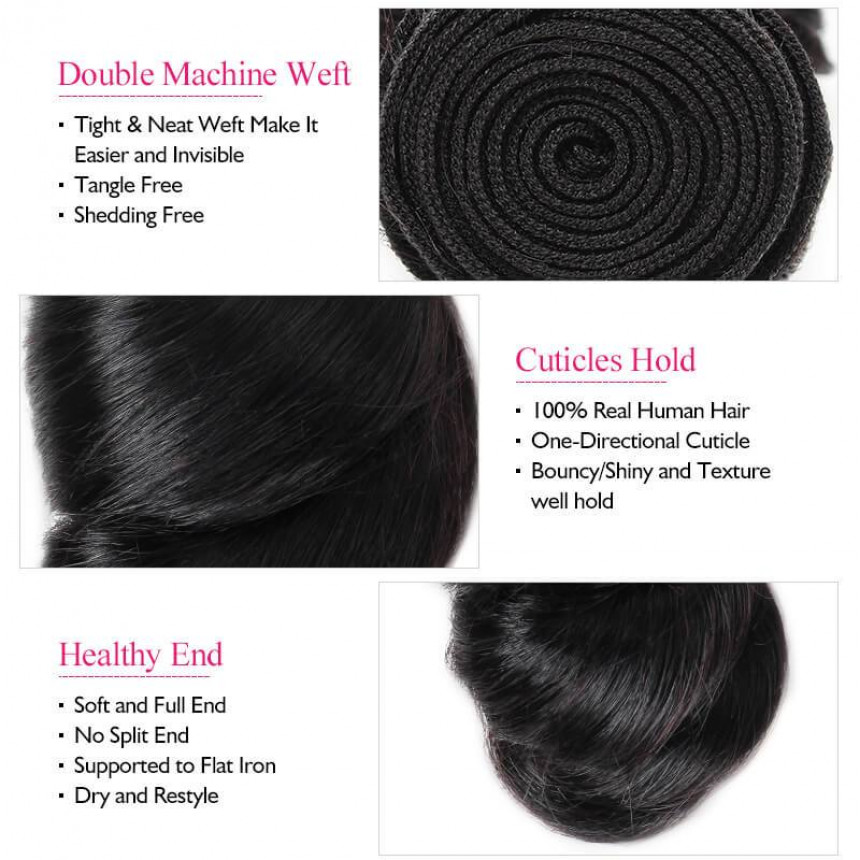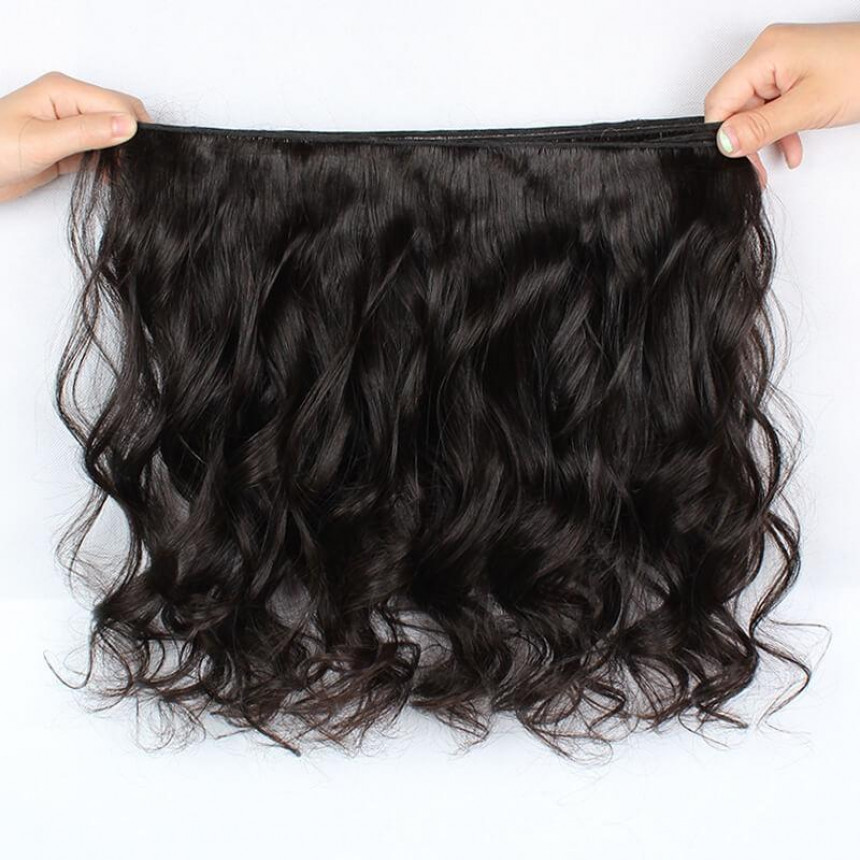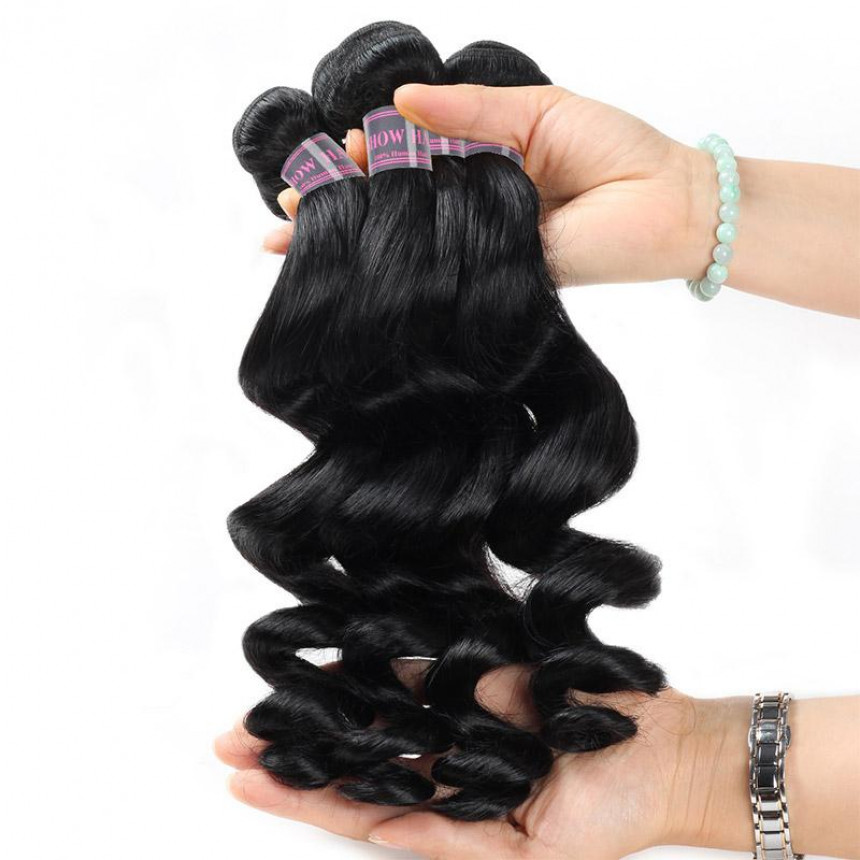 -20 %





Secured Shopping
Best security features, we support Visa, Master.Amex, Paypal and etc.
Free Shipping
Free delivery over $50, ship with DHL, EMS,Fedex express and etc
Free Returns
Hassle free returns, multi warehouses in the US, Hong Kong, Canada, New Zealand
Malaysian Loose Wave Virgin Hair Bundles 4Pcs/Pack
PRODUCT FEATURES

Item: Malaysian Loose Wave Virgin Human Hair 4 Bundles, Unprocessed Virgin Human Hair Extension
Hair Material: 100% Virgin Malaysian Human Hair Weave, 8A Grade
Hair Color: Natural Black Color
Hair Grade: 8A Grade, Loose Wave Virgin Human Hair Bundles, Can Be Re-styled and Colored Well.
Hair Length: 8 inch - 28 inch are available, Very Soft, Healthy and Full
Texture: Loose Wave Hair, Soft, Comb Easily, Minimal Shedding, No Tangle
Pack: 4 Bundles Loose Wave Hair
Description:
Elevate Your Look with Malaysian Loose Wave Virgin Human Hair: 4 Bundles of Perfection
Step into a realm of hair elegance with Malaysian Loose Wave Virgin Human Hair. Comprising four bundles of sheer magnificence, let's unravel what makes this choice unparalleled.
A Deep Dive into Malaysian Virgin Hair
Defining Virgin Hair:

Virgin hair is associated with hair untouched by dyes, chemicals, or any alterations. It radiates its authentic texture and sparkle.

The Uniqueness of Malaysian Hair:

Malaysian hair is famed for its incredible density, silky texture, and luster that's neither shiny nor dull. It brings forward a perfect balance, offering a rich and natural appearance.
Embrace the Loose Wave Appeal
The Charm of Loose Waves:

Loose wave hair patterns are characterized by their free-flowing waves. They are not as tight as curly patterns but have more structure than straight hair, giving you a versatile and breezy look.

Suitability for Various Occasions:

From a lazy day lounging to a high-end event, the Malaysian loose wave seamlessly fits in, making you the spotlight's envy.
Celebrating Unprocessed Excellence
Unprocessed vs. Processed Extensions: The Breakdown:

While processed extensions may lure with an initial gloss, they often wane in quality over time. In contrast, unprocessed extensions echo authenticity and ensure sustained vitality.

The Purity of Unprocessed Hair:

Staying clear from chemicals and treatments, unprocessed extensions promise durability, styling freedom, and a touch of raw beauty.
The Power of 4 Bundles
Ensuring Full Coverage:

Four bundles ensure that every strand counts. No part of your head feels left out, providing a plush, complete look.

Achieving the Desired Volume:

The four bundles, when used together, enhance the hair's natural bounce, amplifying the body and thickness.
Maintaining the Splendor: Care Tips
To uphold the pristine condition of your extensions, it's essential to use sulfate-free shampoos, indulge in periodic gentle combing, and protect from excessive heat.
The Worth of Premium Hair Investments
Quality extensions might carry a heftier price tag upfront, but the myriad of benefits they offer, from aesthetic appeal to longevity, make every penny count.
In Summary
Malaysian Loose Wave Virgin Human Hair Extensions are not just hairpieces. They're a reflection of luxury, artistry, and authenticity. With these four bundles, every day can be a glamorous hair day!
FAQs
How often should I wash these extensions?
Ideally, every 2-4 weeks, depending on the frequency of use.
Is it safe to dye the extensions?
Yes, but always seek professional guidance to maintain the hair's quality.
Can the loose wave pattern be straightened?
Yes, but use a heat protectant and avoid doing it frequently to retain the hair's health.
What's the lifespan of these extensions?
With optimal care, they can last for years.
Why opt for Malaysian hair over other types?
Malaysian hair boasts a unique blend of density, natural luster, and silkiness, making it a standout choice.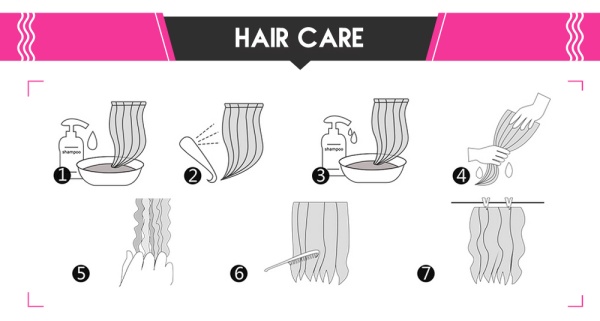 1.Be ready for everything and wet the hair with warm water
2.soak the hair with mild shampoo for a few minutes.
3.Rinse the hair in clear water once.
4.Do it again to make sure the hair is clean.
5.Cover the hair with the towel to soak up the water on it.
6.Move down gently to comb the hair straight to the ends.
7.Hang the hair with the weft open and air-dry it and curls hold well.
Stock:

5 only

Model:

hair-4pcs-pack-malaysian-loose-wave-virgin-hair-bundles

SKU:

hair-4pcs-pack-malaysian-loose-wave-virgin-hair-bundles

ISBN:

hair-4pcs-pack-ma
Hurry, this offer ends in: