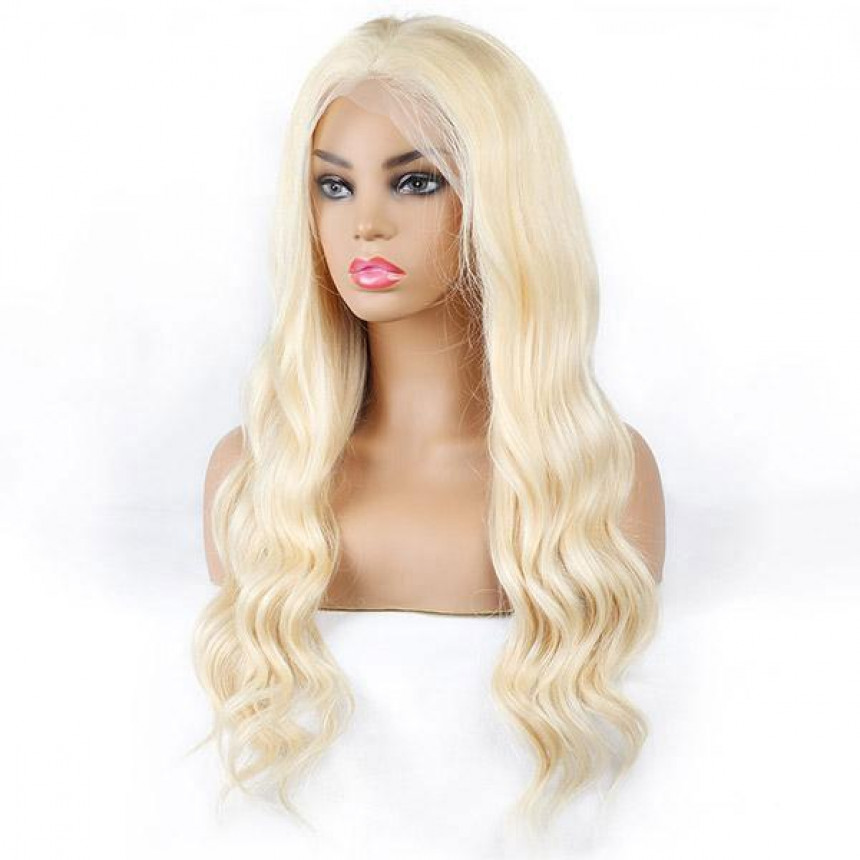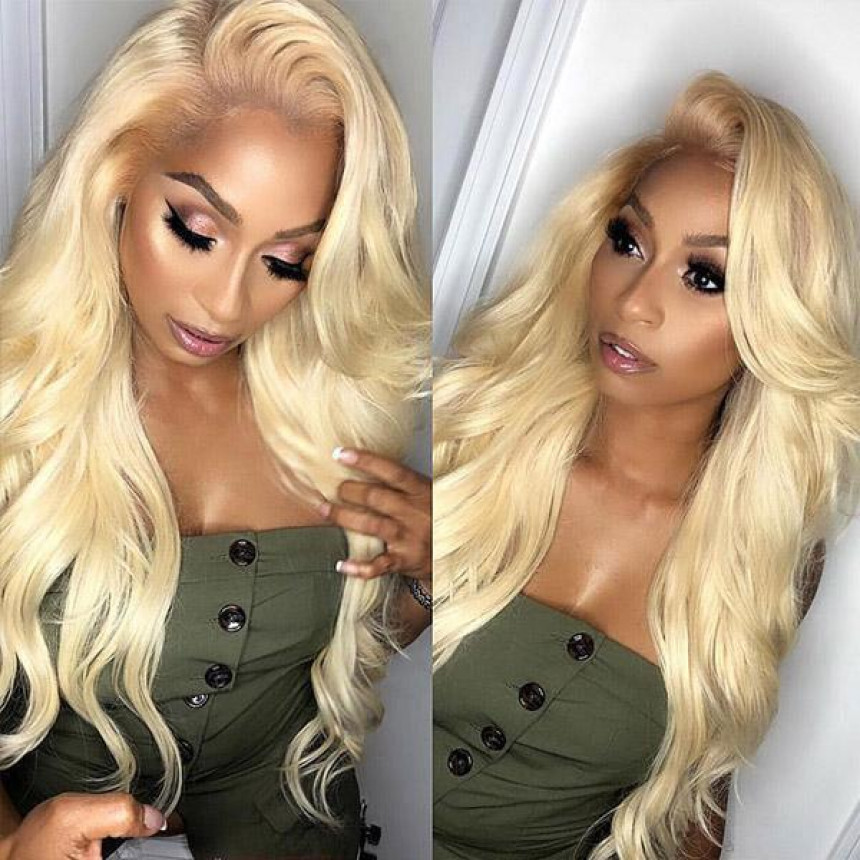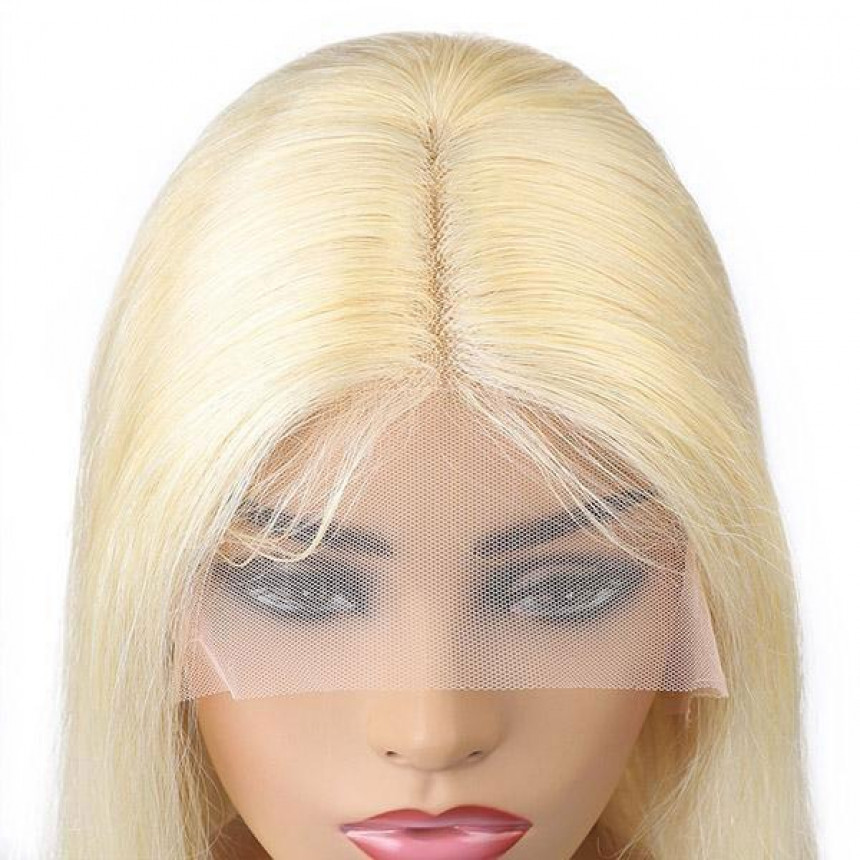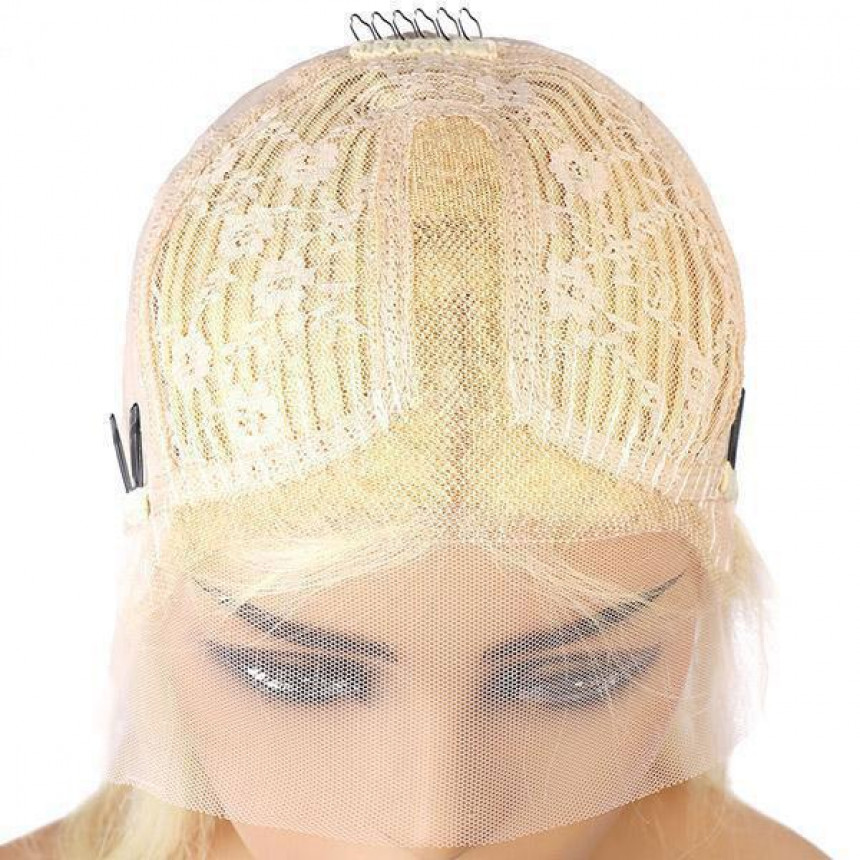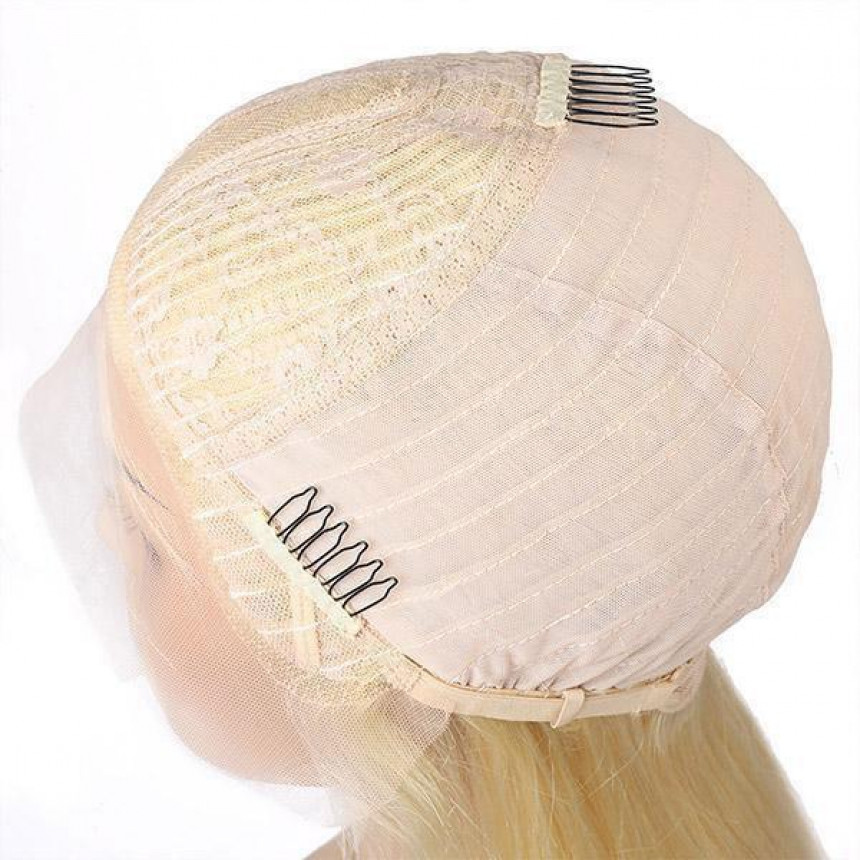 New -20 %





Secured Shopping
Best security features, we support Visa, Master.Amex, Paypal and etc.
Free Shipping
Free delivery over $50, ship with DHL, EMS,Fedex express and etc
Free Returns
Hassle free returns, multi warehouses in the US, Hong Kong, Canada, New Zealand
613 Blonde Color Body Wave Wig T-Part Braided Lace Wigs Human Hair Wigs
PRODUCT FEATURES
Item: 613 Blonde Color Body Wave Wig T-Part Lace Wig Human Hair Wigs
Hair Material: 100% Virgin Human Hair, 10A Grade, No Really Shedding, No Tangle, No Bad Smell.
Hair Color: 613 Blonde Color
Wig Density: 150% Density
Hair Length: 10 - 26 inch are available
Wig Cap Size/ Circumference: 22.5 inches(54-58 cm)
Texture: Body Wave Hair, Natural Hairline, Soft, Comb Easily, Can Re-style and Color well.
Lace Net: T-Part lace wig, 613 Blonde Color, Pre-plucked with Baby Hair, Natural Hairline

FAQ
How to measure a wig

The length of the wig is not measured by the length of a strand of hair, but to measure the length from the head spin to the longest hair at the bottom.
Wavy and curly hair, needs to stretch it to straight then measure the length.
How to maintain my wig

Take off your wig when you sleep, putting it on a wig stand will be a better way.
Wash and deep condition hair regularly, one/two weeks a time is OK. To see How To Wash a Wig.
Detangle the hair gently by hands before washing to prevent shedding. Straight hair wig, body wave wig, hand and wide-tooth comb, both are ok, deep wave wig, curly hair wig or loose wave wig, you'd better use hand, detangle the wig before wet it.
Are minks killed for eyelashes?
Even if the companies that sell mink eyelashes claim to obtain the fur by brushing live minks, those minks still suffer on farms and ultimately will be killed for their fur.
What is a mink eyelash?
In Australia and other countries, mink lashes have become popular. They're mink fur that's been shaved off a mink's body (either right before or directly after the animal is killed on a fur farm) that are then glued in strands to a human's eyelashes for a "fuller and thicker" look.
Are Lilly Lashes real mink?
Our imperceptible bands are hopeless to Discover, and our revolutionary silk-like Faux Mink fibers mimic the lavish look of"mink" while still being 100% vegan. Jennifer Lopez, Kim Kardashian, Kylie Jenner, Rihanna and Lady Gaga are Only a few of the A List Stars who've rocked the red carpet in their Lilly Lashes.
What is raw Brazilian hair?
Raw Hair is described as hair which has NOT Been changed by chemical or steam processing at all. With Raw Hair becoming fully glistening and chemical free, Raw Hair is the most natural, pure, and 100% genuine hair in the marketplace nowadays.
Why is my weave itchy?
If your hair is pulled too tight throughout the Braiding or weaving procedure, inflammation of hair follicles may grow. If hair is trapped beneath a web or bulk of hair without moisture, then the entire scalp becomes ridiculously dry, developing a spread of the fiery itching sensation.
Why is mink fur so expensive?
Mink. When a lady purchases her original fur Coat, it is practically always mink. Mink is formally the highest-selling fur globally, because of the lightweight, decadently soft feel, exceptional sheen, and exceptionally long life. Coats made of feminine skins (lighter, lighter, and thicker ) are considered desirable.
Why are animals skinned while alive?
It's the Notion of being'skinned alive' That's referred to most frequently, and is typically used and supposed to instill the fear of a painful death in somebody.
What is the difference between natural and virgin hair?
Virgin hair is unprocessed human Hair, that can be collected from one donor. Virgin hair and Remy hair are 100% natural hair. The distinction is that the contributor of Remy hair used to dye, perm or bleach her or his own hair while the donor of virgin hair does not use any chemical compounds.
Why does my sew in itch so bad?
If your hair is pulled too tight throughout the Braiding or weaving procedure, inflammation of hair follicles may grow. Sweating or obtaining the hair moist without correctly drying the scalp may lead to mold or mould to develop and make an itching sensation too.
How many bundles do I need for a full wig?
Straight Sew This really is because lace frontals Are 13x4 inch and may need fewer hair packs compared to lace closure that is 4x4 inch. To accomplish a complete appearance, you'll have to have out of 2-3 bundles using a lace and out of 3-4 bundles using a lace closure.
How do you see fake Brazilian hair?
The most direct way to sense hair feel is Running your hands through the hair. Next, it's a fire evaluation. Cut off a little package of hair, put it over a candle. Fake virgin hair such as artificial hair will instantly fire and generate a significant fire as it contacts using a candle.
What are the least damaging hair extensions?
While clip ins are Undoubtedly the least Damaging kind of hair extensions since they aren't installed indefinitely plus they offer your own hair a few rest from an excessive amount of stylingtape in extensions offer you a more natural appearance and a more smooth mix, as do micro ring extensions.
Which extensions last the longest?
What Hair Extensions Last the Longest? To Receive the longest-lasting, luscious locks you have always wanted, you want to decide on actual human hair extensions within synthetic hair extensions. Actual human hair extensions are usually stronger and many ordinary in appearance than artificial hair extensions.
How do you maintain natural wave weave?
Kindly remind: Please try a little bit Until you dye the entire hair, and then co-wash your own hair with conditioner once you bleach or dye. ※ To prevent tangle, it is possible to create a spray using a mixture of conditioner and water (ratio 2:1), spray it to perform moisturizing in everyday life, more into the hair ends.
What's the difference between body wave and loose wave?
Loose wave hair is Far More curly and in A form of a wave, even if you would like straight hair instead stick to human wave. 5. Body waves will become straighter punctually and with frequently washing.
Can you wet body wave weave?
It is possible to wet the entire body wave hair to Have the Smooth and healthier body wave hair. Many folks might not dare to moist the entire body wave hair sew since they fearful the wavy figure tide weave hair will wind up right after they clog or washing the inexpensive body wave hair extensions.
How can I improve my natural waves without frizz?
With a comb may also stretch your own natural Texture, that may leave your waves appearing limp. Step 2: While your hair is still soaking wet, scrunch within an air-dry lotion, which will help to specify your natural curl pattern and decrease frizz. To get a more natural tide, attempt Devacurl Wave Maker Touchable Texture Whip ($26).
How do I make my hair wavy without frizz?
Think about a cut to the colder months. Pixies, bobs, and other adorable styles dry much faster than waves. Prevent using slow-drying styling goods and then swap them out with milder options. Ensure that your hair is completely moisturized before you employ any merchandise. Don't coating products onto your wet hair.
Why is my hair frizzy after diffusing?
Sexy and Windy. Make Certain That You are Diffusing on the right settings. If you're using the drier on the maximum heat temperature and maximum airflow atmosphere, that's merely a recipe for frizz catastrophe. If you still see this setting makes your hair shinier, you can try reducing the heat to moderate.
Can I iron my weave?
Think about using a buddy flat iron that the hard To reach segments of your weave on the back of your mind. It's extremely simple to burn your hands, scalp, ears, neck or face using a hot flat iron, so be certain you're paying attention and constantly use a mirror if horizontal ironing your own weave. Don't let children operate a set iron.
Will braiding wet hair make it wavy?
Braiding wet hair may create stunning waves With no type of spray or mousse, simply experiment with your own hair to understand what works best! If your hair is actually tangled once you wash it, then employ a detangling product until you comb it out.
What can I put on my water wave hair?
Don't blow dry your own water wave hair, put The hair in darkness and allow it natural dry. Be careful not vulnerability your virgin hair beneath strong sunshine as long. Prevent your own hair wig become overly dry and reduce its shinny, it's a good idea to utilize any moisture products for hair such as argan oil, coconut oil, Shea butter, cream.
Do diffusers help frizzy hair?
"Diffusers diffuse the atmosphere, aka, they Disperse it, so it prevents the drier from roughening up the cuticle of the hair. It shields curls out of frizz." Particularly if you frequently blow dry your mane, with a diffuser may cut back on your heating styling considerably.
What can you do to make your hair wavy naturally?
Try sleeping on a satin pillowcase. Fantastic hair begins in the shower! Hydrate, hydrate, hydrate! Separate your bathtub using a nourishing leave-in product. Detangle moist with a broad tooth comb OR your palms. Do NOT rough your hair up with your routine towel!
What are the best products for wavy hair?
Rene Furterer Okara Radiance Improving Shampoo. LuxeOrganix Moroccan Oil Shampoo and Conditioner. Moroccanoil Curl Defining Cream. Pureology Color Stylist Silk Bodifier Volumizing Mousse. Blond Uniq Purple Shampoo for Blonde Hair. LuxeOrganix Deep Mask And Conditioner. Amara Gel Aloe Vera Gel. DevaCurl Low-Poo Delight.
Is gel or cream better for wavy hair?
Creams, Generally Speaking, are moisturizing, Smoothing and defining, and therefore are a little more tailored for curly hair. Creams generally do not provide as much grip as dyes, so in the event that you have loose s-waves that slip out by the close of the afternoon, you could look at layering a little both such as definition, bounce, and grip.
Should you scrunch wavy hair?
In Case You Have wavy or curly hair, you understand about scrunching. The technique is ideal for 2 reasons: placing your curls in position (wet hair) and softening crunchy curls (dry curls). Post-wash, after employing your leave-in conditioner and moisturize lotion, you need to part your hair how you want it to fall as it dries.
Should I use gel or mousse?
Create a Fantastic choice since the hairstyling Goods will find out the outcome. -- Mousse will provide you hair but with a light grip. -- Gel will make your hair oily but will maintain it at the desired place. -- Pomade is going to be the ideal one for you, and you need to utilize it proper in order to attain fantastic outcomes.
How can I make my hair wavy overnight without heat?
Our Expert Agrees: Should You Would like to curl your Hair immediately with no warmth, you can place your hair into two significant braids, or you could wrap your hair in many buns before going to bed. Afterward, when you awaken, take down your hair, and you're going to have soft waves. Eliminate the hair tie out of the upper section and turn it in a rope.
Should I use wavy hair gel?
"Most hair kinds can benefit from a Gel to maintain and guard the curl for more retention and less frizz. But some should use it very sparingly or prevent it completely. Wavies and people that have lean density hair do better using a milder, less cast-forming definer such as a mousse or a serum."
What gel is good for wavy hair?
For Looser Waves. Bounce Curl Light Creme Gel. Jessicurl Spiralicious Styling Gel. For Medium-Body Curls. Matrix Biolage Styling Curl Defining Elixir. Not Your Mother's Curl Talk Frizz Control Sculpting Gel. For Drier, Tighter Curls.
Does Curl Cream work on wavy hair?
Moisturize and moisturize Wavy hair may dry Quickly because the pops in locks may lead to hair's outer layer to grow, forcing out moisture. If your hair is feeling parched, elect for curl lotion. The item, that works wonders on clean day, may also operate on dry hair, particularly if moisture in case your problem.
Which race has wooly hair?
Similarly, the "woolly" variant is Virtually exclusive to Africans. Its high incidence could be clarified by the Fact that many Africans are taking two copies of this gene that is dominant. This Would guarantee the hair texture is preserved in the populace.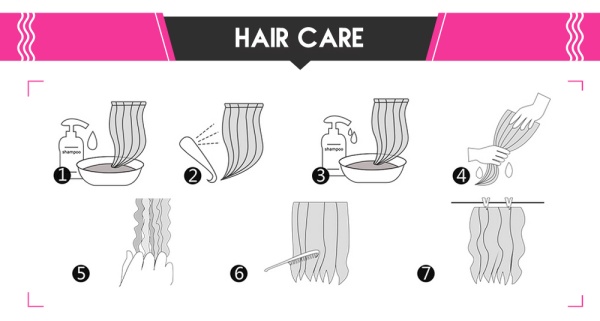 1.Be ready for everything and wet the hair with warm water
2.soak the hair with mild shampoo for a few minutes.
3.Rinse the hair in clear water once.
4.Do it again to make sure the hair is clean.
5.Cover the hair with the towel to soak up the water on it.
6.Move down gently to comb the hair straight to the ends.
7.Hang the hair with the weft open and air-dry it and curls hold well.
Stock:

9 only

Model:

613-blonde-color-body-wave-wig-t-part-lace-wig-human-hair-wigs

SKU:

613-blonde-color-body-wave-wig-t-part-lace-wig-human-hair-wigs

UPC:

613-blonde-c
Hurry, this offer ends in: