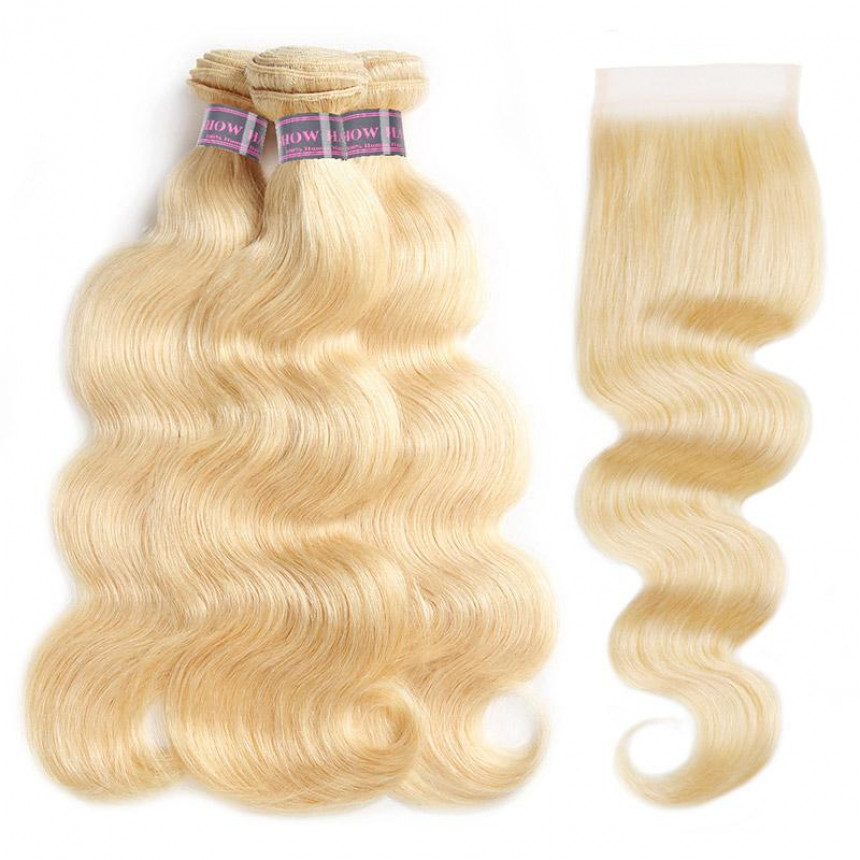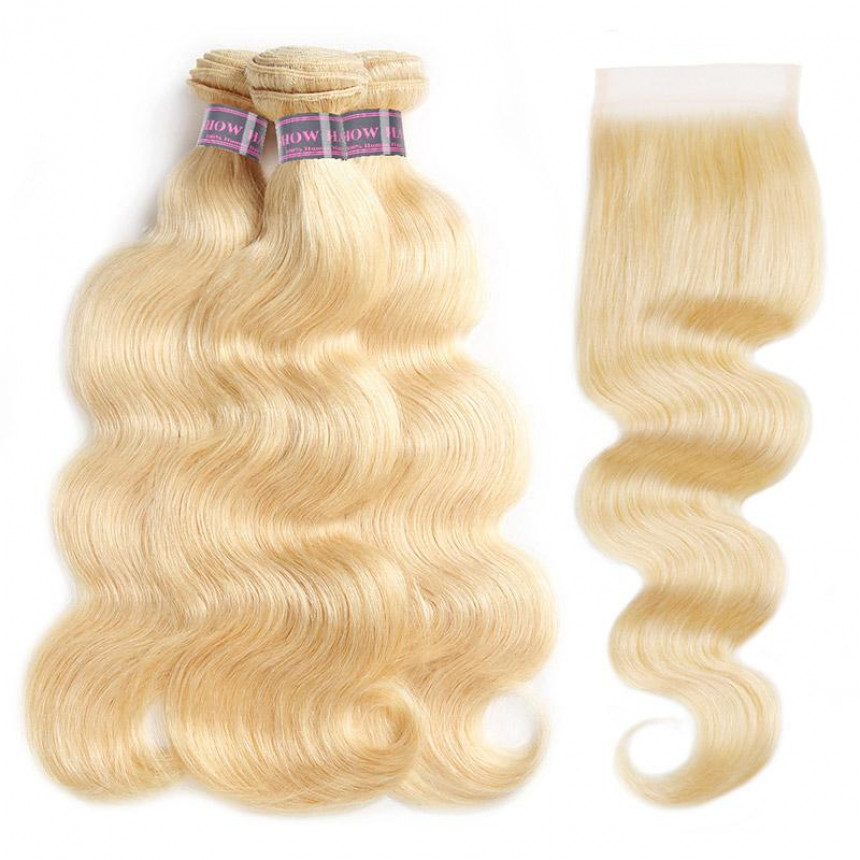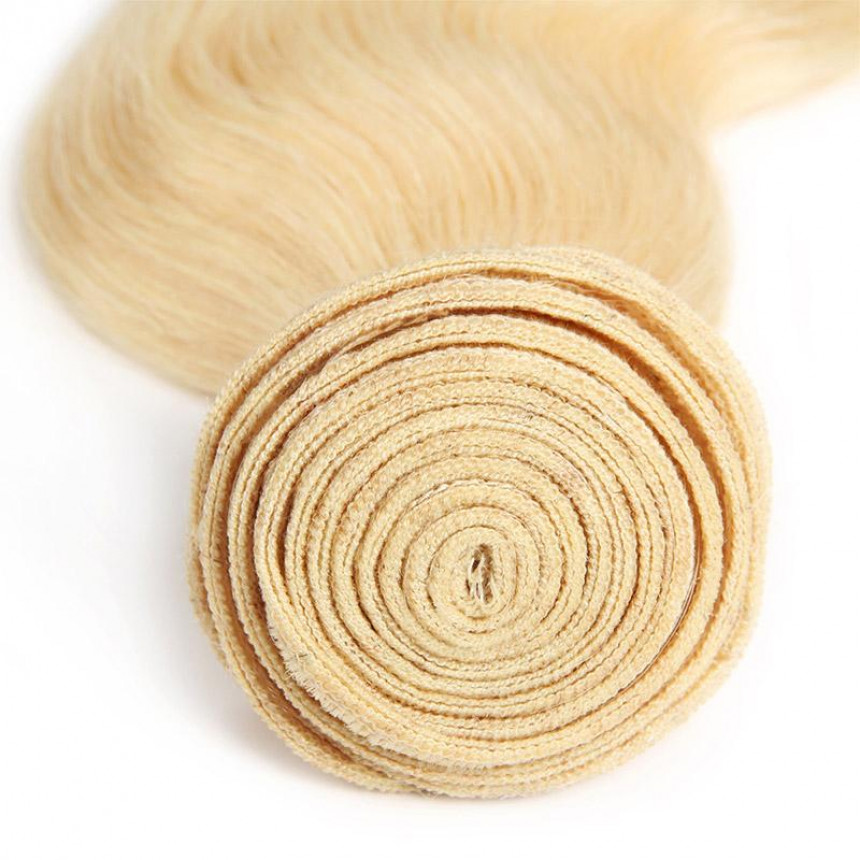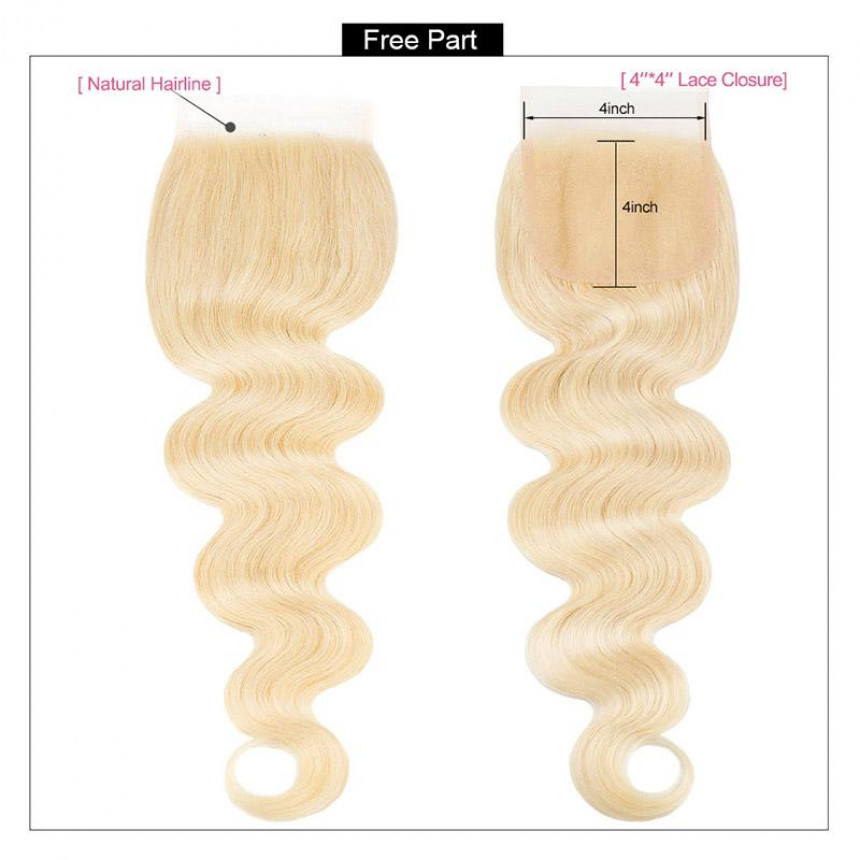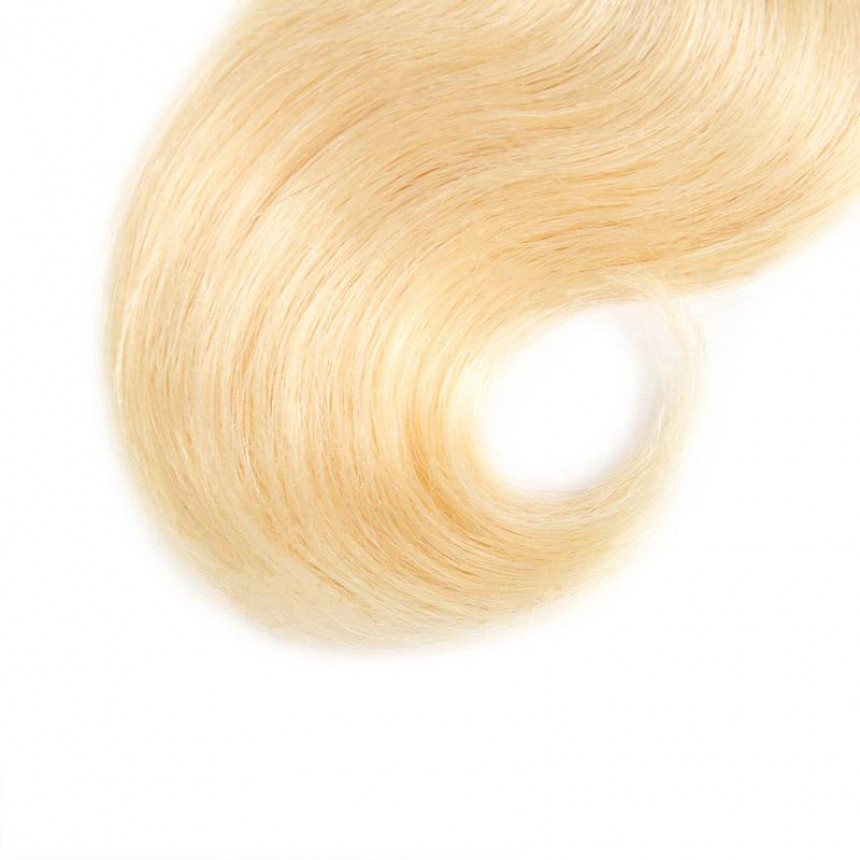 -22 %





Secured Shopping
Best security features, we support Visa, Master.Amex, Paypal and etc.
Free Shipping
Free delivery over $50, ship with DHL, EMS,Fedex express and etc
Free Returns
Hassle free returns, multi warehouses in the US, Hong Kong, Canada, New Zealand
613 Blonde Hair Body Wave 3 Bundles With Lace Closure Hair
Remy Hair Body Wave 3 Bundles With Lace Closure 613 Blonde Hair High Quality Cut From Young Girl Donator 100% Virgin Human Hair Long Lifetime Durable Hair
Net Weight:330-350 Grams per Lot

Suitable Dying Colors:All Colors

Texture:Body Wave

Hair Weft:Machine Double Weft

Can Be Premed:Yes

Color Type:613#

Advantage:No Shedding,Tangle Free
----------------------------------------------------------------------------------------------------------------------------------------------------------------
FAQ
How do I keep my weave in curls?
Spray a light mist on your own hair and wait A couple of minutes for this to dry can help to maintain curls more. If you'd like some weaves with no warmth. Try out braiding wet hair or using flexi sticks. It'd be better to employ a few styling cream prior to that and helps the curl layout last more.
Can synthetic hair be curled with a curling iron?
Check the label for artificial hair. Yes, it Is likely to flake out a synthetic wig. However, you should not try to utilize tools that are hot, such as a curling ironon a synthetic wig -- unless the label specifically states that the wig may withstand heat. Otherwise, you may use foam rollers to curl the wig employing the procedure below.
Can you put spritz on weave?
Spritzing. Spritzing your hair every day or as Needed is one other means to keep decent moisture levels. A water-based merchandise is greatest. It is very simple for your normal hair to stay damp beneath the glow should you spritz overly much.
Can you curl straight hair weave?
That is our favorite Kind of curl since it Is undoubtedly the easiest! The very first thing to do would be to wrap your hair follicles flat round the curling barrel. Be certain you are curling your remy hair between 10-15 seconds so it stinks. After that, release the skillet in to your hands and allow it sets for a couple of seconds.
What is the best hair mannequin?
Hairginkgo Doll. REVIEW. Hairealm Fiber. REVIEW. Hairealm Afro. REVIEW. MySweety Colorful. REVIEW. Hairginkgo Super Long. REVIEW. Kalyx Human. REVIEW. Hairealm Male. REVIEW. Beautystar Gold. REVIEW.
Can you wash a mannequin hair?
A: If that really is a mannequin mind you Bought in a beauty supply store meant for usage as by cosmetologists, then it's produced out of natural hair follicles and may be shampooed and conditioned as you want your hair.
What is a mannequin head called?
Cosmetology mannequins (also generally Spelled out manikins) are minds with hair utilized by beauty college pupils, or hair stylist, to find out, practice or perfect many different hair styling methods.
Can you put a color rinse on synthetic hair?
While It May Look confusing as you Can not dye a synthetic wig with frequent hair dye, it is completely doable. To begin with, make your own hair dye, then use it and wash it out. You are going to be prepared to design and stone your new look very quickly.
Why won't my natural hair hold a curl?
Prep Your Own Hair to Maintain Your Curls From Falling Buildup is among the chief reasons they do not hold, so it is ideal to begin with clean hairwet or moist for moist places, and totally dry for heat styling. Stay away from heavy or really greasy products, as they weigh down your hair and take out the life of your curls.
stalled can make it irritate your skin and severely damage your hairline or break off your edges.
How do you keep a drawstring ponytail from tangling?
When your hair is dry, spritz some Detangling spray on the hair and comb gently with a broad tooth comb, beginning from the base of the hair and working your way upward. Doing so at least every 4- 6 months is crucial to stop your artificial ponytail from tangling.
Can you use spray dye on synthetic hair?
Spray it on the wig equally and allow it to dry! Would you use hair dye onto a synthetic wig? The components of a synthetic wig won't hold dye intended for actual hair, therefore it can not be utilized. Rather, mix together equal parts ink and water at a spray bottle, use it into the wig, and let it dry.
How long do weave ponytails last?
Sew In hair extensions are fairly permanent And would continue you anywhere between 6-8 weeks. It's advised that the maximum time you need to have a complete weave is 4 weeks as it might influence the development of your normal hair.
Do Tape in hair extensions fall out easily?
Tape in extensions don't fall out, ever. They do not just slip out using appropriate application. The sole reason this could occur to someone is when their own hair stylist isn't properly trained. Improper positioning or software will get the hair to slide, including too much or too little hair can get the tape to slide.
Can you use hair chalk on synthetic hair?
And the best part is, hair loss chalk is secure to Utilize on human hair and synthetic fibers, and that means it's possible to find the appearance with extensions and wigs, also!
Can you curl mannequin hair?
Human Hair Blend mannequin heads are Fantastic for practicing cutting, curling, braiding, perms, and up-do hairstyles! They aren't suggested for bleach/dye baldness. For more defined curls, then lightly spray on the hair before curling using an extremely sexy 400°F curling iron.
What is a invisible ponytail?
For the imperceptible ponytail, you'd put Your own hair to a glossy low or higher ponytail. Oryou can wrap hair in the ponytail round the area in which the ponytail is procured.
Can you dye synthetic dreads?
Dyeing Artificial Dreads Dreadshop is frequently Asked if synthetic dreadlocks could be dyed. The solution is "NO". Hair dye does not work on artificial hair. When rinsing the dye from the dreads you are really cleaning the dreadlocks and you're going to discover that the dye wasn't absorbed to the artificial hair.
What is iDye Poly?
IDye Poly is almost the only dye which Will colour polyester. The dye comes at a dissolvable package, so that there are never any messy powders to manage: just drop the packet at a kettle of water, put in the cloth or items and bring to a simmer. A vital instrument for cosplay artists!
How do you secure a lace front wig without glue?
Measure 1: Twist your hair out. Step 2: Cut the excess lace across the hairline carefully once you're certain to keep your wig. Step 3: Place on wig cap and then push just a tiny back to expose approximately 1 inch of your scalp. Measure 4: Comb front hair to design your own part. Step 5: Employ wig, fit wig part for your own part.
Can I use olive oil on my wig?
Step 1: Pre Wash Your Wig Apply natural oils along the entire length using oils such as: Moroccan Argan Oil. Coconut Oil. Extra Virgin Olive Oil.
How do you wash a curly human wig?
Use a wire wig brush straight or wavy Wigs, along with also a wide-toothed comb or your fingers for curled wigs (such as natural/African-textured). Fill your sink with warm water, then stir in 1 2 squeezes of shampoo. Utilize a high quality shampoo that's acceptable for your hair kind you're washing.
Do curly wigs stay curly?
Cosmetic wigs can be especially Hard to Care of, since the curl shape has to be preserved to your wig to keep the majority of its original appearance. Wigs don't have to be washed as frequently as your hairnonetheless, after fourteen days, oil and dirt can build up, causing your wig to reduce its luster.
How long does the glue last on lace front wigs?
But the quick answer is: it Is Dependent upon the Chemical composition of the glue you use. Some adhesives are short term, though some can adhere the wig for many months (4-6 weeks ). You need to pick the suitable glue, otherwise it'll damage your borders. Ordinarily: The lace front wig could be ensured for as much as fourteen days.
What's better weave or wig?
The choice on whether to Select a wig, a A hair extension is dependent upon your tastes and condition. Weaves and hair extensions provide similar results in regards to length, quantity, durability, and sensible appearance. Wigs are far better for conditions like hair loss, damaged or thin hair.
Does wig cap color matter?
The colour of wig cap like your 100 Human hair wigs will probably be better to demonstrate the organic look. In fact, if to select a wig cap is dependent upon private sense, in the event that you truly believe it's uncomfortable, then it is possible to opt not to wear it.
What oil is best for human hair?
Dry, dull hair: coconut oil, argan oil, Jojoba oil, sweet almond oil, olive oil, olive oil. Dry scalpjojoba oil, lavender oil, lemongrass oil. Damaged hair: olive oil, jojoba oil, sweet almond oil, olive oil. Hair loss: sweet almond oil, grapeseed oil, lemongrass oil.
Can I put coconut oil on synthetic hair?
Coconut oil May Be Used on hair and Synthetic hair extensions and wigs. * Be careful if using coconut oil light beams, blondes and crimson synthetics; utilize it [oil ] very carefully and consistently shampoo completely. An excessive amount of merchandise will depart artificial hair looking greasy.
How long should you keep crochet braids in your hair?
Typically crochet braids continue between four To six months, and you always have the option to leave the centre in a bit more and touch up front (aka the parameters of your own hairline) so it appears fresh.
Can I use shea butter for my human hair wig?
Sometimes, if your borders are especially Fuzzy, it is possible to wet your hands, smooth the borders and crown, then use the shea butter. You might even try different products, the glow is unmatched! Gradually Blot hair with a towel. Permit the wig to air dry .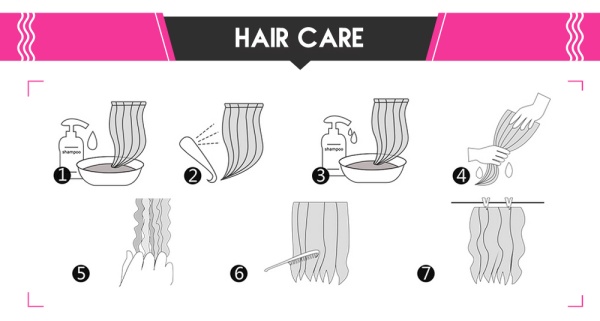 1.Be ready for everything and wet the hair with warm water
2.soak the hair with mild shampoo for a few minutes.
3.Rinse the hair in clear water once.
4.Do it again to make sure the hair is clean.
5.Cover the hair with the towel to soak up the water on it.
6.Move down gently to comb the hair straight to the ends.
7.Hang the hair with the weft open and air-dry it and curls hold well.
Stock:

2 only

Model:

remy-hair-body-wave-3-bundles-with-lace-closure-613-blonde-hair

SKU:

remy-hair-body-wave-3-bundles-with-lace-closure-613-blonde-hair

ISBN:

remy-hair-body-wa
Hurry, this offer ends in: