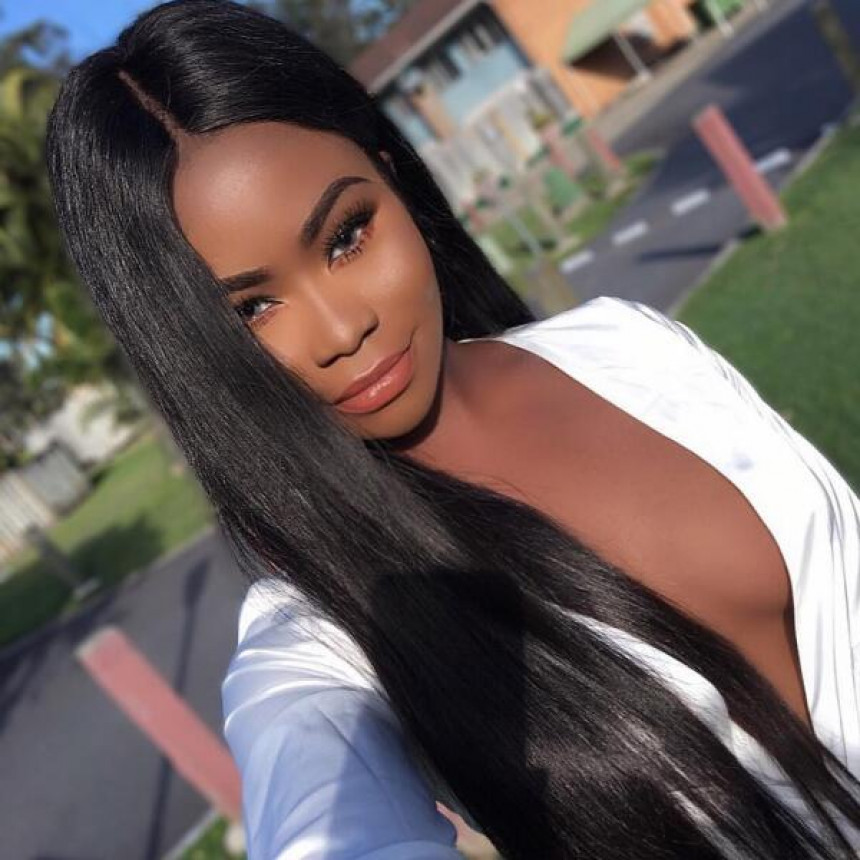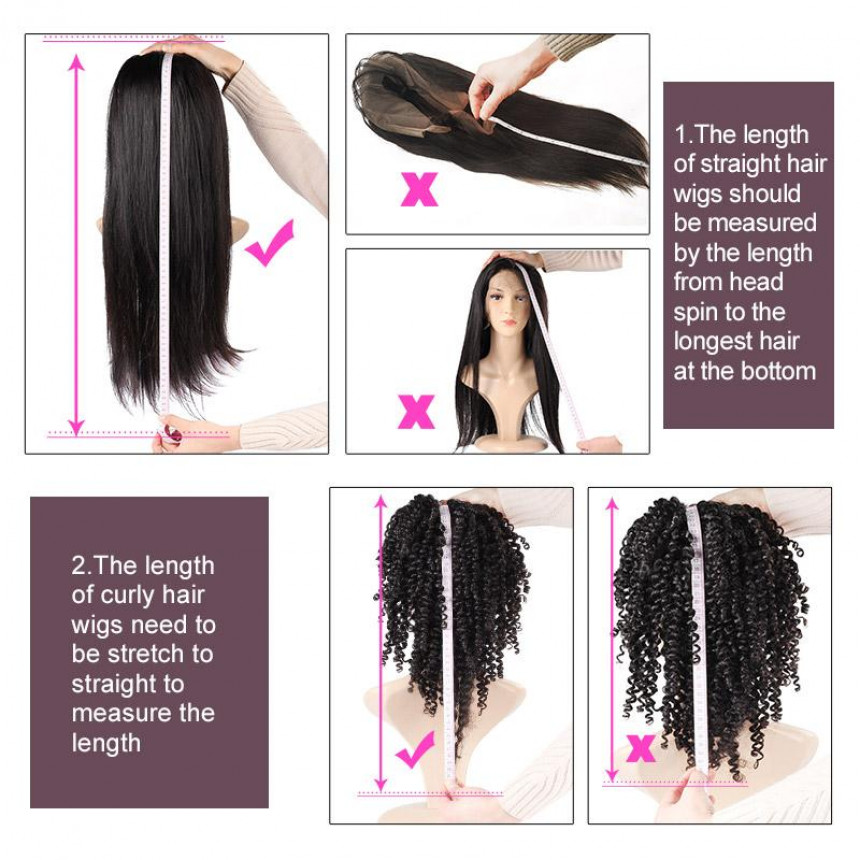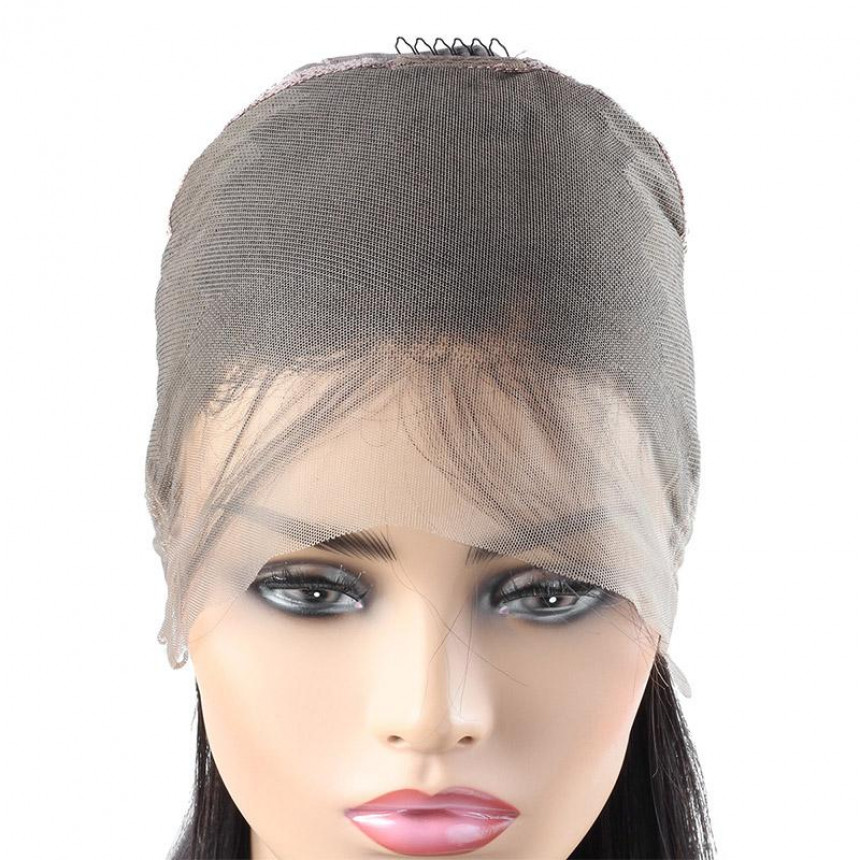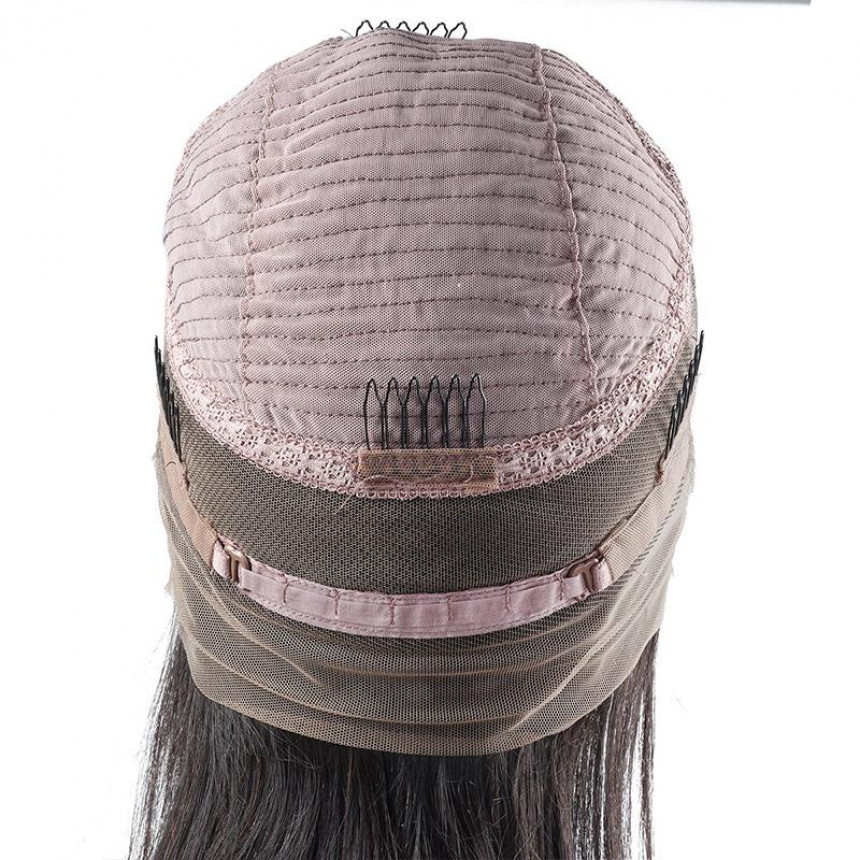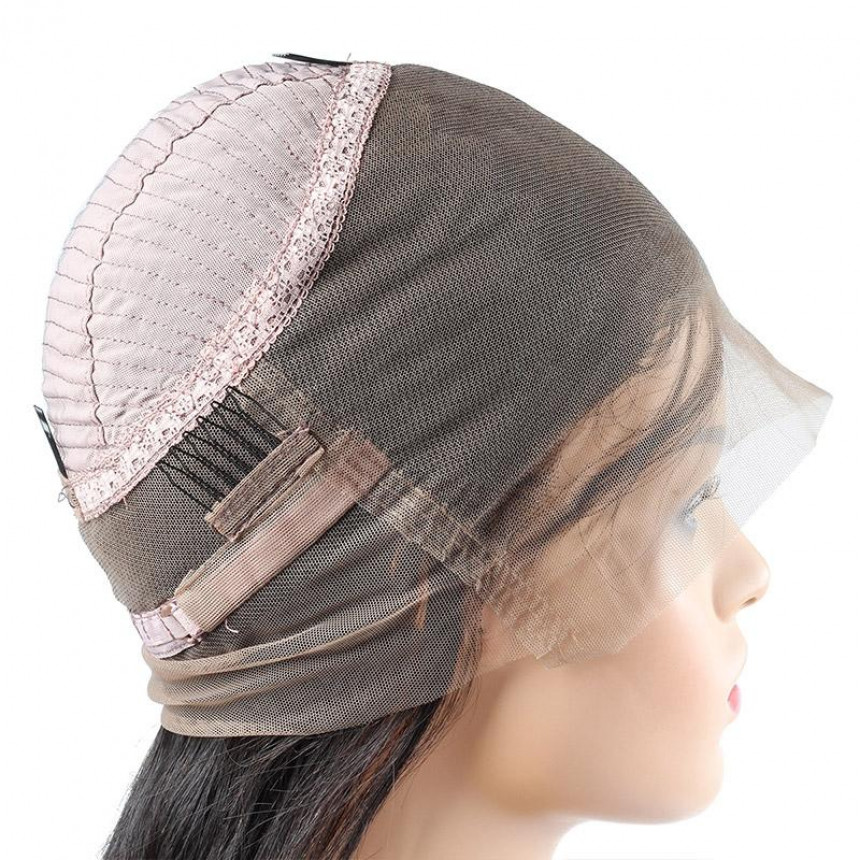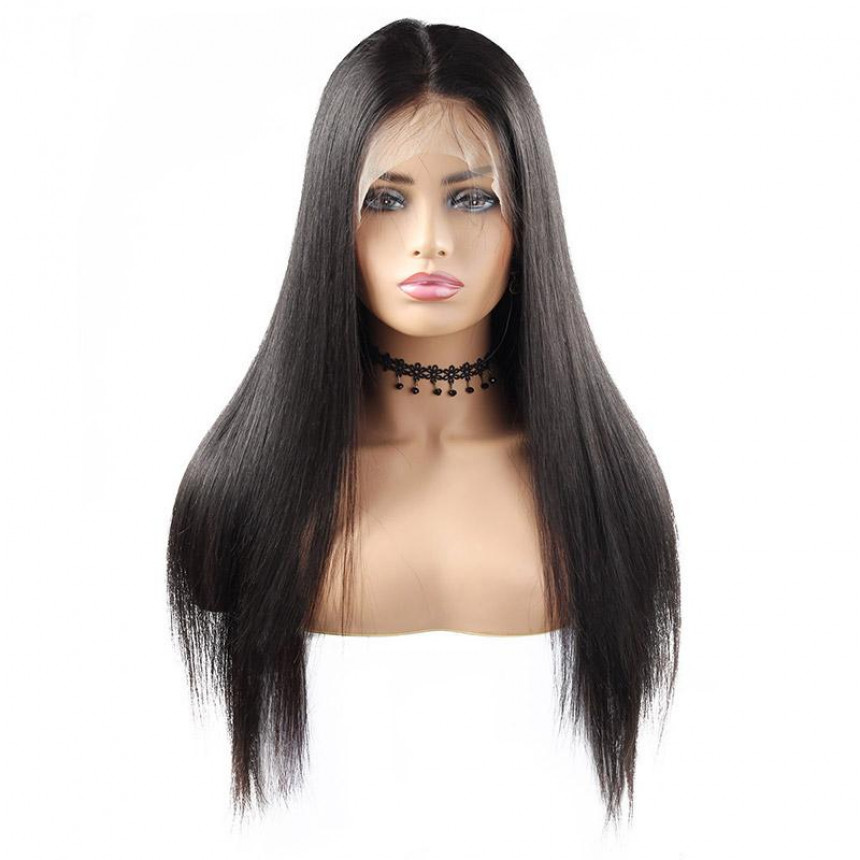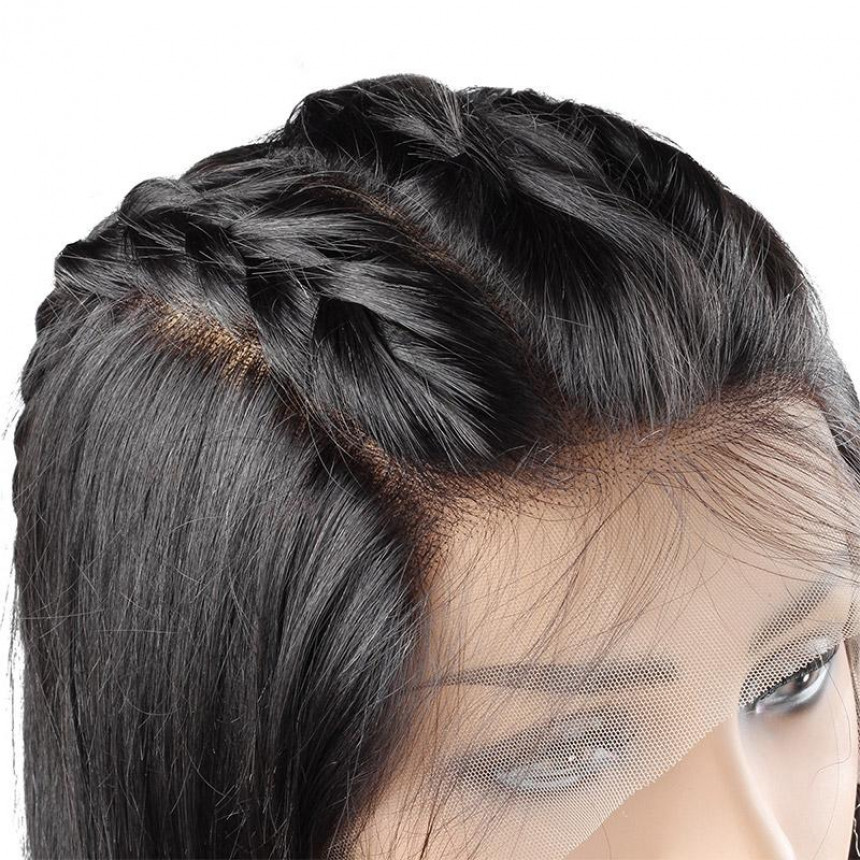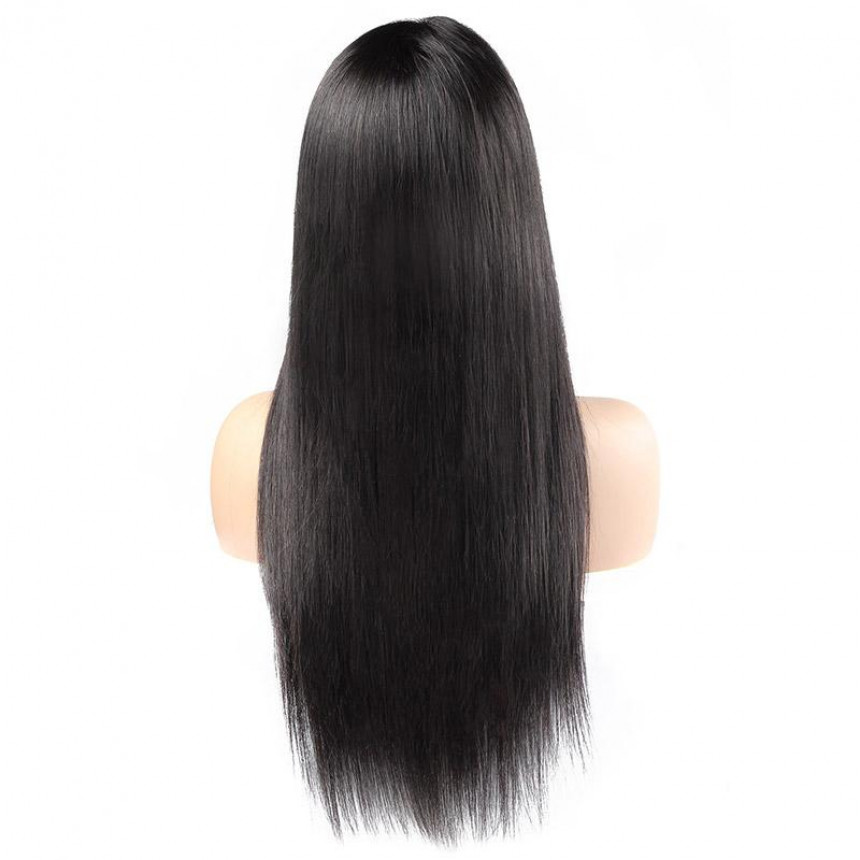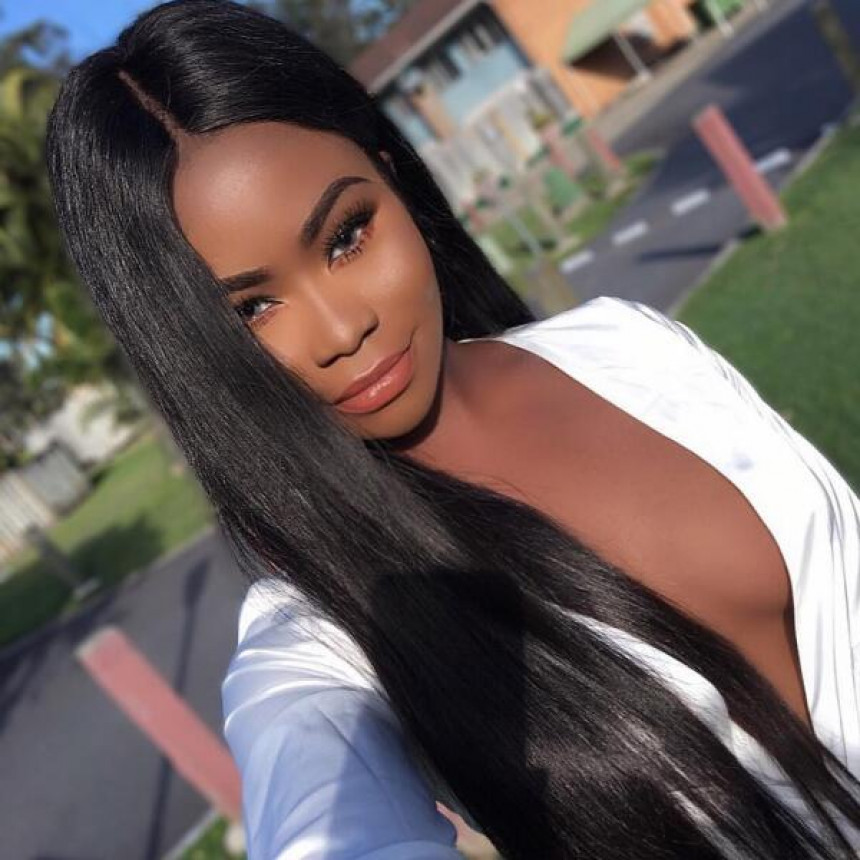 -20 % Out Of Stock









Secured Shopping
Best security features, we support Visa, Master.Amex, Paypal and etc.
Free Shipping
Free delivery over $50, ship with DHL, EMS,Fedex express and etc
Free Returns
Hassle free returns, multi warehouses in the US, Hong Kong, Canada, New Zealand
Brazilian 360 Lace Frontal Straight Human Hair Wigs
PRODUCT FEATURES

Item: 360 Frontal Wig 150% Density Straight Hair Virgin Human Hair Wigs
Hair Material: Virgin Human Hair Weave, 10A Grade, No Shedding, Tangle Free
Hair Color: Natural Black Color
Hair Grade:10A Grade, Straight 360 Lace Frontal Human Hair Wigs, Can be bleached and restyle, dyed
Hair Length: 8 inch - 24 inch are available, Very Soft, Healthy and thick
Texture: Straight Hair, Natural Hairline, Soft, Comb Easily, Minimal Shedding, No Tangle
Pack: 1 Piece Straight Hair 360 Lace Frontal Wig
...................................................................................................................................................................................................................................................................................................


FAQ
Q1: What is 360 Lace Wig
A: We pre-sewed the 360 frontal & bundles into a wig. It is not full lace, not lace front, which is with lace around. 360 lace wig is with more wefts at top, total wig density is 150%.
With this 360 lace wig you can have the versatility in styling options:
<1> Up-dos and high pony tails
<2> Freestyle parting, so you can part in any desired direction.
<3> No more need to worry about your edges showing or your tracks being exposed!!
<4> You will have more depth in styling options with this trending and revolutionary hair extension piece.
Q2: What Difference Between Lace Front Wigs and Full Lace Wigs
A: Lace front wigs are half made by hand tied and half made by machine,Full lace wigs are 100% made by hand tied.Lace front wigs are more competitive in price,full lace wigs are more realistic and easier to make a ponytail.
Q3: Can I Restyle or Color the Hair
A: Yes. But we'd like to recommend you that too often restyle or dye the hair will dry it out. So please make sure which kind of style or color do you like before you actually take action on it.
What is the best shampoo for Brazilian weave?
Long & Luxe Strengthening Shampoo. As I Am. Olive Oil Creamy Shampoo. Organic Root Stimulator. Coconut Milk Conditioner and Shampoo. Organix. Therappe Moisture Shampoo. Nexxus. Brazilian Keratin Therapy Shampoo. Nexxus.
Can I wash my wig with regular shampoo?
Don't use regular hair shampoo, Conditioner, hair spray or dyes in your wig since they can cause build on the wig, shortening its life span and dulling the skin follicles. Cleaning Your Wig: Don't brush your wig if it's wet. This may stretch and permanently harm the skin.
Can I wash my human hair wig with regular shampoo?
To wash your wig, many salons advocate Submersing your hair wig at a bowl of water which has a little bit of shampoo. We don't advise doing this because it could tangle the wig, so which makes it highly uncontrollable. To wash your hair wig, begin with getting it wet under water.
When cleaning a wig made of human hair You should also?
Now, most wigs are all cut and completed a Block, then cleaned and saved onto a drying rack. After cleaning a wig made from hair, it's also wise to condition it. Bonded wefts are eliminated by cutting away the extension in the bond.
How can I freshen my weave without washing it?
Utilize A Scented Dry Shampoo: Scrub Your Hair Using A spoonful: Employ Your Favourite Perfume: Wash Your Comb And Hairbrush: Spritz On Your Own Rose Water: Use Lemon Juice: Use Baking Soda: Why Use A Heat Protectant Spray:
Can you wash your hair with just water?
The water-only (WO) hair washing system Simply uses just warm water to wash your hair and scalp, while allowing your natural oils to protect and nourish hairfollicles. There are different options to washing your hair you ought to think about like co-washing or baldness.
Should you wash your weave in cold or warm water?
Washing a Leave-In Weave. Saturate your Stick with tepid to warm water. Run warm water over your whole weave at a downward movement near wherever your tracks are till the weave is totally wet. You can achieve it by holding your mind beneath the sink faucet but it's probably simpler just to get in the shower.
How can I clean my hair naturally?
Employ a one to a mix of warm water And apple cider vinegar into your hair. Rinse it completely after 5 minutes to eliminate the apple cider odor. Wash your hair every 2-3 weeks, for good regulation of hair oils.
Can you put coconut oil on weave?
Ensure you oil every 3 times with Appropriate scalp goods, but you should be careful to not get the oil onto your weave. DON'T: • Use hair goods on synthetic wigs. Place any oil or grease in your weave. Jojoba oil, coconut oil and some additional oils can make your hair appear cheap, heavy and artificial.
How do you know if your weave is human hair?
Burn evaluation: Just cut a strand of hair and Place it onto a burning fire. If it melts into a ball rather than burning, scents such as rubber and generates black smoke, then it's not hair. Human hair will instantly catch fire, burn almost immediately bending into a tiny ball, and odor like burning hair.
Is Peruvian or Brazilian hair better for natural hair?
Peruvian virgin hair is a little thicker And coarser than Brazilian hair in feel and blends nicely in ordinary relaxed hair textures on African American ladies. Pubic hair weave is thick and somewhat wavy. The hair is lightweight, but provides additional quantity and seems very natural. The hair has soft and silky texture.
How do you wash raw hair?
Always rinse your hair completely in lukewarm water. State your hair, comb through, and be certain that the conditioner is totally saturated. Allow it to sit for a minimum of 30 minutes and wash in lukewarm water. Lay your hair on a level surface to air dry.
Is weave real hair?
Background. A hair weave is individual or Artificial hair used for the integration using the natural hair. Weaves can change one's look for long or short intervals with the addition of additional hair to a person's natural hair or simply by covering the pure hair together with individual or artificial hairpieces.
Is Sew In bad for your hair?
Provided That you practice appropriate hair care, There is no method sew-in will destroy your hair! Sew-in weaves will not damage hair. Only in the event that you don't take some ideal actions to keep your hair healthy, the sew-in weave may harm your normal hair.
Why do braids itch so bad?
Braids take forever to dry, so it is Tempting to go for more stretches between clean times. "Your scalp hastens dead skin cells, sebum and dust, which then becomes trapped in the roots and has to be removed as it may lead to itchiness," says trichologist Anabel Kingsley.
Is Malaysian hair better than Peruvian hair?
If you want thicker and shinier hair, then Peruvian hair is your ideal selection for you. If you'd like shinny, soft and wavy hair, Virgin hair would be the right for you. You have made a fantastic choice, regardless of which one you select.
Can you Colour human hair wigs?
Unlike synthetic wigs, human hair wigs may Be dyed comparatively easily. It is possible to use exactly the exact same hair dyethe exact same programmer, and also the very same tools to dye your wig because you'd normal hair. Wash the wig after dyeing it to keep it shiny and clean. Remember that hair dye won't work on synthetic wigs.
How do Indians wash raw hair?
Cleanliness: Shampoo and condition hair Weekly with warm water. Detangling: Be sure to gently exfoliate Raw Indian hair after every wash and daily. Drying: it's crucial to allow the extensions atmosphere dry and when a blow-dryer is essential, keep placing on cool. Do's. Co-wash prior to the wear. Don'ts.
How do you keep your hair unprocessed?
Shampoo and condition like your Organic hair. Always wash the hair prior to washing and even afterwards. Combing your hair is essential. Detangling hair along with you have palms is thought to be the very best. Avoid dying your own hair extensions so they continue long and fit with your normal hair.
What is human Remy hair?
Remy Hair is hair That's accumulated From 1 donor or source. The cuticles are complete and aligned in 1 direction. Remy hair includes some short hairs and is going to have a natural glow at the conclusion that provides the end user an extremely natural looking hairstyle.
How do you wash a human hair ponytail?
Simply use warm water when washing ponytail Hair extensions. Ideally, use mild, clarifying shampoo to hair extensions since it cleanses but doesn't irritate or dry your hair extensions. When shampooing, don't try to wash the shampoo alternative since this might lead to tangles.
How do you clean fake hair pieces?
Brush out the artificial hair thoroughly Before washing. Fill out a basin/sink/ with cold or warm water. Do not use hot water since it can change the style. Add a squirt of shampoo from the water then put your bit and repaint it through.
How often should I wash my tape in hair extensions?
Wash 2 Times Per Week If you do begin Showering with tape in hair extensions, so be sure that you're not doing it also often. Twice per week is a great standard to stay with. In case you've got curly or wavy hair, then you might even have the ability to wash it once each week.
Can you wash a hair piece?
Now you Can wash your hair bit lightly, Making sure to prevent damaging the hairpiece or its own bond. It is crucial that you wash off all staying shampoo, because a build-up of shampoo may cause itching and undermine the bond of your hairpiece. After all shampoo is eliminated, you can proceed and state your hairpiece.
How do you untangle a fake ponytail?
Comb through any apparent tangles using a Wide tooth. Work through the snares cautiously gently pulling the comb through the hair bit as you move. This might not operate for much more serious knots, but you can have the ability to smooth out of your ponytail before washing it. You may get a broad tooth comb at most beauty supply stores.
How do you revive a drawstring ponytail?
Fill a sink with lukewarm water and a gentle shampoo. Put the ponytail from the water and swish it about. Rinse out the shampoo using lukewarm water. Squeeze out the hair softly to eliminate some of their water.
Can you wear a high ponytail with tape in extensions?
And you can not put on your hair in a high Ponytail or bun for your first couple of weeks. 4. In case you have naturally wavy hair as well as your own extensions are directly, they could look very obvious as it gets humid along with your normal hair frizzes #curlyhairproblems. 6.
Do tape in extensions cause hair loss?
The Brief answer is yes -- it is Very Likely that Tape-in extensions will harm your own hair when you eliminate themand this might result in hair loss. Stylists generally advise that you allow these kinds of extensions develop out and eliminate them after about six-to-seven weeks.
How long do keratin extensions last?
With Appropriate installation and care, these Extensions may last for up to half an hour. That means customers have to create fewer care appointments, saving them both time and cash.
Can you bleach a human hair wig?
In accordance with star stylist Kiyah Wright (who places wigs for Laverne Cox, Jennifer Hudson, and Ciara), bleach is safe to use on human hair follicles. "You ought to use 20-volume crème programmer with bleach so that you can pace yourself and prevent over-processing your wig," she states.
Which grade of hair is the best?
Grade 10A is your best grade human hair Weave, it's 100 percent virgin unprocessed hair from 1 donator with thick endings and powerful human hair arrangement. 10A grade human hair weave designs could be restyled to curly hair weave, blond hair weave and other hairstyles you prefer.
Can you bleach Brazilian Remy Hair?
Really Indian remy hair could be bleachd and dyed . Only it can not be bleached to light shade like quite light brown and blond shade. You are able to bleach it into dark brown and routine brownish,but we recommend that you make this kind of visit to the salon! Remember just natural colour of Indian remy hair could be bleached.
How do I keep my human hair extensions soft and silky?
Brush Your Hair Extensions Actually if hair Extensions are both soft and tangle free. That is the way you would like to maintain them! Preventing is easier than reviving so be certain that you brush a few times daily. In case you've got permanent extensions such as combination or tape-in, you then comb everything together, such as your strands.
Can you use regular hair products on human hair wigs?
Measure One: Wash and blow dry your hair Wig after washing, use conditioner-- preventing the main place -- and allow the wig sit for a couple of minutes. Rinse the wig completely, and blot it dry with a towel. Then, use your styling products, like detangler, heat-protecting spray, or oil.
What is the purpose of thinning hair near the base of a wig?
Free Unfinished Flashcards about Chapter 11 - StudyStack
What oil can I use on my wig?
Jojoba Oil --Jojoba is Full of vitamins and Minerals that nourish hair, such as vitamin C, vitamin B vitamins, vitamin E, copper, and zinc. Since it strengthens hair, it is going to keep your wig looking lush and healthy appearing.
Are wigs made of real hair?
Natural hair wigs are all made from Harvested hair, so that they look, feel and behave exactly like your own hair. There's a misconception among first-time wig buyers who laser hair wigs are"greater" or of greater quality compared to synthetic wigs since they're made from real hair; this isn't the situation.
What country has the longest hair?
The lavish locks of Xie Qiuping (China) Attained the longest hair on the planet on a female using a span of 5.62 m (18 ft 5 ), as confirmed on 8 May 2004. She began growing her own hair in 1973, when she was only 13 years old. "It is no problem in any way, I am utilized to it," she advised GWR.
What is the difference between synthetic hair and human hair wigs?
The gap between artificial and human Hair wigs is from the fiber. A synthetic wig may be better off holding it is design even after washing. Human hair wigs are made from real human hair they feel and look genuine, but they also need to get re-styled after washing like real hair.
Does wearing wigs help hair growth?
Nowadays wigs seem natural, may have a Long-term and, if utilized properly, wigs may be utilized to grow your own hair, shielding it from more abuse, breakage and climate conditions. Wearing a wig may be a part of a successful protective haircare routine, assisting you to develop thick, long and healthier hair.
Can u sew in a wig?
If you wear a wig, then you Have the Choice of Gluing it sewing it into position. While picking out a wig may be time intensive, it is only going to maintain your wig set up for daily. If you would like to wear the exact same wig for a week or two longer, then stitching the wig into position by means of a weave needle and thread is the thing to do.
Can you put a wig on without a cap?
If you are wondering how to wear a wig With no wig cap, then use the identical technique to set the wig as you would using a wig cap. Ensure that your scalp is clean before placing the wig and, when you've got natural hair, try braiding or twisting it to flatten it as far as possible and prevent any lumps under the wig.
Are wigs better than sew ins?
Thus, in the end of the day wigs possibly a Bit more convenient as you have more immediate contact with your scalp and organic roots. However, on the opposite side sew-ins may provide you the advantage and assurance of having the ability to wake up and begin the day without needing to re-curl, straighten, or put on a wig.
How much does it cost to get a wig sewn in?
Generally , though, the setup Service generally ranges from $100 to $600. And that is not including the price of these extensions, which may fall anywhere between $80 to $600.
How can you tell a good quality wig?
A well human hair made wig should be comfortable to wear. It should be made from breathable fabric so the heat won't be trapped between it and your head. High-quality wigs will last longer because the materials are more durable.
Which is better Remy or virgin hair?
A nicely human hair produced wig Ought to Be Comfy to wear. It needs to be produced from breathable cloth so the heat will not be trapped between it and your mind. High-quality wigs will survive longer since the substances are stronger.
How do you maintain a human hair wig?
Put your wig at a bowl or sink cool water. Gently hand guards using a gentle detergent or shampoo. Never use warm water whilst in the practice of washing your wig and don't brush or style it while moist. Distribute conditioner and a broad tooth comb to organic virgin hair completely prior to shampooing.
Are full lace wigs worth it?
Total lace wigs are more versatile since You could also design them in to up-dos, braids, and several different hairstyles that is Not so with front lace wig like a high ponytail. It just Provides you More organic flexibility.
Maintenance Manual:
1. Wash and deep condition hair regularly,one/two weeks a time is OK.
2. Detangle the hair gently by hands before washing to prevent shedding.
...................................................................................................................................................................................................................................................................................................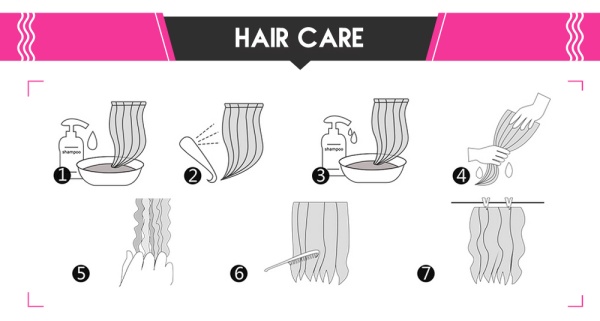 1.Be ready for everything and wet the hair with warm water
2.soak the hair with mild shampoo for a few minutes.
3.Rinse the hair in clear water once.
4.Do it again to make sure the hair is clean.
5.Cover the hair with the towel to soak up the water on it.
6.Move down gently to comb the hair straight to the ends.
7.Hang the hair with the weft open and air-dry it and curls hold well.
Stock:

0 only

Model:

hair-wig-brazilian-360-lace-frontal-straight-human-hair-wigs

SKU:

hair-wig-brazilian-360-lace-frontal-straight-human-hair-wigs

ISBN:

hair-wig-brazilia
Hurry, this offer ends in: