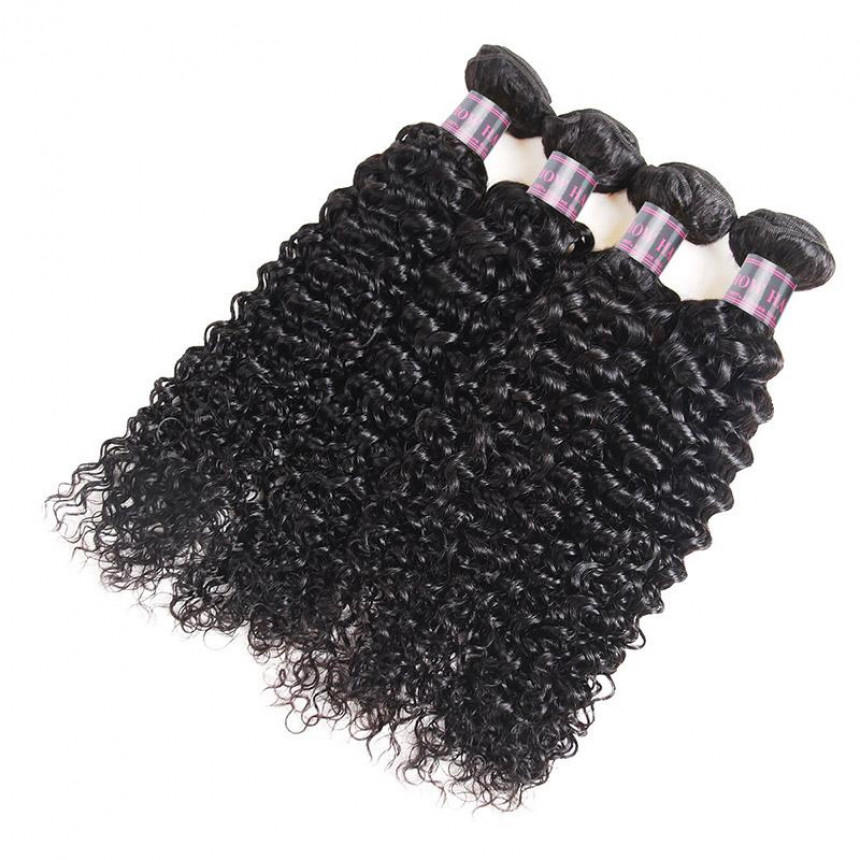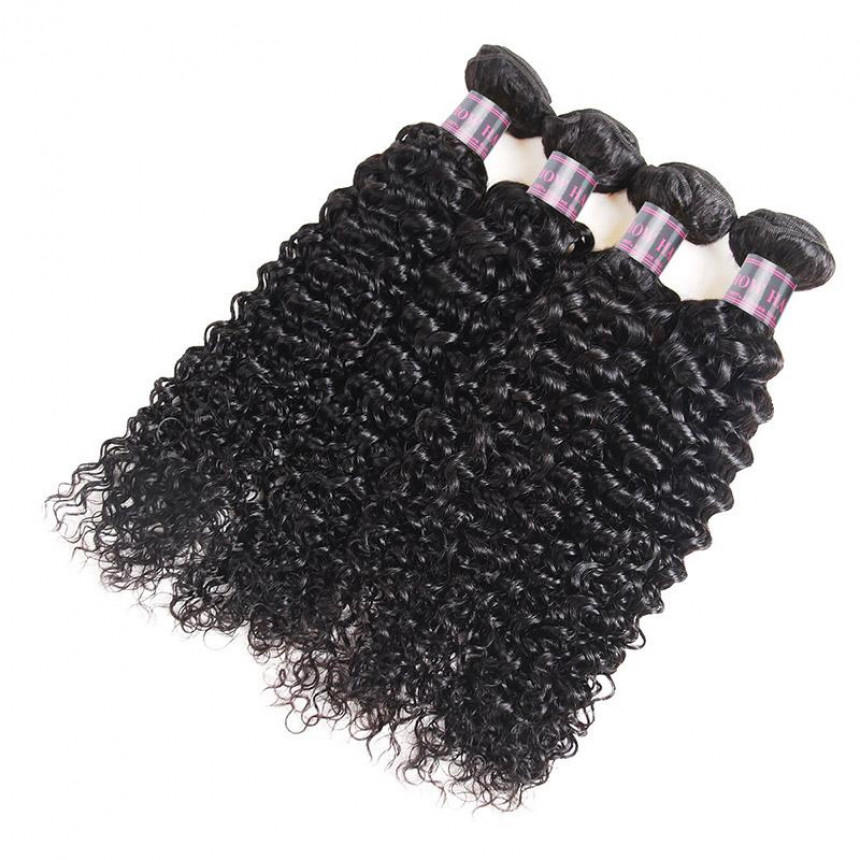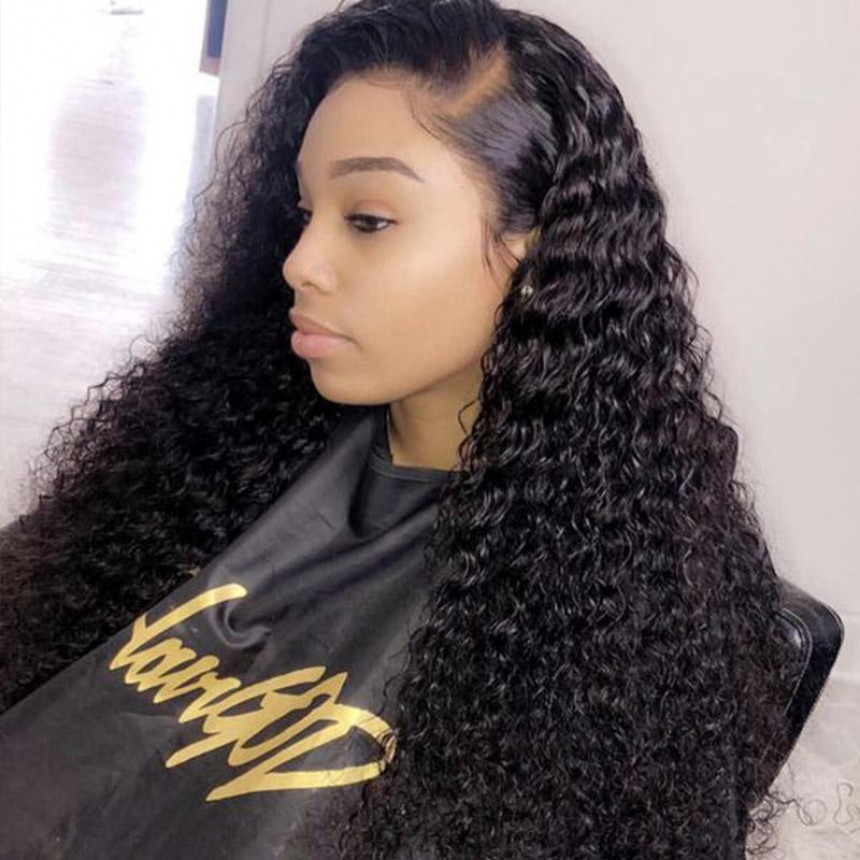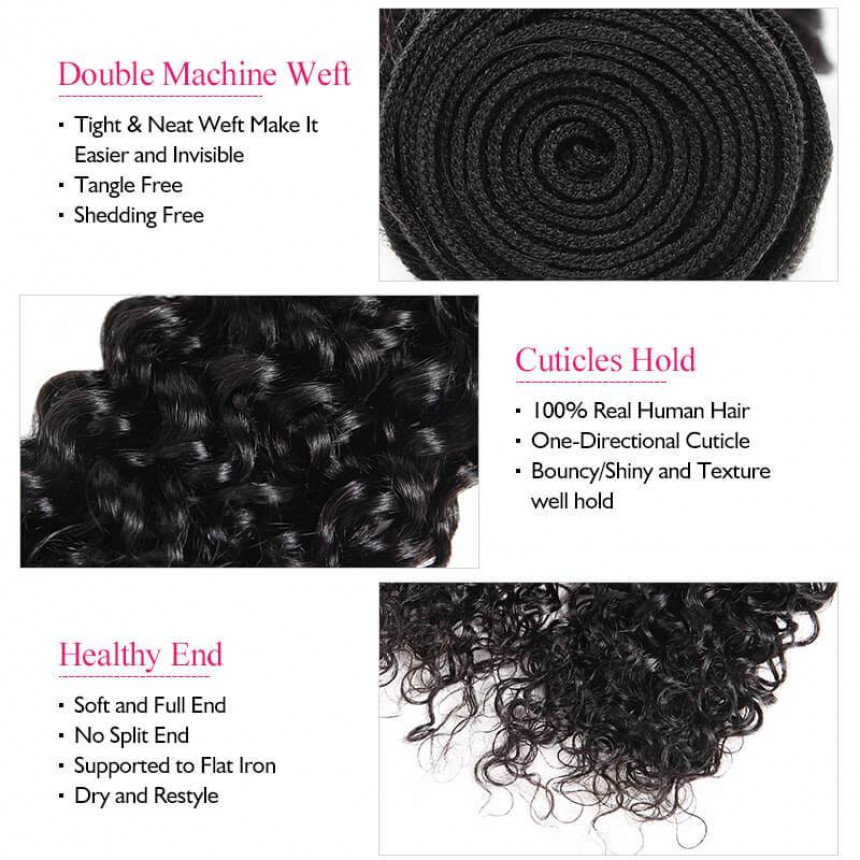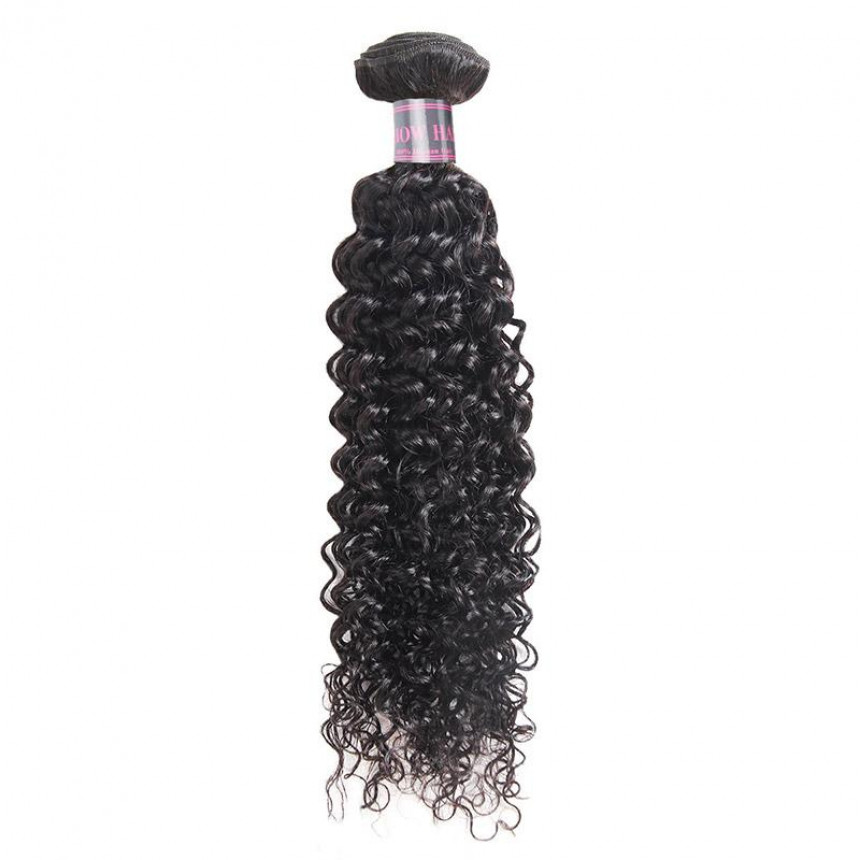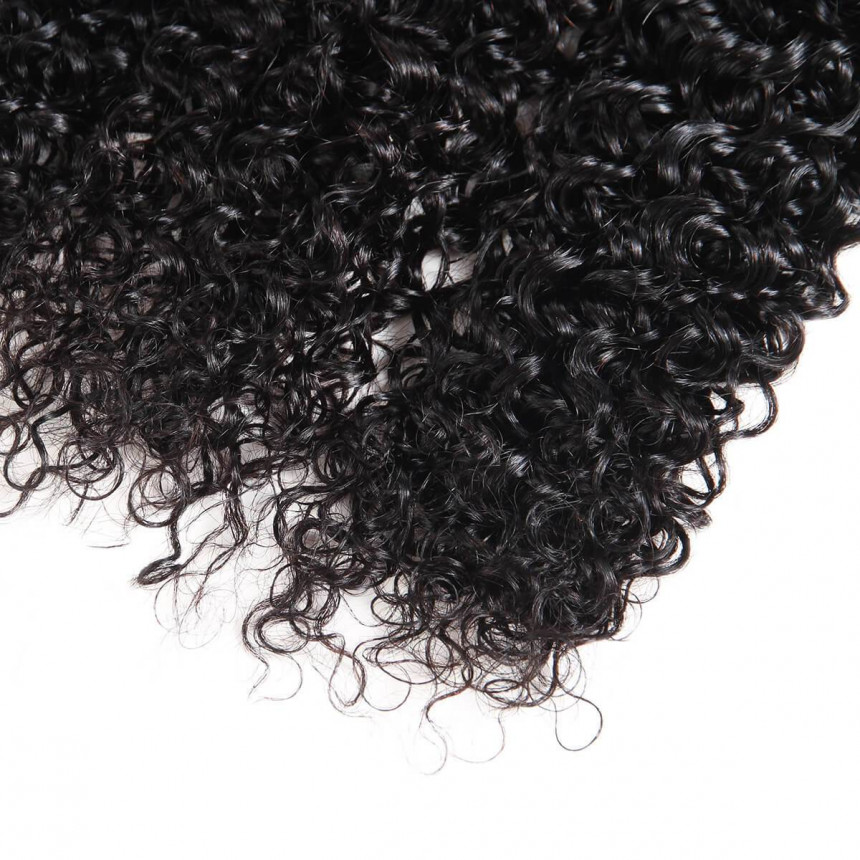 -20 %






Secured Shopping
Best security features, we support Visa, Master.Amex, Paypal and etc.
Free Shipping
Free delivery over $50, ship with DHL, EMS,Fedex express and etc
Free Returns
Hassle free returns, multi warehouses in the US, Hong Kong, Canada, New Zealand
Peruvian Curly Hair 4 Bundles 100% Virgin Human Hair Extensions
PRODUCT FEATURES

Item: Peruvian Curly Hair 4 Bundles, Unprocessed Virgin Human Hair Extension
Hair Material: Virgin Human Hair Weave, 8A Grade, No Shedding, Tangle Free
Hair Color: Natural Black Color
Hair Grade:8A Grade, Curly Human Hair Bundles, can be bleached and restyle, dyed
Hair Length: 8 inch - 28 inch is available, Very Soft, Healthy and thick
Texture: Curly Hair, Natural Hairline, Soft, Comb Easily, Minimal Shedding, No Tangle
Pack: 4 Bundles Curly Hair
...................................................................................................................................................................................................................................................................................................
FAQ

What length should I purchase

Hair bundle should be measured when it is stretched. So please keep in mind that you will need to accommodate for its curl pattern when selecting your desired length.
How long do the hair bundles last
Our bundles typically last for 7-9 months, if cared for properly.
How many bundles is 100g weave?
For more clarity when purchasing your own Bundles with a 360 Lace frontal- You may need 2 packages which should equivalent to 100 g each package. It does not matter the hair feel, two packages is more than sufficient.
What does kinky hair look like?
"Kinky" explains the curl pattern/type of hair, such as curly or wavy And in this scenario, kinky hair signifies tightly curly hair or very tight coiled hair or hair without a curls however zigzags instead. "Coarse" or"good" refers to the thickness/texture of hair strands.
Is my hair kinky or curly?
Curly hair is Only a spiral or tide while Kinky hair includes a torsion twist (that could be felt as a permanent crimp) in which the hair strand turns itself (see the structure ). The torsion of kinky hair is fundamentally the strand twisting around itself.
Should I get 3 bundles or 4?
Length: the more the duration of your Packs, the hair that your normally likely to require. We propose more packages to get a fuller appearance from root to tip. If you'd like extremely thick hair,you'd need 3-4 packs but when searching for intense fullness an excess package would find the task finished.
How do I stop my 4c hair from shrinkage?
Keep it Sectioned and Twisted While Washing. The simplest way to resolve shrinkage is to not allow your hair to psychologist on clean day. Stretch It. Condition with Coconut Milk. Apply Aloe Vera Gel Before Styling. Do Monthly Henna Treatments. Utilize Anti-Frizz Products.
Can you change your hair type?
Contrary to popular belief, your hair Texture doesn't have anything to do with using curly, wavy, or straight hair, or anything in between. Because your hair feel is hardwired on your DNA, there is not much you can do to alter your hair feel from 1 kind to another.
What 4b hair looks like?
Sort 4B hair Doesn't Have a clearly Defined curl pattern, and it is fluffy and soft. Its tight coils form a"Z" shape, and it looks like a zigzag shape with sharp angles, which produces this hair kind exceptionally vulnerable to dryness.
How do you know if your natural hair is curly?
You've got some wave or even a occasional curl. Your hair is not stick directly but it is not wavy, either. You've got out-of-control hairs throughout your own hair. You've got volume in all of the wrong areas. You do not restrain your component -- your component controls you. Your own hair frizzes out as it dries out naturally or if it is humid.
Is my hair wavy or straight?
Hair feel normally refers to the Natural form or pattern of your strands. If it dries directly with no bend or bend, then your hair is directly (or type 1, because it's often known ). If it dries with a small curve or"S" shape, then it's considered wavy (type 2).
How do you manage a curly wig?
Gently cover the wig using a hair net to Maintain the curls in place and also to stop additional tangling. Subsequently, lay your wig level into the bag or box in which it came. Or, put your wig to a plastic, sealed box to prevent it from becoming dusty.
How do you keep a wig nice?
To preserve your wig's caliber for your Longest possible time period, clean your wig before putting it off. *Notice: NEVER place your wig off moist. If the wig cap or hair is wet once you place your wig off, it is going to attract dust, mold, and other not-so-nice substances.
Do synthetic wigs look natural?
Though a Complete lace human hair wig may be Parted any way, synthetic wigs do not work like that. Most synthetic wigs do not arrive with a part, which makes it seem fake and detectable. The"deep component" is part the manufacture adds into some synthetic wig unit to give it a natural appearance.
Is it weird to wear wigs?
It's completely nice to wear a wig Especially in the event that you've lost your own hair or desire a new hairstyle. Wearing a wig is a great way to pay your own hair or conceal alopecia or balding. And in case you've got irregular development of hair, wig or extensions help you provide a better hair appearance.
Does Charlie Sheen wear wigs?
Charlie Sheen The Two & Half Men star Has been seen numerous times using both wavy head and a complete head of hair. Though he's never admitted it in public, it is pretty obvious he wears a wig or toupee.
What does it mean if a cap wig is hand knotted?
What does it mean if a cap wig is hand-knotted? (This means that the hair is hand-tied beneath the internet to hide the cap border.) The side and rear edges include cable supports, elastic, and pins which can be connected to the customer's hair to get a secure fit.)
How much do wig caps cost?
A fundamental wig cover ($150 -- $200)
What are the straps inside a wig for?
Flexible straps are located within of the Wig around the inner rim. Their objective is to change the dimensions of the circumference of this wig, to get a tight and snug fit. The straps interior a lace front wig are made from elastic with two pins, which hook onto distinct loops inside the wig, that is how it's adjusted.
Can you tuck a wig behind your ears?
You can tuck your wig supporting your ears Irrespective of whether it's a human hair wig or synthetic hair wig. And as you ought to not use a hair or clip ring on a synthetic wig since it might leave a permanent dent, then there's absolutely not any harm in wearing the hair behind your ears.
How do I moisturize my human hair wig?
Employ a Moisturizing Conditioner in the Scalp foundation of the wig into the hair hints. Remember to apply additional conditioner to the ends. Permit the conditioner to sit down at least two to five minutes prior to cleaning. Utilize a wig comb or fingers to reverse any tangles in the hair.
Can you use oil sheen on human hair wig?
The chemical processing of this hair changes The true arrangement of the hair that means it may be more prone to dehydration and getting brittle. Utilizing an oil which moisturizes your hair help lubricate fix the hair that means that your hair wig will survive more.
Can I boil my human hair wig?
Leave the hair for 10 minutes. Make Sure the water is gently boiling. In case the water has stopped boiling, turn up the heat. Allow the hair simmer for 10 minutes before turning the heat off. The high temperatures of this water tends to soften your glow, which makes it more difficult to touch and silkier.
How do you maintain human hair wigs?
Put your wig at a bowl or sink cool water. Gently hand guards using a gentle detergent or shampoo. Never use warm water whilst in the practice of washing your wig and don't brush or style it while moist. Distribute conditioner and a broad tooth comb to organic virgin hair completely prior to shampooing.
Do wigs cause hair loss?
Wigs don't induce or increase baldness! As Long as you've got a good-fitting wig, you adhere to the right care directions and you look after your hair, your hair thinning should certainly not increase from sporting a wig.
Is wearing a wig bad?
Wearing a wig Is a Superb Choice to change Your appearance without creating permanent changes to your own hair, however if you aren't careful they can harm your scalp and hair and also contribute to or cause hair loss/damage.
Do human hair wigs get frizzy?
Contrary to your hair growth from scalp, Human virgin hair follicles can't gain too much moisture out of the own scalp, therefore over blow drying can cause hair thinning hair. Notably curled hair wigs, they're more vulnerable to be wavy. Spray freezer and permit it upon your own hair ten minutes at the very least.
Can you dip human hair in hot water?
Dip it in warm water only If You're using 100% human hair. If you would like not to use the burning procedure, it is possible to seal your endings by trapping them in warm water. It's super easy, simply leave the endings of your Havana, Marley, or Senegalese twist out and carefully dip them into warm water.
How can I make my wig softer?
Step 1: Pre Wash Your Wig. Offer your individual Hair wig a conditioning therapy. Step 2: Wash Your Wig. Step 3: Apply Some Conditioner. Step 4: Can Deep State. Measure 5: Dry Your Own Wig. Measure 5: Tips When You Sleep.
What shampoo is good for human hair wigs?
To get a gentle cleansing cleaner, we Urge the Argan Smooth Luxury Shampoo from Jon Renau. It is not just sulfate and paraben free, it includes French Argan Oil leaving your lace front wig feeling silky smooth.
How do I choose a good quality wig?
From Leah Fletcher. Wigs are worn out for almost any Number of explanations. Compare artificial vs. human hair choices. Think about the wide variety of artificial wigs. Coarse wigs seem less natural, but generally have a lower cost point. Pick a monofilament or hand-tied synthetic wig. Choose a wig that's heat-friendly. Consider how to design it.
What does 13x6 wig mean?
Lace rectal closed 13x6 is a half wig, The policy area is larger than 4x4 closed, 5x5 closed, 6x6 closed, and 13x4 lace . Engineered lace gets the powerful ability of breathability and elasticity, the larger the lace region is, the more comfortable the individual hair wigs would be.
Can you wear a full lace wig in a ponytail?
As We've mentioned in the introduction, The entire lace human hair wigs and 360 lace Cosmetic wigs are traditionally considered the ideal decision to comb the large ponytail hairstyle. That means that you may place your best complete lace wigs at a high ponytail. The designs of this high ponytail include a tasteful long ponytail and a top bun.
Are full lace wigs better than lace front wigs?
The gap between lace front wigs and Complete lace wigs the capability to resist ripping of lace wigs is greater than lace front wigs due to the lace region. 3, Durability differs: Since the complete lace wigs will be glued to the mind completely, so the durability works nicely.
Do you take your wig off every night?
Wear Your Wig 24/7 -- It is important to take Off your wig to ensure your scalp and hair may breathe, in addition to then having the ability to look after your wig correctly. Some elect to take off their wig every night, whereas others want to take off their wig every day or two.
Is it shameful to wear a wig?
Simply because you wear a wig, then it does not Mean you must be ashamed of wearing a wig. As a matter of fact, we do not think there is something to be ashamed of whatsoever about wearing wigs. Some girls who have their normal hair decide to wear wigs due to how amazing they seem.
How long does a human hair wig last?
Human hair follicles can persist over one year with Good care. Synthetic wigs can last up to half an hour. If artificial wigs are heat-friendly, their lifespan might be briefer. Whichever you select, the less you put on it, the longer it will endure.
Should I get Brazilian or Peruvian hair?
Peruvian hair follicles have lightweight but Carries a great deal of volumes. The hair has soft and silky texture. That's the significance you have more than 5 bundles of this hair and it yet still feel light weight. Brazilian hair is just one of the best-selling hair and many gorgeous kinds of hair round on the marketplace.
Can you curl Yaki straight hair?
Straight hair would be the easiest yet the Safest hair design of time. ... Yaki hair may hold curls really well but you want an experience to get this done. Coarse yaki hair really is excellent to assist you reach significant, daring curls -- because we want to call them. Utilizing a 1.5 or 2-inch curling wand or curling flat iron that you can...
What's the difference between pack hair and bundles?
If someone states their own hair came in a bunch, That usually means they purchased their own hair in the beauty supply shop. Whenever someone says their own hair came in a package that means their hair was arranged and didn't come out of a beauty supply shop.
How many Oz is a bundle of hair?
(1 bunch of hair/ 1 package ) will Traditionally be 4 oz. The packages at our online shop are double weft, and therefore you won't have to go over board with 4-5 packages unless you're styling two distinct individuals.
Which oil is best for hair straightening?
Coconut Oil and Lime. This easy-peasy DIY Hair treatment demands fresh coconut puree along with the juice out of two limes. Castor Oil and Soyabean Oil. Castor oil helps stop frizzing out while soyabean oil leaves your hair shinier. Eggs and Olive Oil. Apple Cider Vinegar. Milk. Celery. Aloe Vera. Almond Oil and Conditioner.
How can I get my hair permanently straight?
Permanent Hair Straightening: Keratin Remedy A coat of compounds with the most important part as keratin is applied to your hair which can give your hair that the smooth, silky shine. The compound is then fixed on your hair by means of a straightener. After a hour or so, your own hair is washed and blow-dried.
What softens coarse hair?
Know your own hair type. Coconut oil. Olive oil. Argan oil. Utilize a weekly mask. Bentonite clay. Do not wash with warm water.
...................................................................................................................................................................................................................................................................................................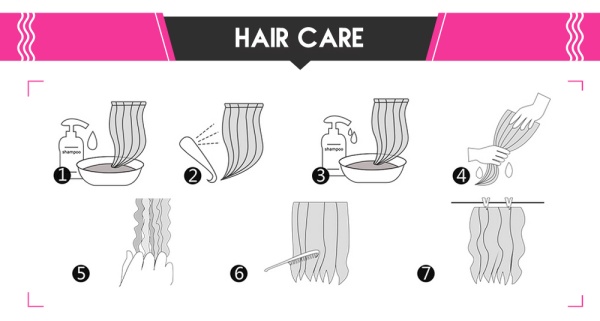 1.Be ready for everything and wet the hair with warm water
2.soak the hair with mild shampoo for a few minutes.
3.Rinse the hair in clear water once.
4.Do it again to make sure the hair is clean.
5.Cover the hair with the towel to soak up the water on it.
6.Move down gently to comb the hair straight to the ends.
7.Hang the hair with the weft open and air-dry it and curls hold well.
Stock:

9 only

Model:

peruvian-hair-curly-wave-4-bundles

SKU:

peruvian-hair-curly-wave-4-bundles

ISBN:

peruvian-hair-cur
Hurry, this offer ends in: