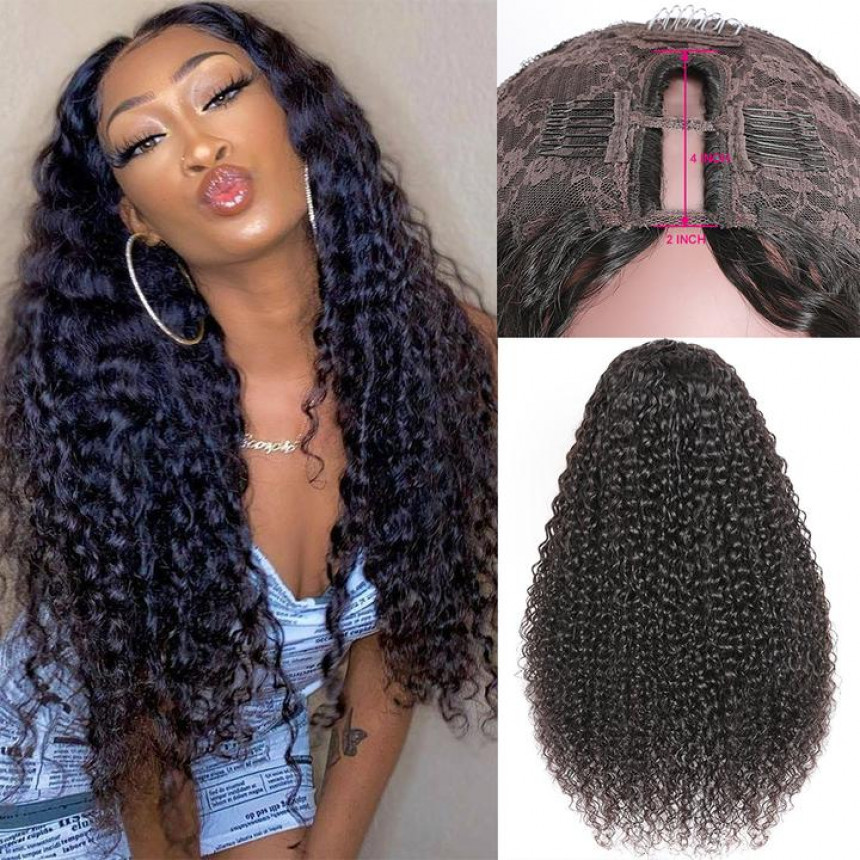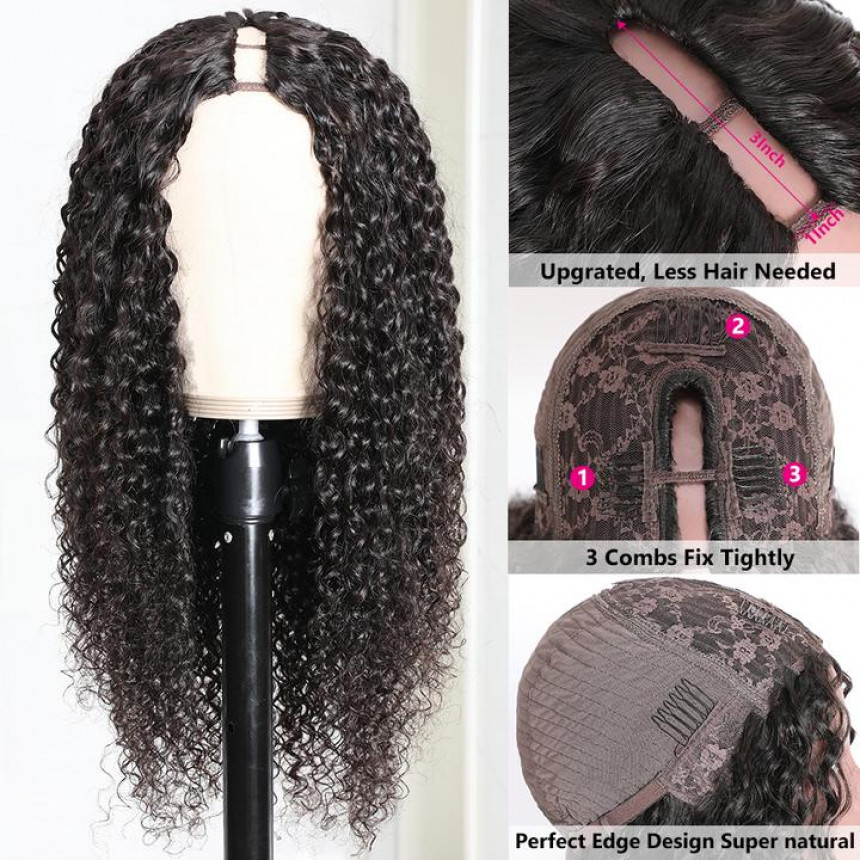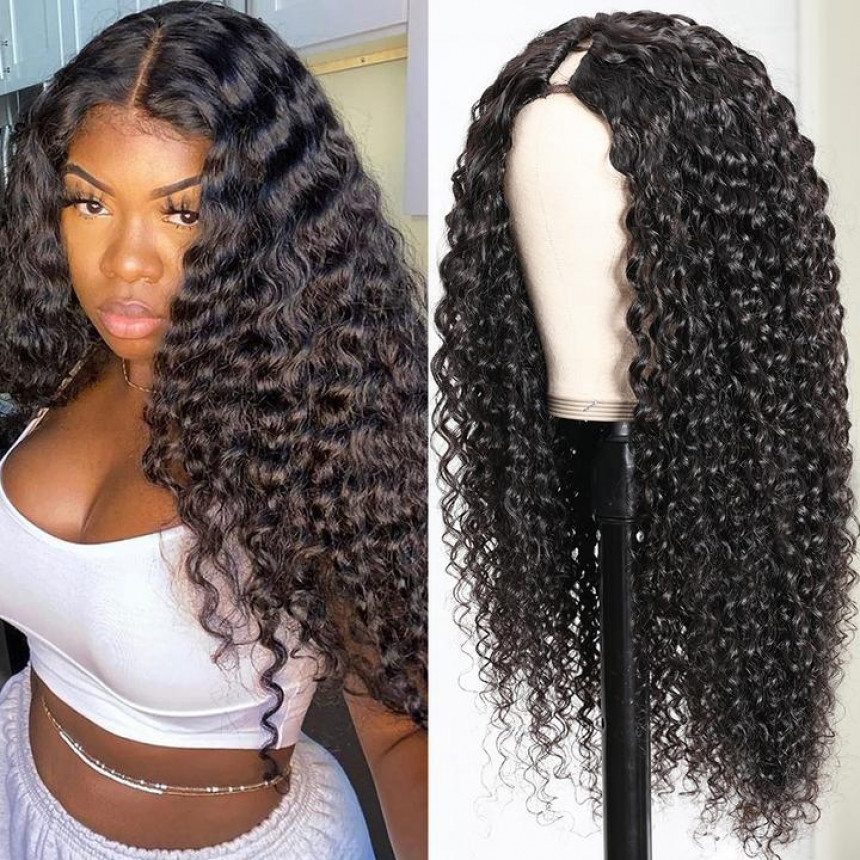 New -20 %




Secured Shopping
Best security features, we support Visa, Master.Amex, Paypal and etc.
Free Shipping
Free delivery over $50, ship with DHL, EMS,Fedex express and etc
Free Returns
Hassle free returns, multi warehouses in the US, Hong Kong, Canada, New Zealand
Jerry Curly U Part Wig Middle Part Unprocessed Virgin Hair Wigs 150% Density Natural Color Glueless Wigs
PRODUCT FEATURES
※Item: Jerry Curly U Part Wig Middle Part Unprocessed Virgin Hair Wigs 150% Density Natural Color Glueless Wigs
※Hair Material: 100% Virgin Human Hair Wig, Virgin Curly Hair, Can be Dyed and Ironed by your favor
※Hair Color: Natural Black Color
※Hair Grade: 9a Grade, 100% Virgin Hair, No Shedding, Tangle Free
※Hair Length: 10 inches-24 inches is available, Very Soft, Healthy and thick
※Hair Part: Middle Part Human Hair Wig
※Wig Style: Virgin Humen Hair U part Wig
※Cap Size: 22"-22.5" Average Size
※Pack: 1 Piece Only
FAQ
What kind of hair do I need for a sew in?
Based upon how big your mind along with the Duration of hair, you want around three packages for hair that is 18 inches and briefer, or three to four packages for hair that is more than 18 inches, to get an entire sew-in.
Can you wear a ponytail with hair extensions?
Ponytail 2: Messy ponytail with hair Extensions That is our favorite way to use hair extensions at a ponytail--that the whole idea would be to clip at the wefts at precisely the exact same way your hair goes in obviously when placed up in a ponytail, to prevent any lumps and bumps out of the wefts.
How can I grow my hair quickly?
Get regular trims -- yes, actually. Fight the desire to go blond. Distribute your hair's natural oils. Eat the proper foods. Stay away from heat styling tools. Skip the shampoo. Insert a vitamin into a A.M. routine. Finish your bathtub with a cool twist.
Do weaves damage your hair?
If your scalp and hair are not in good Condition afterward a weave can actually do more harm than good. By way of instance, it might weigh down and pull your hair -- and when it is not robust and fit in the roots which may lead to breakage and in extreme situations, even permanent baldness. Sometimes weaves are tough in your scalp.
Is hair really black?
Obviously, not really. Nobody has hair That's totally BLACK, even the darkesthair is in fact deep brown. Based on feel, hair may seem to be black in colour but should you inspect beneath a magnifying glass or microscope, then you will realize this isn't the situation.
Is straight hair easier to manage?
As It has a bit more quantity and Body, moderate hair can be extremely simple to control. A slick ponytail is the best candidate for this appearance, as it is thick enough to provide the hair a design, but not too thick it breaks rubber bands at the procedure.
Can I wear a wig if I have long hair?
With long hair, you Want to tuck the hair Up beneath the wig. If you would like to put on a wig more than a day, then you may even attempt cornrows, which can be braids you weave snugly from the mind. Together with your own hair tied up, you can pay for it with a wig cap then attach a wig.
Can you wear a wig without a wig cap?
If you are wondering how to wear a wig With no wig cap, then use the identical technique to set the wig on as you would using a wig cap. Ensure that your scalp is clean before placing the wig and, when you've got natural hair, try braiding or twisting it to flatten it as far as possible and prevent any lumps under the wig.
Is it weird to wear a wig?
Why yes, it's. As a matter of fact, we do not Think there is something to be ashamed of whatsoever about wearing wigs. Some girls who have their normal hair decide to wear wigs due to how amazing they seem. It is fine to be loud and proud of your own wigs!
Can you pluck a non lace wig?
The hairpiece will look like your natural Hair and will not make others uncertainty when searching at. In the event your wig does not have some pre-styled parting line, make a single. You are able to pluck a few hairs to depart the spare area to earn your own scalp observable. Do not make it too big or it'll seem weird, anyhow.
What are wigs without lace called?
Non-lace front drapes are wigs which contain All the very same elements of a lace front wig, with no lace in the front. This in nature will signify that the very front of the wig when worn out may be harder to make a natural hairline with.
What is the most comfortable wig cap?
A 100 percent hand-tied cap moves and looks just like Natural hair and can be the very comfortable wig cap structure alternative since the wig cap fabric is flexible and soft. An additional bonus of this wig cap fabric is that the 4-way elongate the cap supplies, making it feel as if you are sporting a headcover or head scarf.
Can a lace wig fall off?
Provided That you have been correctly sized, your Wig shouldn't ever fall off. Most wigs have adjustable straps which can help you size up your wig and down an inch or 2.
Do lace fronts damage hairline?
Actually, human lace front wigs Won't Bring any harm to wears hairline, the only way to harm their hairline would be improper removal and installation.
Are glueless lace wigs better?
Glueless wigs Comprise of elastic Straps at the back along with a ribbon at front that runs along the outside of the hairline (as shown below). They can be safer to use and simple to use for hours. The best part is they are benign and you can eliminate it effortlessly without leading to any mess to a natural hairs.
How do you make a wig not shiny?
Fill a spray bottle with water. Insert 1-2 Tbsp of fabric softener and shake. Together with your wig on a wig stand, spritz the hair together with the solution. Gently comb throughout the wig along with your palms to spread the remedy. Let your wig atmosphere dry.
Do glueless wigs fall off?
2. Can glueless wigs drop off? Being that These kinds of wigs do not arrive with adhesive or tapes, so it does not indicate they can easily drop off. It is possible to wear glueless wigs every day with no fear of it becoming flown off.
Do lace front wigs need glue?
Not all lace front wigs will probably require tape or glue. There are a few newer fashions where the lace is solely from temple to temple in order that they are going to lay flat on your own forehead and don't require any glue. Other conventional lace front wigs will require tape or glue.
Do lace front wigs cause hair loss?
Lace front wigs don't cause baldness or Breakage with appropriate lace front wig setup, removal and hair maintenance clinics. As most of us know, washing and styling hair can lead to hair breakage or damage, however there are lots of individuals still see them as a basic part of everyday haircare regimen.
What is a hair body wave?
A human wave perm is a looser form of wave That's made by employing a bigger curling roller to the perm. Fans of this human body wave perm adore it since it's used to make loose waves on your hair--ideal for the ones that have hair styles that will not hold a curl.
Can Vaseline give you waves?
Even Though the actual process of redirecting the Hair to a wave-like routine can be helped with the use of hair products such as Vaseline, all you actually need is a fantastic wave brush along with a wave cap to get the appearance. Ensure your scalp and hair are healthy before beginning the training procedure.
Does a hard brush give you waves?
Hard bristles will attract out your wave Faster than bristles but may be overly harsh in your scalp if you have got thin or short hair. This type can be good at eliminating tangles and may be utilised from the shower to assist your waves put down.
Can I use coconut oil on my weave?
Ensure you oil every 3 times with Appropriate scalp goods, but you should be careful to not get the oil onto your weave. DON'T: • Use hair goods on synthetic wigs. Place any oil or grease in your weave. Jojoba oil, coconut oil and some additional oils can make your hair appear cheap, heavy and artificial.
What oil can I use on my weave?
Coconut Oil -- Coconut oil Is Most Likely the Most popular kind of oil that folks utilize in glow hair. This oil contains natural moisturizing properties which guarantee hair remains shiny and healthy, without inducing excessive oiliness.
What product gives your hair a wet look?
Spray & Style Laying hair gel, lotion, Glossspray on wet hair in quick sequence is the thing that keeps it looking moist. Mist your mind gently with hairspray until the prior products dry completely.
How do you sleep with wet wavy weave?
Braid weave to 2-4 braids before visiting sleep. Always sleep with a silk or satin blouse or pillow. Wear your Wet & Wavy weave in two braids or a ponytail when exercising. Cover your Wet & Wavy Weave using a swimming cap when swimming in chlorinated pools and also to prevent Acquiring the weave moist.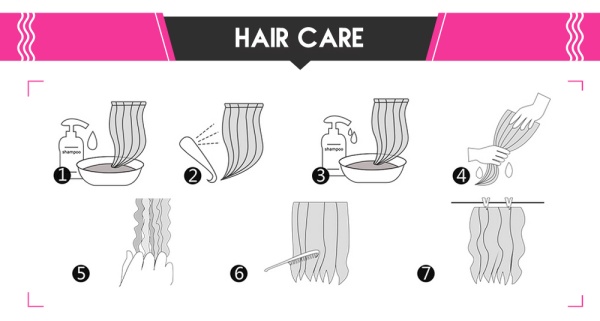 1.Be ready for everything and wet the hair with warm water
2.soak the hair with mild shampoo for a few minutes.
3.Rinse the hair in clear water once.
4.Do it again to make sure the hair is clean.
5.Cover the hair with the towel to soak up the water on it.
6.Move down gently to comb the hair straight to the ends.
7.Hang the hair with the weft open and air-dry it and curls hold well.
Stock:

10 only

Model:

jerry-curly-u-part-wig-middle-part-unprocessed-virgin
Hurry, this offer ends in: