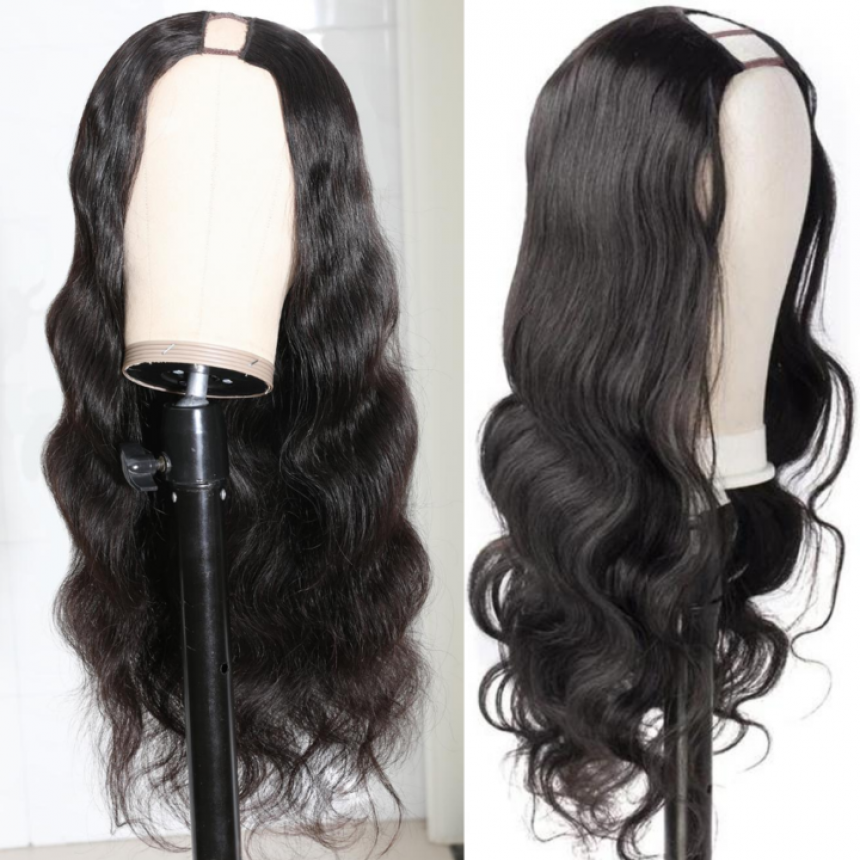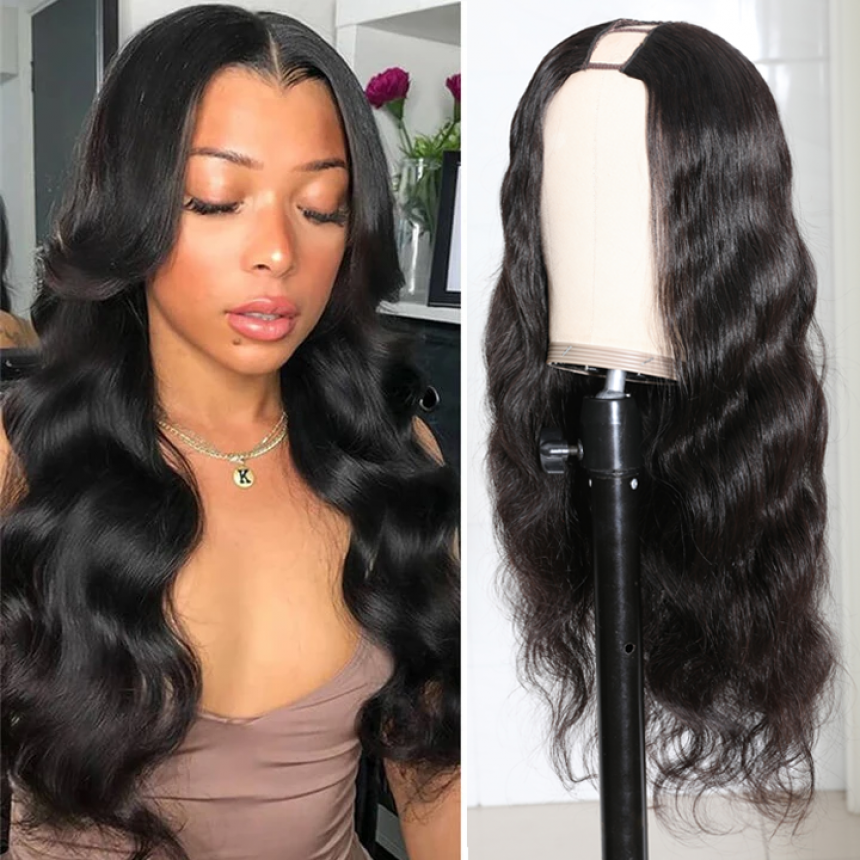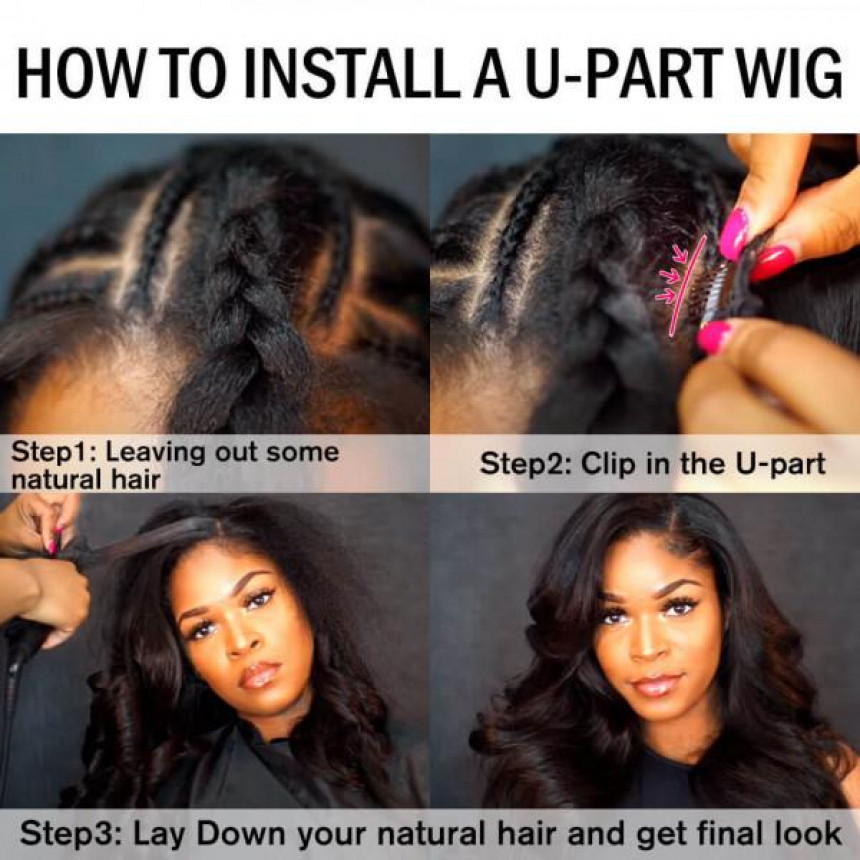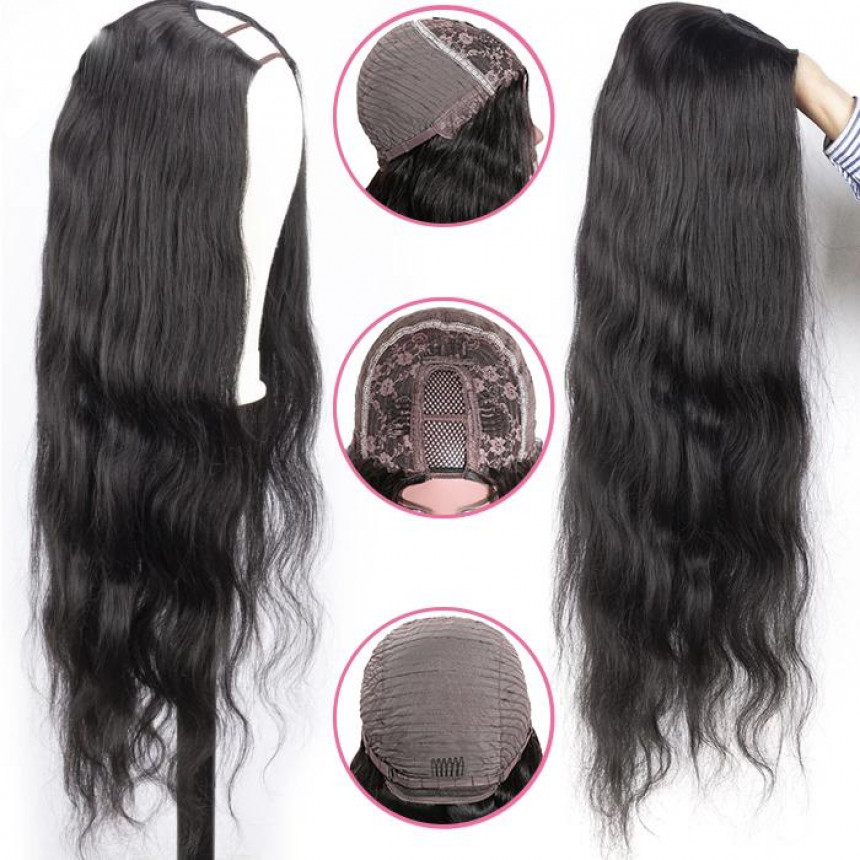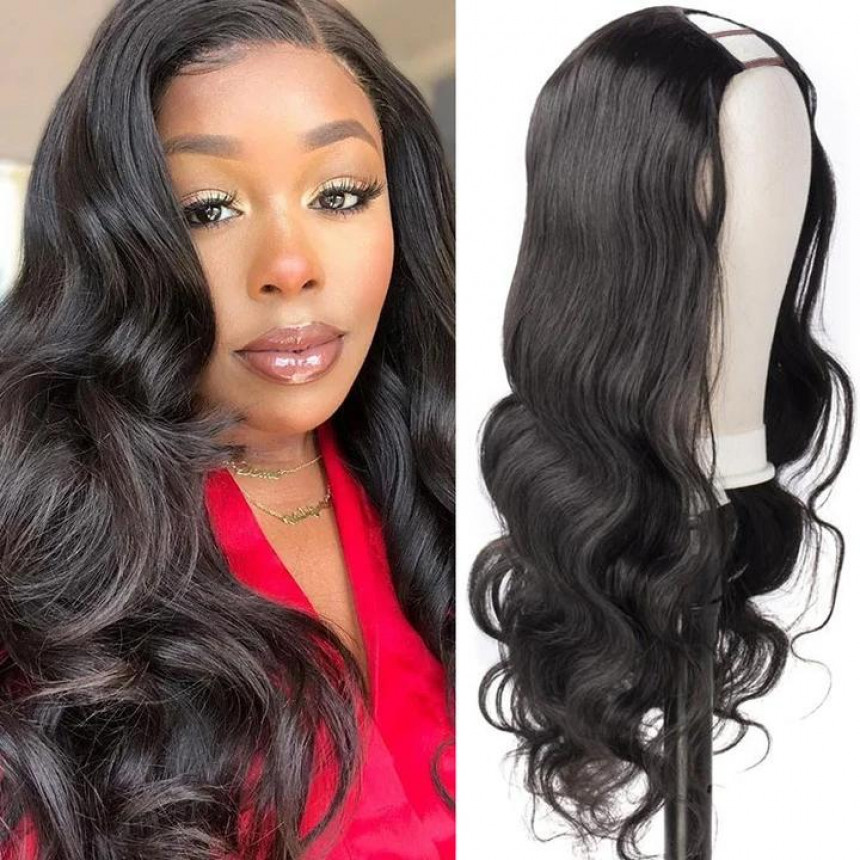 New -20 %





Secured Shopping
Best security features, we support Visa, Master.Amex, Paypal and etc.
Free Shipping
Free delivery over $50, ship with DHL, EMS,Fedex express and etc
Free Returns
Hassle free returns, multi warehouses in the US, Hong Kong, Canada, New Zealand
U Part Super Easy Affordable Glueless Body Wave Wigs 100% Human Hair Wig
PRODUCT FEATURES
※Item:U Part Super Easy Affordable Glueless Body Wave Wigs 100% Human Hair Wig
※Hair Material: 100% Virgin Human Hair Wig, Virgin Straight Hair, Can be Dyed and Ironed by your favor
※Hair Color: Natural Black Color
※Hair Grade:Virgin Human Hair, Bleach/Dye Friendly
※Hair Length: 12 inches-24 inches is available, Very Soft, Healthy and thick
※Cap Size: Average Size
※Pack: 1 Piece Only
FAQ
What's the difference between frontals and closures?
1 way to spot frontals is they Are utilized to reestablish the hairline from ear to ear while closures are utilized to recreate the pure glow of your hairline. Both lace frontals and lace closed hair pieces assist to finish your appearance and are fantastic for styling your own wigs, weaves, and hair extensions that are natural.
Is Swiss lace bad?
Swiss lace is much more delicate and can be prone to fraying. If you don't have a look within inches of their scalp or have an extremely low density then the extra cost of substituting Swiss lace methods more frequently isn't vital. Surprisingly the texture of both is quite similar off and on the scalp.
Can you part a lace frontal anywhere?
Lace Frontal Components are 13x4 Frontals. With A Lace frontal you have the ability to part everywhere and do some style inside the area. Lace Frontals are high maintenance. Balding is potential if not being properly cared for and cleaned carefully.
Is Swiss lace better than transparent?
Natural Appearance: Swiss lace is generally used For transparent lace growth. Transparent lace is quite thin lace and ventilated. What's more, it's extremely thin and appears more like a true scalp on the epidermis, so it only looks like your actual scalp, and can't be found.
Is Swiss lace transparent?
Swiss transparent lace is known as HD Lace frontal also. The difference in the standard lace frontal the lace is transparent. The lace frontal it's going to be versatile so you can place any colour what you desire. This will be effective for anyone to buy.
What is top Swiss lace?
Superfine Swiss lace would be the Best lace and Delicate, compared to our Swiss lace. It blends into the skin for a much more undetectable and flawless look.
What is Korean lace?
Korean Lace aka Filament lace is a plastic Variant of French Idol. Also detectable on a wig from this bundle.
How long do lace frontal sew in last?
Sew-in lace frontal wigs are often Installed using adhesive or lace tape. They last between two to four weeks without having a retouch. The longer duration of time that your lace frontals need to remain installed will allow it to irritate skin and seriously harm your hairline or split your borders.
An I use silver shampoo on hair extensions?
Employing purple shampoo in your hair Extensions of course but there are a couple of things that you want to know ahead. Hair extensions are extremely porous, so purple shampoo will residue quickly. Meaning you need ton't leave the shampoo too long your blond can turn gray.
How can I hide my GREY roots?
Simply combing your hair in a different direction, or creating a zigzag part in place of your center part, can disguise root growth for a few days. 2. Use a temporary cover-up. There are a number of quick-fix coloring products (powders and creams) that can help your roots look great until your next touchup.
Is there a sulfate free purple shampoo?
Luseta Purple Shampoo Protects, Balances And Tones the Bleached, Color Treated, Silver, Brassy and Blonde Hair, Sulfate & pareteen Free, 16.9ounces.
How can I cover my gray hair without dying it?
Utilize a spray. The Best Way To hide grey hair would be to utilize tinting hair solutions. They do not change your hair colour for quite a while when we compare them into some hair dye but they actually help us seem more polished when we just don't have any time.
Can you tone hair extensions with purple shampoo?
3) Purple shampoo to tone hair extensions. Using one clip bit to check your goods on first, dip your bit from the water and gently massage the purple water to the hair. This should only take 20 minutes per bit since you do not wish to turn your own hair extensions purple!
Does toner wash out of extensions?
This Procedure Isn't the Best, But it's the least draining. Ensure that you get washing immediately once you detect you've over-toned those locks! Many toners aren't permanent, therefore finally, after many washes, the'trendy' tones will vanish.
How long does it take for purple shampoo to work?
Leave it on around 20 minutes and then wash Outside and follow osmosis as usual. It works to eliminate unwanted yellow tones from natural silver or gray hair. Or, should you want a less extreme re-fresh of your mild locks, simply use it on wet hair from the shower just like your usual shampoo.
What is the best purple shampoo for GREY hair?
On the Lookout for a purple shampoo which will Nourish hair when cleaning it? One'n Only's Shiny Silver Ultra shampoo would be your choice for you. Made to eliminate brassiness from grey hair, it does a fantastic job maintaining hair moisturized and smooth for a straight-from-the-salon appearance.
Can I use a purple shampoo everyday?
How often you use purple shampoo is completely Up for you. You may either use it every day or swap it rather than your normal shampoo when you feel like your colour is beginning to go somewhat brassy or requires a fast refresh, indicates Alders. Use it as you would any other shampooyes, it is that easy.
Can clip in extensions help hair grow?
The Fantastic thing about hair extensions is It can easily resolve this issue. Clip-in hair extensions won't hinder hair development so that it's the ideal choice to rocking more locks while awaiting your actual hair to grow out. Have a look at our guide on the Best Way Best to Blend Luxy Hair Extensions with Hair.
Should I get clip in or tape in extensions?
So in the Event That You don't want to Need to Worry about Styling your hair each single day, go for a faux clip-in extensions, since they'll hold their fashion after washing (use cool water). Tape-ins are nearly always made of Remy human hair.
Why clip in extensions are bad for your hair?
Clip in hair extension wefts are thicker And put a great deal of weight in your own hair, yanking on the hair and making it strained over time. You are adding much more strain and damage to your own hair.
Are Halo or clip in extensions better?
Sitting Prett Halo Hair extensions provide you with More, thicker locks in moments. Halo hair extensions aren't only simpler and faster to wear than clip-ins, however they seem better also.
Do clip in extensions fall out easily?
Caring for your extensions ought to come As readily as keeping your normal hair. Your extensions should not fall out. That is the reason it's very important to eliminate them each night, also, otherwise you risk damaging both your own extensions along with your own hair.
Can I wear clip in extensions everyday?
Clip-in hair extensions may be worn Anytime, howeverwe do urge to eliminate them every evening before bed, because they're just supposed to be worn every day. We don't urge to put on your own extensions while sleeping, showering, swimming, or doing bodily activity.
Are wigs better than extensions?
Weaves and hair extensions provide similar Results as soon as it comes to duration, quantity, durability, and sensible appearance. Wigs are far better for conditions like hair loss, damaged or thin hair.
What is the best method for hair extension?
The hottest and seamless way of Extensions on the market the market is tape in hair expansion. They're implemented using either double or single-sided polyurethane(PU) tape. ) Clients using exceptionally thin hair, particularly around the side and temples of the mind, may require one panel employed with single-sided tape.
Are extensions bad for thin hair?
Regrettably many hair extension approaches Come at a price, they weigh down hair... create pressure... and may lead to harm not only to your own hair, but the hair follicles too frequently resulting in traction alopecia and possibly irreversible harm. If you currently have thin hair, this is the very last thing you need!
Can you use purple shampoo on synthetic hair extensions?
Claiming to change unwanted yellow tones Into silver/ash tones, this OSMO purple shampoo has been specifically formulated with intense super-violet pigments such as lightened, gray or wavy hair. In addition, it can be used on artificial and natural hair kind, ideal for people who frequently utilize synthetic hair extensions.
Can you use purple shampoo on clip in hair extensions?
Please keep in mind that lemon shampoo Will balance out the gold undertones in the Ash Blonde and Bleach Blonde colors and allow it to be warmer, however, based upon your tone of blond, this might not be the ideal option to producing your extensions fit better for your hair colour.
How do you dry hair extensions?
Utilize your hair dryer on the lowest heat Placing, and gently wash your hair, working your way from the ends to the roots in a manner which is suitable for you. As soon as you hair is totally dry, then run your finger through your hair again, dividing the bonds to be sure the hair drier hasn't caused the bonds .
Are tape in extensions bad for thin hair?
Definitely. Extensions are a Terrific solution If you are seeking to add volume to thin hair or whether you are suffered from hair loss. Vomor extensions are both lightweight and the adhesive tape is quite gentle/easy to eliminate in the salon so that these really are a really secure solution for anyone who have fine, thin hair.
Does wearing a wig ruin your hair?
Wearing a wig Is a Good Choice to change Your appearance without creating permanent changes to your own hair, but if you're not careful they can harm your scalp and hair and also contribute to or cause hair loss/damage.
What is the easiest wig to wear?
Cap attribute: There are three fashions Of wigs which it is possible to purchase; 100 percent hand-tied, monofilamentlace and lace fronts. We discover that lace figurines would be the simplest to work with and help create the illusion of genuine hair in the crown of the head, which makes it appear more realistic.
Can you tell if someone is wearing a wig?
With higher quality full lace wigs, it's Difficutl to tell if a person is wearing a wig, then you understand, swsiss lace cap is soft and thin and colour matching the skintone if you don't shut until the wearer and realize the part hairline or area and you'll be able to observe swisss lace glued onto the brow.
Is a sew in or wig better?
Sew-ins are only as easy as wigs if More. However, on the opposite side sew-ins may provide you the advantage and assurance of having the ability to wake up and begin the day without needing to re-curl, straighten, or put on a wig.
Are human hair wigs better than synthetic?
A Vital difference between artificial hair and Human hair is that human hair wigs offer you the most natural appearance and texture. The hair is soft and has a glow and motion that's difficult to replicate invisibly.
Why do people wear wigs?
Some People Today wear wigs to disguise baldness; A wig may be used as a less invasive and less costly alternative to medical Remedies for restoring hair or for a spiritual reason.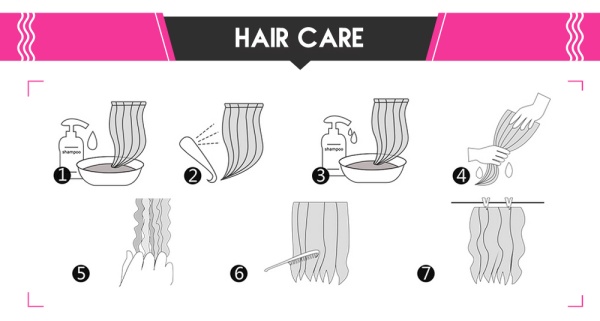 1.Be ready for everything and wet the hair with warm water
2.soak the hair with mild shampoo for a few minutes.
3.Rinse the hair in clear water once.
4.Do it again to make sure the hair is clean.
5.Cover the hair with the towel to soak up the water on it.
6.Move down gently to comb the hair straight to the ends.
7.Hang the hair with the weft open and air-dry it and curls hold well.
Stock:

10 only

Model:

u-part-super-easy-affordable-glueless-body-wave-wigs
Hurry, this offer ends in: