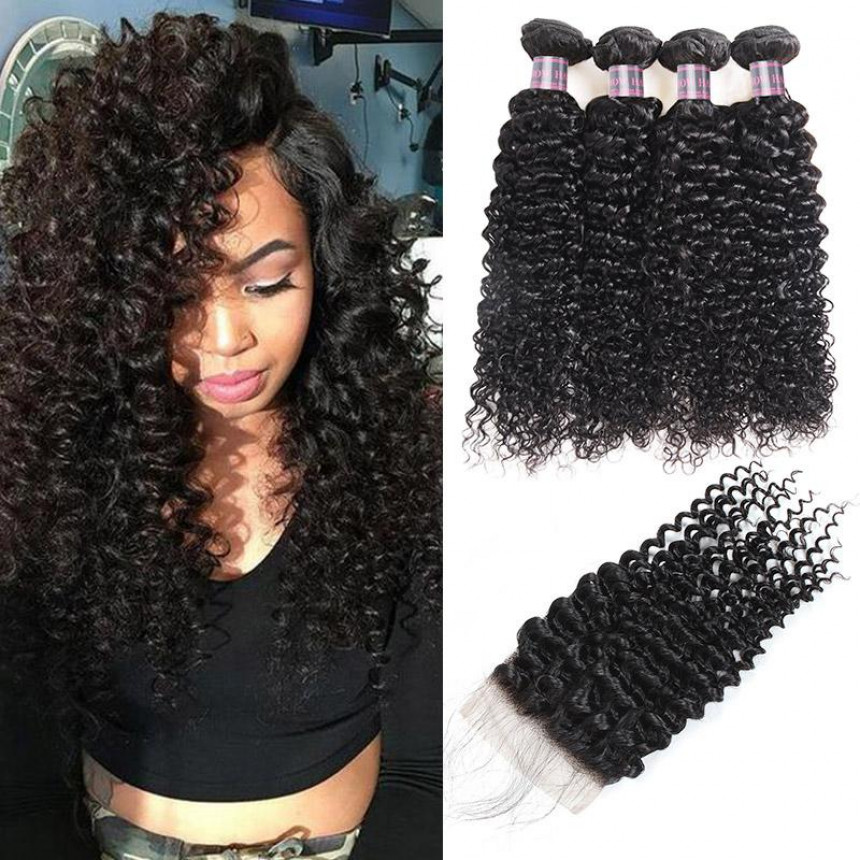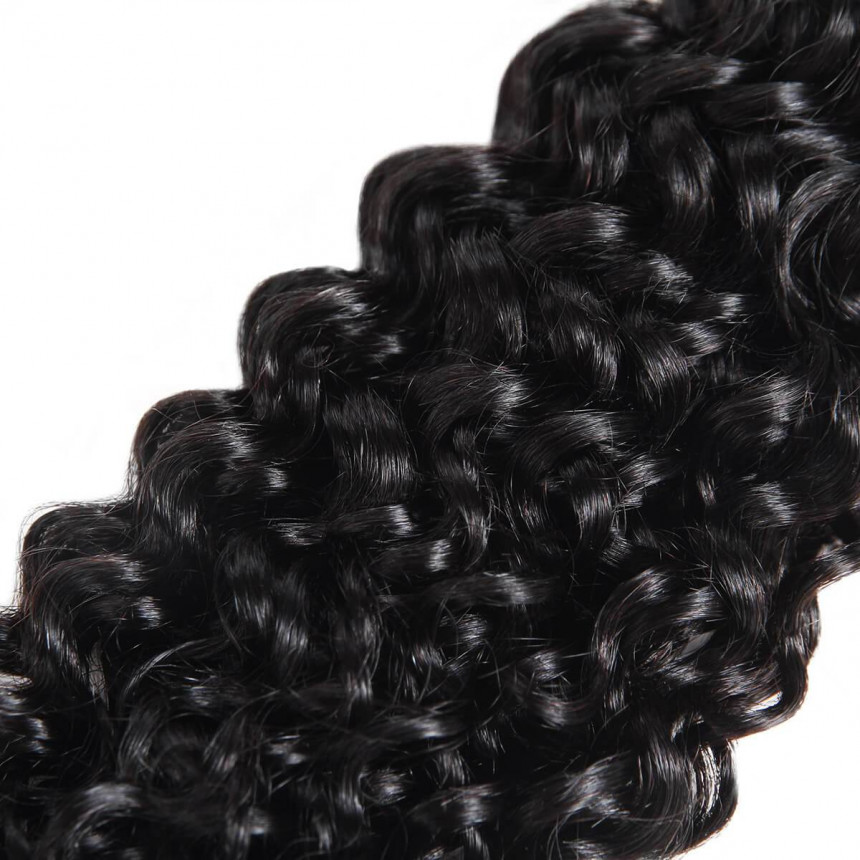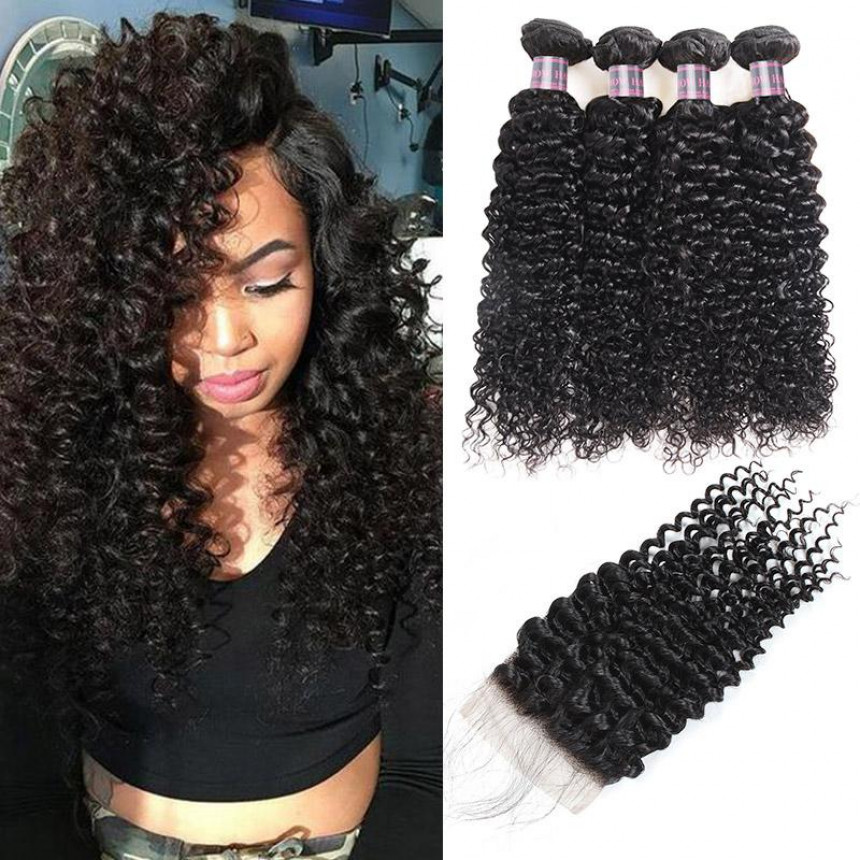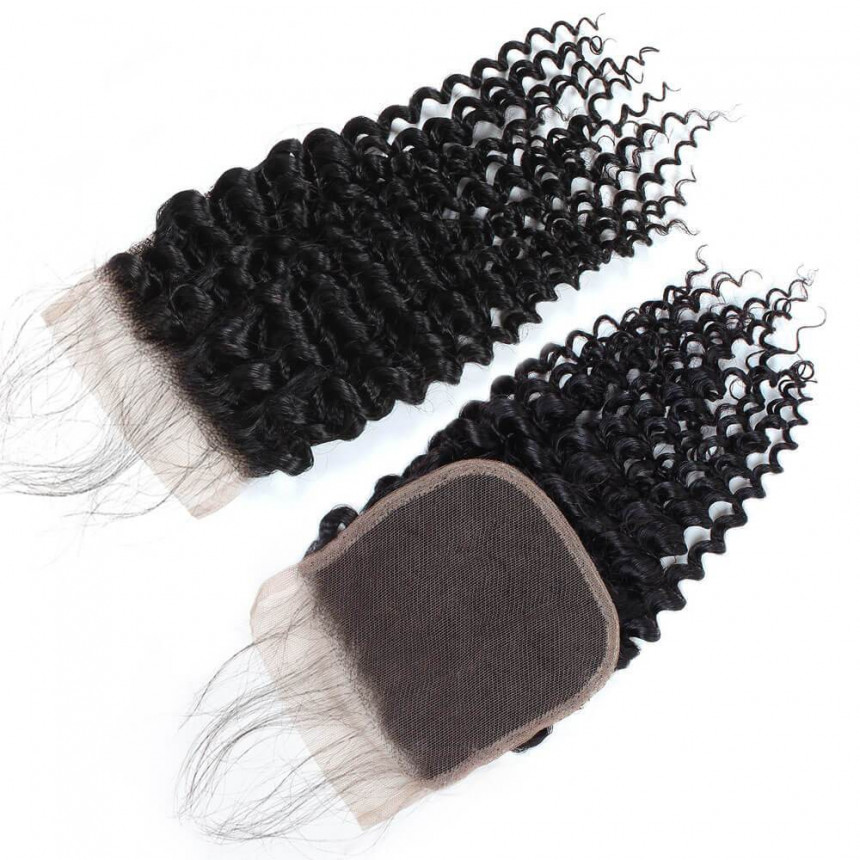 -20 %





Secured Shopping
Best security features, we support Visa, Master.Amex, Paypal and etc.
Free Shipping
Free delivery over $50, ship with DHL, EMS,Fedex express and etc
Free Returns
Hassle free returns, multi warehouses in the US, Hong Kong, Canada, New Zealand
Virgin Peruvian Curly Human Hair 4 Bundles with 4*4 Lace Closure
PRODUCT FEATURES

Item: Virgin Peruvian Curly Human Hair 4 Bundles with 4*4 Lace Closure, Unprocessed Virgin Human Hair Extension
Hair Material: Virgin Human Hair Weave, 8A Grade, No Shedding, Tangle Free
Hair Color: Natural Black Color
Hair Grade: 8A Grade, Curly Human Hair Bundles, can be bleached and restyle, dyed
Hair Length: 8 inch - 28 inch is available, Very Soft, Healthy and thick
Texture: Curly Hair, Natural Hairline, Soft, Comb Easily, Minimal Shedding, No Tangle
Pack: 4 Bundles Curly Hair with 4*4 Lace Closure
What length should I purchase?

Hair bundle should be measured when it is stretched. So please keep in mind that you will need to accommodate for its curl pattern when selecting your desired length.
How long do the hair bundles last?
Our bundles typically last for 7-9 months, if cared for properly.
What is the difference between a glueless lace wig and a regular lace wig?
Glueless wigs comprise of elastic straps at the back along with a ribbon at front that runs along the outside of the hairline (as shown below). They can be safer to use and simple to use for hours. The best part is they are benign and you can eliminate it effortlessly without leading to any mess to a natural hairs.
Do glueless wigs drop off?
Can glueless wigs drop off? Being that these kinds of wigs do not arrive with adhesive or tapes, so it does not indicate they can easily drop off. It helps users to keep a natural hairline, making them feel as natural hair. Glueless wigs do not extend your own natural locks, which makes them the most powerful hair system to purchase.
Do full lace wigs need glue?
Not all lace front wigs will probably require glue or tape. There are a few newer fashions where the lace is solely from temple to temple in order that they are going to lay flat on your own forehead and don't require any glue. Other conventional lace front wigs will require tape or glue.
How much does a full lace wig cost?
Usually made out of human hair and assembled out of a lace cap,"that a full-lace wig is a ventilated device which has flexibility [and] lets you part your hair in almost any way.
How long do lace wigs stay on?
A lace front wig may be left for up to six months with long term glue. The duration of time a lace front wig could be made on is really suspect upon what products and method were utilized to use the wig, in addition to body chemistry.
What can I use instead of wig glue?
When Possessing Short Hair Short hair may also readily be tucked under a wig cap. But, you could even use glue or tape around your borders to get a solid grip.
What type of wig can you place into a ponytail?
That is because the cheap lace wigs along with also the cheap 360 lace human hair wigs equally possess the whole lace may twine round the mind.
Is 150 density wig full?
150 percent (Natural/Full) A wonderful density for women who need their hair to look natural with a small additional fullness. A complete design with a great deal of bounce, body and motion. 180 percent (Heavy) Intended for customers that want a complete and voluminous hair appearance. This density is hefty and also for customers who enjoy a complete style.
What's the difference between a full lace wig and a 360 wig?
The dimensions of lace differs 360 Lace wigs are all completely designed using a lace round the entire hairline in the start to the end connected to the ring of this wig. Total lace wigs have lace throughout your entire mind, Total lace includes a great deal of versatilities which permits you to part the hair everywhere you would like.
Do wigs stop hair growth?
Wearing a wig won't inhibit hair growth. The cells that allow hair to grow will probably continue to have the ability to operate under your skin whilst sporting a wig. If you are concerned about damaging hair that's growing back out under your wig, wearing a wig cover can help protect the hair that's growing in.
...................................................................................................................................................................................................................................................................................................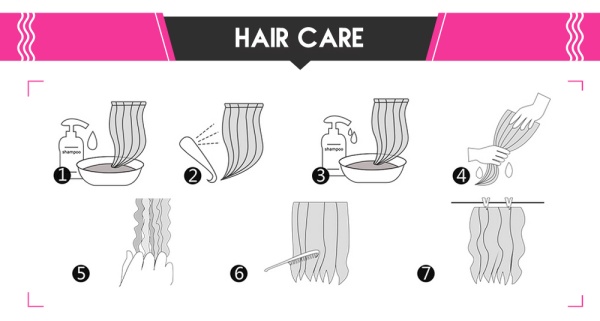 1.Be ready for everything and wet the hair with warm water
2.soak the hair with mild shampoo for a few minutes.
3.Rinse the hair in clear water once.
4.Do it again to make sure the hair is clean.
5.Cover the hair with the towel to soak up the water on it.
6.Move down gently to comb the hair straight to the ends.
7.Hang the hair with the weft open and air-dry it and curls hold well.
Stock:

12 only

Model:

peruvian-hair-curly-weave-4-bundles-with-lace-closure

SKU:

peruvian-hair-curly-weave-4-bundles-with-lace-closure

ISBN:

peruvian-hair-cur
Hurry, this offer ends in: